The D&D Daily's 2018 Senior LP & AP Jobs Report
190 Senior LP & AP Positions Filled in 2018
190 New Senior Level LP & AP Executives Named in 2018
June & November Being the Key Months in Appointments

With Six LP Executives Going Beyond & Two Going Well Beyond
All of the 190 executives 'Moving Up' in their careers obviously deserve to be called out and recognized. As they've obviously been delivering great results and represent 2018's LP/AP success stories.

Which is always a great reflection of the entire industry as they represent the new leaders for the entire LP/AP community with the senior management teams in the retail industry.

While they've all worked diligently to reach these new levels, there's also six that stood out and went beyond. Showing that if you set your sights on truly committing yourself to the professional standards and performance levels senior management expects, it'll pay off and you'll reap the rewards, and the pride in going beyond and achieving a level that you may have never imagined years ago.

With Keith White leading the group this year and being promoted to Executive Vice President for Gap Inc., Keith Wanke being promoted to Senior Vice President - LP, Audit & Firearms Compliance for Dunham's Sports, Mike Rackley becoming the Sr. Director Global Store Operations at Nike and Jeff McPike being promoted to Sr. Director Operations and Construction at Nike. With Ken Boremi going from LP all the way up to Executive VP, Chief Operations Officer at Brookstone and, finally, John Bishop being named Group Vice President of Operations for The Fresh Market.

These six executives certainly deserve to be called out and applauded. Great job, gentlemen.
Two Former LP Execs Going Well Beyond - In 1 Respect - LP's Running Lowe's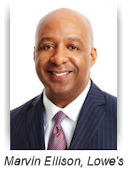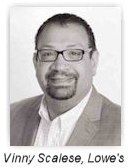 Included in this group of LP executives 'Going 'Well' Beyond' are two, who many have forgotten actually were long term Loss Prevention/Asset Protection executives years ago, that were named into their current positions in 2018 and are now literally running Lowe's. Marvin Ellison and Vinny Scalese, the CEO and Senior Vice President Operations for Lowe's Companies, respectively.

Both Marvin and Vinny have truly succeeded well beyond and represent the absolute best of the best. Good Luck Gentlemen in rebuilding Lowe's and going head to head with Home Depot. Not an easy task and one we'll all be watching and cheering you both on.


Of Special Note in the Senior AP World
Lisa LaBruno, Esq., Promoted to Executive Vice President Retail Operations at
Retail Industry Leaders Association (RILA)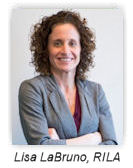 Joining RILA in 2010 as the Vice President Loss Prevention & Legal Affairs after having spent nine years with Home Depot's legal department and working hand in hand with Asset Protection, Lisa has done an incredible job at representing the industry, the retailers, and RILA'S members.

Helping to facilitate and develop Prof. Adrian Beck's Total Retail Loss concept, creating RILA's RTECH Asset Protection Innovation Awards, and coordinating and hosting RILA's annual Asset Protection conference, Lisa has excelled at adding value beyond for the LP & AP industry and helping to develop tomorrow's leaders.

With recognizing her abilities and accomplishments obviously RILA responded by promoting her this past December to her current role of Executive Vice President Retail Operations at Retail Industry Leaders Association (RILA). Congratulations Lisa for an outstanding year. To learn more about Lisa read the LPM interview.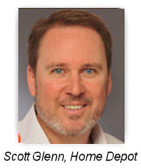 The Top 10 & The Biggest Pyramid Head Jobs of 2018

The biggest job of '18 was Home Depot where Scott Glenn, who has his jurist doctorate degree by the way, was successful in translating his Sears Holdings job into the biggest job of the year.

Rounding out the Top 10, in order of the NRF's Top 100 were:
Publix Super Markets, Inc. promoted John Hawthorne to Director LP & Safety

Retail Business Services, an Ahold Delhaize USA Company, named Tina Sellers Director of AP

Staples promoted Donald Tarney promoted to Director of Loss Prevention

Army and Air Force Exchange Service, Dallas, TX promoted Steve Boyd to Vice President, LP

Office Depot promoted Shannon Hunter to Vice President, Loss Prevention & Sustainability

GameStop promoted Adam Alford to Vice President of Loss Prevention

Tractor Supply Company promoted Eddie Foley, CFI to Vice President of Loss Prevention

Big Lots named Robert LaCommare, CFI Vice President of Asset Protection

Ascena Retail Group, Inc.​ promoted Eric Pidgeon, CFI to Vice President - Asset Protection & Safety
Certainly there were a number of other significant senior roles filled. With Sally Beauty naming Jim Mires VP LP & Safety, CKE naming Paul Jones Dir AP & Risk, Bloomingdales naming Peter Chie, CFI, VP AP, Tailored Brands naming Leo Doran VPLP, Pacific Sunwear naming Chris Ota VP LP, Boot Barn naming Perry Resnick Dir LP, Guitar Center naming Gary Johnson Dir. AP & Safety, Rue 21 naming Brian Bazer Sr. Dir. LP, DSW naming Adam Glavin Dir. LP, and a number of others.


87 New Pyramid Heads Named in 2018

All in all in 2018 we saw 52 (60%) New Pyramid Heads named externally and 35 (40%) New Pyramid Heads promoted internally for a total of 87 New Pyramid Heads in 2018

The remaining 102 positions were senior level corporate positions reporting to their respective pyramid head and all represent great achievements on every ones part as they are the new industry leaders that aren't only responsible for delivering great results but they're also responsible for developing tomorrow's leaders. Judging from the list the industry is in great hands. Congratulations to all of them.


Not Good News On Diversity & Women
Only 29 or 15% of the 190 Senior Roles Filled Were Women

The LP industry is still far off the diversity issue and the number is well below the 2017 industry average of 25.9% and median 20%. As stated in the 2017 National Retail Security Survey.


The CSO Position Still Eluding the LP Industry

Surprisingly, out of all the 190 appointments in 2018 and given the sheer magnitude of the cybersecurity issues, there were only two LP executives who obtained CSO designations.
Bloomin' Brands, Inc. promoted Chris Bitner to Vice President, Chief Security Officer

HD Supply Construction & Industrial - White Cap promoted Brian Friedmanto Director - Asset Protection & Chief Security Office

June & Q2 & November & Q4 The Action Times for Retail America

Senior LP roles filled by month & quarter in 2018
With June in Q2 and November in Q4 being the most active months of the year. What we see is the impact of bonus payouts and the impact of the fourth quarter holiday season has on filling the senior level positions across retail. And we'd be safe in assuming we'd see this across the board in all fields.

Especially given the three to four month standard recruitment process and the personal need to actually get bonus payouts in executives hands and the absolute need for Retail America to secure their leaders moving into the busiest and riskiest time of year.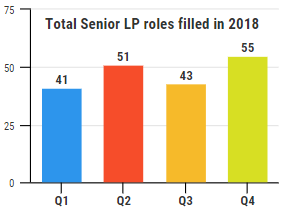 Jan - 14
Feb. - 17
March - 10 - Q1 41
April - 9
May - 15
June 28 - Q2 - 51
July - 14
August - 17
Sept - 11 - Q3 - 43
Octo - 16
Nov - 21
Dec - 18 - Q4 - 55
Total - 190


Special Note: First time we've seen this job
Nordstrom promoted Patricia Carbonara to Manager, Violence in the Workplace Assessment, National LP