---
Zachary Smith named Director of Security & Loss Prevention Operations for SPARC Group (Aeropostale, Lucky Brand, Nautica)

Before being named Director of Security & Loss Prevention Operations for SPARC Group, Zachary spent more than six years with Lucky Brand as Director, Loss Prevention and Corporate Security (nearly 5 years) and Senior Manager of Loss Prevention (nearly 2 years). Before that, he served as Regional Loss Prevention Manager - Western U.S. for Charming Charlie. Earlier in his career, he held LP roles with bebe stores, Metropark USA, Inc., and Nordstrom. Congratulations, Zachary!



Towanna Gary Bazile, MBA, CFI named Division Safety & Loss Prevention Manager - Central US for

Mister Car Wash




Towanna will be overseeing and championing initiatives and company programs, processes and controls that build a culture around continuous improvement in health, safety, environment, incidents, loss prevention, and security outcomes while protecting employees, customers, and assets. Towanna has multi-year experience working with employees at all levels to reduce risk and loss, improve workplace safety and security and ensure compliance to local, state, federal and company policy. She's held associate to director level positions in retail, distribution, telecommunications, for-profit, non-profit, and public service environments. She's adept at physical security, training, project support, inspections, audits, and investigations. Congratulations, Towanna!

See All the Executives 'Moving Up' Here

Submit Your New Corporate Hires/Promotions or New Position

---

---

In Case You Missed It:
Agilence Exec Featured in Los Angeles News Report on Pandemic Shopping
Thank you to KTLA and Christina Pascucci for the shout-out and the interview with Derek Rodner, VP of Product Strategy for Agilence, Thursday morning. Happy to set the record straight about the sales increases that grocery stores are seeing as a result of panic buying. Also excited to see that our customer Vallarta Supermarkets was able to confirm some of our findings. Watch Here

---

Protests & Violence

As Gun Violence Surges in Philly, Police and DA Are Losing the Arrest Battle

Philly police make arrests in 1 of every 4 shootings.
Once the cases go to the District Attorney, more than 60% end up in a conviction.
A group of "Violence Interrupters" is trying to lend investigators a hand.

Unsolved Shootings in Philadelphia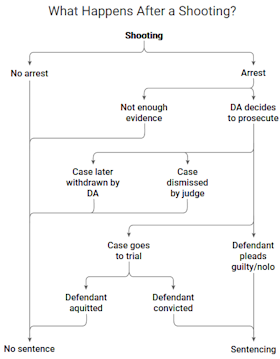 There have been more than 230 gun homicides this year that remain unsolved. Police have solved fewer than 30% of gun homicides in 2020. The clearance rate is even worse when looking at non-fatal shootings, or those in which the victim survives. Only 16% of the 1,300 non-fatal shootings this year have been cleared.

Philadelphia Police Deputy Commissioner Ben Naish overseeing investigations, including gun crimes, said police are overwhelmed with the surge in shootings. He blames COVID-19 and the summer's civil unrest.

But Philly Police's clearance rates haven't been good in previous years either. Since 2016, shooters have been caught in only 1 of every 4 shootings. That statistic includes hundreds of unsolved homicides from previous years too.

'Violence Interrupters'

The city's violence prevention strategy goes beyond police. The Mayor's Office of Violence Prevention created a Community Crisis Intervention Program, which employs 64 people known as "violence interrupters." The interrupters go out in teams of four or five during the day and at night to shooting scenes.

Another crucial role for the interrupters is bridging the trust between community and police. People who experienced or witnessed violence might be more willing to talk to the interrupters, who are mostly neighborhood guys, than police.

Decline in Convictions

Since District Attorney Larry Krasner took office in 2018, the percentage of gun possession cases that are either withdrawn or dismissed have gone up from 30% in 2018 to 40% in 2020. And those numbers are a far drop from 2015 when the dismissal and withdrawal rate was 18%.

Aggravated assault with guns and robbery with gun cases have more than a 50% chance of getting dismissed. But Krasner has done better with strictly shooting cases. His office says they are landing shooting case convictions more than 60% of the time.

Still, Krasner said shooting cases are tough to prove in court if witnesses are reluctant to testify. Some witnesses simply don't trust the system, he said. But even in cases where witnesses do come forward and testify in court, the judge may still find the case has insufficient evidence to move forward.

Krasner said he believes Philly Police need better forensic technology to help them solve more cases but also bolster the cases going to court. nbcphiladelphia.com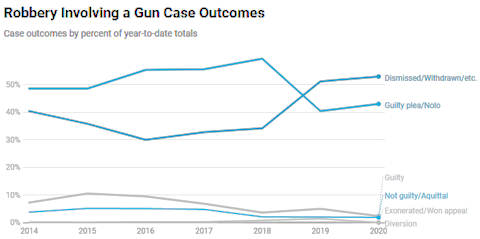 Americans' perception of rising crime at highest level since 1993, poll says
Americans are more likely to perceive crime in the U.S. as having increased over the prior year (78%) than they have been at any point since 1993. Meanwhile, they are less likely to perceive more crime in their local area (38%) than at any point in Gallup's trend since 2004.

The gap between Americans' perceptions of more crime in their local area versus nationally is 40 percentage points -- the highest Gallup has recorded in three decades of tracking both trends.

The percentage saying there is more crime in the U.S. than there was a year ago is up 14 points from last year's 64%, marking a year-over-year increase not found in Gallup's trend on this measure since 2005.

Gallup has consistently found that perceptions of increased national crime have outpaced perceptions of increased local crime -- and that perceptions of national crime are not in tune with actual U.S. Bureau of Justice Statistics figures. gallup.com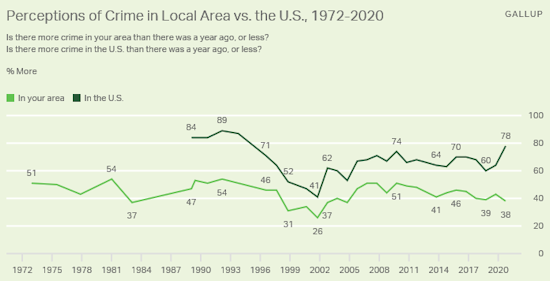 NYC crime surge thanks to riots, police reform, retired NYPD detective says

Philadelphia police seeking suspects from looting spree in wake of Walter Wallace Jr. killing

Portland: In America's whitest city, Black activists struggle to separate themselves from anarchists

Portland: County Jail Inmates File Federal Lawsuit Over Repeated Exposure to Tear Gas During Portland Protests

'I was so scared. I was terrified': 7 people with eye injuries after Denver protests describe their experiences

---

COVID Update
US: Over 13M Cases - 266K Dead - 7.6M Recovered
Worldwide: Over 60.3M Cases - 1.4M Dead - 41.7M Recovered

Private Industry Security Guard Deaths: 225
Law Enforcement Officer Deaths: 152
*Red indicates change in total deaths

A Detailed Map of Where Americans Are Staying Home for Thanksgiving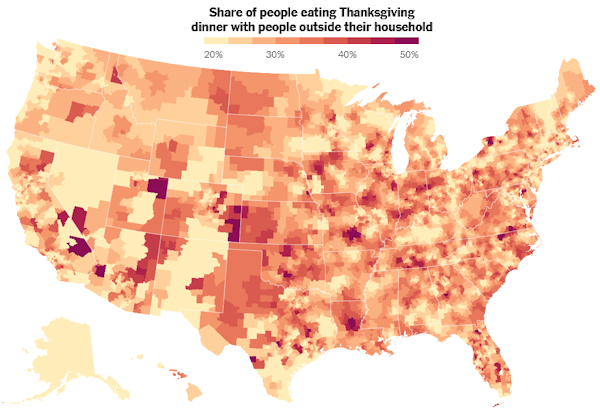 Click interactive map to see detailed city information

A U.S. Record: Two Million New Virus Cases in Two Weeks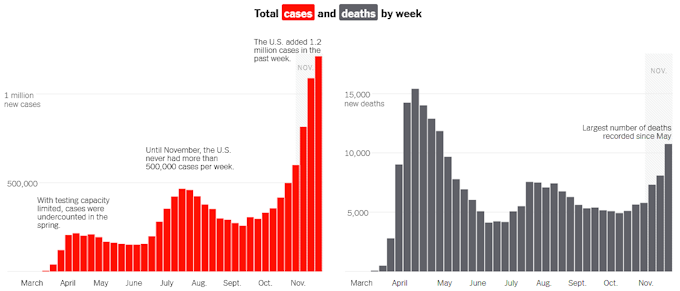 US hits highest daily death toll since May; 6.4M vaccine doses likely in December
Federal government officials said the first 6.4 million doses of Pfizer's COVID-19 vaccine could be distributed to U.S. communities as early as December within 24 hours of approval from the Food and Drug Administration.

But the U.S. recorded its highest daily death toll since May on Tuesday, and experts warned that good vaccine news doesn't mean Americans should let down their guard over the holidays.

Several state restrictions go into effect Wednesday just hours before the Thanksgiving holiday, including a ban on alcohol sales at restaurants and bars in Pennsylvania. State health officials ordered restaurants and bars to not sell alcohol starting at 5 p.m. Wednesday until 8 a.m. Thursday in an effort to prevent social gatherings. usatoday.com

U.S. hospitalizations hit record for 15th straight day
More than 88,000 currently hospitalized for Covid-19 amid fall surge
There are 88,080 people currently hospitalized with Covid-19, setting a record for hospitalizations amid a continuing fall surge, according to the Covid Tracking Project. This is the highest number of Covid-19 hospitalizations the nation has ever experienced since the pandemic hit the US. Hospital systems around the country have been warning their staffing and ICU bed capacity are being stretched thin. cnn.com

CDC Finalizing Recommendation to Shorten Covid-19 Quarantines
The U.S. Centers for Disease Control and Prevention may soon shorten the length of time it recommends that a person self-quarantine after potential exposure to the coronavirus, hoping that such a step will encourage more people to comply, a top agency official said. CDC officials are finalizing recommendations for a new quarantine period that would likely be between seven and 10 days and include a test to ensure a person is negative for Covid-19, said Henry Walke, the agency's incident manager for Covid-19 response. Agency officials are discussing the exact time period and what type of test a person would be given to exit quarantine, he said. wsj.com

Airports become a surreal oasis from COVID fears, warnings
as determined holiday travelers take flight
It's Thanksgiving week at Los Angeles International Airport, and you could almost forget a pandemic is raging, aside from the masks obscuring travelers' faces. On Monday morning, people shuffled through check-in lines less than six feet apart and clustered around luggage conveyors awaiting their bags. Their presence defied both logic and health guidelines: governors and public officials have been pleading for weeks for people to stay home amid a rapid surge of coronavirus cases. But for some, the temptation to be with loved ones at the tail end of a trying year of fire, flood, politics and plague is too great. latimes.com

Retailers Develop Pandemic Workarounds
Ahead of Black Friday, Retailers Race to Navigate Surge in Covid-19 Cases

While holiday sales are expected to rise, companies remain worried about restrictions meant to slow coronavirus infections

Retailers are bracing for new Covid-19 restrictions that could weigh on holiday sales but hope investments in digital operations will allow them to better reach consumers than in the spring when the economy locked down. Demand at retail chains picked up over the summer and fall after companies reopened stores, leading to stronger-than-expected sales at many firms that had to temporarily close shops when the coronavirus was first spreading.

But on Tuesday, American Eagle Outfitters Inc. executives said coronavirus hot spots were having an effect on visits to its shops. Gap Inc. warned that the recent jump in coronavirus cases was a concern, saying the increase could dampen store traffic. And Abercrombie & Fitch Co. said it is assuming sales for its current quarter, which includes this month and December, will slow compared with recent demand levels.

Best Buy Co., like other chains, didn't provide a financial forecast for its quarter that covers the holidays. Sales for that period may taper off compared with the fall and inventory constraints for some products are expected to pose challenges, executives said.

The jump in new Covid-19 infections is generating worries for retailers that shut stores in the spring because they were considered nonessential businesses and reopened them over the following months. Retail chains have tried to attract customers by improving their digital-sales operations and spending on safety practices meant to protect store employees and reassure customers. wsj.com

Coronavirus: Retail workers 'scared' as cases surge
Labour activists in the US say big retailers like Amazon and Walmart must do more to protect workers as surging coronavirus cases coincide with the holiday shopping rush. They are calling for hazard pay, paid sick leave and better communication about outbreaks, among other things. The campaign comes as workers across the US have spoken out about condition and concerns over their health.

The workers rights campaign launched on Monday was organised by United for Respect, a workers rights non-profit that says it represents more than 16 million people across the US. Separately, the labour union UFCW, whose members include grocery and meatpacking plant workers, also called on employers to do more to protect staff. bbc.com

Coronavirus: How to be happier while working from home
Millions of people need a home office for the first time. Some have perched at kitchen tables or made do with a laptop on the sofa for months. But even if a vaccine comes soon, many people may never go back to the office full time. And the early signs of how the pandemic has affected our mental health are not good.

Levels of depression have increased, while in a recent survey by the Royal Institute of British Architects many people said working from home had made them more stressed.

So what can we do to keep us happier at home? See below and read more here: bbc.com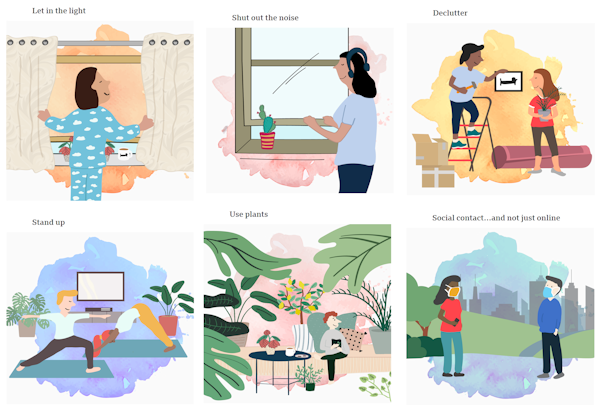 $1 Billion COVID Inmate Fraud
Tens of thousands of California inmates carried out 'staggering' Covid fraud
Tens of thousands of prison and jail inmates, including convicted serial killers and notorious inmates like Scott Peterson, have carried out what prosecutors described Tuesday as possibly the largest fraud scheme in California history.

The alleged crimes, which center on pandemic unemployment benefits, could total as much as $1 billion, Sacramento County District Attorney Anne Marie Schubert said.

Between March and August, Schubert said, inmates housed in every California prison and in jails across the state filed 35,000 claims totaling $140 million in benefits. Sometimes those benefits were paid directly to inmates inside the facilities, she said. In other cases, the money was sent to relatives and friends outside the prisons and jails. nbcnews.com

Governors take heat for violating their own coronavirus restrictions

Protests Against Gov. Newsom's Curfew Throughout California and at Newsom's House

Closed for Covid: Gun Permit Office Dragged Into Philadelphia Court

Link to meatpacking found in up to 8% of early U.S. COVID cases

Flight map shows staggering amount of flights ahead of Thanksgiving amid COVID-19

Answers to Every Possible Pandemic-Thanksgiving Question

---

Reimagining Macy's Thanksgiving Day Parade

Executive producer shares how the team is keeping this year's event festive and safe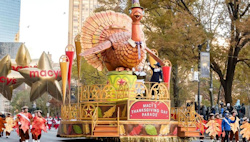 NRF spoke with Susan Tercero, executive producer of the Macy's Thanksgiving Day Parade, to learn about the steps Macy's is taking to ensure this year's parade will feel as close to traditional as possible while adhering to health and safety measures.

Let's talk about this reimagined event. What can viewers expect?

The good news for everybody accustomed to watching the parade at home, is that it's going to look and feel very similar. You're still going to see a parade marching down 34th Street. Viewers will see the floats and balloons and the celebrity performances, and the traditional broadcast will feel very familiar. There are some pieces that we will record a bit earlier, but a majority will be live. Obviously, there will be a lot less people on the street, but there will be marchers — just fewer of them.

Macy's employees have always played a huge role in the parade. To what extent were you able to re-engage them this year?

Here at Macy's the parade is very much a part of the heart of our company; the employees have always been supportive and engaged and they are working to support the parade in different ways this year.

We are only going to be able to have about 25-30 percent of our normal volunteer base, but we are still engaging the Macy's employees. nrf.com

Macy's Thanksgiving Day Parade 2020: How to watch and what's not happening

The D&D Daily's Previous Macy's Thanksgiving Day Parade Coverage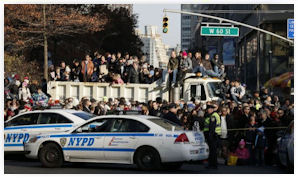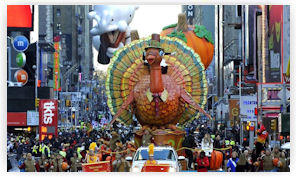 Behind the Scenes from an LP Perspective
Macy's Thanksgiving Day Parade
2014 | 2015

Macy's Annual Thanksgiving Day Parade:
How an Old-School Tradition is Meeting Modern-Day Security Threats
2016 | 2017 | 2018 | 2019

---

Retailers plan for a Black Friday like no other
Those tightly packed Black Friday lines that snake through the mall parking lot in the dead of night, past tents and lawn chairs and coolers stacked with still-warm Thanksgiving leftovers, are not exactly conducive to social distancing.

That puts retailers in a difficult position ahead of a hyped shopping day typically marked by frenzied crowds and predawn doorbuster deals. With COVID-19 cases spiking across the country and public health officials urging Americans to stay home as much as possible — plus a new curfew covering 94% of Californians — in-store shopping on the day after Thanksgiving will be a subdued affair.

That's leading to some mixed messaging from retailers: Come out on Black Friday, but not all at once. Consider just shopping online. Can't get around to it this weekend? No problem — holiday discounts, which began earlier than ever, will continue for weeks.

With retailers hampered by temporary store closures, capacity limits and stay-at-home orders since March, many have been pointing shoppers online for months. They've also been spreading holiday deals out, starting as early as October and promising to keep them going well into December.

Retail watchers say that despite a challenging year, there are signs that pent-up demand and "guilt gifting" will boost sales during the all-important end-of-year period. latimes.com

Thanksgiving Canceled? Christmas Shopping Isn't.
Typically, retailers want their stores teeming with shoppers over the Thanksgiving holiday weekend. This year? Not so much. To allow for social distancing, Walmart Inc., for example, has said its stores will allow 20% of their typical capacity on Black Friday, while Target Corp. will set limits on store by store. Most big chains will remain closed on Thanksgiving, a day that attracted 37.8 million in-store shoppers last year.

But a quieter Black Friday shouldn't sting too badly if retailers' other seasonal strategies are working out according to their plans. They began pummeling shoppers with Black Friday-like discounts ahead of the usual schedule. If that worked, then it shouldn't be too concerning if crowds are thin this weekend. Retailers have also invested in their e-commerce operations, often by launching or building awareness of curbside pickup options, to make up for some of the lost in-store sales.

Perhaps the best news for retailers ahead of this unusual Black Friday is the trail of recent breadcrumbs about consumers' willingness to spend despite a raging pandemic and gloomy economy. Several retailers have delivered gangbusters earnings reports in recent days. washingtonpost.com

The World's Famed Shopping Streets Are Preparing for the Worst
World-famous shopping districts are preparing — and bracing — for a holiday season unlike any they've ever seen. Many consumers are still wary of visiting stores, with the coronavirus pandemic reignited in much of the world. Travel restrictions will also slash the number of wealthy tourists normally relied upon to spend oodles of cash this time of year.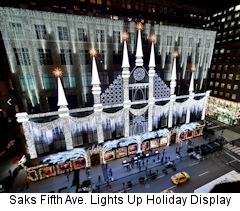 But luxury stores are still putting forth their best socially-distanced effort. They're filling windows with Christmas displays in a bid to salvage a crucial holiday season after Covid-19 wreaked havoc on retailers from Tokyo to New York. Here's a look at what it's like on the ground at these prominent thoroughfares as Black Friday approaches:

Fifth Avenue, New York
Fifth Avenue is still home to two of the glitziest department stores in the world: Saks Fifth Avenue and Bergdorf Goodman. But the numbers have dwindled in recent years, with Henri Bendel closing its century-old store and Barneys New York, just a block off the strip, liquidating. Several storefronts, including the former Ralph Lauren flagship, remain vacant. Its stores are now preparing for a muted holiday rush, with little or no tourists in sight.

Bond Street, London | Champs-Elysees, Paris | Ginza, Tokyo | Causeway Bay, Hong Kong businessoffashion.com

Fortune: Best Workplaces in Retail 2020
Fortune recently announced its 2020 Best Workplaces in Retail. Great Place to Work surveyed more than 900,000 employees across the U.S. in the retail industry. Questions focused on their experiences with their companies, including the effectiveness of leaders, company values and ability to reach their full potential.

1. Wegmans Food Markets, Inc.
2. CarMax
3. Publix Super Markets Inc.
4. Recreational Equipment, Inc. (REI)
5. Nugget Market, Inc.
6. Sheetz, Inc.
7. Custom Ink
8. Target Corporation
9. Altar'd State
10. Burlington Stores, Inc.
11. Wireless Vision
12. Cumberland Farms, Inc.
13. QuikTrip
14. Trek Bicycle Corporation
15. Brookshire Grocery Company
greatplacetowork.com
Left for dead, twice, RadioShack gets another shot online
RadioShack, a fixture at the mall for decades, has been pulled from brink of death, again. It's the most prized name in the basket of brands that entrepreneur investors Alex Mehr and Tai Lopez have scooped up since the coronavirus pandemic bowled over the U.S. retail sector and sent a number of chains into bankruptcy protection. Mehr and Lopez plan to make RadioShack competitive again, this time online, rather than on street corners or in malls. detroitnews.com

ICSC: Shoppers to spend $470 during Thanksgiving weekend

Best Buy to close all its Mexican stores

List: Stores Closed on Thanksgiving 2020

List: Black Friday Store Hours for 2020

---

Senior LP & AP Jobs Market

Director, Asset Protection job posted for Casey's in Ankeny, IA
The newly formed Asset Protection team is looking for a leader to oversee AP strategies and objectives to enhance awareness among team members across the organization. Your main objectives will be to mitigate shrink and protect company assets by leveraging data analytics and insights to improve results, protect people, property and profits. linkedin.com

---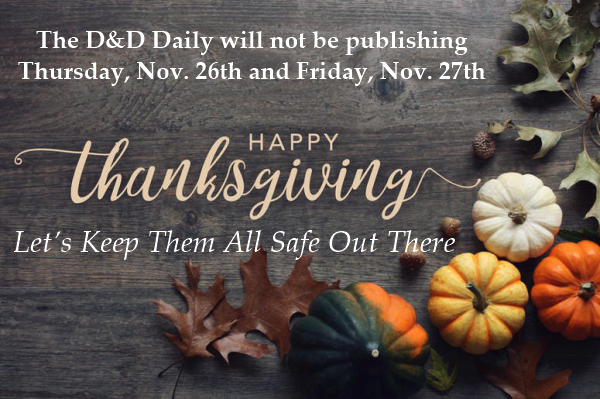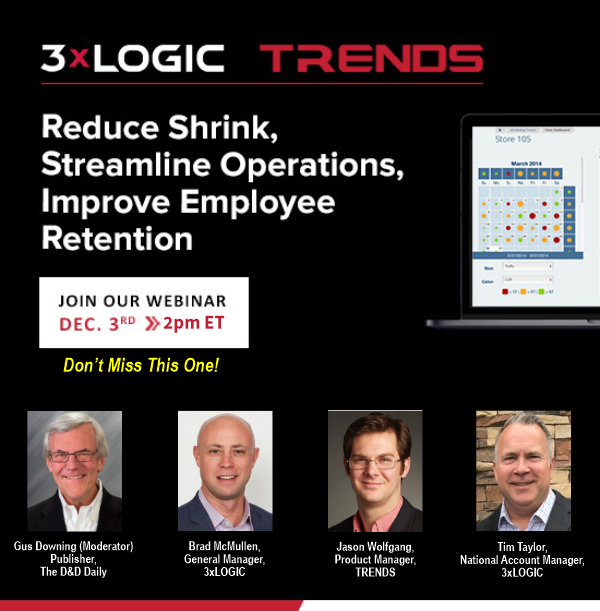 Register Here
---
CISA Warns of Holiday Online Shopping Scams



The agency urges shoppers to be cautious of fraudulent websites, unsolicited emails, and unencrypted financial transactions.

The Department of Homeland Security's Cybersecurity and Infrastructure Security Agency (CISA) today posted an advisory to warn shoppers of online scams ahead of the holidays.

As people around the country prepare for the holiday season, CISA officials encourage them to be careful of fraudulent websites spoofing legitimate businesses, unsolicited emails pretending to be from charities, and unencrypted financial transactions. Included in their advisory are links to resources where people can read up on online safety tips and social engineering scams.

If someone believes they're a victim of a holiday shopping scam, CISA advises reporting the incident to local police, filing an online report at the Federal Trade Commission's Report Fraud page, watching for unexpected financial charges, and changing potentially exposed passwords. darkreading.com

CISA encourages online holiday shoppers to review the following resources:

● CISA's Online Shopping Tip
● CISA's Holiday Online Shopping page
● CISA's Social Engineering and Phishing Attacks Tip
● FBI's 'Tis the Season for Holiday Online Shopping Scams - Don't Be a Victim Announcement

Complex cyber attacks target online retailers
Peak levels of traffic will be seen throughout the holiday shopping season as a flood of consumers turn to online channels to purchase goods, Imperva reveals.

A monthly measurement and analysis of the global cyber threat landscape across data and applications, shortly after stay-at-home orders were issued, web traffic to retail sites spiked by as much as 28 percent over the weekly average, eclipsing the record peaks from the 2019 holiday shopping season.

Cybercriminals capitalized on the chaos and shift to a remote world by launching bad bot attacks and DDoS attacks with the goal of disrupting online activities. As retailers now prepare for a surge in online holiday shopping amid the on-going global pandemic, Imperva experts urge vigilance and preparedness on the part of online businesses.

Bad bots abusing websites, mobile apps and APIs

Malicious automated attacks are a top threat to online retailers, a trend that has remained consistent before and during COVID-19. 98.04% of the attacks on online retailers detailed in the report originate from automated bot activity.

Simple bots are used in 44.15% of these attacks and function by connecting to a single, ISP-assigned IP address. The leading sources for these attacks are the United States (30.93%), Russia (14.39%) and Ukraine (12.92%).

Bots are also increasingly used as a competitive weapon by retailers who deploy bots for price scraping and inventory trackers to keep an eye on their industry rivals.

API attacks | Web attacks | DDoS attacks | Account takeover (ATO) attacks | Client-side attacks helpnetsecurity.com

Home Depot settles 2014 data breach lawsuit for $17.5 million
Home Depot, a Georgia-based home improvement store, will pay a $17.5 million settlement to 46 states including Ohio, Kentucky and Indiana regarding a 2014 data breach, officials announced Tuesday.

The breach exposed the payment card information of approximately 40 million Home Depot consumers nationwide, according to a release.

Hackers gained access to The Home Depot's network and deployed malware on the company's self-checkout point-of-sale system during the breach, the release states. Hackers were able to obtain self-checkout lane users' payment card information between April 10, 2014 and Sept. 13, 2014.

"The Home Depot might have the right hardware for customers but, in this case, it lacked the necessary tools to protect their information," Ohio Attorney General Dave Yost said. "That's now going to change with this settlement."

Home Depot agreed to implement and maintain additional data security practices in the settlement, including providing necessary security resources and training and hiring a Chief Information Security Officer. cincinnati.com

BBB warns of online shopping scams ahead of Black Friday

Biometric payment card market outlook buoyed by abrupt turn to contactless in the US

Federal facial recognition regulation watch is on - Local rules, practices all over the map

---

Europol EC3/Cybercrime Centre
Malicious Uses and Abuses of Artificial Intelligence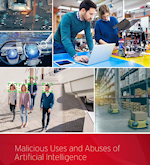 - Trend Micro Research
- United Nations Interregional Crime & Justice Research Institute (UNICRI)
- Europol's European Cybercrime Centre (EC3)

New report finds criminals leverage AI for malicious use,
and it's not just deep fakes

Europol, UNICRI and Trend Micro uncover current and future threats of AI and how to combat them

Read the full report: Malicious Uses and Abuses of Artificial Intelligence.

---
---
---

---
---
How Fake Reviews Hurt Us and Amazon
New research shows that we need to be even more skeptical online shoppers.
A recent academic research paper examined the prevalence of paid customer reviews on Amazon, and how the company and shoppers responded to them. The researchers found that Amazon is deleting a large share of ratings for which merchants paid, as these violate the company's rules. But in most instances
Amazon didn't act fast enough, so people were still influenced by the bogus reviews.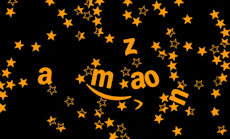 Customer ratings heavily influence what people buy online.
This research suggests that Amazon could be doing more to ensure the credibility of reviews, and that we need to be even more skeptical shoppers.
The researchers found that Amazon eventually deleted roughly one-third of the bogus reviews, but typically only after
an average lag of more than 100 days.
Long before then, unhappy customers left a significant number of one-star reviews, a sign that they didn't like what they bought and possibly even felt deceived by it.
Previous investigations and analyses have examined the cottage industry of bogus Amazon product reviews. This research is different in spotlighting Amazon's response.
It's impossible to catch all bad actors. But the fact that Amazon eventually deletes a significant portion of bought-off reviews shows that
the company is able to spot inauthentic ones but doesn't have the resources or doesn't care enough
to catch them before the damage is done.
nytimes.com
The implications of shipping direct to consumer
On top of high costs, fast and free delivery expectations, and returns, brands also put customer retention at risk by forfeiting control over the last mile.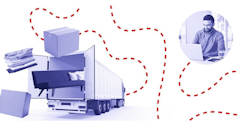 The influx in customers shopping for goods online and discovering DTC brands also
highlighted existing problems, primarily when it comes to shipping.
Direct-to-consumer brands already had to handle shipping nearly every good sold to customers, but when nonessential retailers were forced to shutter stores at the beginning of the pandemic and shift their focus to also selling online, the increased demand strained the system.
Now well into the holiday season, the e-commerce first trend, and subsequent
supply chain pressure, doesn't appear to be subsiding.
retaildive.com
Amazon pushes shoppers to pick up packages at stores amid potential delivery crunch
---
Lincoln, NE: Man accused of scamming Nebraska tire stores of $9,000 in truck tires
Police say they are on the lookout for a 22-year-old Texas man suspected of scamming a Lincoln store out of nearly $9,000 in truck tires. Officer Erin Spilker said Roderick Phelps, of Texas, got 16 tires from Bauer Built after allegedly calling in credit card information deemed fraudulent after he'd already picked up the tires. After it happened Oct. 7, the chain tire seller notified other locations, which led to Phelps' arrest in Fremont when he allegedly tried the same scam at the Bauer Built there a week later. Spilker said his rented, gray Dodge Ram truck had receipts from the earlier Lincoln purchase, as well as $3,500 in tires at Graham Tire in Lincoln. Phelps was charged in Dodge County with theft by deception, a felony. But he posted bond Oct. 16. A warrant went out for his arrest earlier this month when he failed to return for arraignment. Lincoln police say he is wanted here, too, on suspicion of felony theft. journalstar.com

Richland Township, PA: Philadelphia woman accused of Boscov's $3,600 robbery and assault on LP at The Galleria
A Philadelphia woman was jailed in connection with a robbery and assault at The Galleria in Richland Township in June, authorities said. Township police charged Tiffany E. Johnson, 36, with robbery, aggravated assault, retail theft, conspiracy to commit theft, false report and false identification. According to a criminal complaint, police alleged that Johnson, a second woman and four juveniles made off with $3,639.42 in merchandise from Boscov's store at The Galleria on June 23. Police said all but one – an infant – were involved in the theft, with each person placing merchandise into bags, hand bags and a baby stroller. The individuals were in the store more than an hour, taking clothing, jewelry and other items, the complaint said. When an employee attempted to stop them as they passed the checkout, Johnson allegedly pushed him before someone sprayed pepper spray at him, the complaint said. The group fled in an SUV. tribdem.com

Oklahoma City, OK: Lawton man sentenced to 9 months for Ammo thefts
Senior U.S. District Judge Robin J. Cauthron sentenced Michael Lee Oliver, 33, to serve his term for illegally possessing ammunition after having been previously convicted of a felony crime stemming from "his serial theft of ammunition from local retail store," according to U.S. Attorney Timothy J. Downing. Oliver was arrested on March 17 for stealing 16 boxes of ammunition (more than 700 rounds of ammunition) from a local sporting goods store, Downing said. He pleaded guilty on Aug. 5 to shoplifting ammunition multiple times a week from various sporting goods locations. This case is the result of investigations by the Bureau of Alcohol, Tobacco, Firearms, and Explosives and the Edmond Police Department. swoknews.com

East Lansing, MI: ELPD searching for five AT&T robbery suspects
Police are searching for five robbery suspects after a phone store was robbed Tuesday morning. The incident occurred at the AT&T phone store on Trowbridge Road, according to ELPD Deputy Chief Steve Gonzalez. Upon entering the store, the robbers demanded all of the phones in the store's safe, according to ELPD's statement. The store employee complied with the suspects and they stole an unknown number of phones. No weapons were seen by employees and no one was injured as a result of the incident. statenews.com

Hardin County, KY: Mother, son charged with thefts total over $3000 from Target
---
---

Shootings & Deaths

Oklahoma City, OK: New Details released after 15-year-old Armed Robbery suspect shot, killed by police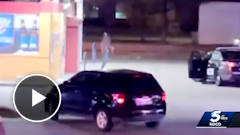 Police officers shot and killed a 15-year-old suspect during an armed robbery Monday night. According to police, Stavian Rodriguez tried to rob a convenience store near Southwest 79th Street at gunpoint. Officers ordered him to come out of the store after the clerk locked him inside. "At first, he did not come out. Eventually, he tried to come out one of the windows – the drive-thru window," said Master Sgt. Gary Knight, with the Oklahoma City Police. "He came out with the gun in his hand. He did not follow officers' instructions while coming out with the gun in his hand and, ultimately, he was shot." KOCO 5 was first on the scene and captured the shooting on video. The video shows the suspect appearing to drop the gun and putting his hands in the air. His hands seem to go down just before being shot. Police said at that point he continued furtive movements, which they considered suspicious. koco.com

Coon Rapids, MN: Man Shot Dead In Parking Lot Of Cub Foods, Suspect Arrested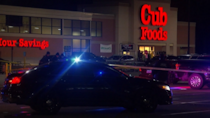 Coon Rapids police say a suspect is in custody and a man is dead after a shooting outside of a Cub Foods store late Monday afternoon. The man was reported being shot in the parking lot of the store at about 4:37 p.m. The victim, a 19-year-old Coon Rapids man, was soon pronounced dead at the scene despite the lifesaving efforts of first responders. Officers arrested a suspect near the store, a 19-year-old Andover man, who was taken to Mercy Hospital with minor injuries. He was later booked in jail on a pending murder charge. Police say they are still investigating. minnesota.cbslocal.com

Jackson, MS: Woman dies after being struck by vehicle outside Dollar General
A pedestrian was killed when she was struck by a vehicle Tuesday. The incident happened about 7:30 a.m. outside the Dollar General on Terry Road. The driver remained at the scene after the crash, police said. No charges are pending. wapt.com

Chicago, IL: 18 year old shot and killed outside C-Store


Robberies, Incidents & Thefts

Memphis, TN: Two in custody after attempted burglary at Firearms store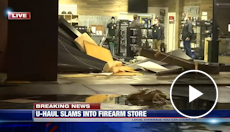 According to Memphis police, they received a call about a burglary at the AccurateTactical Supply store around 2:20 a.m. Police found the entire front portion of the store smashed out with some sort of vehicle. Police said they believe it was a UHaul that was taken in a separate earlier burglary on Shelby Drive. Two people were caught inside the store and taken into custody, according to MPD. No guns were taken from the store. fox13memphis.com
Chesterfield, County, VA: Publix in Chesterfield latest target in string of Grocery Store Robberies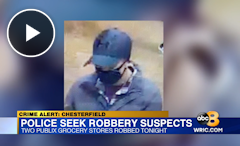 A Publix in Chesterfield County is the latest grocery store to be robbed in RVA since Saturday. Officers say a woman entered the store, located at 200 Charter Colony Parkway, shortly after 9:30 p.m. There, she approached an employee and demanded money while displaying a firearm, according to police. The woman, described as 20-25 years of age, wearing a gray hooded jacket, blue pants, dark-colored hat, and black face mask, was given an undisclosed amount of money. She was last seen running into the parking lot. Police say another Publix, located at 13700 Hull Street Road, was robbed earlier in the day. Authorities say a suspect entered the store, walked up to an employee and demanded money just before 4:50 p.m. No weapon was show, however, the employee complied with the robber's demand. The news comes after several high-end grocery stores, including Trader Joe's and Wegmans, were robbed in Richmond and Henrico County over the last week.
wric.com


Wichita Falls, TX: Former JC Penney employee convicted of stealing $5,400 of jewelry and cash back in jail after allegedly violating probation
A former JC Penney associate convicted of stealing jewelry and cash from the Sikes Senter store in 2016 is back in jail after authorities claim she violated her probation by committing more retail thefts. Theft charges were filed in 2016 when the store reported missing jewelry after daily diamond inventory and video surveillance and sales records were reviewed. Store investigators said Cottrell admitted she took items worth around $5,400 and selling or pawning them as well as $300 cash from a register in another department.
texomashomepage.com
Naperville, IL: Three arrested in Aurora on charges they robbed a Verizon store
San Diego, CA: Teenager Arrested For Alleged Armed Robberies At Four La Mirada Businesses
Boston, MA: Chelsea Man Pleads Guilty to 11 Armed Robberies
Hammond, IN: Stolen firearm found after teen tries to steal doorbell at Menards
Chesterfield, VA: 5 wanted for using counterfeit bills at Walmart
Jackson, MS: Police using all resources to keep holiday shoppers safe; Operation Safe Shop kicks off Friday
● AT&T – East Lansing, MI – Robbery
● Auto Parts – Washington County, OR – Armed Robbery
● C-Store – Hackensack, NJ – Burglary
● C-Store – Laconia, NH – Robbery
● Check Cashing – Cowley County, KS – Armed Robbery
● Clothing - Rowan County, NC - Burglary
● Gas Station – Hagerstown, MD – Robbery
● Gas Station – Laredo, TX – Armed Robbery
● Guns – Memphis, TN – Burglary
● Grocery – Chesterfield, VA – Armed Robbery
● Grocery – Richmond, VA – Armed Robbery
● Grocery – Bloomington, MN - Robbery
● Jewelry – Brandon, FL – Robbery
● Marijuana - Humboldt County, CA – Burglary
● Pet – Naperville, IL – Robbery
● Restaurant – Palm Beach, FL - Robbery
● Rite Aid – Newark, DE – Armed Robbery
● Target – Bloomington, MN – Robbery
● Thrift – Cortland, NY – Burglary
● Tobacco – Washington, IA – Burglary
● Verizon – Naperville, IL – Robbery
● Walgreens – Loveland, CO – Robbery
● 7-Eleven – Manassas, VA – Armed Robbery
● 7-Eleven – Orange County, VA - Robbery

Daily Totals:
• 18 robberies
• 6 burglaries
• 0 shootings
• 0 killed
Weekly Totals:
• 58 robberies
• 13 burglaries
• 0 shootings
• 0 killed

---
| | |
| --- | --- |
| | Tomas Negron named Territory Loss Prevention & Safety Manager for Goodwill Industries of Central Florida |
| | Diana Dindial Guzman named Asset Protection Area Manager for The Walt Disney Company |
| | Chindra Stephens promoted to District Asset Protection Manager for JCPenney |
| | Shawn Finley named District Loss Prevention Manager for The TJX Companies |
Submit Your New Hires/Promotions
or New Position
See all the Industry Movement
---



Feature Your Job Here For 30 Days -
70% Aren't On The Boards
Post your job listing
---
Featured Job Spotlights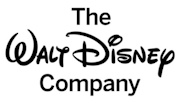 Corporate Manager, Asset Protection
Glendale, CA - posted November 5
The Corporate Manager, Asset Protection is responsible for the development of Asset Protection Guidelines & Procedures and Training & Awareness Programs for the Disney Store North America Division. This critical position works with cross functional Operational, Human Resource and Field Leadership partners...

Field Loss Prevention Manager
Framingham, MA - posted November 5
Staples is focused on our customer and our community. As a Field Loss Prevention Manager for Staples, you will manage and coordinate Loss Prevention and Safety Programs intended to protect Staples assets and ensure a safe work environment within Staples Retail locations...

Asset & Profit Protection Investigations Analyst
San Francisco, CA - posted September 24
You should have strong analytical skills, be a quick learner, and drive to innovate with both technology and processes. They will be personable, open to learning, collaborating with others, and apt to saying "yes" or "I'll find a way", rather than "no" or "that's impossible"...

Area Loss Prevention Manager
Pittsburgh, PA - posted September 10
Our Area Loss Prevention Managers ensure safe and secure stores through the objective identification of loss and risk opportunities. Our Area Loss Prevention Managers plan and prioritize to provide an optimal customer experience to their portfolio of stores. They thrive on supporting and building high performance teams that execute with excellence...

Customer Success Specialists
Multiple Locations - posted October 9
The role of the Customer Success Specialist is to engage, empower, and excite our community. As a Customer Success Specialist, your primary responsibility is to ensure both retailers and law enforcement, who make up our community, have great experiences and achieve real crime reduction outcomes from using our platform. Apply Here

Sales Representatives
NuTech National - posted October 13
NuTech National, an established and rapidly growing 40+ year electronic security company is expanding our National Sales Team. Seeking motivated, driven and successful sales reps to expand our national retail and governmental vertical markets. Top pay, benefits and signing bonus available. Please apply to melissa@nutechnational.com

Featured Jobs
---
JOB TITLE
COMPANY
CITY/STATE
DATE ADDED

Vice President
VP, Shortage Control
Burlington Stores
North Burlington, NJ
November 17
Vice President
Mobilelink
Sugar Land, TX
July 8

Director
LP Dir.
America's Car-Mart
Rogers, AR
November 16
Dir. AP
Casey's
Ankeny, IA
November 25
Dir. AP
Curtis Food Recruiters
Boston, MA
November 5
Dir. Safety & Security
Disney
Emeryville, CA
November 2
Dir. Governance, Risk & Compliance
DoorDash
San Francisco, CA
October 9
Dir. Security Operations
Gap Inc.
San Francisco, CA
October 1
Dir. Risk & Analysis
Genesco
Nashville, TN
November 17
Dir. Safety/Risk Mgmt.
Goodwill of SE Louisiana
New Orleans, LA
April 2
Dir. of Security
Gorgo Group
Orlando, FL
November 5
Deputy Dir. Global Security & Trade Compliance
IAP Worldwide Services
Cape Canaveral, FL
November 24
Dir. of LP
Ingles
Black Mountain, NC
September 17
Dir. of Security
Jushi Holdings Inc.
Manassas, VA
Nov. 9
Dir. AP
McLane Company
Temple, TX
November 5

Parker's C-Stores

Savannah, GA

June 3

Sr. Dir. Environmental Health & Safety
Ross Stores
Dublin, CA
October 9
Dir. Security Operations
Salesforce
Seattle, WA
September 9
Dir. LP Stores
Tractor Supply Co.
Brentwood, TN
November 6
Dir. Global Retail AP
Under Armour
Baltimore, MD
October 13

Corporate/Senior Manager
Mgr, Global Physical Security & Investigations
CDK Global
Hoffman Estates, IL
October 30
Manager of LP
Peach State Truck Centers
Norcross, GA
November 24

---


---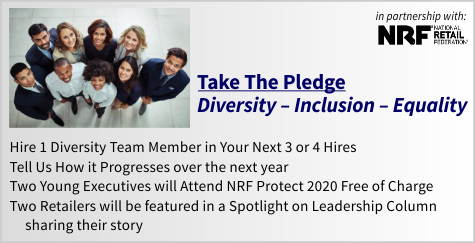 ---

Energy is the primary force behind success and without it mediocrity or failure is almost guaranteed. The ability to move things forward and influence change requires energy and there's a direct correlation to the amount of it and to the degree of success. It's great to start off energized and gung ho about a project or initiative, but it's critical to maintain the energy thru to completion. As one senior executive has said, "there's no bad plan -- it's always a matter of execution" and execution is all about energy. So when you think you've lost your energy, take a break, do something different, and give your mind a chance to re-energize. Because the worst thing you can do is to try to execute without it.

Just a Thought,
Gus



(content subject to approval)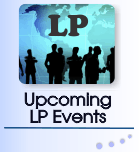 ---

Recruiting?
Get your job e-mailed to everyone... everyday
Post on our Featured Jobs Board!
Not getting the Daily?
Is it ending up in your spam folder?
Please make sure to add d-ddaily@downing-downing.com to your contact list, address book, trusted sender list, and/or company whitelist to ensure you receive our newsletter.
Want to know how? Read Here



36615 Vine Street, Suite 103
Willoughby, OH 44094
440.942.0671
copyright 2009-2019
all rights reserved globally