---

CONTROLTEK Launches InFlight RFID™, The Next-Generation RFID
as EAS System



BRIDGEWATER, N.J. (Sep. 21, 2021) - CONTROLTEK, a leading retail security solutions provider, has released InFlight RFID™, the world's thinnest suspended RFID as EAS reader to elevate retail loss prevention to new heights. InFlight RFID™ is the latest release in CT360, CONTROLTEK's line of affordable, scalable and agnostic solutions for retailers.

"With a nine-element antenna array, InFlight RFID™ offers the most advanced RFID array on the market for the highest performance possible," said Tom Meehan, CFI, chief strategy officer and chief information security officer at CONTROLTEK. "Our next-generation RFID as EAS reader uses LiDAR time-of-flight sensors to detect the speed and direction in which a tag is moving, providing highly accurate location tracking data that can be used for theft detection, asset tracking, real-time inventory management and more."

Read more in the Vendor Spotlight column below

---

NRF News & Updates

NRF Foundation Announces List of People Shaping Retail's Future 2022



The NRF Foundation today announced the honorees of The List of People Shaping Retail's Future 2022 – an extraordinary group of retail leaders who will be celebrated at the NRF Foundation Honors in New York City in January.

The List of People Shaping Retail's Future 2022 honorees are:

● Five Below Inc. President and CEO Joel Anderson
● McDonald's Corporation President and CEO Chris Kempczinski
● CVS Health Executive Vice President and CVS Pharmacy President Neela Montgomery
● Chewy Inc. CEO Sumit Singh
● The RealReal Founder and CEO Julie Wainwright

"This year's honorees have each led their companies through incredible changes," said Jeff Gennette, chairman and CEO of Macy's, Inc. and chairman of the NRF Foundation Board of Directors. "They have remained steadfast in their commitment to their teams and communities, and I am proud to recognize The List 2022's influence on our industry."

Each honoree will be featured in videos released by the NRF Foundation over the next several weeks, offering an inside look at how they built exceptional careers in retail and how they're impacting the industry. nrf.com

NRF PROTECT 2022 Announces New Dates: June 21-23, 2022



The event dates for NRF PROTECT 2022, originally scheduled for June 20-22, 2022, have been changed to June 21-23, 2022, with the EXPO taking place on June 22-23, 2022. The event will still take place, in-person, in Halls B/C at the Huntington Convention Center of Cleveland. The change of dates has no impact on booth space/location on the floor plan and the terms of your signed Exhibitor Space Application and Agreement still apply.

The NRF is requesting that each exhibitor completes an online "Date Change Acknowledgement Form" by October 1, 2021.

---

The U.S. Crime Surge
The Retail Impact

Worst Gun Violence Year in Decades - Nearly 2 Mass Shootings Per Day
Gun violence spike continues, with 2021 on pace to be worst year in decades

So far, 2021 is on pace to be the worst year for gun violence in decades, surpassing even the high levels last year.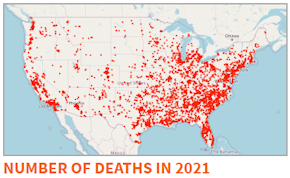 According to the Gun Violence Archive, from January 1 to September 15, a total of 14,516 people died from gun violence in the US. That's 1,300 more than during the same period in 2020, a 9% increase. Mass shootings are also on the rise. Through September 15, there have been 498 mass shootings across the US, or an average of about 1.92 per day. That's 15% higher than last year, when there were a total of 611, a rate of 1.67 per day, according to data from the GVA.

CNN and GVA define a mass shooting as an incident with four or more people killed or wounded by gunfire -- excluding the shooter.

The rapid rise in gun violence, however, might be slowing down. Richard Rosenfeld, a criminology professor at the University of Missouri-St. Louis and his colleagues found that in the first quarter of 2021, the number of homicides was 23% higher than in 2020. In the second quarter that number went down to 10%.

Rosenfeld told CNN that many factors could be playing a role in the rise in gun violence, including the pandemic as well as the racial strife spurred by the murder of George Floyd last year, and the effect both have had on policing across the US.

Gun and ammo sales

Last year, Americans bought a record number of 23 million firearms -- up 65% from 2019, according to Small Arms Analytics (SAAF), a consulting firm based in Greenville, South Carolina. The National Shooting Sports Foundation estimates that among those purchasing guns in 2020, 8.4 million of them were new gun owners.

At the beginning of 2021, gun sales continued to spike, with 2.2 million firearms sold in January, according to SAAF. While gun purchases began to decrease in most of the preceding months compared to 2020 levels, the number of purchases remains higher than previous years.

In August, the year-over-year sale of firearms was down 25% compared to the previous year. However, the number of sales is still far outpacing those "of any year except for 2020," according to SAAF Chief Economist Jurgen Brauer. cnn.com

The Deadly Impact of a Single Gun Store Burglary
A gun was stolen from a small shop in Wisconsin. Officials have linked it to 27 shootings in Chicago.
With the solid crack of a crowbar, the hooded burglar sent the showcase glass showering onto the gun shop's floor and quickly swept several pistols into his shoulder bag. Among the cache that New Year's morning at a northern Wisconsin gun shop was a lightweight 9mm handgun with a black polymer grip, a black steel slide and a 4½ inch barrel.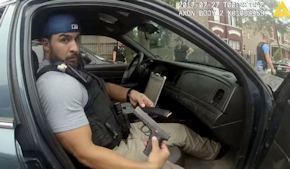 It took all of about 20 seconds for the handgun and eight others to slip from the secure display case of a federally licensed firearms dealer and into the underground gun market.

In little over a month it was on the streets of Chicago, where it would be fired over and over and over, linked to some 27 shootings before it was taken off the streets. An extended magazine, which increases firepower, was attached.

All told, two dozen people were shot during its use here in a handful of Chicago neighborhoods, two of them killed. A cluster of shootings took place in North Lawndale on the West Side, for example, with three on one block alone.

The Tribune examined hundreds of documents obtained through open-records requests to outline and understand the Glock's path to and throughout Chicago, conducting numerous interviews to learn how the weapon moved about the city and hearing from those whose lives were forever altered by its use.

The fact that one gun is linked by police to 27 shootings has stunned local law enforcement officials, who say it could be the most ever connected to one firearm in Chicago through a computerized ballistics-imaging program administered by the U.S. Bureau of Alcohol, Tobacco, Firearms and Explosives. chicagotribune.com

Another Retail-Law Enforcement Partnership Tackles ORC
Greenwich Police Dept ORCA Team Partners with Merchants to Fight Crime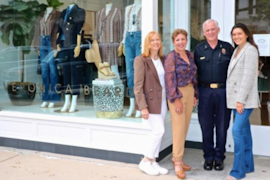 Greenwich Police created an Organized Retail Crime Activity (ORCA) Team consisting of three dedicated officers with support from other members of the Greenwich Police Dept.

The ORCA team is tasked with countering the crimes afflicting downtown Greenwich. Working primarily in plainclothes in the central area, they have successfully established personal relationships with the employees of numerous businesses, including shops, stores, and financial institutions. As they developed trust among these diverse merchants, the officers assigned to ORCA slowly began to receive an increasing stream of information about suspicious individuals. Responding rapidly to these tips, ORCA officers can initiate discreet surveillance of the suspicious persons and take appropriate action once reasonable suspicion of a crime is established.

The result was hundreds of charges, large and small, brought against suspects and information shared with local business establishments to improve crime prevention procedures. To date, the ORCA Team has investigated 101 cases, resulting in 136 arrests for 311 felonies, 217 misdemeanors, and dozens of infractions, and a total of 803 charges. Many of these local arrests are tied to major regional cases investigated by federal law enforcement agencies, with some of the suspects connected to violent crimes committed elsewhere.

According to Chief of Police Jim Heavey, the ORCA Team has played an essential role in the redeployment of officers on Greenwich Avenue. Heavey said that coupled with the use of patrol officers on bicycles, this is a superior use of their police presence that enhances public safety.

"These criminal operations are responsible for tens of billions of dollars in losses each year nationally. Locally the losses can devastate a retail business," Heavey said. greenwichfreepress.com

Bucking the Nationwide Crime Trend
Dallas PD Say Violent Crime Down 6.3% in 2021
Violent crime — which includes murders, robberies and aggravated assaults — was down across Dallas about 6.3% from January to July this year compared with the same period in 2020.

Dallas Police Chief Eddie García voiced confidence in his crime-reduction plan on Monday as murders and robberies trended down across the city during the first half of the year while aggravated assaults were slightly higher than last year.

There were 500 — or 24.8% — fewer robberies this year for a total of 1,519 offenses.

The findings, which were presented Monday to the city's public safety committee, marked the end of the first 90-day implementation of García's plan, which focused on increased police visibility in 47 small geographic areas — or grids — where violent crime is prevalent across Dallas.

Weekly violent crime averages decreased by about 45.7% in the treated grids after the hot spots intervention, while weekly averages outside of the grids increased by about 17.5%, according to the department analysis. Police and criminologists working with the department pointed to those stats as indicators that the chief's plan has been effective.

García's plan also focuses on targeting drug houses and tackling poverty as a root cause of violent crime. The plan's medium- and long-term strategies include using focused deterrence to change the behavior of high-risk offenders through arrests, community involvement and providing alternatives to violence.

Police are preparing to launch the next phase of the chief's plan and, with local criminologists, have adjusted the department's target grids to 51 small areas — 40 of which will be new. That's out of 101,402 grids citywide. dallasnews.com

Yes to Police Reform - No to Fewer Officers
Most Minneapolis voters want reform, not fewer cops
A clear majority of Minneapolis voters oppose reducing the size of the city's police force, and that feeling is especially strong among Black voters, a new Minnesota Poll has found.

At the same time, voters are showing support for replacing the Minneapolis Police Department (MPD) with a new agency. Most city residents, white and Black, have an unfavorable view of the department. startribune.com

5,100 kids shot, 1,300 killed: Gun violence affecting children erupts during COVID-19

New Akron police chief says community must help to quell rising gun violence
---

COVID Update

386.2M Vaccinations Given
US: 43.1M Cases - 694.6K Dead - 32.6M Recovered
Worldwide: 229.9M Cases - 4.7M Dead - 206.6M Recovered

Former Senior Loss Prevention Executive
Know of any fallen LP exec? Let's remember & recognize.

Private Industry Security Guard Deaths: 315
Law Enforcement Officer Deaths: 410
*Red indicates change in total deaths


COVID Hot Spots Across the United States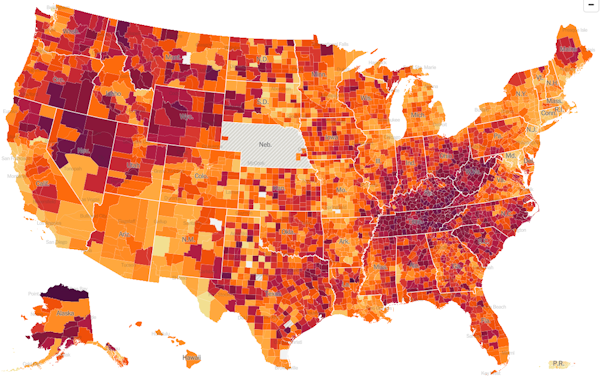 COVID's Historic Death Toll
The US death toll from Covid-19 just surpassed that of the 1918 flu pandemic
Despite all the scientific and medical advances of the past 103 years, the Covid-19 pandemic has now killed more Americans than the 1918 flu pandemic did. More than 675,000 people in the United States have died from Covid-19, according to Johns Hopkins University. That surpasses the estimated US death toll from the deadliest pandemic of the 20th century.

In April 2020, CNN published a list of lessons learned from the 1918 pandemic that could help mitigate the Covid-19 pandemic. They included not ditching safety precautions too early; not getting a false sense of security among those young and healthy; and not relying on unproven treatments.

But Kissler said those lessons were not heeded by many. "A lot of the mistakes that we definitely fell into in 1918, we hoped we wouldn't fall into in 2020," Kissler said. "We did." cnn.com

Deadliest Month of the Pandemic Since February
September on track to be deadliest month for Covid since winter surge
September 2021 is on track to be the deadliest month in the Covid-19 pandemic since the winter surge in February, with an average of more than 2,000 Americans dying from the virus each day. NBC News' Ellison Barber reports from Des Moines, Iowa, where local media says someone "reported positive for Covid-19 about once every 50 seconds over the last seven days." nbcnews.com

Beefing Up Security as Customers Push Back Against Mandates
NYC restaurants hire security as customers resist vaccine mandate
If eating out at New York City restaurants wasn't already different enough during the COVID-19 pandemic, some businesses are going through another change: beefed-up security.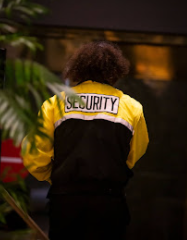 With Mayor Bill de Blasio's "Key to NYC Pass" vaccine mandate in effect, restaurant staff are now required to ask customers 12-years-of-age and older for proof of vaccination if they want to dine-in.

Some restaurants are adding or considering hiring security guards to protect staff as they carry out this new task. This comes after a hostess at the popular Carmine's restaurant in Manhattan's Upper West Side was attacked by three customers from Texas when, according to police, the hostess asked them to show whether or not they were vaccinated. The assault landed the hostess in the hospital, and the three customers in jail.

Other restaurant workers told PIX 11 they've had people scream in their faces when questioned about vaccination status.

New York City restaurants that don't comply with the vaccine checks can be fined $1000 or more. Officials said city inspectors have gone around to more than 5,000 restaurants throughout the boroughs since the mandate began Monday to ensure compliance.

More than 2,000 of the restaurants were caught not enforcing the vaccination requirement. At this point, city officials said they're only giving out warnings, but those warnings will turn into hefty fines if restaurant owners don't start complying.

Meanwhile, some city leaders are calling for the fines and penalties to be increased on anyone convicted of assaulting a restaurant worker just trying to do their job by asking about vaccination status. wfla.com

Frontline Retail Workers Facing Pandemic Violence Worldwide
A gas station attendant is killed in Germany after telling a customer to mask up
A 20-year-old student working at a gas station in southwestern Germany was shot and killed after refusing to sell beer to an unmasked customer, the local prosecutor said.

When an unmasked 49-year-old man entered the gas station on Saturday night and placed two six-packs of beer on the counter in the town of Idar-Oberstein, near the French border, the cashier insisted that he wear a mask, said Kai Fuhrmann, the district attorney in charge of the case, in a telephone interview.

Masks have been mandatory in shops in Germany since shortly after the pandemic started.

The man then left the store only to return an hour later, still unmasked but with a gun — one not licensed under Germany's strict weapons laws. When the clerk asked him a second time to put on a mask, Mr. Fuhrmann said, he killed him with a single shot to the head.

Although Germany has seen protests, sometimes including violence, over its mask and hygiene rules, this is believed to be the first death in the country directly linked to the restrictions.

The suspect, who has no previous police record, told the authorities that he saw the cashier as "responsible for the situation because he was enforcing the rules," Mr. Fuhrmann said. nytimes.com

Retailers Rethink Pandemic-Battered Manhattan
Starbucks has closed more than 40 stores, while adding mobile-order pickup counters in others. Other chains like Sonic are taking advantage of vacancies to establish themselves in New York.

By the end of 2020, the number of chain stores in Manhattan — everything from drugstores to clothing retailers to restaurants — had fallen by more than 17 percent from 2019, according to the Center for an Urban Future, a nonprofit research and policy organization.


Across Manhattan, the number of available ground-floor stores, normally the domain of busy restaurants and clothing stores, has soared. A quarter of the ground-floor storefronts in Lower Manhattan are available for rent, while about a third are available in Herald Square.

Starbucks has permanently closed 44 outlets in Manhattan since March of last year. Pret a Manger has reopened only half of the 60 locations it had in New York City before the pandemic. Numerous delicatessens, independent restaurants and smaller local chains have gone dark.

"Midtown clearly has been the hardest hit of any of the areas of Manhattan."

But in a city where one person's downturn is someone else's opportunity, some restaurant chains are taking advantage of the record-low retail rents to set up shop or expand their presence.

In the second quarter, food and beverage companies signed 23 new leases in Manhattan, leading apparel retailers, which signed 10, according to the commercial real estate services firm CBRE.

Still, with so much uncertainty about when employees may fully return to Midtown offices, some companies are proceeding carefully. nytimes.com

Pandemic could prompt reassessment of alcohol's role at work
One study published in December 2020 by the National Institutes of Health found that 60% of U.S. adult respondents reported increased alcohol use compared to what they consumed prior to the pandemic, and about 46% of this contingent cited increased stress as a reason for that increase. hrdive.com

Extra J. & J. shot substantially boosts protection against Covid, the company reports
---

Another Year of Uncertainty Ahead for Retail
WSJ-CFO: Retailers Navigate Freight Costs, Scarce Inventory & Uncertain Future

Despite rosy earnings outlooks, finance chiefs warn of myriad challenges for at least another year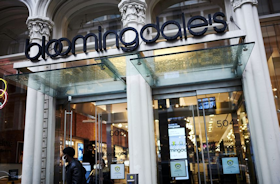 Finance executives in the retail industry continue to face a multitude of challenges as they plan for the fall and the holiday season despite being generally optimistic on their companies' earnings outlook.

Retailers are grappling with ongoing supply-chain disruptions that are keeping inventory low and often causing delays, forcing companies to pay premiums to accelerate shipments. Deliveries from Vietnam and other Southeast Asian countries have slowed as local governments limit factories' production capacity due to the Delta variant, potentially resulting in delays and shortages of certain products. Companies say they are experiencing a level of uncertainty not seen since the onset of the pandemic, putting their financial plans in doubt.

Despite these obstacles, U.S. finance chiefs have maintained a positive outlook on future profits and demand for their products, due in part to strong consumer spending. Sales at U.S. retailers climbed 0.7% in August, a rebound from a drop in July, the Commerce Department said.

About 30% of the 108 retailers in the S&P 1500 index revised their annual guidance through Aug. 31, nearly all upward except for discount retailer Dollar Tree Inc., according to data provider FactSet Research Systems Inc. That's up 25 percentage points from the prior-year period, when 5% of the retailers updated their guidance. About 8% haven't changed their annual guidance so far this year, while the remaining 62% didn't provide such a forecast, with some—including Burlington Stores Inc. and Victoria's Secret & Co.—citing uncertainty as a reason.

In August, Dollar Tree said it cut its forecast for the fiscal year ending in January to earnings per share of $5.40 to $5.60, down from its May forecast of $5.80 to $6.05, driven by higher freight costs. Macy's Inc., which also operates the Bloomingdale's and Bluemercury brands, forecasts supply constraints will be its biggest challenge in the fall and winter months, said CFO Adrian Mitchell, who has been in the role since November.

Chief financial officers are working to offset some of the hurdles, including ordering inventory earlier than usual, revising long-term contracts with ocean carriers, spending more on airfreight, increasing prices and moving their operations. wsj.com

Stores Closures vs. Openings
New store opening announcements are up 58% from 2020: Coresight
In brick and mortar, the script has flipped between 2020 and 2021. This time last year, after bankruptcies surged amid COVID-19 disruption, store closures outpaced openings by more than 150%, according to Coresight.

Retailers have announced 4,969 store openings so far in 2021, which represents a 58.3% increase over last year, according to a report from Coresight Research. That figure slightly outpaces announced closures for the year, which stand at 4,889, down 37.9% from 2020.

Dollar General has announced far more openings than any other retailer and represents more than 20% of all announced openings so far this year, according to Coresight data.

Other discounters are among those retailers opening the most stores as well, including Dollar Tree, Family Dollar — which together under Dollar Tree Inc. are rolling out a combined format store targeting rural markets — and Five Below. But it's not all discount and off-price. Foot Locker is opening stores (109), as is Signet Jewelers (87), Tractor Supply (80), Aerie (76), Bath & Body Works (49) and plenty of others. retaildive.com

Europol Assist in Arrests of 106 Italian Mafia Online Fraudsters

About € 10 million ($11.7M U.S.) was stolen in just a year



The Spanish National Police (Policía Nacional), supported by the Italian National Police (Polizia di Stato), Europol and Eurojust, dismantled an organised crime group linked to the Italian Mafia involved in online fraud, money laundering, drug trafficking and property crime. The suspects defrauded hundreds of victims through phishing attacks and other types of online fraud such as SIM swapping and business email compromise before laundering the money through a wide network of money mules and shell companies. Last year alone, the illegal profit is estimated at about € 10 million ($11.7M U.S.)

This large criminal network was very well organized in a pyramid structure, which included different specialised areas and roles. Among the members of the criminal group were computer experts, who created the phishing domains and carried out the cyber fraud; recruiters and organizers of the money muling; and money laundering experts, including experts in cryptocurrencies. Most of the suspected members are Italian nationals, some of whom have links to mafia organizations. Located in Tenerife (Canary Islands, Spain), the suspects tricked their victims, mainly Italian nationals, into sending large sums to bank accounts controlled by the criminal network. They then laundered the criminal proceeds through a wide network of money mules and shell companies.

Europol facilitated the information exchange, the operational coordination and provided analytical support for this investigation, which lasted over a year. The Joint Cybercrime Action Taskforce (J-CAT) at Europol supported the operation. This standing operational team consists of cyber liaison officers from different countries who work from the same office on high profile cybercrime investigations. europa.eu

Congress Considering $700,000 OSHA Penalties
A Congressional committee has approved maximum penalties of $700,000 per item for violations of Occupational Safety and Health Administration (OSHA) standards.

The move would mean more than a fivefold increase of maximum "willful," "repeated," and "failure-to-abate" violations from $136,532. Minimum penalty amounts for such infractions would increase from today's $9,753 to $50,000. "Serious" violations would increase from a current maximum of $13,653 to $70,000.

Announcing its intent to "invest in increased enforcement of labor law … and set meaningful civil monetary penalties for violations of wage and hour, worker safety and labor laws" in the "Build Back Better Agenda," the House Committee on Education and Labor approved the multiplied penalty levels, as well as a $707 million budget for the agency.

The penalty increases mirror provisions in the "Protecting America's Workers Act," a measure that has been proposed in recent Congresses but has never passed. The House of Representatives is expected to vote on the new measure and send it to the Senate, which could enact the measure with a simple majority vote. jacksonlewis.com

Editor's Note: 'Just in Time' - Talk about timing. Congress needs money just about as much as everybody else, if not more. With this $7.5T budget bill, seems like they'd have enough to support the INFORM Consumers Act.

Employee 'Ghosting'
Employers say 'ghosting coasting' is a growing problem, but workers have their reasons for quietly walking away from a job

Recruiters and managers say they have been left high and dry by new hires who vanish without explanation.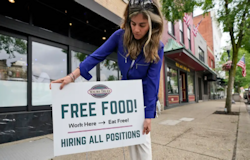 Over a summer marked by rage quits, the Great Resignation, and other high-profile walkouts by overworked and under-appreciated employees, another headache has been quietly brewing. Where many employees have gone out with a bang this year, a growing number are instead departing without so much as a whimper.

Hiring and retention has become a defining challenge in the current labor market, and the Federal Reserve's most recent summary of economic conditions in the US says a growing trend is giving employers new headaches.

"Retention continued to be a growing problem for firms," the Atlanta Fed said in its September Beige Book entry. "Restauranteurs noted concerns over 'ghosting coasting,' where a new hire works for a few days and moves on to the next restaurant without notice before they are let go due to lack of skills."

Granted, the practice itself is not new, but it does appear to be more widespread than ever before as job openings outpace job seekers, allowing workers to reclaim a measure of the power in a situation that has favored employers for decades. businessinsider.com

FedEx to Spend $100 Million on Boosting Delivery-Van Safety
FedEx Corp. plans to spend more than $100 million to improve delivery-van safety and reduce costs from accidents, potentially dragging on short-term earnings as the courier faces pressure from rising wages and other expenses.

The company's Ground unit is offering $1,500 per vehicle to reimburse its contractors for installing cameras and sensors that warn drivers of obstacles or other vehicles, according to documents viewed by Bloomberg News. The unit's contractors operate about 72,000 vehicles, FedEx said. news.bloomberglaw.com

Aldi trials first check-out free store in UK
---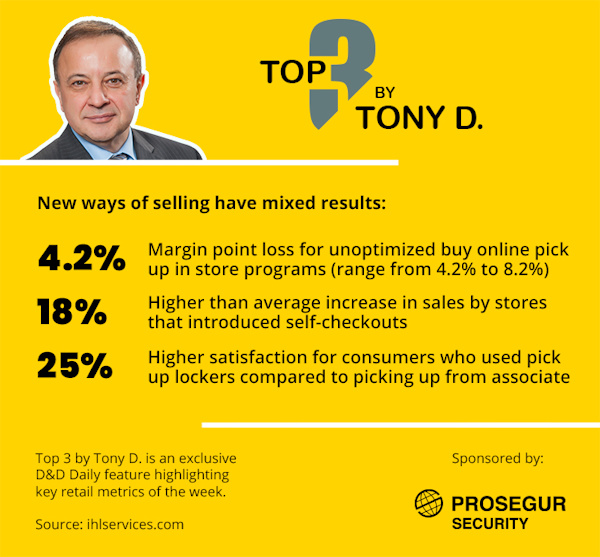 CONTROLTEK Launches InFlight RFID™,
The Next-Generation RFID as EAS System




BRIDGEWATER, N.J. (Sep. 21, 2021) – CONTROLTEK, a leading retail security solutions provider, has released InFlight RFID™, the world's thinnest suspended RFID as EAS reader to elevate retail loss prevention to new heights. InFlight RFID™ is the latest release in CT360, CONTROLTEK's line of affordable, scalable and agnostic solutions for retailers.

"With a nine-element antenna array, InFlight RFID™ offers the most advanced RFID array on the market for the highest performance possible," said Tom Meehan, CFI, chief strategy officer and chief information security officer at CONTROLTEK. "Our next-generation RFID as EAS reader uses LiDAR time-of-flight sensors to detect the speed and direction in which a tag is moving, providing highly accurate location tracking data that can be used for theft detection, asset tracking, real-time inventory management and more."

"Upgrading to RFID as EAS provides retailers with more than just basic loss prevention. In addition to virtually eliminating false alarms, InFlight RFID™'s state-of-the-art technology tells retailers exactly what item has left the store so retailers can replenish merchandise," said Rubin Press, vice president of global sales at CONTROLTEK. "Thanks to its fully integrated Bluetooth Low-Energy transmitter, InFlight RFID™ can also sync with other RFID readers to transfer data in real time, automating the inventory management process."

For more information about InFlight RFID™ and CONTROLTEK's other solutions for retailers, visit the company's website or contact a CONTROLTEK sales representative at sales@controltekusa.com.
---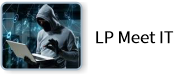 ---

Secret FBI Operation to Disrupt Hackers
FBI held back ransomware decryption key from businesses to run operation targeting hackers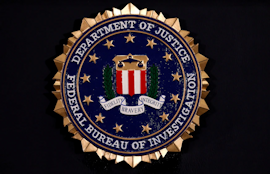 The FBI refrained for almost three weeks from helping to unlock the computers of hundreds of businesses and institutions hobbled by a major ransomware attack this summer, even though the bureau had secretly obtained the digital key needed to do so, according to several current and former U.S. officials.

The key was obtained through access to the servers of the Russia-based criminal gang behind the July attack. Deploying it immediately could have helped the victims, including schools and hospitals, avoid million of dollars in recovery costs, analysts estimate.

But the FBI held on to the key, with the agreement of other agencies, in part because it was planning to carry out an operation to disrupt the hackers, a group known as REvil, and the bureau did not want to tip them off. Also, a government assessment found the harm was not as severe as initially feared. The planned takedown never occurred because in mid-July REvil's platform went offline — without U.S. government intervention — and the hackers disappeared before the FBI had a chance to execute its plan, according to the current and former officials.

The previously unreported episode highlights the trade-offs law enforcement officials face between trying to damage cyber criminal networks and promptly helping the victims of ransomware — malware that encrypts data on computers, rendering them unusable.

The White House has made fighting ransomware a priority, and President Biden has urged Russian President Vladimir Putin to rein in ransomware criminals operating out of Russia.

The FBI finally shared the key with Kaseya, the IT company whose software was infected with malware, on July 21 — nineteen days after it was hit. By then, it was too late for some victims. washingtonpost.com

47% Increase in Cyber Threats
Ransomware still a primary threat as cybercriminals evolve tactics
Trend Micro announced that it blocked 40.9 billion email threats, malicious files, and malicious URLs for customers in the first half of 2021, a 47% year-on-year increase.

Ransomware remains primary threat in the first half of the year as cybercriminals continued to target big-name victims. Working with third parties to gain access to targeted networks, they used Advanced Persistent Threat tools and techniques to steal and encrypt victims' data.

The banking industry was disproportionately affected, experiencing a 1,318% year-on-year increase in ransomware attacks in the first half of 2021.

Ransomware remained primary threat in H1 2021, but not the only one

Ransomware was a major threat to global organizations in the first half of 2021, but it was not the only one. The report also reveals:

● Business email compromise (BEC) attacks increased by 4%, potentially as a result of new COVID-19 opportunities for threat actors.

● Cryptocurrency miners became the most detected malware, having surged ahead of WannaCry and web shells in recent months.

● The Zero Day Initiative detected 770 vulnerabilities, a slight (2%) drop from 1H 2020.

● A total of 164 malicious apps related to COVID-19 scams were detected, 54% of which impersonated TikTok.

"The first step towards effectively mitigating cyber risk is understanding the scale, complexity, and specific characteristics of the threat landscape," said Jon Clay, VP of threat intelligence for Trend Micro. helpnetsecurity.com

Ransomware Surge Drives Zero Trust Security Solutions
Zero trust security solutions widely adopted, spurred by surge in ransomware
Over a decade after the zero trust security concept was first introduced, Ericom's survey results indicate that zero trust solutions are being widely adopted.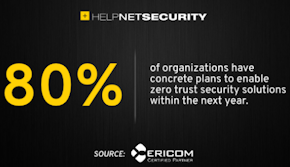 Spurred by the recent sharp increase in ransomware and other sophisticated cyberattacks, the majority of organizations – 80% – have concrete plans to enable zero trust security solutions within the next year, with over half planning to begin implementation during 2021.

Of the almost 1300 security and risk professionals who participated in the July 2021 survey, 83% indicated that they consider zero trust to be an essential strategy for their organizations.

Almost all respondents believe that adopting a zero trust cybersecurity approach is essential for preventing or limiting the success of cyberattacks. The most popular area of initial focus for respondents' zero trust security programs is identity and access management, followed by network security and web security.

Zero trust security solutions implementation hurdles

While respondents are bullish on the necessity of adopting a zero trust security approach, they are less confident in their abilities to successfully implement solutions. Over 70% feel that having a partner to help implement zero trust would speed the process, while budget restrictions and prioritization of other strategic security initiatives are most likely to delay zero trust programs from the business perspective.

On the IT side of the ledger, respondents identified legacy technology and complexity associated with defining and implementing zero trust security policies as significant barriers to successful implementation. helpnetsecurity.com

Open source cyberattacks increasing by 650%, popular projects more vulnerable
Sonatype released a report that revealed continued strong growth in open source supply and demand dynamics. Further, with regard to open source security risks, the report reveals a 650% year over year increase in supply chain attacks aimed at upstream public repositories, and a fascinating dichotomy pertaining to the level of known vulnerabilities present in popular and non-popular project versions. darkreading.com

Modern security strategies key to support remote workforce demands
Six in 10 respondents said traditional security tools such as VPNs are still the primary vehicle for employees accessing applications remotely — likely the reason why 44% were not confident that their access security systems could scale effectively to secure remote work.

These are among the key insights from a global survey of 2,600 IT decision makers, conducted by 451 Research, to better understand the new security risks and challenges caused by the rise of remote working and cloud transformation caused by the COVID-19 pandemic.

Last year saw a surge in cybercrime exploiting the various aspects of the COVID-19 pandemic and the shift to remote work, with ransomware attacks soaring by 150%. The survey found the pandemic's effects have had a significant impact on security infrastructure, particularly on access management and authentication frameworks, pushing organizations to adopt modern security strategies like zero trust to support the demands of a more mobile and remote workforce. helpnetsecurity.com

---

Register Now for the 2021 RH-ISAC Summit - September 28-29



Hey LP/AP senior: If your retailer is a member you might want to consider attending yourself or sending one of your team members who works with cybersecurity on investigations or e-commerce fraud.

Especially now with the increased ransomware attacks and data beaches and the corresponding increased attention from law enforcement. Cross pollinating and building those relationships could pay off long term. Register here
---

---

How to Change Your Zoom or Microsoft Teams Background on the Desktop App
In the Zoom app, click your profile in the top right corner, and then click "Settings." From there, click "Virtual Background" on the menu to the left. You will then see a few default background options provided by Zoom. You can simply choose one of those by clicking on it, and it will automatically change your screen. If you want to upload a photo, click the "+" icon and then select "Choose Virtual Background." From there, a pop-up box will allow you to upload a photo from your computer. Select the photo of your choice, and it will then be added to the list of options available to you.

In Microsoft Teams, while you're setting up your video and audio before joining a meeting, you can select "Background Filters", below the video image. You will then see your background options displayed on the right. You can then select "Blur" to blur your background, or you can replace your background with one of the images provided, or with one of your own. To use an image of your own, select "Add New" and then select one to upload from your computer (just make sure it's a .JPG, .PNG, or .BMP file). You also can change the background while you are actively in a meeting, by navigating to your meeting controls and select More Actions…> Apply Background Effects.
---

---
---

Huge Increase In Fraudulent Mobile Apps
Fraudulent mobile apps growing in numbers

Crooks are preying on mobile users to steal payment data

Fraudulent mobile apps, whose only purpose is to steal valuable personal and payment information from unsuspecting victims, are seeing a significant rise in numbers, experts have warned.

A new report from payment fraud protection specialists Outseer claims that out of all fraudulent attacks that happened in Q2 2021 (of which there were more than 49,000), rogue mobile apps accounted for almost a third (30%).

That represents a spike of 66% in just 90 days, and an increase of 140% compared to the same period last year. The growth, Outseer claims, could be attributed to the fact that due to the pandemic, consumers started using mobile banking apps a bit more.

● Here's our list of the best credit card processing services right now
● We've built a list of the best mobile credit card processors on the market
● Check out our list of the best payment gateways available

The process is relatively simple. Fraudsters would create an app that looks almost identical to a genuine mobile app belonging to a bank, and have it placed on a mobile app store (or distribute it via its website, email, or any other means).

Once the unsuspecting victim downloads the app and tries to use it, they submit various sensitive data, such as payment details or personally identifiable information which, in fact, ends up at the hands of the crooks.

They can then choose to either use the data, or sell it on the black market. techradar.com

300 Amazon Grocery Robots
Co-op faces criticism as it begins selling groceries via Amazon

Store revs up 300 more delivery robots and offers full range of groceries to Amazon Prime subscribers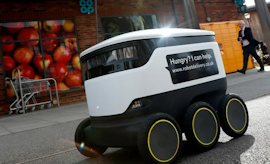 The Co-op has faced criticism as it begins selling groceries via Amazon and revs up 300 more delivery robots with the aim of almost tripling online sales to £200m.

The convenience store mutual said shoppers would be able to order from its full range of 3,000 grocery items via Amazon, if they are signed up to the US online specialist's Prime subscription service.

The tie-up will initially launch in Glasgow and surrounding areas but there are plans to expand to other towns and cities later this year and eventually to go nationwide. Orders over £40 will be delivered free by Amazon's Flex service, all of whose couriers are self-employed, and assembled at Co-op stores by the shop staff.

The Co-op now sells £70m a year of groceries online both directly, via food courier group Deliveroo and robot delivery specialist Starship Technologies.

About 200 of Starship's autonomous robots, which resemble wheeled cool boxes and have been compared to squat versions of the Star Wars character R2D2, deliver Co-op groceries in Milton Keynes and Northampton. That will rise to 500 by the end of this year as the robots roll into five new towns and cities in areas including Cambridgeshire and the north of England. The robots will also begin delivering orders made directly from the Co-op as well as Starship's app. theguardian.com

Amazon is piling ads into search results and top consumer brands are paying up for prominent placement
---
New York, NY: Update: Video shows crooks swipe $385K in designer handbags, clothing from Soho boutique
A trio of crooks stole $385,000 in designer handbags and clothing from a Soho boutique in a brazen overnight heist earlier this month, police said. The still-at-large suspects ripped off What Goes Around Comes Around on Wooster Street near Spring Street in the early morning hours of Sept. 6, according to the NYPD. The thieves first made their way into an adjacent store at about 3 a.m. and smashed open two walls to gain access to the high-end store, police said. They returned to the boutique two hours later and hauled the merchandise in black garbage bags out of the boutique's front door, according to footage of the robbery. The bags were stuffed with a variety of designer handbags, including Chanel, Louis Vuitton, Gucci and Prada, according to police. Dior, Hermes, Moschino and Balenciaga clothing was also taken. Police said the suspects fled in a late model Dodge Ram ProMaster. nypost.com

Logansport, IN: Dunham's Sports' theft tops $10,000, including Firearms
In the span of one week, a local sporting goods store has endured two separate burglaries. According to Det. Flaude Dillon of the Logansport Police Department, Dunham's Sports had more than $10,000 worth of firearms, clothing and beverages stolen. The first burglary occurred just after midnight on Monday, Sept. 13, with the second happening around 12:30 a.m. Sunday, Sept. 19. Dillon said burglars were in and out of the business for at least four hours on Sept. 13. At that time, the individuals took "multiple firearms," but an exact number is not known at this time, he said, adding that specific details cannot be released due to an ongoing investigation. Various clothing items and beverages were removed from the premises as well. Dillon said the theft was the first of this magnitude for the company. He also said that information concerning the second burglary is still being relayed to the police department. Employees were not on scene during either incident and there were no injuries, said Dillon. news.yahoo.com

Hatfield, PA: Police Seek Pair Accused of Stealing LEGO Set from Walmart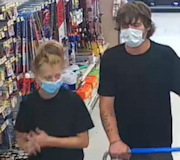 Hilltown Township Police said the theft occurred in the Walmart at 1515 Bethlehem Pike (Rt. 309) around 4 p.m. Sunday. The news release included a photo of the male and female shoplifting suspects, who were wearing face masks while inside the store due to the ongoing coronavirus pandemic. In the photo, the man is pushing a shopping cart containing various items, including a box with the LEGO logo on it. The man also appears to have a tattoo or tattoos on his right forearm. Police said that after filling their cart, the pair "exited the store via the fire escape door with a shopping cart full of items that were not purchased." The value of the merchandise that was stolen is estimated at several hundred dollars. sauconsource.com

Lincoln, NE: Guns stolen during Lincoln Pawn Shop Burglary
Officers viewed security video with the store manager that shows at least one person entering the store and removing rifles, a computer, a sound system and a pair of shoes. The total loss is around $6,300 and damage to the store is estimated at $2,000. journalstar.com

Manchester Township, NJ: Police Seek Help Identifying CVS Shoplifter Who Stole Over $1K Of Medication

American Canyon, CA: Three women arrested after vehicle chase following $500 theft from Walmart

Lacey, WA: Police say this man and woman are wanted for Fire, Grab and Run theft at Burlington
---
---

Shootings & Deaths

Goshen, CA: Investigators describe robbery, killing of Tulare Co. cashier as 'senseless act' of violence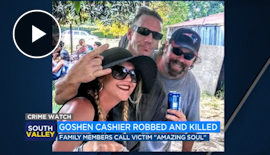 Early Sunday morning, 50-year-old Richard Harris was working at the Dino Mart at the Sinclair gas station when a person robbed the store and shot him.Harris, a Visalia native, called 911 himself. "He told the call taker he was robbed and then shot, and then no longer responding," said a dispatcher to responding deputies. Tulare County Sheriff's deputies responded, but Harris died at the scene. Detectives are now trying to determine why the suspect fired. "I can tell you that the clerk did not put up a fight and, essentially, this is just a senseless act," said Sgt. Clower. No suspect information has been released at this time. abc30.com

SHREVEPORT, La. - Attempted Armed Robbery leads to Grocery store shooting; employee and suspect wounded
Police believe an attempted robbery is to blame for the city's latest shooting. It happened around midnight Monday at W. 70th and Union streets in Shreveport. Police at the scene told KTBS 3 the gunman walked into NLB Grocery and shot an employee. Another store worker then returned fire, hitting the man who managed to leave the store on foot. Police say he later showed up at the hospital with critical injuries. The store employee who was shot is expected to recover. ktbs.com

---

Robberies, Incidents & Thefts

Gallatin, TN: Restaurant employee charged with $200,000 theft, credit card fraud


A Gallatin man has been charged for stealing nearly $200,000 from a Hendersonville restaurant over a 12-month period. Rosero Celso Medina, 28, was arrested Sept. 14 and charged with theft over $60,000 and fraudulent use of credit cards over $60,000, according to an arrest affidavit filed in Sumner County General Sessions Court. The charges followed a three-month investigation that started when an attorney for Jonathan's Grille contacted police in June to report a theft of nearly $200,000 by Medina, a former employee of the company's Hendersonville location.

The attorney told police that Medina, who was since working at another Jonathan's location, created a Sam's Club account in April 2020 using the company credit card associated with the Hendersonville location. Medina then went on to make 395 unauthorized transactions from April 25, 2020 through April 26, 2021, buying wedding items, electronics, gift cards and other items for a total charge of $194,495.84, according to the affidavit. hendersonvillestandard.com

Man charged with felony under three-strikes law after police say he underpaid for Mountain Dew
A Pennsylvania man was jailed after he was accused of underpaying for a bottle of Mountain Dew. Police said Joseph Sobolewski stopped at a convenience store in east-central Pennsylvania last month. The store had a promotion where two, 20-oz. Mountain Dew bottles cost $3. He grabbed one bottle, put $2 on the counter of the store and left. But a single bottle cost $2.29 plus tax, not the expected $1.50, so he actually didn't overpay as he may have assumed. Police and store workers said he underpaid by 29 cents plus tax for a total of 43 cents, Penn Live reported. Store employees called police who found Sobolewski and charged him with a felony. He was sent to jail on a $50,000 cash-only bond, facing up to seven years in prison.

Why such a high penalty for shorting a store less than 50 cents? Sobolewski was being charged under the state's "three strikes law" for retail theft, Penn Live reported. He was convicted more than a decade ago for pumping gas without paying. He also was arrested and sentenced for stealing shoes from a K-Mart. The shoes cost $39.99. He paid $866 in fines and fees and was sentenced to three months in jail for a probation violation. He and his wife were arrested for putting craft supplies in their backpack at a Hobby Lobby. His bond, in that case, was $2,000 and he's applying for a state-run diversion program. Underpaying for the soda is Sobolewski's fourth charge. But not all agree with the blanket "three strikes law" since it doesn't take into account the context of an alleged crime. "For me, I would get the deterrent factor if someone's thefts were getting worse or higher in value," Brandon Flood, director of Pennsylvania's Board of Parole, told Penn Live. "But the lack of discretion is what bothers me. It's problematic because it doesn't factor in the amount." There is also an increasing penalty if someone commits retail theft repeatedly. fox23.com

LaGrange, GA: Man jumps in Dollar General employee's car, commits robbery
A Dollar General employee was robbed outside of the business Monday evening. As of Monday, Officers with the LaGrange Police Department are still looking for the suspect. Upon arrival by Police, Officer's spoke to a female employee who said that she was getting into her vehicle to go to the bank when a male suspect got into the passenger side of her vehicle. He told her to drive and his hands in his pocket making her believe he had a weapon. After driving a short distance, the suspect grabbed the money bag and fled. lagrangenews.com

Naperville, IL: Jewelry store burglar gets 6 years in prison
Joshua Captain, 24, of the 9100 block of South Drexel Avenue, pleaded guilty on June 29 and was sentenced Friday. He will have to serve at least 50 percent of his sentence before becoming eligible for parole. He received credit for the 474 days he has been in the DuPage County jail. The burglary occurred June 1, 2020, during looting that occurred after an evening of protests following the murder of George Floyd by police. dailyherald.com

Hutchinson, KS: Kwik Shop robber gets 8-plus years in prison

Baltimore, MD: String of ATM smash and grabs impact Baltimore businesses, few arrests

Mobile, AL: Ex-Armored Truck Driver Sentenced to 2 Years in $500,000 Fake Robbery; $120,470 was recovered

Lincoln, NE: Police seeking Suspect(s) in $6,500 Pawn Shop Burglary
● C-Store – Goshen, CA – Armed Robbery/Clerk killed
● C-Store – Shreveport, LA – Armed Robbery
● C-Store – San Diego, CA – Armed Robbery
● C-Store – Saco, ME - Robbery
● C-Store – Decatur, IL – Armed Robbery
● C-Store – East Windsor, NJ – Armed Robbery
● Collectables – Cambria County, PA – Armed Robbery
● Dollar General – LaGrange, GA – Armed Robbery
● Family Dollar – Killeen, TX – Robbery
● Fitness Center – Chicago, IL – Robbery
● Gaming – Atlanta, GA – Burglary
● Gas Station – Camden, NJ – Robbery
● Gas Station – Elmhurst, IL – Robbery
● Grocery – Shreveport, LA – Armed Robbery/Shooting
● Jewelry – Brooklyn, NY - Armed Robbery
● Jewelry – Overland Park, KS – Burglary
● Jewelry – Tulsa, OK – Robbery
● Jewelry – Westminster, CO – Robbery
● Jewelry – Tempe, AZ – Robbery
● Jewelry – Florence, SC – Robbery
● Pawn – Lincoln, NE – Burglary
● Restaurant – Newtown Township, PA – Burglary (Chick-Fil-A)
● Sporting Goods - Logansport, IN - Burglary
● Vape – Wichita Falls, TX – Burglary
● Walgreens – Beloit, WI - Robbery
Daily Totals:
• 19 robberies
• 6 burglaries
• 2 shootings
• 1 killed

---

None to report.

Submit Your New Hires/Promotions
or New Position
See all the Industry Movement
---



Feature Your Job Here For 30 Days -
70% Aren't On The Boards
Post your job listing
---
Featured Job Spotlights
Help Your Colleagues By Referring the Best

Refer the Best & Build the Best

---



Asset Protection Lead
Hudson Valley, NY - posted September 13
Responsible for protecting the assets of the company and ensuring a safe environment for our employees and customers. Utilizes the tools and resources available to initiate and follow through on internal investigations. Work closely with store management to increase LP awareness...



District Loss Prevention Manager
Macedonia, OH - posted September 9
The District Loss Prevention Manager develops and implements the Loss Prevention program for their market. The DLPM is responsible for driving results through achievement of goals related to inventory shortage, budget lines, cash variance and operational compliance...



District Asset Protection Manager
Burlington, MA - posted September 1
The District Asset Protection Manager is responsible for mitigating safety and security related risks for the organization through the implementation of programs, procedures, policies and training. This role promotes a safe store environment while addressing and minimizing loss caused by shrink, theft and fraud in assigned stores, across multiple locations...



LP Manager - Distribution Center (Temporary)
Carteret, NJ - posted August 20
As we commence relocating our operations to our brand new facility in Piscataway, NJ you will be assigned to the Carteret location to insure company Loss Prevention and Operational compliance are met. You will work with the Piscataway Loss Prevention Manager as well as the Director of Loss Prevention and Distribution Management in maintaining a safe and secure facility as operations are transferred...
Asset Protection Associate
Charlotte, NC - posted August 10
The Asset Protection Associate (APA) is responsible for the detection, apprehension, or deterrence of customer and associate activity that could result in a loss to Ralph Lauren. APAs are also responsible for ensuring a safe environment for all customers, associates, and vendors...

Corporate Security Manager
Calabasas, CA - posted August 13
The Corporate Security Manager will, among other things, (a) be responsible for ensuring a safe and secure environment for our employees, vendors, and visitors, (b) develop, manage, execute and continuously improve corporate security processes and protocols, and (c) lead a team of security specialists at our corporate offices...



Area Loss Prevention Manager
Pittsburgh, PA and/or Cleveland, OH - posted July 30
Our Area Loss Prevention Managers ensure safe and secure stores through the objective identification of loss and risk opportunities. Our Area Loss Prevention Managers plan and prioritize to provide an optimal customer experience to their portfolio of stores. They thrive on supporting and building high performance teams that execute with excellence...



Regional Manager LP, Audit & Firearms Compliance
Indianapolis, IN - posted July 21
The Central Regional Loss Prevention Manager is responsible for the control and reduction of shrinkage at the stores in their Territory and the company's Distribution Centers. Investigate and resolves all matters that jeopardize or cause a loss to the company's assets...



Senior AP Operations Manager, Supply Chain
Albany, OR - posted July 14
As a Senior Assets Protection Operations Manager (SAPOM), you'll manage a multi-level team comprised of both exempt AP leaders and non-exempt AP Security Specialists responsible for the execution of Assets Protection routines and initiatives to support secure environments and protect Target's profitability...
---

Featured Jobs
---
JOB TITLE
COMPANY
CITY/STATE
DATE ADDED

Vice President
VP of AP
Bath & Body Works
Columbus, OH
September 13
VP of Risk Mgmt & Safety
Bowlero Corp.
Mechanicsville, VA
September 7
VP, Risk Management
YRC Worldwide
Overland Park, KS
August 9

Director
LP Dir.
2nd Ave LLC
Bensalem, PA
August 30
Dir. LP
Ashley Furniture
Advance, NC
September 7
Associate Dir. LP
Chewy
Wilkes-Barre, PA
July 28
LP Director
The Company, Retail Gas Stations
Upland, CA
August 9
AP Supply Chain Dir.
CVS Health
Conroe, TX
September 2
Sr. Dir. Global Security
eBay
San Jose, CA
July 19
Sr. Dir. Physical Security & LP
Fanatics
USA (Remote)
July 27
Dir. AP/Risk Management
Ferragamo USA
Secaucus, NJ
August 20
Director - AP Investigations (Remote)
Gap Inc.
U.S.
July 27
Safety & LP Associate Dir.
Goodwill of Southern Arizona
Tucson, AZ
August 23
Dir. Safety/Risk Mgmt.
Goodwill of SE Louisiana
New Orleans, LA
April 2
Dir. AP & Safety
Goodwill of Orange County
Santa Ana, CA
September 8
Dir. of Safety
Ocean State Job Lot
North Kingstown, RI
June 1
Executive Dir. AP
Panda Restaurant Group
Rosemead, CA
January 28
Sr. Dir. Executive Protection
Ross Stores
Dublin, CA
September 14
Dir. Organizational Safety & Security
Ross Stores
Dublin, CA
September 7
Dir. Safety
Southeastern Grocers
Jacksonville, FL
September 13
Dir. Compliance & Risk Mgmt
U.S. Marine Corps
Oceanside, CA
September 13
Dir. AP Operations Execution
Walgreens
Nashville, TN
September 20
Dir. AP
Walgreens
Chantilly, VA
August 20

Weis Markets

Sunbury, PA

September 7


Corporate/Senior Manager
AP Mgr of Investigations & Supply Chain
Belk
Charlotte, NC
August 30
Sr. Mgr, Field AP
Carvana
U.S.
July 30
Sr. Analyst Profit Protection
Chico's FAS
Fort Myers, FL
July 30
Sr. Mgr Supply Chain AP
Home Depot
Atlanta, GA
August 10
Sr. Mgr Environmental Health Safety
Home Depot
Atlanta, GA
May 14
Sr. Mgr Global Fulfillment AP
lululemon
Columbus, OH
September 20
Mgr, Corp. Security Life & Safety
Ross Stores
New York, NY
September 13
Sr. Mgr Fraud
Saks OFF 5th
New York, NY
August 20
Sr. Manager LP ORC
Ulta Beauty
Bolingbrook, IL
September 8

---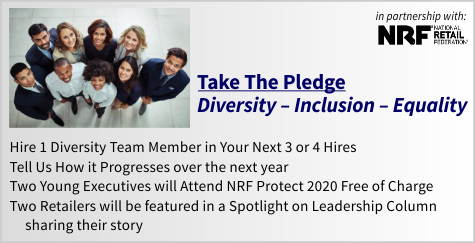 ---

Passion is probably the one trait all employers look for in every search and in every candidate. It's also the one ingredient that's hard to manufacture and almost impossible to fake. Certainly, energy level has a lot to do with it and virtually everyone can pick it up a notch when they need to. But passion is something that's deep and something money can't buy and quite frankly it's worth it's weight in gold because passion motivates people and it's what separates the good from the great. If you've got passion, let it show and, if you don't, try to go find it because every employer wants it.


Just a Thought,
Gus



(content subject to approval)
---

Recruiting?
Get your job e-mailed to everyone... everyday
Post on our Featured Jobs Board!
Not getting the Daily?
Is it ending up in your spam folder?
Please make sure to add d-ddaily@downing-downing.com to your contact list, address book, trusted sender list, and/or company whitelist to ensure you receive our newsletter.
Want to know how? Read Here



36615 Vine Street, Suite 103
Willoughby, OH 44094
440.942.0671
copyright 2009-2019
all rights reserved globally