---

CONTROLTEK Unveils New RF EAS System for Retailers



BRIDGEWATER, N.J. (Sep. 7, 2021) – CONTROLTEK, a leader in the retail loss prevention technology space, has added a new RF system to its CT360 line of agnostic EAS solutions. CONTROLTEK's new RF system, SRF, offers high-performing tag detection in a sleek yet durable design.

"After the overwhelming response we received from retailers seeing positive results with our SAM-AM systems, we saw the opportunity to also support retailers who use RF technology," said Tom Meehan, CFI, chief strategy officer and chief information security officer at CONTROLTEK. "With SRF, we focused on high-quality from the inside out. Beginning with high-performing software that can be customized to meet a retailer's unique asset protection needs, including the option to upgrade to RFID to future-proof their operations, to the hardware that creates a streamlined aesthetic which will stand the test of time in a fast-paced retail environment." Read more in the Vendor Spotlight column below

---

The U.S. Crime Surge
The Retail Impact

New Zealand Terrorist Attack Has Retailers Rethinking Security
Retail workers could be wearing body cams after stabbing attack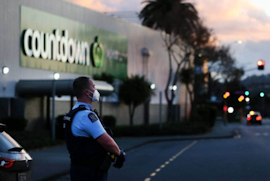 Retailers will be reassessing their security, potentially even asking staff to wear body cameras, in the wake of Friday's shock stabbing of six shoppers at an Auckland supermarket, the sector's industry body says.

Six people were injured in a knife attack at a supermarket in New Zealand on Friday, an outburst of violence that the prime minister labeled a "terrorist attack" that had been carried out by a "violent extremist" inspired by the Islamic State.

Greg Harford, chief executive of Retail NZ, said that the terrorist attack on New Lynn Countdown was on "a whole other level" and it was unlikely anything could have prevented it.

"It was truly hideous," Harford said, but retailers would probably be reflecting on their own security in its wake.

"We have been worried about the increasing aggression that we are seeing from the public and indeed violence that has been reported in store for quite a long time. This is not going away it is getting worse, if anything."

Retail NZ had formed a working group on store security prior to Covid and there were various options businesses could consider, including the use of technology, even body cams.

"I think you might see businesses do that. You could see more of a security presence in stores and also things like facial recognition software, which I know some people aren't particularly fond of but is something that really helps to keep people safe."

Smaller retailers would not be able to afford some of the higher tech methods but there were simpler alternatives, such as businesses sharing information between themselves and police. The Wellington Eyes On network was one such example, he said.

First Union, which represents retail workers, said it had also been talking to supermarkets about how to keep staff security high. Security cameras and security guard coverage were important but, vitally, so was having enough staff rostered on. stuff.co.nz nytimes.com

Stolen Goods Being Sold By Retailers Online
Retailers Fight Theft Rings That Steal and Resell Goods Online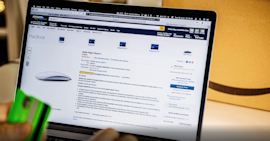 When finding deals online at a lower cost than in-store, it could mean eCommerce sellers are peddling stolen goods, according to a Thursday (Sept. 2) report in The Wall Street Journal.

Dubbed organized retail theft, the practice involves stealing goods from brick-and-mortar stores in bulk and selling items online. According to the article, large-scale shoplifting rings account for about $45 billion in annual losses for stores, a 50% increase from 10 years ago.

Large retail chains, including CVS, Home Depot and Target, have seen increases in organized retail theft, and have in turn beefed up their shoplifting prevention teams, according to WSJ. Further complicating the matter, according to officials, is that thieves can sell items online — specifically on eCommerce giant Amazon — easily and anonymously.

In response to the uptick in online selling of stolen merchandise, merchants have pushed Congress to adopt legislation requiring online retailers to verify details for its sellers and share some information publicly. Amazon and eBay oppose the bill and view it as an invasion of the seller's privacy, according to the report.

In an era of near-constant cyberattacks and identity theft concerns, safeguarding individuals' private information is key. According to a recent PYMNTS survey of roughly 2,260 U.S. consumers, the security of personally identifiable information (PII) is important to 94 percent of respondents, while four out of 10 are now more worried about retailers' data security practices than they were a year ago. Of those polled, 11 percent worry that fraudsters will steal their personal information to open new accounts in their names, while 12 percent are concerned that someone would steal their money. pymnts.com

Lawsuit Against Baltimore for Not Protecting Businesses During Riot
(Update) Judge approves lawsuit against Baltimore for letting anarchists destroy property, businesses during riots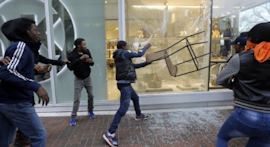 A federal judge ruled that there is enough evidence in a lawsuit brought by small business owners affected by the 2015 unrest following the death of Freddie Gray when police were ordered to stand down by the city.

The lawsuit, brought by 70 plaintiffs, mostly small business owners, has been stuck in the courts for four years, but Thursday's ruling by U.S. District Judge Stephane Gallagher has cleared the way for the case to go in front of a jury.

The judge said the Maryland Riot Act obligates the city to protect residents and businesses during the unrest. In the ruling, she said the act requires the city to take action to prevent "theft, damage or destruction."

Gallagher wrote: "The City may ultimately be right that it acted reasonably as a matter of overall policy and prioritization, and a reasonable juror could certainly agree. However, a reasonable juror could also (and perhaps simultaneously) conclude that the City remains liable for the ensuing property damage arguably attributable to the 'trade-off' between more traditional anti-riot measures and the City's policy decisions in April of 2015."

Riots broke out in Baltimore following the in-custody death of Freddie Gray on April 19, 2015. City leaders argued that they did a good job controlling the riots and claimed the plaintiffs were "Monday morning quarterbacking." lawenforcementtoday.com


Violent Labor Day Weekend in America

Chicago, IL: 6 killed, 59 wounded - including 8 children - over Labor Day weekend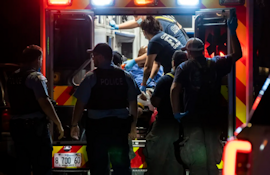 Six people were killed and at least 59 others were wounded in Chicago, including eight children 17 and younger, over the Labor Day weekend. The youngest murder victim was a 4-year-old boy who was shot while getting a haircut in a home in Woodlawn Friday night.

Chicago Police Supt. David Brown pleaded with the community Monday to help detectives after Mychal and seven other children were shot over the weekend: "We need people in the community to come forward. This is beyond trusting police. This is about the safety of our babies," Brown told reporters.

Mayor Lori Lightfoot said the weekend violence was driven by people who "have absolutely no regard for the sanctity of human life." Echoing Brown, Lightfoot once again urged residents of neighborhoods that are "under siege" to cooperate with the police to "stem the tide on this violence."

"The people in the neighborhoods who are doing the shooting, they are known to people in the neighborhoods," Lightfoot said in an unrelated news conference. "I understand the fear that's out there but I'm just calling upon people in these neighborhoods — particularly when we think about the number of children who have been shot — you've got to have your faith overcome your fear. You've got to step up."

Lightfoot said her office will announce initiatives focused on gun violence "in the coming days" but did not disclose any details. chicago.suntimes.com

Philadelphia, PA: Labor Day weekend violence leaves 6 killed, 19 injured
Police are investigating after multiple shootings and stabbings across Philadelphia left at least six people dead and 19 others injured over Labor Day weekend.

Around 4:30 p.m. Sunday, 25-year-old Talisha McLeod was shot and killed in North Philadelphia. The incident occurred on the 2500 block of North Adler Street when McLeod was shot in the chest. She was rushed to Temple University Hospital, where she died a short time later.

Another shooting in Southwest Philadelphia left a 28-year-old man dead around 12:30 a.m. Sunday. The victim, identified as Amin Abel Rodriguez Cedeno, was shot multiple times on the 7500 block of Brewster Avenue. At least 40 pieces of ballistic evidence were recovered from the scene. Read the full list of Philadelphia shootings over the Labor Day weekend here: fox29.com

New York, NY: 7 shot in the Bronx, cab driver gunned down over holiday weekend

Washington, DC: 3 killed, 3 others hospitalized in Northwest DC shooting

Atlanta, GA: More than a dozen shot over Labor Day weekend
---

COVID Update

374.4M Vaccinations Given
US: 40.8M Cases - 666.5K Dead - 31.3M Recovered
Worldwide: 222.1M Cases - 4.5M Dead - 198.7M Recovered

Former Senior Loss Prevention Executive
Know of any fallen LP exec? Let's remember & recognize.

Private Industry Security Guard Deaths: 306 Law Enforcement Officer Deaths: 374
*Red indicates change in total deaths


Are COVID Cases Starting to Level Off?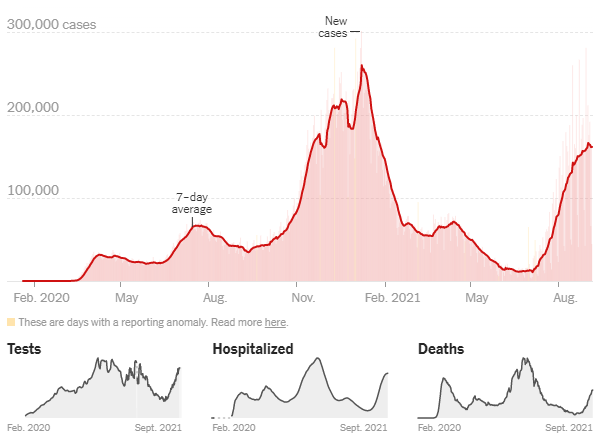 4 Million COVID Cases in Last 4 Weeks
US reaches 40 million recorded Covid-19 cases
The US has now tallied more than 40 million Covid-19 cases across the pandemic, with more than 4 million of them reported in the last four weeks alone, according to data from Johns Hopkins University.

The count comes with a caveat: 40 million represents just officially reported positive test results, and many experts believe the actual number of infections is much larger.

Covid-19 cases have nevertheless generally been on the rise in much of the country since early summer. And the country's seven-day average of new cases Monday (137,270 daily) was more than four times higher than Labor Day of last year (39,355 daily), according to Johns Hopkins data.

The jump in cases has translated into overcrowded hospitals and a rise in infections among children -- of particular concern as many students return to their classrooms. And experts fear that a holiday weekend could make matters worse. cnn.com

COVID Pushed Dozens of UK Stores Out of Business Each Day
50 shops a day closed in first half of 2021, and next 6 months will be 'make or break' for those still open

Fashion retailers were the worst affected, with 1,063 stores closing in the first half of the year, ahead of charity shops, car and motorbike outlets and betting shops.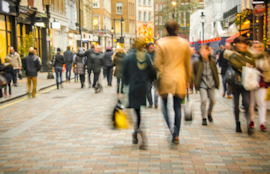 Some 8,739 outlets went out of business across high streets, retail parks and shopping centres between January and June, figures from the Local Data Company suggest. But 3,488 opened during the same period, resulting a net decline of 5,251.

When compared with last year, the data suggests the rate of closures slowed down - with 11,120 shops shutting their doors in the first half of 2020 as the COVID pandemic hit, a net decrease of 6,001.

The research was conducted for accountancy firm PwC, which said government support during the pandemic - such as the furlough scheme, business rates relief and the rent moratorium - played major roles in helping operators stay afloat.

Despite this, the firm has warned the second half of the year will be "make or break" for many stores as government help is wound down.

City centres saw a 4.3% drop in the number of occupied retail outlets as people and businesses moved to suburban or out-of-town locations, reflecting the rise in people working from home. news.sky.com

Pharmacies Have Thrown Away Millions of Vaccine Doses
15 million Covid vaccine doses thrown away in the U.S. since March,
new data shows

As countries across the world clamor for vaccine doses, U.S. pharmacy chains and state health departments have thrown millions away.

Pharmacies and state governments in the United States have thrown away at least 15.1 million doses of Covid-19 vaccines since March 1, according to government data obtained by NBC News — a far larger number than previously known and still probably an undercount.

Four national pharmacy chains reported more than 1 million wasted doses each, according to data released Tuesday by the Centers for Disease Control and Prevention in response to a public records request. Walgreens reported the most waste of any pharmacy, state or other vaccine provider, with nearly 2.6 million wasted doses. CVS reported 2.3 million wasted doses, while Walmart reported 1.6 million and Rite Aid reported 1.1 million.

The data released by the CDC is self-reported by pharmacies, states and other vaccine providers. It is not comprehensive — missing some states and federal providers — and it does not include the reason doses had to be thrown away. In one example of missing data, the CDC lists just 12 wasted doses for Michigan since March, but Michigan's Department of Health and Human Services said on Wednesday that the state has thrown away 257,673 doses since December.

The number of discarded doses is still a small fraction of the total doses administered in the U.S. nbcnews.com

Vaccine Mandates & Incentives
Tyson Foods offers workers more paid time off — if they get vaccinated
Tyson Foods said it would provide 20 hours of paid sick time a year to fully vaccinated employees to enhance benefits for workers willing to receive coronavirus vaccinations.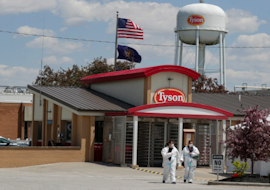 The new benefit, announced on Friday, followed discussions with the United Food & Commercial Workers, which represents several thousand Tyson workers, over the company's requirement that all its U.S. workers be vaccinated "as a condition of employment" by Nov. 1. The paid sick leave policy takes effect on Jan. 1, and also applies to all nonunion employees.

Tyson also said fully vaccinated employees could take up to two weeks of paid administrative leave if they tested positive for Covid-19 over the next six months. The company said it would compensate workers for time spent in "educational sessions about the benefits and risks of the Covid vaccines."

The union initially expressed reservations when Tyson announced the vaccine mandate last month, but applauded the paid sick leave benefit on Friday, saying it was the first national agreement that provides such a benefit to meatpacking workers. Union officials have said providing paid sick time is important so workers can still be paid if they miss work or experience some of the vaccines' common side effects. nytimes.com

Mask Mandate Breaking Point?
Restaurant staff at breaking point amid tough conditions, facing frequent abuse over mask mandate

A severe labor shortage, combined with the impact of enforcing COVID-19 restrictions, has left restaurant workers struggling to cope.

The Seattle Times reported that many workers in the city's eateries are exhausted. They're taking on extra work to counteract staff shortages, but also have nobody to cover shifts when they want to take a day off.

Workers across the country have been leaving their jobs at high rates. About 75% of independent restaurants said they were struggling to attract staff. Some have had to temporarily close because of staff shortages, Insider's Kevin Shalvey reported.

The impact of the labor shortage has led to rude behaviour from customers in some cases. But customers are also lashing out over ongoing pandemic rules, including mask mandates.

Incidents in which customers refuse to wear face masks continue to make headlines, as the Delta variant surges. businessinsider.com

Delta Driving Retail Employment Slowdown
Employment in restaurants, bars, and cafes just fell for 1st time since April 2020

Experts said the Delta variant was largely to blame for August's disappointing payrolls report.

Employment in US restaurants, cafes, and bars fell in August for the first time since April 2020 as the Delta variant of the coronavirus spread across the country.

The number of people working in food services and drinking places dropped by 42,000 in August, to 11.34 million, according to preliminary data from the US Bureau of Labor Statistics (BLS), released Friday. This was the largest drop in employment across all nonfarm industries, including retail, healthcare, and manufacturing.

In April 2020, at the onset of the pandemic, restaurants and bars were forced to close their doors and lay off or furlough staff. Employment in the sector fell to just 6.33 million that month – but climbed every month from May 2020 to July 2021, BLS data show. businessinsider.com

Covid-19 Vaccine Booster Launch Could Be Delayed for Many

Over-the-counter COVID-19 rapid tests hard to find as cases surge

How to safely store your COVID vaccination card on your iPhone
---

4,844 Store Closures So Far in 2021
Dollar Store Chains Make Up Nearly A Third of All U.S. Store Openings in 2021

Retail closures may be plaguing department stores as of late, but discount chains are on the upswing, with plans to open hundreds of new locations this year.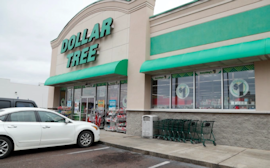 According to a new report from Coresight Research, dollar store chains, including Dollar Tree, Dollar General, and Family Dollar, have announced that that they will open a collective 1,626 new stores. That's out of a total 4,799 of announced store openings in 2021 so far, compared with the 3,597 announced in May.

Gas station chain Murphy USA, Five Below, Ace Hardware, Foot Locker, Aldi, and Burlington Stores also topped the list of the retailers planning to open the most stores this year. The results highlight a consumer attraction to discount and low-price stores, in part due to high levels of unemployment and a general spending hesitancy from the pandemic.

Dollar General announced that it would add 1,035 new stores in 2021. Dollar Tree, which also owns Family Dollar, plans to add 393 Dollar Tree stores and 198 Family Dollar stores this year.

On the other hand, the report also noted that major U.S. retailers have announced 4,844 store closures so far in 2021, compared to 2,191 closures last year. The list of closures in 2021 is topped by the bankrupt Christopher & Banks and Francesca's, which plan to close 449 and 342 stores, respectively. Convenience store chain Alimentation Couche-Tard and 7-Eleven also topped the list of retailers with the most closures.In addition to their openings, each of the three dollar chain stores also announced store closures as well. Family Dollar said it would close 44 stores, Dollar General said it would close 31, and Dollar Tree said it would close 28. footwearnews.com

Food Giants Misleading Shoppers?
Lawsuits Over 'Misleading' Food Labels Surge as Groups Cite Lax U.S. Oversight

A flurry of litigation by advocacy groups seeks to combat what they say is a rise in deceptive marketing by food giants.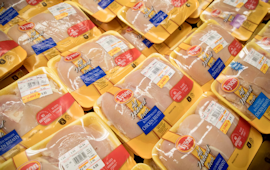 Shoppers drawn to sustainable, humanely raised meat and dairy products could be forgiven for thinking the nation's big food companies have turned away from the industrial farming practices that have long dominated American agriculture.

But some claims may not be what they seem, according to a flurry of litigation by advocacy groups seeking to combat what they describe as a surge in deceptive marketing by food giants. The misleading labels, the plaintiffs say, seek to profit off consumers' growing interest in clean eating, animal welfare and environmentally friendly agriculture — but without making meaningful changes to their farming and production practices.

Class-action litigation against food and beverage companies hit a record high last year, with 220 lawsuits filed in 2020, up from 45 a decade ago, according to a tally by the law firm Perkins Coie.

The mounting wave of legal activism in part reflects the frustration of advocates who have made little headway in recent years convincing federal regulators to increase their oversight of the nation's food supply — or even to provide definitions for words like "healthy" or "all natural." Big Food, advocates say, has eagerly exploited the regulatory vacuum. nytimes.com

Sharp Pullback in Consumer Spending Coming?
Millions in U.S. lose jobless benefits as federal aid expires, thrusting families and economy onto uncertain path
More than 7 million out-of-work people across the United States are set to lose all of their jobless benefits this week as three federal programs expire on Monday, in what several experts described as one of the largest and most abrupt ends to government aid in U.S. history.


In addition to the more than 7 million people who will lose all their benefits, nearly 3 million more people will lose a $300 weekly boost to their state unemployment benefits.

The cessation of this jobless aid, first put in place by Congress nearly 18 months ago, could upend the lives of millions of Americans still struggling to find work at a time when the pandemic's delta variant is wreaking fresh havoc across a number of states. It could also lead to a sharp pullback in spending, particularly in certain areas of the country, impacting a wide range of restaurants and other businesses that rely on consumer dollars.

The White House has wrestled with how to deal with these expiring benefits, an internal debate that exposes the fraught political and economic consequences of inaction. President Biden said in June that it "makes sense" for one of the programs, which boosted unemployment checks by $300 each week, to lapse in September, but senior aides have also called on states to reallocate other money in a way that would continue offering some support. No states appear inclined to take action, though, leading to this week's sudden cutoff. washingtonpost.com

565,000 Walmart Store Associates Get Raises
Walmart bumps up hourly pay by $1 for over 500K workers
As retailers battle for labor ahead of the hectic holiday shopping season, Walmart is raising hourly wages for 565,000 associates by at least $1.

Walmart U.S. President and CEO John Furner told associates in a memo obtained by Retail Dive that workers in front-end, food and consumable, and general merchandise work groups will get the pay raise effective Sept. 25. The average hourly pay for the company's U.S. associates is now $16.40.

Walmart's minimum wage will be up from the $11 per hour rate it set previously. As of last year, deli, bakery and some auto workers start at $15 per hour. The recent announcement marks Walmart's third wage investment for store associates in the past year, Furner said. retaildive.com

Hurricane Ida Causes Grocery Store Shortages
South Mississippi grocery stores struggling to keep shelves stocked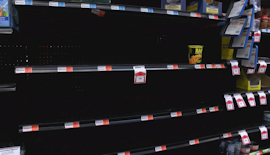 Businesses across South Mississippi are finding it hard to stay fully stocked after Hurricane Ida devastated Louisiana this week. With residents coming across the state line in search of necessities and delivery trucks unable to get through, the shelves are empty in some stores.

Keeping grocery stores stocked was a challenge before the hurricane due to the pandemic. Now, with the shelves bare at many stores throughout Hancock and Harrison counties, it is even more of an issue.

For shoppers, the grocery shortage is making it difficult to obtain items they need, causing them to have to go to multiple businesses to check the items off their list. Overall, though, most customers understand and are making do the best they can.

"It's sad because people down there in Louisiana right now - as hot as it is from the storm - and people not being able to get in stores because they got to wait outside for hours. Plus, they have babies, no one should go through that," said Rouses customer Rhiannon Penton. wdam.com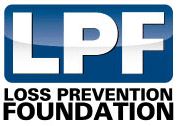 LPF Announces LPC & LPQ Professionals for August
The Loss Prevention Foundation would like to recognize and congratulate the following individuals who successfully completed all of the requirements set forth by the board of directors to be LPQualified (LPQ) and/or LPCertified (LPC). View Full List Here


Back-to-school may lift U.S. retail shares after recent lull

Kroger eyes potential entry into Southwest Florida marketplace

California Seeks Gender Neutral Displays in Large Stores



Last week's #1 article --





Cash for Criminals?


A local solution for gun violence? Pay people $300 a month



'We are trying to address the root causes of what's happened'



San Francisco thinks it may have an answer for its rising gun violence problem:

Paying people to not pull the trigger.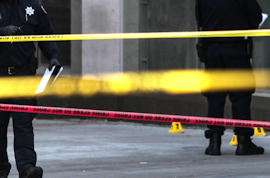 The idea is to provide the small number of San Franciscans who authorities believe are most at risk of shooting someone - or being shot - with

an incentive to get help and stay out of trouble

. It's a solution that proponents say already

has shown promise preventing gun crimes

in other parts of California.

At worst,

the program could be called "cash for criminals,"

like its predecessors in cities around the Bay Area. At best, it could save lives and tax dollars otherwise spent on incarceration.

The program,

which will launch as a pilot in October

, is called the Dream Keeper Fellowship. It's San Francisco's latest iteration of a guaranteed-income program that

will provide high-risk individuals with $300 a month as a start.

sfexaminer.com
---



CONTROLTEK Unveils New RF EAS System for Retailers




BRIDGEWATER, N.J. (Sep. 7, 2021) – CONTROLTEK, a leader in the retail loss prevention technology space, has added a new RF system to its CT360 line of agnostic EAS solutions. CONTROLTEK's new RF system, SRF, offers high-performing tag detection in a sleek yet durable design.

"After the overwhelming response we received from retailers seeing positive results with our SAM-AM systems, we saw the opportunity to also support retailers who use RF technology," said Tom Meehan, CFI, chief strategy officer and chief information security officer at CONTROLTEK. "With SRF, we focused on high-quality from the inside out. Beginning with high-performing software that can be customized to meet a retailer's unique asset protection needs, including the option to upgrade to RFID to future-proof their operations, to the hardware that creates a streamlined aesthetic which will stand the test of time in a fast-paced retail environment."

"We understand the budget challenges in retail, with many retailers resorting to repurposed solutions. It was important to us that we develop a solution that not only performs well, but one that can be delivered at a scalable cost," said Rubin Press, vice president of global sales at CONTROLTEK. "We are proud that we can support retailers with an outstanding solution that aligns with their budget and long-term business goals and is backed with the added assurance of a warranty that is best in the industry. This allows retailers peace of mind and freedom to focus on what is most important to them, serving their customers."

More information about SRF can be obtained from the company's website. To learn more about SRF and CONTROLTEK's other retail loss prevention solutions, contact a CONTROLTEK sales representative at sales@controltekusa.com.
---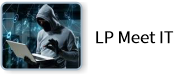 ---

Ransomware Attacks Hit 400+ Cities & Counties in U.S.
Amid a surge in ransomware attacks, cities are taking some of the biggest hits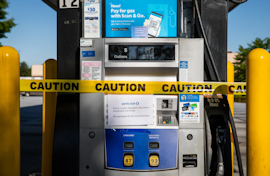 Ransomware attacks have become a scourge for local governments, robbing millions of dollars in ransom payments to hackers and recovery costs from the government entities that can least afford to pay them.

Public reports show more than 400 such attacks have hit city and county governments in the United States since 2016, impeding emergency responders, stalling tax payments and forcing government offices back to pen-and-paper operations for weeks on end. That's probably only a fraction of the true number of such attacks, in which hackers lock up computers and demand payments to unlock them, because many attacks are thought to go unreported.

The recovery process can drag on for months or more than a year, diverting time and resources from other city and county priorities.

Even cities and entities that pay hackers' ransom demands to unlock their computers can spend weeks restoring and replacing equipment to ensure they aren't hacked again, as were the Colorado Department of Transportation in 2018 and the state of Louisiana in 2019.

The coronavirus pandemic has also supersized the problem, forcing employees to return to potentially unsafe working conditions when they can no longer work remotely.

The Colonial Pipeline attack in May and other infrastructure attacks threatening national security have sucked up much of Washington's attention. But private companies like Colonial Pipeline can typically recover in days or weeks from such attacks with little damage to their bottom lines. For under-resourced cities and counties, however, the recovery is far more grueling.

"Cities are vulnerable to attacks because we don't have resources in the same way that the private sector does. That makes us more attractive targets," Kim LaGrue, chief information officer for the city of New Orleans, said. washingtonpost.com

Remote Work & Cybersecurity
Hybrid work is here to stay, but security concerns are high
As a rise in variants spurs new uncertainties around the COVID-19 pandemic, businesses around the globe are tasked with developing a long-term plan and work model, whether in-person, remote or hybrid, that meets the needs of employees and the business.

Hybrid work security concerns

The overwhelming majority of respondent companies are moving to a long-term hybrid workplace approach. In fact, 80% of leaders and 75% of employees said their company is currently using a hybrid model or is fully remote and considering a hybrid work model. But, 54% of employees reported up to six instances of lost productivity due to network access issues and leaders cite home internet security (21%) and leakage of sensitive company data (20%) among their top security challenges.

Visitor management is an in-office priority

Having a detailed record of who has been in and out of a company's office is a larger priority in 2021. 96% of business leaders and 93% of employees agree that it is important for their company to have a system in place that logs and tracks visitors who enter and exit the building when employees work in the office.

Home office data security presents new hybrid work concerns

Businesses need to change their data security approach now that employees are more decentralized than ever before. However, while data security is a priority for leaders with 81% saying their company has offered employees training on it, only 61% of employees said their company offers this training, indicating a communication gap.

Perfecting the hybrid work model

There is no question employers are leaning into a clear desire among employees for hybrid work options, with 68% saying they are considering hiring talent that resides in geographically diverse locations. For employers following this trend and hiring employees in a new, hybrid environment, there are several ways to improve and secure the onboarding process. helpnetsecurity.com

Internet is Filled with Bad Bots
39% of all internet traffic is from bad bots
Automated traffic takes up 64% of internet traffic – and whilst just 25% of automated traffic was made up by good bots, such as search engine crawlers and social network bots, 39% of all traffic was from bad bots, a Barracuda report reveals.

These bad bots include both basic web scrapers and attack scripts, as well as advanced persistent bots. These advanced bots try their best to evade standard defences and attempt to perform their malicious activities under the radar. The report revealed that the most common of these persistent bots were ones that went after e-commerce applications and login portals.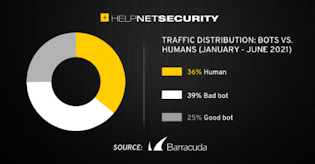 Bad bots internet traffic by location

The report also included a breakdown of bad bot traffic by location. It revealed that North America accounts for 67% of bad bot traffic, followed by Europe (22%) and then Asia (7.5%).

Interestingly, the European bot traffic was more likely to come in from hosting services (VPS) or residential IPs than the North American traffic, most of which originated from public data centres.

Most bot traffic comes in from AWS and Microsoft Azure

The research also revealed that most bot traffic comes in from the two largest public cloud vendors, AWS and Microsoft Azure, in roughly equal measure. This is likely because it is easy to set up a free account with either provider, and then use the account to set up the bad bots.

Finally, researchers observed that bad bot traffic tends to follow the standard workday, allowing them to hide within normal human traffic streams to avoid raising alarm bells. helpnetsecurity.com

Responding to Cyberattacks
Finding and using the right cybersecurity incident response tools
Unpacking the layers of a cyberattack is rarely a simple task. You need to analyze many potential entry points, attack paths, and data exfiltration tactics to reveal the scope of what took place—all while the culprits are potentially taking steps to cover their tracks.

At some point, the investigation is likely to land at the doorstep of Microsoft Active Directory (AD). When it does, incident response teams will need the right tools and scripts to aid in their investigation. Manually examining the mountains of log-in data and other information is impractical; data must be processed and analyzed quickly. As AD admins and security teams think about incident response, let's examine what actions organizations can take and what type of tools and capabilities they can use to put them ahead of the game.

For investigators, the tools they need fall into two categories. The first is scripts that are generalized queries to AD, such as a request for users with privileged access. The second category is scripts used to cross-correlate—for example, requesting users that are part of a group and logged in at a particular time. The filters for queries will change as the investigation evolves. However, what will not change is the need to have this initial mapping capability and knowledge of the exposures that exist in the AD environment. By understanding the links between users and groups, security teams and incident responders will be better able to react to attacks. helpnetsecurity.com

New Malware Uses Novel Fileless Technique to Evade Detection

Top 6 Breaches In the Last 20 Years That Reshaped Cybersecurity

---

Register Now for the 2021 RH-ISAC Summit - September 28-29



Hey LP/AP senior: If your retailer is a member you might want to consider attending yourself or sending one of your team members who works with cybersecurity on investigations or e-commerce fraud.

Especially now with the increased ransomware attacks and data beaches and the corresponding increased attention from law enforcement. Cross pollinating and building those relationships could pay off long term. Register here
---
---

Android and iOS Apps to Help You Track Mother Nature
We all know you can't control Mother Nature, but you can prepare yourself by utilizing a high-powered weather app. Not only can a weather app give you insight into deciding if you need to bring an umbrella with you today, but it can also alert you of serious or potentially dangerous conditions near you – all from your smartphone. Apps like AccuWeather, NOAA Weather Radar Live and The Weather Channel are available for download for mobile users. A personal favorite is MyRadar. MyRadar is a fast, easy-to-use, weather application that displays animated weather radar around your current location, allowing you to quickly see what weather is coming your way. Not only can you view hyper-local weather, but you can also track and check weather conditions throughout the United States, Europe, India, etc.
---

---
Amazon Lockers Encouraging Criminals?
Amazon lockers, an amenity in many places, prompt pushback in others
The company installed lockers in parks and unmonitored at a convenience store, blocking walkways and tempting criminals.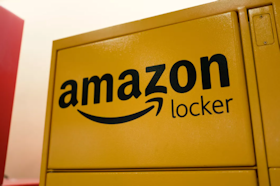 Amazon
installed a clutch of metal lockers outside a Fresno, California, gas station convenience store
so customers could pick up packages they didn't want delivered directly to their homes. The robin's-egg-blue lockers shared a self-service screen and displayed the e-commerce giant's ubiquitous smile logo.

The problem, according to a Fresno city councilmember's complaints last November, was that
they were placed along a poorly lit side of the building, out of sight of security cameras.
It was easy to predict what happened next: Someone tried to get into the lockers.


The attempted break-in should've been a facepalm moment for Amazon, says the councilmember, Miguel Arias, because that unmonitored location was sure to tempt criminals
. The lockers could collectively hold thousands of dollars of merchandise, far more alluring than the inexpensive bags of ice typically found in vending machines in front of the pumps.

"I don't know how they landed on a gas station," Arias said of Amazon's decision to install the lockers. "It's where you get a beer on your way home after hours, not a place where you go to get your $500 iPhone."

After Arias raised his concerns, the Fresno City Council
voted to prevent the developer responsible for the convenience store, a local chain called Johnny Quik, from installing Amazon lockers at a new store
he sought to build in another location. The company didn't respond to a request for comment.

Fresno isn't alone in experiencing frustration with Amazon lockers as the company installs them across the country to thwart thieves looking for its easy-to-recognize packages on neighborhood stoops. Chicago residents were baffled in August when
a set of Amazon lockers were installed directly on walkways in two city parks, partially obstructing paths and adding corporate branding to leafy municipal amenities
. Photos of the lockers were widely shared on Twitter and Reddit. Businesses have also had second thoughts after striking deals to host the lockers. cnet.com


The Post-Bezos Amazon
Amazon's future is in flux under new CEO Andy Jassy
A slew of executive reshuffles and departures have followed this leadership switch.


Amazon is in the midst of
the biggest leadership overhaul in its history
. That's put the future in flux and sowed seeds of doubt about the western world's largest e-commerce and cloud-computing company.

Can the $1.6 trillion behemoth keep growing after a giant pandemic sales boost in 2020?
The shares have stagnated in the past year
, while the rest of the stock market roared ahead. There's a new CEO, Andy Jassy, who recently took over from founder Jeff Bezos.
Will Jassy run the tech giant as well as his former boss?


With Jassy as CEO and Bezos becoming executive chairman this year, there's been
a scramble for leadership positions beneath them
, as well as many departures.


Dave Clark became CEO of Amazon's worldwide consumer business
this year, taking over from Jeff Wilke, who left the company. Clark oversees everything from Amazon's warehouse and shipping network to marketing and the Prime membership program.


Adam Selipsky took over from Jassy as CEO of Amazon Web Services
, the company's cloud-computing operation. Charlie Bell, a veteran cloud executive, has left, while James Hamilton, a distinguished engineer, was named to the powerful S-team.


Jeff Blackburn returned to the company in June to run Amazon's media and entertainment division
, which includes Prime Video, Amazon Studios, Twitch, podcasts, Audible and games. businessinsider.com

The importance of protective packaging in the e-commerce space
---
Edwardsville, IL: Viral Video: Getaway car takes off without shoplifting suspect in Edwardsville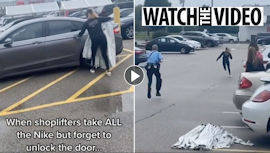 A video of a shoplifting suspect locked out of her getaway car has millions of views on TikTok. The incident happened Saturday in the parking lot outside of Hibbett's Sports on Troy Road. Police were called to the scene at around 4:30 pm for a call about three suspicious women inside the store. Employees recognized the women from previous thefts. Officers saw something unusual when they arrived at the shopping plaza. Three women were running with handfuls of clothing from the store. Two of them jumped into a gray Ford Fusion and drove away. The third woman ran after the car and then dropped the clothes she was carrying as officers chased after her. She gave up running after a short distance. The woman is currently in police custody at the Madison County Jail. Edwardsville police are meeting with the Illinois State Attorney's Office to seek a felony charge for theft. She is currently wanted in Missouri for failure to appear in court for theft charges. fox2now.com

Albuquerque, NM: A group of people driving around Albuquerque stealing items from businesses on Saturday also picked up a trail of undercover detectives
Police said they uncovered more than 100 items inside the car, which itself was stolen, and arrested two suspects after making a "high risk traffic stop" at 4th and Hazeldine SW, Gilbert Gallegos, a police spokesman, said in a news release. Auto-theft detectives on an undercover operation Downtown first followed the silver Hyundai Sonata to the Home Depot at 200 Eubank SE, according to a criminal complaint filed in Metropolitan Court. The female driver, later identified as Janelle Delayo, 29, entered the business. Delayo and the three other passenger took turns entering the store and shoplifting, Gallegos said. A man, later identified as Frankie Snyder, 32, drove to the Walgreens at Eubank and Menaul NE, where police said the group repeated their scheme. abqjournal.com

Harrison, AR: Employee arrested for drug theft at Harps'
A 32-year-old Boone County woman faces felony drug and misdemeanor theft charges after she allegedly stole hundreds of oxycodone pills from Harp's Pharmacy in Harrison. Amber Harris faces felony possession of a Schedule I or II controlled substance (not methamphetamine) and misdemeanor theft of property charges. According to a probable cause affidavit from the Harrison Police Department, the crime was reported in February when a manager notified authorities an employee had been stealing medication.

Asset protection agents reported Harris had been stealing medication since being hired on June 3, 2020. Management also reported Harris "had come forward and told them she took approximately 500 oxycodone pills and was willing to cooperate with management and law enforcement." Harris allegedly admitted to stealing 500 oxycodone pills on February 23, along with 20 tramadol and five xanax for personal use. The woman told authorities the pills were at her residence and stated only oxycodone remained, as she "ate" all the other pills. She also allegedly admitted to using and selling the oxycodone pills. The woman's husband allegedly returned 404 oxycodone pills to authorities after the wife requested he return them to the store. ktlo.com

Home Depot generator thief captured after Fayetteville car chase
A Rex man is in custody on multiple charges after shoplifting, fleeing the scene and being tracked to a wooded area in a nearby residential neighborhood. Kariem Bey Yungai, 45, of Rex, was charged with felony shoplifting, theft by receiving stolen property in another state and felony fleeing or attempting to elude, according to Fayetteville Police Department spokesperson Ann Marie Burdett. thecitizen.com

Sahuarita, AX: TJ Maxx Shoplifting case leads to police chase, arrest
Shoplifting at Safarita this weekend caused police chase and minor accidents, officials said. It all started when police received a call at the TJ Maxx store about an old model white truck leaving the theft scene. In a news release, police immediately found a truck that matched the description provided by witnesses and tracked it north in state 19, police said. According to police, the vehicle was traveling about 2 miles at speeds in the range of 10-70 mph. While the vehicle was running, the occupants were throwing items out of the vehicle's windows. Some of the items thrown, along with drug-related tools, were associated with pre-tracking theft. eminetra.com

Tonawanda, NY: More than 100 packs of Newports stolen 7-Eleven
---
---

Shootings & Deaths

Albuquerque, NM: Robbery Suspect shot and killed outside a Tobacco Shop
The Albuquerque Police Department is investigating a homicide near Fifth and Bellrose Ave. after receiving multiple calls about a man laying on the sidewalk around 5:45 p.m. Officers said that when they arrived, they discovered an individual who appeared to have been shot and succumbed to his injuries. At the same time, police said they received a call from a Tobacco Town employee who said a male subject entered the store and tried to rob him. They said the employee shot the subject as he ran out of the store. kob.com

Birmingham, AL: 2 Dead, 2 Injured in clothing store shoot-out
A double murder in a Birmingham clothing store over the weekend claimed the life of City Councilor John Hilliard's distant cousin, Cornelius Hillard, a father of three. A double homicide investigation is underway, after an apparent shooting incident in Birmingham. A spokesperson with the Birmingham Fire and Rescue Service says units responded just after 4 p.m. The Birmingham Police Department says an apparent argument began in a store, and after shots were fired, a total of four people were shot. Two victims were pronounced dead inside the store, and the other two victims were taken to the hospital. BPD Officers were able to take three suspects into custody after a car chase, but a fourth suspect remains on the run. wvtm13.com

Jones County, MS: Over 50 Rounds fires outside nightclub, 1 killed, 2 injured
More than 50 rounds fired at Hebron club. In what was described as a "wild shootout," one man was killed and two people were injured when bullets started flying outside a nightclub in the Hebron Community early Sunday morning. Timothy Crosby, 21, of Collins was pronounced dead after being transported to Covington County Hospital after being struck by a round in the chest area, under the left arm, according to reports. Adrian Barnes, 22, of Collins was also transported to Covington County Hospital and later transferred to Forrest General with a gunshot wound to the leg, and Antonio Kirk, 22, of Taylorsville was taken to South Central Regional Medical Center with a gunshot wound to the shoulder. The Jones County Sheriff's Department responded to the report of shots fired just before 2 a.m. at Norman's — also known as JR's Pool Hall — on Mason Creek Road at Carter Dees Road after the shooting apparently went from the billiards table to the parking lot and road. It started with a "big argument" and escalated when one of the men involved fired several shots in the air and drove away, "and it went downhill from there," JCSD Sgt. J.D. Carter said. leader-call.com

Portland, OR: 3 injured in shots fired at a Pearl District restaurant
The shooting in the Pearl occurred around 1:30 p.m. Saturday. Witnesses said shots rang out at Everybody Eats, a restaurant on Northwest 10th Avenue and Davis Street. The restaurant is surrounded by dozens of other businesses including breweries, shops and places to eat. Dozens of people were also at the Art in the Pearl event just yards away. According to a press release from the Portland Police Bureau (PPB), the shooting was part of a fight inside a restaurant between people who knew each other. PPB have yet to confirm the restaurant was Everybody Eats. Police determined that a verbal argument led to a physical fight among the group. Shots were fired. The group then moved outside the restaurant where more shots were fired. PPB said a woman and two teen boys were hurt in the shooting and all were involved in the initial fight. They were driven to a hospital and are expected to live. kgw.com

Dallas, TX: 41-year-old man fatally shot inside a Beer and Wine Store

New York, NY: Man fatally shot inside Bronx deli; fifth recent shooting death in precinct

Houston, TX: 1 dead in Greenspoint food mart shooting

Lauderhill, FL: C-Store Shooting Investigation in the parking lot

Columbus, OH: Police Investigating a shooting outside Dollar General

---

Robberies, Incidents & Thefts

Bessemer, AL: Police surround Tractor Supply store in 7 hour standoff
Police surrounded a Tractor Supply store for hours overnight, and eventually apprehended a burglary suspect. The standoff with police began around 8 p.m. Monday at the Bessemer business, when officers responded to reports of a robbery, Al.com reported. The arriving officers found an open door, Lt. Christian Clemons said. Police said they believed a man inside was armed with an AR pistol. A suspect was apprehended around 3:15 a.m. Tuesday. al.com

Greenwood Village, CO: Threatening graffiti at Greenwood Village King Soopers, referenced Boulder King Soopers shooting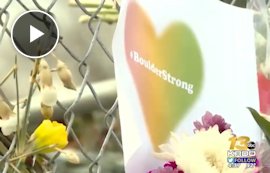 A King Soopers in Greenwood Village was shut down Sunday after police found a threatening message referencing the Boulder King Soopers shooting. According to our Denver affiliate, the Greenwood Village Police Department was notified of graffiti at Castlewood Park that said, "Boulder strong is about to be Denver strong." "Boulder Strong" has been used to describe the Boulder community after a gunman walked into a grocery store at Table Mesa Dr., killing ten people. GVPD said the Greenwood Village King Soopers was notified of the graffiti, and managers decided to close the store. A King Soopers spokesperson released the following statement:

At King Soopers nothing is more important than the safety of our associates and customers. Out of an abundance of caution we have temporarily closed our location at 6000 Holly Street in Greenwood Village due to a threat of violence. We are working in full cooperation with local law enforcement and plan to resume normal business hours tomorrow. Since the incident, the spokesperson told 9News King Soopers has increased security at the South Holly St. location and at surrounding stores. krdo.com

Bellevue, WA: Pharmacy Armed Robbery Suspects Arrested
Two suspects accused of dressing up as UPS drivers and robbing a pharmacy at gunpoint are behind bars. Detectives arrested two men, a 54 and 22-year-old, both living in Seattle. Investigators located both weapons and UPS uniforms following the arrest. bellevuebeatblog.com

Clarksville, AR: Exploding tire causes chaos in Clarksville Walmart
What sounded like a gunshot caused chaos at a Clarksville Walmart this afternoon. Clarksville Police said a defective bicycle tire exploded in the store around 4 p.m. People inside the store at the time thought it was a gun shot. Multiple agencies responded to the call and everyone inside the store was evacuated. Police said the store was cleared and there was never a gunshot — just that defective bicycle tire. kark.com

Kennewick, TX: Knife-Waving Shoplifter Nabbed After Tussle With Store Security; multiple outstanding warrants
● C-Store – Riverside County, CA – Armed Robbery
● C-Store – New York, NY – Armed Robbery
● C-Store – Albuquerque, NM – Robbery / Suspect killed by employee
● CVS – Randolph, MO – Armed Robbery
● CVS – Independence, MO – Armed Robbery
● Collectables – New York, NY – Burglary
● Electronics – Berry Hill, TN – Burglary
● Jewelry – Moreno Valley, CA – Robbery
● Jewelry – Chula Vista, CA – Robbery
● Jewelry – Little Rock, AR – Robbery
● Jewelry - Lawrenceville, GA – Robbery
● Jewelry - Potomac Mills, VA – Robbery
● Jewelry - North Attleboro, MA – Robbery
● Jewelry - Westminster, CO – Robbery
● Jewelry - Holyoke, MA – Robbery
● Tractor Supply – Bessemer, AL - Burglary
● 7-Eleven – Roseville, MI – Armed Robbery
● 7-Eleven – Tonawanda, NY - Burglary
● 7-Eleven – Hampton, VA – Armed Robbery
● 7-Eleven – Pasadena, CA – Armed Robbery
Daily Totals:
• 16 robberies
• 4 burglaries
• 1 shooting
• 1 killed

---
| | |
| --- | --- |
| | Jeff Bucher, LPC promoted to Regional Asset Protection Director for Lowe's Companies, Inc. |
Submit Your New Hires/Promotions
or New Position
See all the Industry Movement
---



Feature Your Job Here For 30 Days -
70% Aren't On The Boards
Post your job listing
---
Featured Job Spotlights
Help Your Colleagues By Referring the Best

Refer the Best & Build the Best

---



District Asset Protection Manager
Burlington, MA - posted September 1
The District Asset Protection Manager is responsible for mitigating safety and security related risks for the organization through the implementation of programs, procedures, policies and training. This role promotes a safe store environment while addressing and minimizing loss caused by shrink, theft and fraud in assigned stores, across multiple locations...



LP Manager - Distribution Center (Temporary)
Carteret, NJ - posted August 20
As we commence relocating our operations to our brand new facility in Piscataway, NJ you will be assigned to the Carteret location to insure company Loss Prevention and Operational compliance are met. You will work with the Piscataway Loss Prevention Manager as well as the Director of Loss Prevention and Distribution Management in maintaining a safe and secure facility as operations are transferred...
Seasonal Asset Protection Associate
Charlotte, NC - posted August 10
The Asset Protection Associate (APA) is responsible for the detection, apprehension, or deterrence of customer and associate activity that could result in a loss to Ralph Lauren. APAs are also responsible for ensuring a safe environment for all customers, associates, and vendors...

Corporate Security Manager
Calabasas, CA - posted August 13
The Corporate Security Manager will, among other things, (a) be responsible for ensuring a safe and secure environment for our employees, vendors, and visitors, (b) develop, manage, execute and continuously improve corporate security processes and protocols, and (c) lead a team of security specialists at our corporate offices...



Area Loss Prevention Manager
Pittsburgh, PA and/or Cleveland, OH - posted July 30
Our Area Loss Prevention Managers ensure safe and secure stores through the objective identification of loss and risk opportunities. Our Area Loss Prevention Managers plan and prioritize to provide an optimal customer experience to their portfolio of stores. They thrive on supporting and building high performance teams that execute with excellence...



Regional Manager LP, Audit & Firearms Compliance
Indianapolis, IN - posted July 21
The Central Regional Loss Prevention Manager is responsible for the control and reduction of shrinkage at the stores in their Territory and the company's Distribution Centers. Investigate and resolves all matters that jeopardize or cause a loss to the company's assets...



Senior AP Operations Manager, Supply Chain
Albany, OR - posted July 14
As a Senior Assets Protection Operations Manager (SAPOM), you'll manage a multi-level team comprised of both exempt AP leaders and non-exempt AP Security Specialists responsible for the execution of Assets Protection routines and initiatives to support secure environments and protect Target's profitability...
---

Featured Jobs
---
JOB TITLE
COMPANY
CITY/STATE
DATE ADDED

Vice President
VP of Risk Mgmt & Safety
Bowlero Corp.
Mechanicsville, VA
September 7
VP AP
Four Corners Group
Remote
August 11
Area VP
Securitas
Cincinnati, OH
September 7
VP, Risk Management
YRC Worldwide
Overland Park, KS
August 9

Director
LP Dir.
2nd Ave LLC
Bensalem, PA
August 30
Dir. LP
Ashley Furniture
Advance, NC
September 7
Associate Dir. LP
Chewy
Wilkes-Barre, PA
July 28
LP Director
The Company, Retail Gas Stations
Upland, CA
August 9
AP Supply Chain Dir.
CVS Health
Conroe, TX
September 2
Sr. Dir. Global Security
eBay
San Jose, CA
July 19
Sr. Dir. Physical Security & LP
Fanatics
USA (Remote)
July 27
Dir. AP/Risk Management
Ferragamo USA
Secaucus, NJ
August 20
Director - AP Investigations (Remote)
Gap Inc.
U.S.
July 27
Safety & LP Associate Dir.
Goodwill of Southern Arizona
Tucson, AZ
August 23
Sr. Dir. Risk Management, LP & Safety
Goodwill of Central Florida
Orlando, FL
April 6
Dir. Safety/Risk Mgmt.
Goodwill of SE Louisiana
New Orleans, LA
April 2
Dir. Risk Mgmt
Goodwill of South Mississippi
Gulfport, MS
August 25
Dir. of Safety
Ocean State Job Lot
North Kingstown, RI
June 1
Executive Dir. AP
Panda Restaurant Group
Rosemead, CA
January 28
Dir. Organizational Safety & Security
Ross Stores
Dublin, CA
September 7
Dir. AP
Walgreens
Chantilly, VA
August 20

Weis Markets

Sunbury, PA

September 7


Corporate/Senior Manager
AP Mgr of Investigations & Supply Chain
Belk
Charlotte, NC
August 30
Sr. Mgr, Field AP
Carvana
U.S.
July 30
Sr. Analyst Profit Protection
Chico's FAS
Fort Myers, FL
July 30
Sr. Mgr Supply Chain AP
Home Depot
Atlanta, GA
August 10
Sr. Mgr Environmental Health Safety
Home Depot
Atlanta, GA
May 14
Manager, Corp. Investigations
Saks Fifth Avenue
New York, NY
July 29
Sr. Mgr Fraud
Saks OFF 5th
New York, NY
August 20

---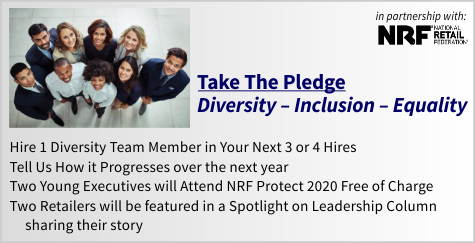 ---

It only takes seven seconds to make a first impression. With a job on the line, the pressure to immediately impress is even more intense. No wonder everyone can get frustrated.

The good news is that no matter what goes wrong -- you go to the wrong building, you spill water, you mispronounce the company name -- it's all about how you recover. The first rule is -- relax, take a deep breath and make a joke about it. Humility, honesty and calming down is the key to showing the employer that even when you're under pressure, you'll react the right way. Think about this before your interview because if something does happen you won't have time to think.


Just a Thought,
Gus



(content subject to approval)
---

Recruiting?
Get your job e-mailed to everyone... everyday
Post on our Featured Jobs Board!
Not getting the Daily?
Is it ending up in your spam folder?
Please make sure to add d-ddaily@downing-downing.com to your contact list, address book, trusted sender list, and/or company whitelist to ensure you receive our newsletter.
Want to know how? Read Here



36615 Vine Street, Suite 103
Willoughby, OH 44094
440.942.0671
copyright 2009-2019
all rights reserved globally