---
Matt Connor, CFI named Director, Loss Prevention - Commerce & Operations for David Yurman

Before being named Director, Loss Prevention - Commerce & Operations for David Yurman, Matt spent nearly three years with Salvatore Ferragamo as Director of Asset Protection & Risk Management. Prior to that, he served as Head of Loss Prevention for Henri Bendel for nearly four years. Earlier in his career, he held LP and investigative roles with Macy's and Lazarus. Congratulations, Matt!

See All the Executives 'Moving Up' Here

Submit Your New Corporate Hires/Promotions or New Position


---

Zebra Buys AI powered Software-as-a-Service (SaaS) Solutions Provider

Zebra Technologies to Acquire Antuit.ai
Acquisition accelerates Zebra's Enterprise Asset Intelligence vision by expanding its growing retail and consumer packaged goods (CPG) software portfolio



LINCOLNSHIRE, Ill. & DALLAS -Zebra Technologies, an innovator at the front line of business with solutions and partners that deliver a performance edge, today announced it intends to acquire antuit.ai, a provider of artificial intelligence (AI)-powered Software-as-a-Service (SaaS) solutions specific to forecasting and merchandising for the retail and CPG industries.

Antuit.ai, owned by a consortium led by Goldman Sachs Asset Management, utilizes AI and machine learning algorithms to ensure its customers have the right product in the right place, at the right time, at the right price based on the current state of the supply chain, store inventory, and consumer demand. Incorporating antuit.ai's AI-powered demand forecasting solution into Zebra's SaaS portfolio will enable retailers and consumer products companies to combine planning and execution to optimize margins and drive revenue growth. businesswire.com

---

The U.S. Crime Surge
The Retail Impact

Another Bloody Weekend in America

Chicago, IL
At Least 6 Killed, 49 Wounded In Chicago Weekend Gun Violence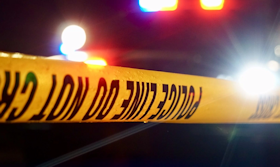 Weekend gun violence in Chicago claimed the lives of six people and wounded at least 49 others, including a 14-year-old, a 15-year-old and two 16-year-olds.

The violence included a mass shooting at 10:08 p.m. Saturday, in which four people were wounded at a large gathering in the 2800 block of West 12th Place, in Douglass Park in the Lawndale community. Witnesses were uncooperative, so it was unknown who fired the shots or from whence they came.

All four victims self-transported to Mount Sinai Hospital in fair condition. A 36-year-old woman, a 39-year-old man, and a 46-year-old man were each shot in the leg, while a 21-year-old man was shot in the arm.

Last weekend in Chicago, seven people were killed and 39 others were wounded. chicago.cbslocal.com chicago.suntimes.com

Philadelphia, PA
Four killed, four injured in weekend shootings
Four people were killed and four others wounded, including a 4-year-old boy, in separate shootings Saturday and Sunday in Philadelphia. In one instance, investigators said a 56-year-old man was shot twice in the abdomen during an attempted robbery just after 10:30 a.m. Saturday on the 1700 block of Blavis Street in Nicetown. philly.metro.us

Seattle, WA: Police investigate 2 deaths, flurry of weekend shootings

Baltimore, MD: Two killed in separate shootings Saturday night, three others injured by gunfire over weekend

Gun Violence in America Year-to-Date

29,515 Shooting Deaths - 462 Mass Shootings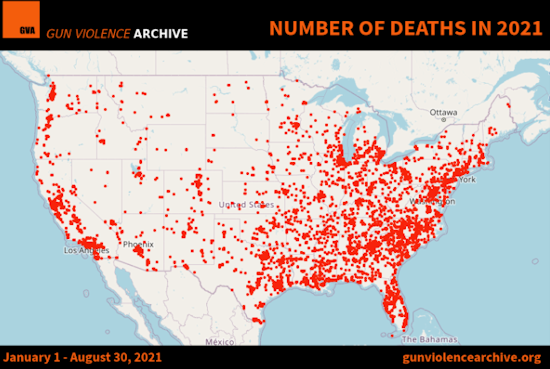 A list of U.S. shootings over the past 72 hours

20th Anniversary of the September 11, 2001 attacks
National Terrorism Advisory System Bulletin

Summary of Terrorism Threat to the U.S. Homeland



The Secretary of Homeland Security has issued a new National Terrorism Advisory System (NTAS) Bulletin regarding the current heightened threat environment across the United States. The Homeland continues to face a diverse and challenging threat environment leading up to and following the 20th Anniversary of the September 11, 2001 attacks as well religious holidays we assess could serve as a catalyst for acts of targeted violence. These threats include those posed by domestic terrorists, individuals and groups engaged in grievance-based violence, and those inspired or motivated by foreign terrorists and other malign foreign influences. These actors are increasingly exploiting online forums to influence and spread violent extremist narratives and promote violent activity. Such threats are also exacerbated by impacts of the ongoing global pandemic, including grievances over public health safety measures and perceived government restrictions.

Expires: November 11, 2021 02:00 pm | Additional Details

LA's Civilian Police Oversight Board Says: 'We Need More Officers'
Between defund and defend, L.A. tries new tactics, bigger budget for cops
Amid a budget crisis late last year, the city considered laying off nearly 1,000 officers. But as crime rose and federal pandemic relief funds came in, the mayor increased the Los Angeles Police Department's (LAPD) budget 3% in April. And the new head of the civilian oversight board said last month that the city needed more officers amid a surge in homicides.

"If you want to abolish the police, you're talking to the wrong mayor," he said. "If you want to move backward toward a failed us-and-them strategy ... you've come to the wrong place."

The push to defund plays out weekly outside the Los Angeles Police Protective League, the union for city officers. There, on an August afternoon, Black Lives Matter-Los Angeles protesters stood before a mural adorned with the images of activists — their painted eyes facing the union hall like watchdogs — and a list of community needs with the word "police" crossed out.

The LAPD argues otherwise. It says it's down more than 500 sworn, deployed officers — from 9,958 to 9,401 — since Floyd's death, a staffing level that union spokesman Tom Saggau called "wholly inadequate."

Amid last year's cutbacks, the union pushed back. It launched websites, erected billboards targeting some council members, and ran ads asking city leaders what their plan was to keep people safe. "The folks who have advocated defunding in Los Angeles have lost," Saggau said. startribune.com

NYC's Controversial Return to Gang Takedown Tactics
As Shootings Increased, N.Y.C. Returned to Disputed Tactic: Gang Takedowns

The authorities are responding to a wave of gun violence. But their anti-gang tactics have long faced criticism for unfairly targeting young Black people.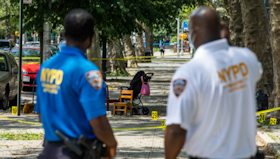 The police say the majority of the more than 2,500 shootings recorded since the beginning of last year can be linked to gangs. And this year, as shootings have risen from historic lows in 2019 to their highest level in a decade, a chorus of leading officials — including Mayor Bill de Blasio and Eric Adams, the Democratic candidate to replace him — have joined the Police Department in vowing to dismantle gangs as the surest strategy for reducing gun violence.

But the anti-gang tactics used by the authorities have long faced criticism from law enforcement experts, civil rights advocates and even some prosecutors. Targeting gangs relies on police intelligence gathering that critics say is often unreliable and classifies far too many young men of color as gang members, sowing mistrust in communities and even hardening gang ties.

The takedown was emblematic of the hard-line tactics that the authorities are now emphasizing. But legal experts say that approach is better suited to taking down drug cartels and the Mafia than New York's mostly young, Black and Latino street crews. nytimes.com

'We are sick of gun violence': Memphis Chief CJ Davis reacts after separate deadly shootings involving children

---

COVID Update

368.8M Vaccinations Given
US: 39.6M Cases - 654.6K Dead - 30.8M Recovered
Worldwide: 217.3M Cases - 4.5M Dead - 194.2M Recovered

Former Senior Loss Prevention Executive
Know of any fallen LP exec? Let's remember & recognize.

Private Industry Security Guard Deaths: 306
Law Enforcement Officer Deaths: 361
*Red indicates change in total deaths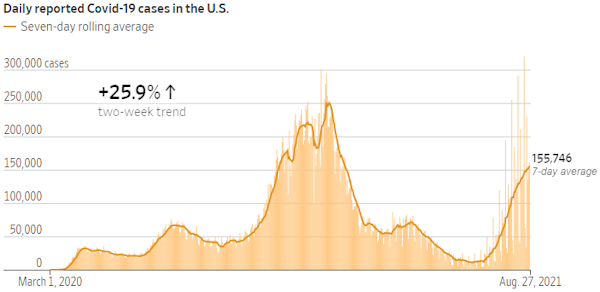 7-Day Deaths Up 11% Nationwide

McD's Sets New Indoor Dinning Shutdown Formula
Shutdowns Back at Fast Fooders

'McDonald's, others consider closing indoor seating amid Delta surge in U.S.'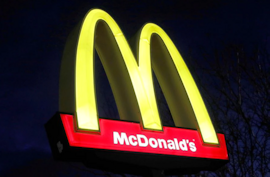 Some U.S. fast-food restaurants are closing indoor seating areas or limiting hours of operation because of the spread of the Delta variant of COVID-19, according to franchisees.

Last week, McDonald's instructed its franchisees on steps they should take to re-close their dining rooms in areas where the Delta variant is rapidly spreading, closing indoor seating in counties where COVID cases exceed 250 per 100,000 people on a rolling three-week average.

Top U.S. health officials said on Friday that U.S. cases of the coronavirus continue to rise amid the fast-spreading Delta variant. Vaccination rates were also higher, they said.

Deaths and cases were up 11% and 3% respectively over the past seven days nationwide, with hospitalizations up 6% over the past week to an eight-month high, the U.S. Centers for Disease Control and Prevention said on Friday. reuters.com

Editor's Note: FEMA has the Waffle House and now the CDC has McD's they could use. Just a thought.

"The Delta spike is more exaggerated"
U.S. Hospitalizations Approach a Peak as Variant Spreads
Covid-19 hospitalizations nationwide crossed above 100,000 for the second time in the pandemic, overwhelming caregiver capacity in several states.

Patients are younger, and disparities across race and ethnicity persist as hospitalizations soar.

Keeping ahead of demand is harder now than during earlier surges, according to doctors, nurses and hospital executives. Patients with other illnesses returned to hospitals this year, leaving fewer open beds as Covid-19 cases soared. The demand is most acute in ICUs, which care for the most-critical patients and need highly trained medical staff. Hospitals in Florida, Georgia and South Carolina have paused surgeries that could be delayed, diverted ambulances and stopped taking patients from other hospitals as capacity has become strained.

Many hospitalizations can be prevented with vaccinations, hospital and public-health officials said. Immunizations are effective at preventing serious illness and death, research shows. wsj.com

New Mask Mandate Takes Effect Today
Illinois Mask Mandate: New Indoor Mask Requirements Take Effect Monday
Illinois' reinstated mask mandate takes effect Monday, requiring residents over the age of 2 to wear face coverings in indoor settings. Illinois Gov. J.B. Pritzker re-issued the mask mandate for the state Thursday, saying the state is "running out of time as our hospitals run out of beds."

The new indoor mask guidelines, similar to mandates already handed down in Cook County and Chicago, will require facial coverings in indoor settings, regardless of COVID vaccination status. "Illinois will join several other states that have reinstituted statewide indoor mask requirements, regardless of vaccination status, effective on Monday," Pritzker said in his announcement. "Masks work. Period."

He noted that while face coverings are not required outdoors, "masks are strongly encouraged in crowded outdoor settings like festivals and concerts as well as for activities that require close contact with people who are not vaccinated." nbcchicago.com

Rural USA & The Deep South - The Anti-Vaxxers
Mortuaries fill, hospitals clog in rural California towns with low vaccination rates
COVID-19 is surging across rural California, where inoculation rates are low, more intensely than it ever has before.

"We saw significant surges in urban areas in this state early on. Now, rural California is the epicenter for this pandemic." In August, nine Northern California counties have seen more patients hospitalized with COVID-19 than at any other point in the pandemic: Amador, Del Norte, Humboldt, Lake, Mendocino, Placer, Plumas, Shasta and Tuolumne.

In the state's conservative northern reaches, health officials have battled against widespread distrust of the vaccines, skepticism about the virus and anger over mask mandates and lockdowns. The region's dramatic spike in cases attributed to the highly contagious Delta variant mirrors what is happening across the country. latimes.com

Britons, Unfazed by High Covid Rates, Weigh Their 'Price of Freedom'
Britain is reporting more than 30,000 new coronavirus cases a day, but the public seems to have moved on. Experts say this could be a glimpse into the future for other countries.

All of this at a time when Britain is reporting more than 30,000 new coronavirus cases a day, hospitals are coming under renewed strain, and preliminary data shows that the protection provided by the vaccines ebbs several months after the second dose.

Such is the strange new phase of Britain's pandemic: The public has moved on, even if the virus has not. Given that Britain has been at the vanguard of so many previous coronavirus developments — from incubating variants to rolling out vaccines — experts say this could be a glimpse into the future for other countries.

"We don't seem to care that we have these really high infection rates," said Tim Spector, a professor of genetic epidemiology at King's College London who has been leading a major study of Covid-19 symptoms. "It looks like we're just accepting it now — that this is the price of freedom." nytimes.com

Treating Unvaxxed Workers as Smokers
Surcharges for unvaccinated workers gain momentum, but questions remain

The strategy is more commonly associated with employees who smoke and is seen as one way to potentially keep workers safe — if it works.

Frustrated by the emergence of the delta variant and a U.S. vaccination rate that has barely budged in the last few months, some employers are seeking alternatives.

The focus has shifted toward a strategy commonly associated with smoking: health plan surcharges. Inquiries about increasing health insurance contribution costs for employees who choose not to get vaccinated are increasing, according to Wade Symons, partner at HR consulting firm Mercer and co-leader of its regulatory resource group. After first hearing murmurs from employers about vaccination surcharges, Symons said Mercer has been getting "at least one inquiry a day, sometimes more, about this concept."

The idea is not so much a consideration of last resort for employers as it is a potential way for those who have dangled incentives — or for those who have stayed "on the sidelines" as it pertains to COVID-19 vaccinations — to boost workplace health and safety, he added. It also may be an alternative to a vaccination mandate. hrdive.com

Slow Return of Workers Impacts NYC Retailers
Shopping is delayed in NYC; only 4 out of 10 workers to return by October
Major Manhattan employers surveyed this month said that just 23% of office workers have returned to the office. The slow return will drag on a while, and Manhattan retailers will continue to feel the effects.

Employers expect that only 41% will be back at their desks when fall arrives at the end of September. When surveyed in May by the same agency—Partnership for New York City—they said that they expected 62% of workers to be back by that time.

The arrival of the Delta variant is the reason. Forty-four percent of those surveyed said that they had delayed return-to-office programs after the onset of the variant. Most of them (42%) said their delays would last a month or less, 18% expected the stall to last two or three months, and 10% figured they'll be waiting three months or more. chainstoreage.com

Office re-entry timelines are increasingly unpredictable

Lower vax rates & lax policies: Why Florida's massive Covid-19 spike got so bad

EU Set to Recommend Halting Nonessential Travel From the U.S.

Maryland records most daily virus cases since April
---

Hurricane Ida Batters Louisiana, Impacts Businesses

Over 1M Lose Power - Ida Downgraded to Tropical Storm
Ida Batters Louisiana, New Orleans Businesses Shut Down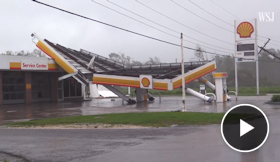 Hurricane Ida made landfall on Sunday and battered this city and much of southeast Louisiana, knocking out power, downing trees and causing havoc as the region's most severe storm since Hurricane Katrina exactly 16 years earlier.

Ida arrived at Port Fourchon, 60 miles south of New Orleans, at midday. It was a Category 4 hurricane, the second-highest storm classification. It brought pounding rain, sustained winds of 150 miles an hour and dangerous sea surges.

All of New Orleans had lost power by Sunday night, an Entergy spokesman confirmed. More than 1 million customers statewide were without power, according to data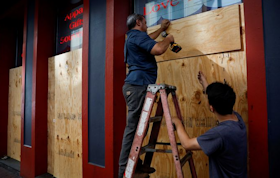 from poweroutage.us. Storm trackers said that even after several hours, the hurricane remained as strong as when it made landfall, though by early Monday morning it was downgraded, first to Category 1, then to a tropical storm.

Restaurants, bars and other businesses in and around New Orleans had been closed since Saturday afternoon. Many were boarded up and fortified with sandbags as early as Saturday. Even 24-7 dive bars such as Ms. Mae's and Brothers 3 closed Saturday morning. Only a Walmart, a Winn-Dixie and a few other stores were open Saturday in the city's uptown neighborhood. wsj.com

Home Depot's Disaster Response Team
The Home Depot Activated Disaster Response Team as Hurricane Ida Approached
As Hurricane Ida entered the Gulf of Mexico and threatened parts of the U.S., The Home Depot activated its disaster response team to support communities in the path.  

More than 250 associates from the company's merchandising, operations and supply chain teams are working around the clock to move truckloads of products to stores in Louisiana and Mississippi. Products like generators, water, tarps, batteries and flashlights are moving into stores in the area. Stores will remain open as long as it's safe to do so. 

"We're praying for minimal impacts from Hurricane Ida," said Kelly Mayhall, president of the southern division. "We know our customers are counting on us to help them prepare and potentially recover, and we're so grateful for how our associates are serving their communities."

The Home Depot Foundation is working with national nonprofit partners including Team Rubicon, Convoy of Hope, Operation Blessing, All Hands and Hearts and ToolBank Disaster Service. Ahead of disaster season, the Foundation and its nonprofit partners strategically position emergency supplies in warehouses nationwide for quick deployment to impacted areas. The Home Depot Foundation has committed nearly $5 million to disaster response in 2021. corporate.homedepot.com

The Waffle House Index Was a Warning Sign to Louisiana
Even Waffle Houses closed as Hurricane Ida neared landfall
Waffle Houses are famous for keeping up their 24/7 service regardless of what kind of natural disaster or catastrophe comes through, McClatchy News has previously reported.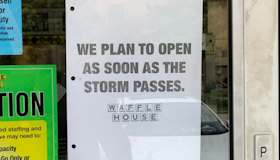 Because of this, federal, state and local officials often use Waffle Houses to gauge the severity of destruction in a community - an unofficial system known as the Waffle House Index. In this way, Waffle House gives authorities a clearer picture of where help is needed most, McClatchy reported.

Simply put, if a community's Waffle House is out of operation, the community is probably in very bad shape.

So, when several locations shut down in preparation for an incoming Category 4 hurricane like Ida, residents take notice. "Seriously a worrying sign ahead of #Ida," a local news reporter tweeted. "The Waffle House in Morgan City is closed until the storm passes."

At least four other locations have also closed in Louisiana, in Houma, Raceland, Thibodaux, and Boutte, the Waffle House website shows. All five of the closed Waffle Houses are in Hurricane Ida's path, based on National Hurricane Center predictions. kansascity.com

New Orleans' Storm Risk-Reduction System
Hurricane Ida: Did New Orleans's Flood System Work?
Ida is presenting the biggest test yet of the storm risk-reduction system that was installed in the New Orleans metro area after Hurricane Katrina. Since 2005, the U.S. Army Corps of Engineers has worked with other local, state and federal agencies to build a roughly $14.5 billion system of levees and other protections.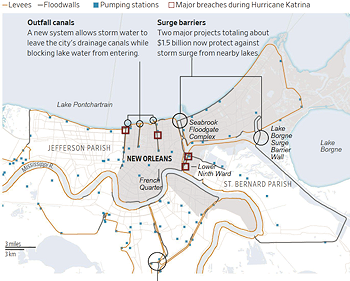 The system consists of flood walls and levees to protect the area from storm surge (or abnormal sea level rise) and a pump system to siphon out excess water. A flood wall is usually a concrete structure, while a levee is made from earthen material. The Army Corps raised levees and flood walls all around the metro area and fortified them with vegetation to lower the likelihood of a "breach," where a wall breaks down and water can flow into the city.

"There's no comparison with what we have now and what we had 16 years ago," said Mr. Poche.

The system covers a 133-mile perimeter around the New Orleans metro area, which encompasses Saint Charles, Jefferson, Orleans, St. Bernard and Upper Plaquemines parishes. During Hurricane Katrina in 2005, there were more than 50 failures of the levees and flood walls, which caused flooding in 80% of New Orleans and all of St. Bernard Parish.

A storm surge warning was in effect from Morgan City, La., to the Alabama-Florida border, according to the National Hurricane Center. Forecasters said Ida could bring up to 15 feet of storm surge to some areas. It could be the first time the levees have been overtopped since the upgrades were made. wsj.com

Devastating Ida kills at least 1 and many awaiting rescue from flooded homes

Pine Belt Walmarts to closed in anticipation of Ida

Ida expected to cause spike in gas prices

---

Updated List of Federal FRT Usage
One day it will be mainstream

US federal agencies plan to increase facial recognition use, GAO report says
Three-quarters of U.S. federal agencies surveyed for a Government Accountability Office (GAO) report are already using facial recognition and more than 40 percent plan to use more of the technology by 2023.

Usage spanned law enforcement to staff unlocking work smartphones. Eighteen of the 24 agencies surveyed used facial recognition technology (FRT) in 2020 and a nineteenth, the Department of Transportation, also dealt with the technologies via research. Digital access was the most common usage with 16 agencies claiming application for digital access or cybersecurity, of which 14 agencies authorized staff to use FRT to unlock their agency-issued smartphones.

Six agencies used FRT in criminal investigations or to identify victims; five used it for surveilling locations for individuals on watchlists. Ten including the Department of Justice used FRT-related research and development. Four used the technologies for national security and defense and five for physical security such as accessing buildings. Two agencies are testing face biometric verification to log in to certain government web services.

This is the latest in a series of reports into federal agency use of biometric technologies. Requested by Congress, the 90-page report – 'Facial Recognition Technology: Current and Planned Uses by Federal Agencies' — is based on a survey of 24 agencies intended to understand how such federal agencies used facial recognition technology in the fiscal year 2020 or developed such technologies, and how they plan to use it up to the end of fiscal year (30 September) 2023.

Ten agencies including the Departments of Defense, State and Justice plan increased use of FRT by 2023, all with new FRT ventures plus evaluations and upgrades.

All 24 agencies surveyed – including Departments of Defense, Energy, Homeland Security, State and Social Security Administration – responded, answering questions on their FRT research, how they regulated the use of FRT by non-federal entities and their plans, which only Homeland Security reported to be involved with. biometricupdate.com

Iris and face biometrics on the rise for access control worldwide

Two new market studies

Two separate market studies have highlighted the emerging relevance of biometrics for access control applications worldwide.

The first one comes from Future Market Insights and suggests the access control market will experience a compound annual growth rate of 12.6 percent in the next decade, with estimated revenues set to reach a value of over $15 billion. biometrcisupdate.com

Schnucks Becomes 1st Grocer to Deploy AI Robots Chainwide

First Grocer to Employ AI-powered Inventory Management Tech at Scale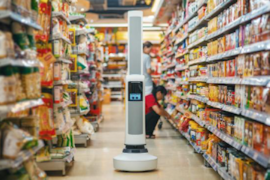 In an industry-first chainwide expansion, Schnuck Markets Inc. and Simbe Robotics will team on a multiyear full-scale rollout of Simbe's Tally solution to all 111 Schnucks locations across the food retailer's four-state footprint, making Schnucks the first grocer in the world to employ AI-powered inventory management technology at scale. Incorporating Simbe's solution into chainwide operations will enable Schnucks to gain even greater visibility into store conditions, with deeper levels of business insights as it adjusts to a post-pandemic retail landscape.

Tally robots roam store aisles up to three times a day and autonomously capture on-shelf data, including inventory position, price accuracy and promotional execution, for about 35,000 products per store with each trip. progressivegrocer.com

Getting Freight Out of O'Hare Has Gotten Real Bad
'Stealing your own freight: O'Hare cargo delays force drastic measures'

Logistics company sends in rescue teams, buys off warehouse personnel to retrieve shipments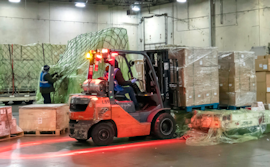 Desperate logistics service providers in Chicago are resorting to a number of new tactics, including bribery and undercover extraction missions, to avoid worsening congestion that is trapping shipments for more than a week at O'Hare International Airport's cargo terminals, according to industry executives.

Shipment volumes at O'Hare have exploded in the past 18 months as businesses turn to air transport for critical imports of personal protective equipment, replenishment of depleted inventories and to overcome manufacturing and ocean supply chain disruptions. Facilities are short-staffed and don't have adequate space to swiftly process mountains of cargo offloaded from the giant freighters that have predominated since COVID devastated lower-capacity passenger flights.

Freight management companies say backlogs are so severe that warehouses are storing rows and rows of containers in parking lots and that it can take up to 10 days to retrieve a shipment. Delivery trucks often sit in line for hours waiting for a load and some local carriers are refusing to get freight at certain airlines.

"The situation is so bad that one 3PL is essentially orchestrating heists of its own freight." "When you're paying people off in cash, they'll let you do it. That's the only way you can get your freight." freightwaves.com

Editor's Note: Perfect opportunity and timing for a big heist and what's to say they don't take some of yours. The gangs got to know what's happening. They'll be a heist and we may never hear about it. Next to staffing stores this is probably one of the two top priorities right now. Just getting the merchandise to the stores. Just a thought Gus Downing

Talk About the New Mini-Mall
Target Goes All in With Store Within a Store
100 Ulta Beauty's & 160 Disney Stores + Mini CVS Health's + Scaled Down Starbucks
In a way, Target's partnerships are turning its stores into mini-malls where shoppers can conveniently browse a variety of products under one roof.

Shoppers can get a vaccine or fill a prescription at a scaled-down CVS Health. They can order a Frappuccino at a Starbucks cafe. They can find dedicated displays of Apple gadgets and Levi Strauss denim. And they can try a lipstick sample or get beauty advice at mini Ulta Beauty shops, which began opening in select stores earlier this month.

"One of the trends that I think they're leaning into is 'How do you create more uniqueness and differentiation for your brand' and kind of elevate it from the typical sort of merchandising?" he said. "What's that extra reason to go to the store or go to the website or perhaps, buy something else on your trip?" cnbc.com

New York's Ban-the-Box Different Than Other Jurisdictions
More detailed and very defined limitations and requirements

Most New York City Employers Must Revise Background Screening Processes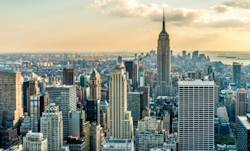 Amendments expanding existing employment protections under the New York City Fair Chance Act (FCA), also known as the ban-the-box law, became effective on July 29.

Among other changes discussed below, the amendments (i) affect the process for taking into account the criminal history of job applicants―including requiring all background checks other than criminal ones, such as a reference or education check, be completed before a conditional offer is made if a criminal background check is to then be run―and (ii) require a full analysis of pending criminal arrests and charges of both job applicants and employees. These two requirements set New York City apart from other jurisdictions with ban-the-box obligations. The New York City Commission on Human Rights has published legal enforcement guidance clarifying these expanded protections.

Two-step background check required. A criminal background check can only be performed and evaluated after an employer makes a conditional offer of employment to an applicant. Thus, employers must conduct all noncriminal checks, such as employment history, academic records and references, before making a conditional offer of employment. Only after making a conditional offer may an employer check an applicant's criminal history. shrm.org

Ace Hardware to open more than 170 stores in 2021


Quarterly Results

Gap Inc. Q2 comp sales up 3%, online sales up 65% vs. 2019 (33% of total business), net sales up 29%
Old Navy comp's flat to LY, net sales up 21% vs. LY
Gap Global comp sales down 5% over LY, net sales down 10% vs. LY
Banana Republic Global comp's up 41% over LY, net sales down 15% vs. LY
Athleta comp sales up 13% over LY, net sales up 35% over 2019

Dollar Tree Q2 enterprise comp's down 1.2%, consolidated net sales up 1%
Dollar Tree comp's down 0.2%
Family Dollar comp's down 2.1%

Dollar General Q2 comp's down 4.7%, net sales down 0.4%

Hibbets Q2 comp sales down 6.4%, net sales down 5.1%

Big Lots Q2 comp's down 13.2% compared to up 31.3% in Q2 2020, ecommerce up 10% , net sales down 11.4% - up 16.4% compared to Q2 2019

---

Senior LP & AP Jobs Market
VP - Security & Surveillance job posted for Hard Rock Hotel & Casino
in Sacramento, CA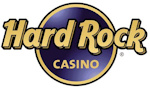 Under direction of the President, the individual is responsible with overseeing the security, surveillance and risk management needs of the entire property and surrounding areas. The individual is involved in directing and coordinating activities relating to the protection, safeguarding and security of company assets, team members, guests, and others. hrhcsacramento-hardrock.icims.com

Loss Prevention Director job posted for 2nd Ave LLC in Bensalem, PA


The Manager/Director, Loss Prevention is a key business partner tasked with leading company's field loss prevention programs while working proactively and in collaboration with Operations, and other cross functional teams to identify potential risks to the company and provide appropriate, practical, and timely resolution. The position drives security and safety awareness across the company's footprint of properties. indeed.com

Director of AP job posted for Associated Food Stores in Salt Lake City, UT


The Director of Asset Protection develops health, safety, sanitation and loss prevention programs for Associated Food Stores. Performs activities to promote the maintenance of safe and healthy working conditions through subordinate supervisors. Recommends measures to reduce or eliminate industrial accidents and health hazards. indeed.com

Asset Protection Manager of Investigations and Supply Chain job posted for
Belk in Charlotte, NC


The Asset Protection Manager of Investigations and Supply Chain (APMI) will be primarily responsible for creating, implementing, and executing companywide investigation/Organized Retail Crime (ORC) strategies to resolve theft, fraud, and criminal investigations. The APMI will be responsible for companywide initiatives and investigations. belkcareers.com

---

Last week's #1 article --

Walmart Uses Zebra Technologies to Catch Thieves in Real Time
Viral TikTok video shows how Walmart workers catch customers pilfering merchandise at self-checkout

The person in the video holds a device that shows items being scanned at registers in real time.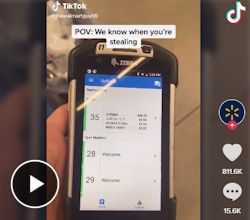 A viral TikTok shows how Walmart employees can catch customers red-handed if they try to steal merchandise. The video is from a TikTok user with the handle @thewalmartguy69 who says they're a Walmart employee. The text in the video reads, "POV: We know when you're stealing."

In the clip, a person can be seen holding a device with a screen that says "register alerts," showing one self-checkout register in use and the others available. The person pans the camera to the self-checkout area, showing a customer at a register.

The camera returns to the device, which shows how many items the customer scanned and what they collectively cost, along with a partial breakdown of items and their prices. It shows an arrow next to the partial breakdown that presumably the person can click to find the full breakdown.

The device appears to be from a company called Zebra Technologies, which sells handheld devices designed for purposes like checking prices, finding items, and managing inventory. businessinsider.com
---



How will emerging technologies change the world of retail? What are the most innovative startups doing to change how consumers shop? And what can traditional retailers do to become well-prepared for the changes? Find out in the latest installment of Tony D'Onofrio's immensely popular webinar series on the disruptive future of retail.

Tony's special guest will be a noted industry analyst and top 50 retail influencer, Jeff Roster, who serves as an advisory council member at George Mason University's Center for Retail Transformation.

Topics covered will include:

● Emerging technology developments in retail, especially AI, IoT, and Blockchain
● New retail business models that will drive faster industry growth, such as social commerce and live streaming
● Insights into the retail technology startup community in terms of size, growth and focus areas
● Latest finding from the research done at the George Mason University's Center of Retail Transformation

At the end of the webinar, our sponsor, Prosegur Security, will award five LPF scholarships to attendees by random drawing.

This webinar is presented by the Loss Prevention Foundation in partnership with Prosegur Security and qualifies for 1 continuing education unit (CEU) towards your LPC recertification or CFI recertification.

---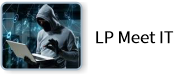 ---

Amazon to Share Their Amazon Security Awareness training for free
Amazon announces two initiatives to help protect against cyberattacks
Amazon to make Security Awareness training available for individuals and businesses, and AWS will offer free multi-factor authentication devices to customers, providing a more secure way to protect sensitive information.

Amazon announced two new security initiatives that will help protect organizations and individuals from increasing cybersecurity threats. Starting in October, Amazon will make cybersecurity training materials it has developed to keep its employees and sensitive information safe from cyberattack available to the public. In addition, Amazon announced that it will offer qualified Amazon Web Services (AWS) customers a free multi-factor authentication (MFA) device designed to further secure their environments and protect their most sensitive assets from cyberattacks.

"A fundamental problem when addressing current cybersecurity threats is education, which is why we're excited to share our Amazon Security Awareness training for free, to help organizations and individuals understand how to navigate and fight against security events," said Steve Schmidt, chief information security officer of AWS. "And by giving qualified AWS customers access to free MFA tokens, we've made it even easier for companies to use this powerful tool to protect their data and important technology assets."

Amazon security awareness

Amazon designed a digestible and succinct curriculum, used with its employees, to anticipate and educate people about possible security threats. Businesses and organizations can also build their own solutions on top of the Amazon training to suit their needs. The Amazon Security Awareness training includes videos and online assessments. The materials follow proven neuroscience and adult learning principles to enhance content retention and they are regularly updated as digital attack techniques evolve.

Multi-factor authentication

Starting in October, qualified AWS account holders can receive an MFA device at no additional cost, providing customers with a stronger security posture. AWS customers with access to the AWS Management Console can authenticate themselves by typing their passwords and then simply touching the MFA security token plugged into their computer's USB port. The free MFA token adds a layer of security to protect customers' AWS accounts against phishing, session hijacking, man-in-the-middle, and malware attacks. Customers can also use their MFA devices to safely access multiple AWS accounts, as well as other token-enabled applications, such as GitHub, Gmail, and Dropbox. aboutamazon.com

After 4th Hack in 5 Yrs T-Mobile's CEO Issues Public Apology
T-Mobile CEO apologizes after latest hack

The Biden administration is putting more pressure on companies to step up their cybersecurity practices.

The chief executive of America's second-largest wireless network apologized to millions of customers who had their data stolen in a hack of the company's systems.

"We didn't live up to the expectations we have for ourselves to protect our customers," CEO Mike Sievert said in a blog post Friday.

The breach is the fourth in five years for T-Mobile, according to Allie Mellen, a security and risk analyst at research firm Forrester. That suggests the company's security just isn't up to the task, despite the general rise in attacks.

In his blog post, Sievert said the company had hired cybersecurity firm Mandiant and consultants KPMG to advise it on improving security.

"We are confident that there is no ongoing risk to customer data from this breach," Sievert said. "We're fully committed to take our security efforts to the next level as we work to rebuild trust."

Stay Tuned Here - Let's see what hits the news wire over next couple of months coming from T-Mobile. washingtonpost.com

Crypto ATMs multiply despite challenges to the currency
The biggest cryptocurrency ATM companies, each with thousands of kiosks nationwide, just keep growing despite the volatility the assets have experienced over the past year.

CoinFlip, Coin Cloud and Bitcoin Depot have all made announcements in recent weeks that underscored their ability to keep attracting consumers who want to use, store, save or collect cryptocurrencies as people worldwide rethink traditional financial systems.

The 21st Century digital payment innovation tracked by blockchain technology keeps luring buyers even though it's little used for everyday consumer goods and still carries a cybercrime taint. Those negatives are countered by a new generation's distrust of legacy financial institutions and a belief that the new non-governmental currency may help overcome worldwide inequities and difficulties in moving money over borders. paymentsdive.com

After "Operation Ironside's" Huge 290+ Organized Crime Arrests Aussie LE Gets Online Warrant Powers
Police get online account takeover, data disruption powers

After "extraordinary" bill passes Australia's federal parliament.

Federal authorities have been granted "extraordinary" new online account takeover powers after controversial legislation designed to tackle serious criminal activity on the internet passed parliament.

The Surveillance Legislation Amendment (Identify and Disrupt) Bill 2020 was signed off by the Senate on Wednesday morning after clearing the House of Representatives with 60 amendments [pdf] on Tuesday night.

The bill grants the Australian Federal Police and Australian Criminal Intelligence Commission new powers to combat serious crime enabled by anonymising technology using three new warrants: network activity, data disruption and account takeover.

With the warrants, both agencies can take control of a person's online account to gather evidence about serious offences without consent, as well as add, copy, delete or alter material to disrupt criminal activity and collect intelligence from online networks.

Passage of the bill was recommended by the Parliamentary Joint Committee on Intelligence and Security (PJCIS) earlier this month alongside 33 changes that sought to limit the potential use of the bill and improve oversight.

"In effect, this bill would allow spy agencies to modify, add, copy or delete your data with a data disruption warrant; collect intelligence on your online activities with a network activity warrant; [and] take over your social media and other online accounts and profile with an account takeover warrant." itnews.com.au

Special Note: This came about after a huge dark web case earlier this year called 'Operation Ironside' where federal law enforcement arrested more than 290 people in a organized crime group. Where Operation Ironside confirmed the persistent and ever evolving threat of transnational, serious and organized crime – and the reliance of these networks on the dark web and anonymising technology to conceal their offending."

Editor's Note: Here's one for the good guys. By the way this was a bipartisan effort that addressed the privacy and oversight concerns by limiting it's usage to "serious offences" that carry a maximum of at least seven years in jail and other specified offences.

T-Mobile hack: Everything you need to know

Debunking myths about consumer expectations around mobile apps security

---

Register Now for the 2021 RH-ISAC Summit - September 28-29



Hey LP/AP senior: If your retailer is a member you might want to consider attending yourself or sending one of your team members who works with cybersecurity on investigations or e-commerce fraud.

Especially now with the increased ransomware attacks and data beaches and the corresponding increased attention from law enforcement. Cross pollinating and building those relationships could pay off long term. Register here
---

Threats? Promises? I would never…
One of the major contributors to false, involuntary or coerced confessions is the use of threats or promises made by the interviewer. In some criminal cases we have seen threats of the death penalty or long sentences in effort to obtain cooperation from the subject. We have also seen threats to the subject in the way of a family member or friend being deemed culpable if an admission is not obtained. Promises are also heard in a variety of contexts, including minimizing potential consequences or granting the subject certain liberties to incentive a confession. Obviously, these examples are the opposite of the standard that ethical interviewers represent. The combination of threats and promises transition the subject from a fear of consequences for non-cooperation to an incentive to confess with the mentality that the punishment will be minimal.

Read more here
---

---

---
100,000 Drone Deliveries in a Single Weekend
Google Now Owns 'Largest Residential Drone Delivery Service In The World'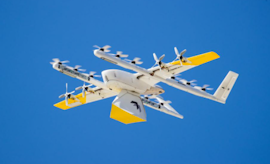 Google's drone delivery service
will complete 100,000 deliveries this weekend
, the company says, and is growing fast: 500% last year, and more deliveries in the first quarter of 2021 than in all of 2020 combined. That's probably just the beginning, because Google says it is expanding this year, including in the United States.

Just one of its delivery operations, in Queensland, Australia, is
the largest residential drone delivery service in the world
, according to Google.

There, Google Wing's completed deliveries have included: 10,000 cups of coffee, 2,700 sushi rolls, 1,000 loaves of bread, and 1,200 "hot chooks" (Australian for roasted chicken).

Wing's drones are a sort of hybrid drone/fixed wing aircraft that cruise at about 45 meters (100 feet). They carry small packages: up to about 1.2 kilograms or just under 3 pounds, and deliver within about a six-mile radius, with delivery in under six minutes. (90% of last-mile deliveries are under five pounds, the company says.)
The drones don't actually land; they descend to around seven meters or 23 feet
, then lower and release the package automatically.

What's completely obvious from looking at that shortlist of some of Google Wing's deliveries is that
drone delivery is a complete game-changer.


Not only did
Google Wing ramp service 500% last year and double that in a single quarter
, the company says that August — which is not yet over — has been another record month. And a Virginia Tech study in Google's first drone delivery region in the U.S., in Christiansburg, Virginia, found that
90% of those who were exposed to the service liked it and supported it
. forbes.com


E-Commerce Sticker Shock
Online shopping used to be immune to inflation. Not anymore
Sticker shock has even invaded the land of falling prices: online shopping.


Through economic booms and busts, e-commerce has long been virtually immune to inflationary pressures. Average online prices dropped every year between 2015 and 2019. But Covid ended that once-reliable trend.


Online prices jumped 3.1% year-over-year in July
, according to a report released Thursday by Adobe. Out of 18 categories captured by the Adobe Digital Economy Index, all but six saw price jumps last month. The price gains were most dramatic in July for online clothing, over-the-counter drugs and sporting goods.

"Pre-Covid, I don't think there was any inflation. It was exclusively deflationary," Austan Goolsbee, the former Obama adviser who helped Adobe develop the index, told CNN.

This isn't a one-month glitch. Online prices began rising soon after the pandemic erupted in March 2020 and that trend has continued.

Adobe found that online prices rose by 2.3% during the 12 months ending in June and gathered momentum in July. That marks a sharp reversal from the pre-Covid historical trend.
Between 2015 and 2019, online prices dropped by an average of 3.9% every year.
cnn.com
As Retailers Shift Sales Online, Location Remains Crucial
---
Update: Fraud Gang of 7 Hit Stores in New Jersey, New York, & Elsewhere For Over $300,000
DOJ: Two New Jersey Men Arrested for Mail Theft/Bank Fraud Scheme


NEWARK, N.J. – A Middlesex County, New Jersey, man and an Essex County, New Jersey man were arrested in connection with two criminal complaints charging them with scheming with U.S. Postal Service employees and others to commit mail theft, bank fraud, and aggravated identity theft,

Yaseen Salih, 24, of Iselin, New Jersey, and Adeeb Salih, 29, of East Orange, New Jersey, were charged by complaint with conspiracy to commit bank fraud, conspiracy to commit mail theft and to possess stolen mail, and aggravated identity theft.

USPS employees Khadijah Banks Oneal and Ashley Taylor stole envelopes containing credit cards, checks, and U.S. Treasury checks from the mail. From Dec. 12, 2020, to July 31, 2021, Taylor sold stolen mail to Yaseen Salih; from Jan. 30, 2020, until her arrest on July 28, 2021, Banks Oneal sold stolen mail to Jahad Salter and Dashaun Brown and supplied stolen mail to Hakir Brown. Yaseen Salih and Adeeb Salih, Hakir Brown, Salter, and Banks Oneal,

They then used the stolen credit cards to, among other things, make purchases at retail stores in New Jersey and elsewhere, including New York and online, resulting in attempted losses of over $300,000

The charges of bank fraud and conspiracy to commit bank fraud each carry a statutory maximum sentence of 30 years in prison and a maximum fine of $1 million. The charges of mail theft and possession of stolen U.S. Mail, and conspiracy to commit that offense, each carry a statutory maximum sentence of five years in prison and a maximum fine of $250,000. justice.gov

Memphis, TN: Group steals $3,000 worth of nail guns from local business
The Memphis Police Department is searching for a group of people who loaded their car with nail guns on Saturday. The burglary happened on the 6000 Block of Shelby Drive, police said. Police said the suspects pulled up their car in the back end of the business and rammed the loading garage door to gain entry. fox13memphis.com

Peachtree City, GA: Man, 3 women gang up to shoplift candles from Bath and Body Works
Shoplifting is a crime that is all too common. Less common is when a group of people hit a store simultaneously to steal candles, but that is what happened at a retail store in Peachtree City. Peachtree City officers on Aug. 22 at approximately 5:42 p.m. responded to Bath and Body Works on City Circle in reference to a shoplifting incident, police reports said. Upon arriving at the store, officers learned that a male, along with three females, stole a number of candles. The group fled the store, leaving in two vehicles, reports said. thecitizen.com

Toledo, OH: Police are searching for Travis Jones who has 15 warrants out for his arrest
On Saturday Toledo Police Department shared on social media their search for Travis Jones. According to police shop owners have reported Jones for stealing on the East side of Toledo. Jones has 15 warrants out for his arrest. He has been in foot pursuits with the police twice. wtol.com

Leesburg, FL: $2.67 Shoplifting suspect charged with Felony after crashing bicycle into police car; 10 previous theft convictions
---
---

Shootings & Deaths

Portland, OR: Woman charged with murder after running over husband in grocery store parking lot
Police say a Portland woman killed her husband by running him over with a car in a grocery store parking lot Friday night. Tera Harris, 49, was arrested and booked into Multnomah County Jail after officers responded to the incident and found a man under the car. Authorities later identified the man as Thurston Harris. Portland Fire and Rescue reported to the scene where they removed Harris, 48, from under the car and found that he was deceased. His body was later taken in for an autopsy, where it was discovered he suffered blunt force trauma to his torso. foxnews.com

Visalia, CA: Man shoots woman then himself outside Visalia shopping center
A woman is dead, and a man was hospitalized after police say he shot her and then himself in a Visalia parking lot. Police say the shooting happened in the middle of the parking lot of Mary's Vineyard Shopping Center at 2:40 pm. When officers arrived, they found two people with gunshot wounds. Both the man and woman were rushed to Kaweah Health Medical Center. Police say the woman died from her injuries. The 22-year-old man is being treated for his self-inflicted gunshot wound. Many people were out and about in the busy shopping center, which has more than a dozen businesses and restaurants. Police say the suspect and victim had been in a prior dating relationship. abc30.com

DeKalb, GA: Woman caught in crossfire at DeKalb County gas station gunfight

---

Robberies, Incidents & Thefts

Spokane, WA: Police arrest two suspects accused of assaulting Safeway employee
Spokane police arrested two suspects around 11 p.m. Wednesday night after they assaulted a Safeway employee and tried to steal store merchandise, according to a Spokane Police report. Officers located the suspects after the Safeway employee waved down an officer. The employee provided a description of the man and woman to Deputy Horton. The employee told police he confronted the suspects after they were walking toward the exit doors carrying baskets full of items they didn't purchase. During the assault, the female suspect lowered her shoulder and shoved the employee in the stomach. The male suspect struck the employee with a gallon milk jug, and he warned the victim that he would stab the employee if he came at the suspects again. The employee had a cut on his hand and several store items were scattered across the pavement in front of the store. The merchandise the suspects attempted to steal totaled over $194. krem.com

Los Angeles, CA: Suspect Arrested in Series of Armed Robberies in L.A. and Orange Counties
A man was in custody Friday for allegedly committing a series of armed robberies in Los Angeles and Orange counties. Isaiah Manning, 28, was arrested Thursday and booked on suspicion of robbery, with bail set at $200,000, the Los Angeles County Sheriff's Department reported. Manning is suspected of robbing a number of businesses over a 10-day period — including Arco gas stations and 7-Eleven stores — in Norwalk, Whittier, Long Beach, Downey, La Palma, Buena Park, Irvine and Costa Mesa, according to sheriff's Deputy Shawn Du Busky. mynewsla.com

Aikens, SC: Wanted man arrested, charged in Armed Robbery at Walgreens
An Aiken man wanted for an armed robbery in July, was arrested Wednesday after giving police false information. Lloyd Jermaine Williams, 39, was charged with armed robbery and giving false information to law enforcement. On Wednesday, police responded to Silver Bluff Road in reference to solicitation. The complainant stated the suspect was "going door to door requesting money" from residents in an apartment building, according to an incident report obtained from the Aiken Department of Public Safety. When police questioned the suspect, he gave them a false name and birth date. Once in custody, the suspect was charged in the July 16 armed robbery. On July 16, police responded to an armed robbery at Walgreens on Whiskey Road. The victims stated the male entered the business, "removed a pistol from his waistband" and demanded money from workers, according to another ADPS incident report. After collecting the money, the suspect fled the scene. There were no injuries. postandcourier.com

Baltimore, MD: Video shows smash and grab ATM theft at Baltimore 7-Eleven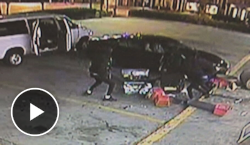 New video obtained by FOX45 News shows a group of brazen thieves strategically stealing an ATM from a Baltimore convenience store after smashing a van right through the front doors. According to police, the theft happened around 5 a.m. Thursday morning at the 7-Eleven along Falls Rd in Hampden. Surveillance footage from the store shows a dark-colored van pull into the parking lot and then drive in reverse directly into the store's front doors. foxbaltimore.com

Colorado Springs, CO: Jeep plows through Fountain Loaf 'N Jugs while trying to steal from ATMs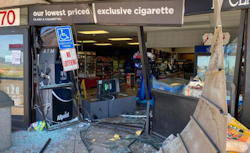 The attempted smash-and-grab happened at the Loaf 'N Jug off Drennan Road and Hancock Expressway around 7 a.m. Our crew at the scene says along with substantial damage to the store, the ATM can be seen toppled on its side. It's unknown if the suspect was successful at getting anything out of it. kktv.com

San Antonio, TX: Police seeking Family Dollar Armed Robber

Stafford County, VA: Idaho man arrested in armed robbery spree in VA, OH and PA

Las Vegas, NV: Jury Convicts Man Of Three Armed Robberies

Norfolk, VA: Man Sentenced for Role in Colonial Heights Armed Robbery
● Barber – New York, NY – Armed Robbery
● C-Store – Kalamazoo, MI – Armed Robbery
● C-Store – Colorado Springs, CO – Robbery
● C-Store – Brownington, VT - Burglary
● Cellphone – Colonial Heights, VA – Armed Robbery
● Check Cashing – Cleveland, OH – Armed Robbery
● Family Dollar – San Antonio, TX – Armed Robbery
● Gas Station – Atlanta, GA – Armed Robbery
● Gas Station – DeKalb, GA – Armed Robbery
● Grocery – Spokane, WA - Armed Robbery
● Hardware – Memphis, TN – Burglary
● Jewelry – Frisco, TX – Robbery
● Jewelry – Dayton, OH – Robbery
● Jewelry – Ontario, CA – Robbery
● Jewelry – Bloomington, MN – Robbery
● Jewelry – Ft Wayne, IN – Robbery
● Jewelry – Aurora, CO – Robbery
● Liquor – Wilmington, DE – Burglary
● Restaurant – Prince William County, VA – Armed Robbery (Burger King)
● Walgreens – Aiken, SC – Armed Robbery
● 7-Eleven – Glenview, MO – Armed Robbery
● 7-Eleven – Baltimore, MD – Robbery
Daily Totals:
• 19 robberies
• 3 burglaries
• 0 shootings
• 0 killed

---

None to report.

Submit Your New Hires/Promotions
or New Position
See all the Industry Movement
---



Feature Your Job Here For 30 Days -
70% Aren't On The Boards
Post your job listing
---
Featured Job Spotlights
Help Your Colleagues By Referring the Best

Refer the Best & Build the Best

---



LP Manager - Distribution Center (Temporary)
Carteret, NJ - posted August 20
As we commence relocating our operations to our brand new facility in Piscataway, NJ you will be assigned to the Carteret location to insure company Loss Prevention and Operational compliance are met. You will work with the Piscataway Loss Prevention Manager as well as the Director of Loss Prevention and Distribution Management in maintaining a safe and secure facility as operations are transferred...
Seasonal Asset Protection Associate
Charlotte, NC - posted August 10
The Asset Protection Associate (APA) is responsible for the detection, apprehension, or deterrence of customer and associate activity that could result in a loss to Ralph Lauren. APAs are also responsible for ensuring a safe environment for all customers, associates, and vendors...

Corporate Security Manager
Calabasas, CA - posted August 13
The Corporate Security Manager will, among other things, (a) be responsible for ensuring a safe and secure environment for our employees, vendors, and visitors, (b) develop, manage, execute and continuously improve corporate security processes and protocols, and (c) lead a team of security specialists at our corporate offices...



Area Loss Prevention Manager
Pittsburgh, PA and/or Cleveland, OH - posted July 30
Our Area Loss Prevention Managers ensure safe and secure stores through the objective identification of loss and risk opportunities. Our Area Loss Prevention Managers plan and prioritize to provide an optimal customer experience to their portfolio of stores. They thrive on supporting and building high performance teams that execute with excellence...



District Loss Prevention Manager
Chicago South / Illinois Central - posted July 28
The District Loss Prevention Manager develops and implements the Loss Prevention program for 6 -15 selling locations. The DLPM is responsible for driving results through achievement of goals related to inventory shortage, budget lines, cash variance and operational compliance...



Regional Manager LP, Audit & Firearms Compliance
Indianapolis, IN - posted July 21
The Central Regional Loss Prevention Manager is responsible for the control and reduction of shrinkage at the stores in their Territory and the company's Distribution Centers. Investigate and resolves all matters that jeopardize or cause a loss to the company's assets...



Senior AP Operations Manager, Supply Chain
Albany, OR - posted July 14
As a Senior Assets Protection Operations Manager (SAPOM), you'll manage a multi-level team comprised of both exempt AP leaders and non-exempt AP Security Specialists responsible for the execution of Assets Protection routines and initiatives to support secure environments and protect Target's profitability...
---

Featured Jobs
---
JOB TITLE
COMPANY
CITY/STATE
DATE ADDED

Vice President
VP AP
Four Corners Group
Remote
August 11
VP - Security & Surveillance

Hard Rock Hotel & Casino

Sacramento, CA

August 30

VP Corp. Security
NFI Industries
Camden, NJ
June 29
VP, AP
Saks OFF 5TH
New York, NY
July 28
VP, Risk Management
YRC Worldwide
Overland Park, KS
August 9

Director
LP Dir.
2nd Ave LLC
Bensalem, PA
August 30
Dir. AP
Associated Food Stores Inc.
Salt Lake City, UT
August 30
Associate Dir. LP
Chewy
Wilkes-Barre, PA
July 28
LP Director
The Company, Retail Gas Stations
Upland, CA
August 9
Sr. Dir. Global Security
eBay
San Jose, CA
July 19
Sr. Dir. Physical Security & LP
Fanatics
USA (Remote)
July 27
Dir. AP/Risk Management
Ferragamo USA
Secaucus, NJ
August 20
Director - AP Investigations (Remote)
Gap Inc.
U.S.
July 27
Dir. Business Continuity Planning
Gap Inc.
U.S.
April 30
Safety & LP Associate Dir.
Goodwill of Southern Arizona
Tucson, AZ
August 23
Sr. Dir. Risk Management, LP & Safety
Goodwill of Central Florida
Orlando, FL
April 6
Dir. Safety/Risk Mgmt.
Goodwill of SE Louisiana
New Orleans, LA
April 2
Dir. Risk Mgmt
Goodwill of South Mississippi
Gulfport, MS
August 25
Dir. of Safety
Ocean State Job Lot
North Kingstown, RI
June 1
Executive Dir. AP
Panda Restaurant Group
Rosemead, CA
January 28
Dir. LP
Public Storage
Plano, TX
July 12
AVP, Regional Dir. of AP
Saks Fifth Avenue
New York, NY
June 1
Dir. AP
Walgreens
Chantilly, VA
August 20

Corporate/Senior Manager
AP Mgr of Investigations & Supply Chain
Belk
Charlotte, NC
August 30
Sr. Mgr, Field AP
Carvana
U.S.
July 30
Sr. Analyst Profit Protection
Chico's FAS
Fort Myers, FL
July 30
Sr. Mgr Supply Chain AP
Home Depot
Atlanta, GA
August 10
Sr. Mgr Environmental Health Safety
Home Depot
Atlanta, GA
May 14
Manager, Corp. Investigations
Saks Fifth Avenue
New York, NY
July 29
Sr. Mgr Fraud
Saks OFF 5th
New York, NY
August 20
AP Manager, Retail Cannabis
Sweet Flower
Culver City, CA
August 9

---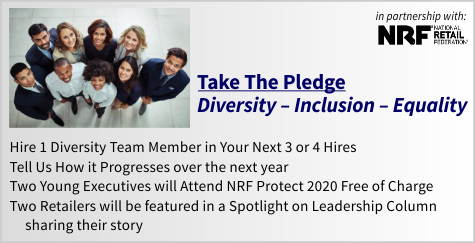 ---

Going beyond your job description and taking responsibility for things outside your scope broadens your "runway" and quite frankly we hear that term all the time when it comes to defining an executive's future. It's not the job that's defining you, it's your own perceptions of what you can do that determines how far you go. Opening your mind and embracing what you don't know will allow you to change your own perceptions and thus lengthen your runway. And in today's environment where we've all been stretched, you've got to be focused on the value you're adding to the company you're working for. If you can focus there and be able to specifically list the value you're adding, odds are, regardless of what happens to the company you're working for, you'll do great!


Just a Thought,
Gus



(content subject to approval)
---

Recruiting?
Get your job e-mailed to everyone... everyday
Post on our Featured Jobs Board!
Not getting the Daily?
Is it ending up in your spam folder?
Please make sure to add d-ddaily@downing-downing.com to your contact list, address book, trusted sender list, and/or company whitelist to ensure you receive our newsletter.
Want to know how? Read Here



36615 Vine Street, Suite 103
Willoughby, OH 44094
440.942.0671
copyright 2009-2019
all rights reserved globally