---

---

Genetec opens new office and state-of-the-art Experience Center in Washington, DC

The on-site Technology Center operates as a fully functioning Security Operation Center (SOC), providing an immersive experience for customers in any industry to see how Genetec solutions can directly enhance their security and operations.



MONTRÉAL, August 22, 2023—Genetec Inc., a leading technology provider of unified security, public safety, operations, and business intelligence solutions today announced the opening of a new office and state-of-the-art experience center in Washington, D.C.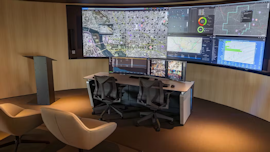 Named DCXC, the experience center showcases innovative solutions from Genetec and its large ecosystem of industry-leading technology partners. The on-site Technology Center operates as a fully functioning Security Operation Center (SOC), providing an immersive experience for customers in any industry to see how Genetec solutions can directly enhance their security and operations. Other features include a Learning Center for training, partner meeting spaces, and office space for the fast-growing Genetec US-based team.

Read more here

---

The U.S. Crime Surge
The Retail Impact

Another Retailer Blames ORC 'Epidemic' for Profit Drop, Job Cuts
Dick's Sporting Goods blames 'organized retail crime' for 23% drop in profits
Dick's Sporting Goods on Tuesday blamed "organized retail crime" for sinking its quarterly profits by nearly 25% — the latest retailer to reel from the growing "epidemic" of thefts around the country.

The popular retail chain reported a 23% drop in profits in the second quarter across its more than 700 stores nationwide — despite sales rising 3.6%. Dick's also announced a "business optimization" plan that includes cutting jobs and streamlining its overall cost structure, according to a company press release. The unspecified number of layoffs come mostly from its customer support center.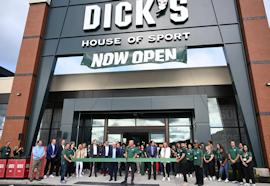 Dick's attributed the losses to "organized retail crime and our ability to effectively manage inventory shrink," an industry term used to describe stolen or lost merchandise.

"Our Q2 profitability was short of our expectations due in large part to the impact of elevated inventory shrink, an increasingly serious issue impacting many retailers," Dick's president and CEO Lauren Hobart said.

Hobart referenced organized crime and retail theft in the company's earnings call with investors on Tuesday, calling it "an increasingly serious issue impacting many retailers."

She continued: "Based on the results from our most recent physical inventory cycle, the impact of theft on our shrink was meaningful to both our second-quarter results and our go-forward expectations for the balance of the year. We are doing everything we can to address the problem and keep our stores, our teammates and athletes safe."

The Pennsylvania-based chain became the latest major retailer to pin the scourge of brazen robberies for impacting its bottom line. Last week, Target CEO Brian Cornell said shoplifting that included "threats of violence" surged 120% during the first five months of the year.

"I think retailers are facing a crime epidemic," Anthony Roman, president of the risk management firm Roman & Associates, told The Post.

"There has been a change in many state laws that have loosened or restricted the prosecution of retail crime and when the criminal element sees that developing they become emboldened." nypost.com retaildive.com foxbusiness.com marketwatch.com


ORC Costs Surge in Illinois, But Theft Arrests Drop in Illinois
Retail Theft Costing Illinois Businesses Billions as Thieves Become More Organized

"Some of the larger stores' loss prevention units started to notice that there were these groups that would go literally state to state, store to store and steal a large amount of things and monetize them."

In Illinois, the chamber estimates more than $2 billion worth of goods were stolen from retailers in 2021, but it says the cost to Illinois businesses was more than double that when other factors are taken into account.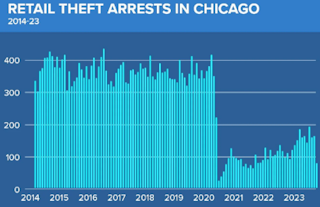 One major change occurring over the past decade or so is that organized crime gangs have moved into retail theft in a big way, say retail experts. Rob Karr, CEO of the Illinois Retail Merchants Association, says stores started to notice a change in the pattern of retail thefts about 12 years ago.

"Some of the larger stores' loss prevention units started to notice that there were these groups that would go literally state to state, store to store and steal a large amount of things and monetize them," said Karr. "It has grown in complexity and it has grown exponentially in terms of its scope."

Karr says that to a large degree, prosecutorial authorities have yet to catch up with both the scope and the complexity of the problem. But Illinois Attorney General Kwame Raoul has been focused on the issue, and in 2021 organized a special task force to target organized retail crime.

Raoul says the proceeds from retail crime are often used to fund other criminal endeavors, from gun trafficking to human trafficking and sometimes even terrorism.

Aside from the impact on the bottom line, Scott Glenn, vice president for asset protection at Home Depot said Home Depot is worried about physical attacks on their store employees.

One notable change in Chicago is that according to Chicago Police Department data, arrests for retail crime have dropped dramatically. Why police are making fewer arrests is not clear, although some critics of Cook County State's Attorney Kim Foxx have pointed to her move to raise the threshold for felony shoplifting charges to $1,000 from $500. news.wttw.com


Largest ORC-Fighting Investment in Texas History
$2.5 Million investment will combat Organized Retail Crime
he Texas Legislature has made its most significant financial investment to combat Organized Retail Crime (ORC) in state history during the 2023 legislative session.

"A top priority for Texas retailers is cracking down on the organized retail crime that fuels the black-market supply chain," said John McCord, Executive Director of the Texas Retailers Association. "We applaud the Texas Legislature and Gov. Abbott for making this record-setting investment to signal to would-be criminals that Texas is tough on retail theft."

To address this growing public safety concern, the Texas state budget for the FY 2024-25 biennium, HB 1, added more than $2.5 million in General Revenue and seven full-time employees to create an Organized Retail Theft Prevention Unit within the Department of Public Safety Criminal Investigations Division.

Additional legislation, HB 1826, requires the Texas Comptroller of Public Accounts to appoint a task force to study organized retail theft prevention, analyzing its impact on state sales tax collection and making further policy recommendations for the next Texas legislative session.

The Texas Retailers Association says that together, these measures mark the most significant investment to combat ORC in state history. fox44news.com


Retail Locations Among Top Targets for Mass Shootings
California, Texas & Florida Face Greatest Mass Shooting Risk in U.S.

Mass Shootings Steadily Increased Over Last 50 Years—And Big States Like California And Texas Face Highest Risk, Study Finds
As the number of mass shootings in the U.S. continues to steadily increase, the most populous states face the highest risk, as do certain locations such as workplaces or retail locations, a study out Tuesday found, after researchers assessed more than 60 years of data to predict the risk of future tragedies.

The rate of mass shootings has been steadily increasing over the past 50 years, Cameron MacKenzie, an Iowa State University professor and co-author of the study, said, adding that the number of mass shootings in the U.S. has increased by about one shooting every 10 years since the 1970's.

The states that have the greatest risk of a mass shooting are the most populous states—California, Texas, Florida, New York and Pennsylvania—and together they account for 44% of all mass shootings, the study published in the journal Risk Analysis found.

Using that data from the Violence Project researchers calculated the probability a mass shooting would occur in nine different types of public locations—restaurant, school, workplace, house of worship, retail, college or university, government building, place of residence, or the outdoors—in California and Iowa.

In both Iowa and California, the location with the highest risk of a mass shooting was a workplace, followed by retail location and restaurant, bar or nightclub. forbes.com


'Criminals are running this city'
Now-retired Seattle officer writes brutal resignation letter

A now-retired Seattle police lieutenant wrote a 15-page resignation letter that promised an "unfiltered, raw and unapologetic" description of why she decided to retire

A now-retired Seattle police lieutenant called it quits at the beginning of August after 23 years on the force, releasing her resignation letter voicing her frustrations with the city and local leaders, KTTH reports.

Lieutenant Jessica Taylor told the Jason Rantz Show that she did not fill out the exit form when announcing her resignation, which asks questions like why an officer is leaving, their new employer, and what the officer liked most and least about working in the department. Instead, she wrote Chief Adrian Diaz a 15-page resignation letter that promised an "unfiltered, raw and unapologetic" description of why she decided to retire.

In the interview with the Jason Rantz show, Taylor said she "wanted to go out with the truth."

"Chief Diaz, let me tell you, the state of the Seattle Police Department and this city is a disgrace," she wrote in the letter she shared with the Jason Rantz Show on KTTH. "The toxic mix of the Seattle City Council's absurdity, the spinelessness of the mayor, the leniency of the prosecutor's office and your failed leadership has accelerated this city's downhill slide straight to rock bottom. The problems were already brewing before you came on the scene, but since your arrival, it's been a free fall into anarchy and chaos."

Taylor criticized the Seattle city council members for having "strayed from reality," as their decisions were characterized by a lack of common sense and fundamental logic.

"Their absurd policies have turned Seattle into a playground for anarchists and criminals, and they seem utterly unconcerned with the devastating consequences of their actions. If you haven't noticed, the criminals are running this city," Taylor said. police1.com


Retail Violence Surging Across the Pond
SGF calls for Protection of Workers Act transparency amid retail crime rise

With over 7,000 cases of abuse and assaults reported to Police Scotland, in less than two years, and reports of a spike in shoplifting across the UK, the Scottish Grocers Federation (SGF) is calling for prosecution figures to be made public.

The Protection of Workers (Retail) Act, which was delivered by Daniel Johnson MSP with the support of SGF, came into force in August 2021.

The latest figures provided by Police Scotland show that the act has been used 7,056 times to report retail specific cases of abuse or assault of staff and retailers up to 2 July 2023.

SGF has contacted the Scottish government, the Lord Advocate and the Crown Office & Procurator Fiscal Service calling for the figures on referrals and convictions relating to the act to be made public.

SGF chief executive, Dr Pete Cheema OBE said: "Retail crime and shop theft is a very serious issue for convenience stores and our members. People should not have to come to work knowing they will likely have to put up with threats, abuse and potentially violence. talkingretail.com


Philadelphia's Crime, Drug & Homelessness Crisis is Hurting Businesses
Kensington businesses say it's increasingly hard to get vendors to come out and provide services

Kensington Avenue business owners say the stagnant conditions have made daily operations a struggle, and the city's current efforts aren't enough to solve the problems.

Kensington Avenue business owners say the stagnant conditions in the neighborhood - the widespread homelessness, drug use and sales, and subsequent gun violence - have made daily operations a struggle, reaching new heights in 2023. The city, in turn, says it's working diligently, pointing to support available to businesses, and various efforts to help people experiencing homelessness and addiction. Meanwhile, local nonprofits and community groups are creating a list of priorities that residents want the next administration to tackle.

For businesses on the corridor, there's a fear that time is a luxury they don't have as the cost of operations creeps up. They say that the city's efforts are not making enough of a difference and that the hope that change is coming is wearing thin. inquirer.com


Boston, MA: Store owners concerned after brick-wielding robbers target businesses

Austin PD hundreds of officers short as crime cripples city

---

Facial Recognition's Expansion in the Security Space
NFL tackles access security with staff face biometrics pilot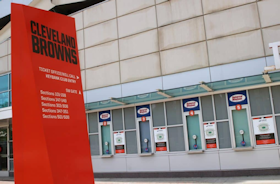 The NFL is testing a facial authentication system for credentialed staff at six stadiums this season, including the Cleveland Browns Stadium, the Cleveland Business Journal reports. The move to adopt biometrics for staff entry, orchestrated over two years by NFL's senior VP of security, Cathy Lanier, seeks to digitize and bolster the existing system that regulates access for workers, vendors, and media during games.

Lanier compares the NFL's security measures to the complexity of the Olympics, highlighting the intricacies of access zones and timing. Access to the field, for instance, is segmented into 20 different time slots. So, someone cleared two hours before kickoff might not have post-game access.

The NFL plans to employ Wicket's facial authentication technology, already adopted by the Browns for fan entry, to cross-check digital photos against real-time facial scans. Real-time face biometrics authentication software will make it far more challenging to transfer credentials illicitly, a common form of fraud. Every scan will produce a straightforward red or green signal for security staff, reducing the risk of human error at checkpoints.

By the Super Bowl, the league will assess the pilot's performance. Brandon Covert, Browns' VP of IT, noted that the technology has already proven successful at their training facility. There, it has eliminated the players' need to remember their security cards and made things faster. "It's been a tremendous success for us," Covert says. biometricupdate.com


Police Officers are Seeing the Impact of Low Staffing
Lexipol survey uncovers alarming staffing shortages and stress levels reported by first responders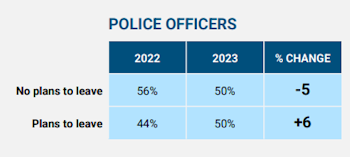 DALLAS - First responders are facing significant staffing and mental health challenges that pose a serious threat to their wellbeing and the communities they serve, according to Lexipol's new Stressed & Short-Staffed: Challenges Facing First Responders and the Impact on Community Safety report. The findings, which come from Lexipol Media Group's annual "What Cops/Firefighters/Paramedics Want" surveys of 9,400 first responders, expose the degree to which a large number of first responders today are under heightened stress.

Looking to the future, public safety agencies face the significant threat of their staff leaving their jobs altogether. As the table above shows, from 2022 to 2023 a growing number of police officers report that they are planning to leave their jobs altogether. police1.com

Click here to read the report


Union Pushes Back on Winn-Dixie Buyout
UFCW opposes Aldi's plan to buy Winn-Dixie

Union President Marc Perrone said the proposed merger poses a threat to consumers and essential grocery workers and urged federal regulators to review the deal "critically."

The United Food and Commercial Workers International Union on Monday released a statement opposing Aldi's plan to acquire Winn-Dixie. UFCW International President Marc Perrone said in the statement that the proposed merger poses a threat to both consumers and essential grocery workers and urged the Federal Trade Commission to review the merger "critically" with the negative impacts on these two groups in mind. grocerydive.com


Ace Hardware aims for a total of 170 new stores in 2023

Lowe's to give $100M in bonuses to frontline workers

Away lays off 22, including chief commercial officer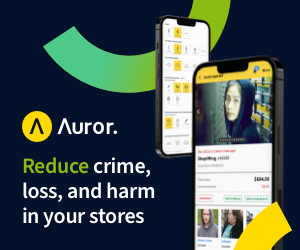 ---


Reliable and customer-centric security guarding services with expanded off duty police capabilities

Protos' mission is to provide differentiated, best total-value solutions that deliver a world class service to our customers.

By joining with Off Duty Services, you can expect:

● Security guarding and off duty police through the largest national managed services provider network.

● An expansion of capabilities with a proven network of off duty police services.

● High-quality service backed by technology driving program flexibility.

Learn more >
---
---

'The Anatomy of a Cyber-Attack'
Comcast Business releases 2023 Comcast Business Security Threat Report

Based on the analysis of over 23.5 billion cybersecurity attacks detected by Comcast Business among their security customers, the 2023 Security Threat Report encompasses customer data across Comcast security solutions.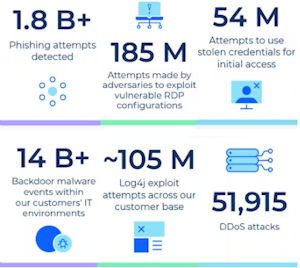 Comcast Business' exploration of the anatomy of a cyber-attack begins with initial interest and reconnaissance, during which threatening cyber actors start discovering vulnerabilities and other points of access. The next step is most often phishing; Comcast Business reports that nearly 90% of initial access attempts, which totaled almost 2 billion, were made via phishing emails. Other attack vectors included remote access, credential abuse, web or network access, redirects, and parked domain. Most of these phishing emails contained malicious URLs, attachments, and other credential-theft malware.

After a hacker has breached the network, they move quickly. Using malware payloads to scan endpoints and networks for vulnerabilities, establish evasion tactics, and find ways to access networks remotely from their own Command and Control (C&C) centers, they are able to drop in and out of the network whenever they wish. By utilizing backdoor malware to create encrypted reverse SSH-proxy tunnels, they can tunnel in and out of their C&C to download additional malware and even infect other machines.

Depending on the permissions hackers are able to obtain, they can do increasingly serious damage, and backdoor malware is difficult to identify and disable once installed. 14 billion backdoor malware events were identified in the report, as well as 6 billion halted connection attempts by infected machines.

Comcast Business' report further expounds on the widening vulnerability landscape. According to the National Vulnerability Database, 26,448 new application- and infrastructure-related vulnerabilities were added, with 59% of that number classified as "critical". More than 450 million vulnerability exploit attempts across 900 categories were stopped by Comcast in 2022, with pre-packaged exploit kits allowing even those without advanced knowledge to threaten systems.

Comcast Business reported that the end goals of the most common cyber-attacks include exfiltration of data stored on devices and servers, denial of service attacks, service stops, resource hijacking, and holding data hostage. 10 billion of these attack events were stopped by Comcast in 2022. securityinfowatch.com


'Security From the Start'
US CISA Urges Security by Design for AI

Part of Agency's Campaign to Align Design, Development With Security From the Start



The U.S federal government is advocating for artificial intelligence developers to embrace security as a core requirement, warning that machine learning code is particularly difficult and expensive to fix after deployment. The Cybersecurity and Infrastructure Security Agency in a Friday blog post urged that AI be secure by design - as part of CISA's ongoing campaign to promote aligning design and development programs with security from the start (see: CISA, Others Unveil Guide for Secure Software Manufacturing).

"Discussions of artificial intelligence often swirl with mysticism regarding how an AI system functions. The reality is far more simple: AI is a type of software system. And like any software system, AI must be secure by design," the agency said.

Security experts across the world have for years been pushing companies to develop software and products with security baked in rather than added as an afterthought. The era of treating security as an externality whose costs are born by consumers should be replaced by new commitment to security, including through a shift in liability to software developers, CISA Director Jen Easterly said in a February speech.

The blog post acknowledged that providing security by design for AI could differ from providing it for other types of software. It contains a list of basic, sector-agnostic security practices that "still apply to AI software." Implementing the guidelines, even if not specific to AI, is especially important because threat actors have exploited AI systems by using known vulnerabilities of non-AI software elements, CISA said.

AI software design, development, deployment and testing; data management; system integration; and vulnerability and incident management should apply "existing community-expected security practices and policies," the agency said. govinfosecurity.com


AI's Impact on Hiring Practices to be Scrutinized
AI Bias Audits Are Coming. Are You Ready?
A core requirement in a recently enacted New York City law governing the use of artificial intelligence in employment decisions promises to impact how HR leaders choose, contract with and oversee technology vendors for years to come.


The law, which took effect July 5, requires employers in New York City to conduct an annual third-party AI "bias audit" of technology platforms they use for hiring or promotion decisions and to publish the audit findings on their websites. The audits are designed to ensure AI tools used in such systems don't discriminate on the basis of sex, race and ethnicity.

While the new law covers only one jurisdiction, legal experts and HR technology analysts say it's only a matter of time before other states and jurisdictions enact similar—if not more sweeping—legislation that will include stipulations to conduct AI bias audits. Some attorneys believe, for example, that future laws may require audits for potential age and disability bias, not just the more-narrow gender and race discrimination covered by Local Law 144 in New York City.

The result is HR functions will need to take a proactive role in ensuring both internally developed AI tools and any AI used in vendor systems for employment decisions are regularly audited by qualified third-party auditors for bias. The stakes are high, since HR can ultimately be held responsible if regulators find the AI tools it uses for hiring or promotion decisions are discriminatory—even if those tools are part of technology vendors' platforms. shrm.org


Criminals See Advantages in Digital Currency
Follow the Money: How Digital Currency is Changing Crime
Cryptocurrency users found a preferred advantage in digital assets: they were no longer relying on a centralized financial institution to support transactions. So, if a financial crisis occurs, some have argued that the funds invested in digital assets will retain their value.

Criminals seeking to keep their profits out of regulated institutions have also found advantages to digital currency.

"U.S. law enforcement agencies have detected an increase in the use of virtual assets to pay for online drugs or to launder the proceeds of drug trafficking, fraud, and cybercrime, including ransomware attacks," according to the 2022 National Money Laundering Risk Assessment by the U.S. Department of the Treasury.

"It's an alternative way to pay for traditional acts of crime," says Celina Realuyo, lecturer at The George Washington University and expert in counterterrorism and threat finance issues in the Americas. asisonline.org


'Cuba' Ransomware Group Uses Every Trick in the Book
How a Russian cybercrime group using Cuban Revolution references and iconography has emerged as one of the most profitable ransomware operations.

The complex world of CISO responsibilities

---
Canadian Security announces 2023 Lifetime Achievement Award winner

Canadian Security is pleased to announce Martin Green as the recipient of the 2023 Lifetime Achievement Award.

Green is currently the corporate security manager for Toronto-based property management firm the Greenwin Corp. He recently retired from his role as the manager of security, telecommunications and emergency preparedness at Baycrest Health Sciences in Toronto.

Green has spent more than 45 years working in professional security with a focus on the health-care sector. He has designed and implemented security programs at several health-care locations in Ontario and across Canada. He also co-developed the Emergency Colour Code system that is now used in every health-care facility across Canada.

Green will receive his award at a Canadian Security Honours gala event on Oct. 17. You can read more about Martin Green in the fall issue of Canadian Security, available in October.

Read more here

---

Most Canadian's Supportive of Retail Security Measures
Canadians Have Mixed Feelings About Security Measures in Retail: Leger Poll
Recently, retail stores in Canada have faced criticism for implementing additional anti-theft measures to deter shoplifting.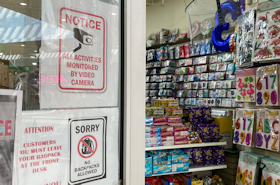 But a recent poll by Leger indicates Canadians are most supportive of retailers implementing security cameras (88 per cent), electronic anti-theft alarms (85 per cent), and security guards (78 per cent).

The poll also found that Canadians are least supportive of retailers implementing limits to the number of customers allowed in stores (32 per cent), customers needing to leave bags in a locker/with an employee while shopping (32 per cent) and/or requiring customers to show ID to make a purchase (17 per cent).

The poll also found:

45 per cent of Canadians think retailers are implementing the right amount of security measures to prevent theft, while 27 per cent think they are not implementing enough. Only 10 per cent think retailers are implementing too many security measures;

Over half (53 per cent) of Canadians think that where they live, there is about the same amount of shoplifting as other places in Canada. B.C. residents are more likely to think there is more where they live than in other areas.

Ian Large, Executive Vice-President, Consumer Insights for Leger, said people are starting to notice the security cameras.

"Because there's been this significant increase in awareness of and conversations about shoplifting and security and you see these videos showing up on Facebook or YouTube with people just sort of emptying store shelves, there's a heightened sensitivity to it," he said.

"What I find particularly interesting in this poll is that there is a lot of support for most of these security measures and that's going to be new." retail-insider.com

RELATED: Retailers try to curb theft while not angering shoppers


Safety & Post-Pandemic Woes Continue to Plague Canada's Retailers
Downtown Retailers in Canada Navigate Dual Challenges: Lingering Pandemic Effects and Urban Safety Concerns
Retailers located in the downtowns of major Canadian cities have been grappling with a few issues these last few years which have directly impacted their businesses.

First, the pandemic initially created ghost towns in inner cities across Canada with offices locked down as workers worked remotely. Three years later, the impact of that is still evident as downtown office vacancy rates in some cities remain high.

Remote work is here to stay as many companies have also adopted a hybrid work model where people work some days at home and some days in the office. With fewer people in downtowns these days, it means less consumers for retailers and food establishments. And no one knows if we'll ever get back to normal.

The second issue for businesses in downtowns is an increasingly growing concern across Canada. It's one of safety. Some cities like Vancouver and Toronto are worse than others but almost any city of decent size in Canada is feeling the impact of this burgeoning issue – tent cities housing homeless people set up on downtown sidewalks or parks as well as drugs and crime.

Ryan Mallough, Vice-President of Provincial Affairs, Ontario, for the Canadian Federation of Independent Business, said in the post-pandemic sense the downtown core is not what it was pre-pandemic.

"The other area we have heard concerns around is the public safety side of things. A number of businesses we surveyed and about one in four (24 per cent) said they have been directly impacted by community safety issues like damaged property, theft, that sort of thing. There's another third that while they haven't been directly impacted are certainly worried about it.

"There's a lot of worry about the safety of their customers, the safety of their employees, personal safety, coming off of that as well." retail-insider.com


3,700 Metro Grocery Store Workers on Strike
Metro grocery store workers stand ground as strike nears third week: 'What the company presented doesn't come close'

Grocery retailer blasts union for turning down invitation to restart negotiations on ending strike that started July 29.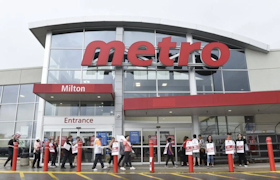 Almost three weeks into a strike by 3,700 workers at Toronto-area Metro stores, there's still no end in sight. The two sides aren't even at the negotiating table. Instead, the company and union leaders are trading public potshots.

This past weekend, the grocery retailer blasted Unifor Local 414 for turning down an invitation to restart negotiations on ending the strike that started July 29. The union, meanwhile, said the company hasn't given any indication it's willing to improve upon the rejected offer.

Metro said the tentative agreement, which had been recommended by union leadership, would have given full-time and "senior" part-time workers raises totalling $3.75 an hour over the life of the four-year deal, while other part-timers would have seen raises totalling $2.65 an hour.

That's nowhere near enough for workers who've seen their spending power dwindle over the last few years as inflation has soared, Currie said. It's especially galling, said Currie, given that Metro racked up record profits during the global COVID-19 pandemic. thestar.com


Dark Side of AI Featured in Toronto Star
How AI is opening new frontiers for criminals — and the cops who hunt them

Killer robots. Phone scams. Child porn. New technology is bringing new opportunities for global criminals.

Artificial intelligence has been credited with saving lives by improving the analysis of medical scans, ultrasounds and X-Rays. It has also been used to predict floods, fight climate change, develop cutting-edge medicines and for a wide range of uses open to everyday people through web portals such as ChatGPT or DALL-E, which can mimic conversation with a real person and create striking images or artwork, respectively.

The dark side of AI is also far-reaching and rapidly evolving. Some threats have already materialized, like the case of Steven Larouche, 61, of Sherbrooke, Que., who was sentenced last April to more than three years in prison for a child pornography collection that included nearly 86,000 images that were AI-created "deep fakes."

Europol is already offering workshops to train investigators about the criminal use of AI.

The technology also offers opportunities for police who fight organized crime, Sergi said, noting that "AI allows to crunch data much faster and eventually to link it together much faster."

For its part, the RCMP uses artificial intelligence in a variety of ways, including facial recognition and identification of child sexual assault material, national spokesperson Robin Percival said. thestar.com


Past Stop & Frisk Practices & Racial Profiling
Toronto police hit with class action lawsuit over 'carding' stops
The now-outlawed practice continues to haunt those who still show up in police databases, according to a new lawsuit on behalf of Black and Indigenous people stopped by police without "reasonable suspicion" of criminal activity.

A class action lawsuit has been launched over the now-outlawed and racially skewed Toronto police practice of stopping, questioning and documenting people in non-criminal encounters, also known as "carding."

While the practice was abandoned in Toronto in 2015 amid intense controversy and has since been reined in across Ontario, with the introduction of clearer rules around what are also known as "street checks,"

The size of the class could number in the hundreds of thousands. According to data obtained by the Star, 455,204 Black individuals and 304,476 people with "brown" skin were carded between 2007 and 2013.

The lawsuit comes at a critical time for policing. The Ontario government is in the midst of overhauling its 30-year-old policing legislation and rewriting key regulations — work happening amid greater societal understanding of how government policies promote anti-Black and anti-Indigenous racism. thestar.com


As COVID cases spike in Toronto, anxious business groups push government for early response plan

IKEA Canada Unveils Innovative Urban Format Store at Scarborough Town Centre

With car theft hitting crisis levels in Canada, is it time to bring back "The Club?"

3 Injured in Mall Shooting, Triggering Lockdown
Edmonton, AB: Three injured in Canada mall shooting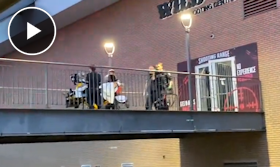 Three people suffered serious injuries in a shooting incident at a mall in Edmonton, the capital of the Canadian province of Alberta, city police said on Monday in a post on X, formerly known as Twitter.

The victims of Monday's incident at the West Edmonton mall have been taken to hospital for treatment, although the injuries are not life-threatening, the police said.

Preliminary investigations suggest the event was a targeted one in which the parties knew each other, police said, as they began to reverse the lockdown ordered in the wake of the shooting.

"We do not believe there to be any further risk at this time," they added. Details of the gunman were not immediately known. A visitor to the mall told Reuters the incident had been terrifying, spurring staff to lock doors, turned off lights and urge people to keep quiet. reuters.com


Calgary Mall Shooting Leaves Man Dead
Police seek additional information on fatal shooting at Market Mall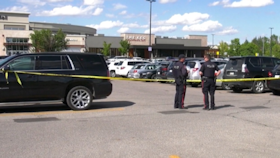 Calgary police are looking for help from the public in connection with a fatal shooting at Market Mall. At 2:30 p.m. on Aug. 12, police were called to the south entrance of the shopping centre following reports of a shooting. Upon arrival, they found a man had been shot. The victim was later identified as 23-year-old Danny Truong.

On Tuesday, police confirmed the suspect vehicle, a white 2015 Volvo XC60 with a missing gas cap, had been located. The hybrid SUV was confirmed to have been stolen after speaking with the registered owner.

After the shots were fired, the XC60 was spotted heading north on Shaganappi Trail toward Crowchild Trail. As part of the ongoing investigation, police are seeking dashcam footage from anyone who was near the Side Street Pub and Grill, located at 1167 Kensington Cres. N.W., from between 2 a.m. on Wednesday, Aug. 9, and noon on Thursday, Aug. 10. ctvnews.ca


Toronto Robbery Crew Busted
Serial retail robbers charged in string of crimes across Toronto
Toronto police have made multiple arrests concerning a string of retail robberies across the city, with the alleged assailants mainly targeting convenience stores.

Investigators were first made aware of the robberies in July. Police said between July 16 and July 30, officers responded to six robbery and holdup calls in the St. Clair West Village, Bermondsey, Sherwood Park, Brookhaven-Amesbury and Runnymede neighbourhoods.

At the time, Toronto police had identified one suspect as 35-year-old Fabio Amaral of Toronto. In the aforementioned robberies, police said a man entered seven convenience stores wearing a mask to disguise his identity. In three of the incidents, the man was accompanied by another suspect.

It's alleged that the male suspect informed employees that he was armed with a knife in several incidents. He made a demand and took cash, cigarettes and lottery tickets before fleeing the area. toronto.citynews.ca


3 suspects charged in armed robbery of Calgary consignment store
Three people are facing serious charges after police say a consignment store was robbed at gunpoint. Shortly before 6 p.m. on Aug. 9, store staff called police to report a robbery in progress at Vespucci Consignment, a second-hand high-fashion resale store. During the call, staff claimed a man and woman entered the store, and were threatening staff and customers. The woman was allegedly armed with a gun and shot one round into the ceiling to have customers and staff listen to their demands. globalnews.ca


Calgary weekend mall shootings 'shocking', but not connected: Police

Calgary's Market Mall employees weren't told about deadly shooting in parking lot

Suspect sought after jewelry store robbery reported in Markham, police say
---

$22 Million Online Store Scheme
FTC Action Stops Business Opportunity Scheme That Promised Its AI-Boosted Tools Would Power High Earnings Through Online Stores
Court order temporarily halts the operations of Automators AI, which promised consumers high returns on investment in artificial intelligence-boosted stores on Amazon.com and Walmart.com, agency says

As a result of a Federal Trade Commission lawsuit, a federal court has temporarily shut down a business opportunity scheme that lured consumers to invest $22 million in online stores, using unfounded claims about income and profits. The operators of Automators also claimed to use artificial intelligence to ensure success and profitability for consumers who agreed to invest with Automators.

In addition to offering consumers high return as "passive investors" in profitable e-stores, Automators, which previously used the names Empire and Onyx Distribution, also offered to teach consumers how to successfully set up and manage e-stores themselves using a "proven system" and the powers of artificial intelligence.

"The defendants preyed on consumers looking to provide for their families with promises of high returns and the use of AI to power such returns," said Samuel Levine, Director of the FTC's Bureau of Consumer Protection. "Their lies caused consumers to lose tens of thousands of dollars, with many losing their life savings. The FTC is working to hold defendants accountable and to secure redress for their victims."

The FTC's complaint against defendants Roman Cresto, John Cresto, and Andrew Chapman, through their companies Automators AI, Empire Ecommerce and Onyx Distribution, claims that the vast majority of defendants' clients did not make the promised earnings or even recoup their investment. Instead, most clients lost significant amounts and Amazon and Walmart have routinely suspended or terminated the stores that defendants operated for repeated policy violations. ftc.gov


Amazon Shipping Returns to Pre-COVID Normal
Amazon Resurrects In-House Shipping Service After COVID Hiatus

Amazon has resumed the shipping service it shuttered during the pandemic.

The company says it has relaunched Amazon Shipping, which competes with the likes of UPS and FedEx and allows sellers to ship Amazon orders or products sold on other sites.

Amazon had been testing the program, but put it on hold in 2020. As noted here at the time, the company needed to focus more on its own platform as it dealt with staffing shortages and a wave of online shopping.

"We're always working to develop new, innovative ways to support Amazon's selling partners, and Amazon Shipping is another option for shipping packages to customers quickly and cost-effectively," Amazon spokesperson Olivia Connors told the AP.

The news came days after reports that Amazon was preparing to impose a new fee on third-party merchants who don't use its logistics services. Beginning in October, sellers who handle their own shipping will pay a 2% fee on each sale, on top of the commission they already pay to sell products on Amazon's platform. pymnts.com


Levi's chief digital officer is 'focusing on the fundamentals' to triple e-commerce sales

How Amazon plans to use artificial intelligence to enhance football broadcasts
---
Jensen Beach, FL: Four teens arrested after running out of store with thousands in merchandise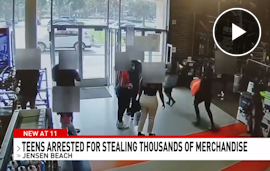 Four young women from Broward County were caught on camera making off with stolen goods in Martin County. The Martin County Sheriff's Office (MCSO) said 19-year-old Kevaria Maria Jones, her 17-year-old younger sister and two more 17-year-olds were all arrested after fleeing police and charged with felony retail theft. The group allegedly stole over $3,000 in merchandise from a sporting goods store in Jensen Beach. The girls were caught on the store's surveillance cameras running out the front of the store with what looks like armfuls of clothing. But, an off-duty Port St. Lucie Police Department officer witnessed the grab-and-run theft, called it in and followed the suspects. The Stuart Police Department began pursuing and followed the four girls over a bridge where MCSO deputies were waiting. The sheriff's office said the crew wouldn't stop for authorities. Investigators are looking into if these four girls are responsible for the thousands of dollars of theft in stores across Florida. All of them were booked into a county jail and had mugshots taken. cbs12.com


Arcadia, CA: Brazen suspects grab expensive perfume sets from Macy's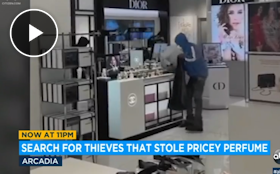 New videos are showing brazen robberies at several retail establishments in Southern California. In one video, multiple suspects are seen stealing pricey perfume from a store at a mall in Arcadia. Video posted to the Citizen app shows five masked thieves at the Dior counter inside the Macy's at the Shops of Santa Anita Mall on Tuesday. They grab boxed sets of perfumes, throw them into trash bags and run away as onlookers gasp.
Police say they left in a black four-door sedan. Anyone with information is asked to call Arcadia police. In a separate incident, video shows the aftermath of a flash-mob robbery at a store on Melrose Avenue. The video posted to Citizen shows some of the workers from the Foot Locker try to confront the thieves and take the stolen merchandise back as they get into a car and drive away. The LAPD says an armed robbery report was made, but no suspects were caught. abc7.com


Michigan State Police solve Otsego Co. theft, then quickly solve 6 more cases
On Aug. 14, a trooper from the Michigan State Police Gaylord Post was sent to investigate a breaking-and-entering at a business in Bagley Township. The business reported the loss of nearly $6,000 of equipment and supplies stolen from a trailer on their property. The trooper searched the area and located another business with a camera facing the roadway near the venue. He contacted the asset protection officer and was able review footage and saw a man casing the business next door. State police said the area behind the venue is known for occasionally housing homeless encampments, and the trooper checked the area and located a path through the woods that he said had signs of the theft. The trooper searched the area and said he found a tent with a tarp covering all the stolen property, along with items from five other businesses. The trooper was able to identify the suspect by personal items left at the camp, state police said. The suspect is 19-year-old Gabriel Benjamin Murphy from Prudenville, and he was arrested later that evening by the Gaylord City Police Department. Through the course of the investigation, troopers solved seven B&E's and recovered $16,317 of stolen equipment and merchandise. 9and10news.com


Cicero, NY: Smash and grab burglary at Driver's Village in Cicero, multiple cars stolen
Cicero Police have confirmed a smash and grab style burglary took place at the Driver's Village automall in Cicero. A photo sent to CNY Central of the scene shows a large window pane broken and on the ground. Police said around 3:30 a.m., suspects smashed a window at the Burdick Lexus and Burdick Dodge dealerships. Once inside, the suspects got into a 2023 Lexus RC350 and crashed through the dealership windows, driving away with the vehicle, police said. Similar incidents occurred at the Burdick Dodge Dealership, resulting in the theft of a Dodge Challenger and Jeep Grand Wagoneer, police said. The Lexus and Dodge vehicles were recovered in the City of Syracuse and the investigation is ongoing. cnycentral.com


Tampa, FL: Real-life Hamburglar breaks into restaurant, steals over $11K of meats

---

Shootings & Deaths

DeKalb County, GA: Former employee shot and killed outside Waffle House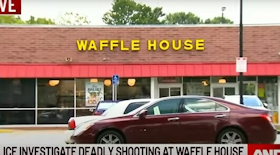 DeKalb County police are looking for the gunman involved in a deadly shooting at a Waffle House. It happened around 5 a.m. Monday morning at the Waffle House on the 3900 block of Flat Shoals Parkway in Decatur. Police say the gunman shot a 19-year-old male outside of the restaurant and then ran off. The victim was taken to the hospital where he later died from his injuries. Waffle House released the following statement in regard to the incident: "August 21, 2023 Dekalb County Police currently are investigating the fatal shooting of a short-term, former Waffle House employee who last worked for us on July 12, 2023. We are cooperating fully with the investigation and direct all additional questions regarding the specifics of this incident to the police department." Njeri Boss, Vice President of Food Safety & PR Waffle House, Inc. decaturish.com


Milwaukee, WI: Update: Security guard charged in fatal gas station shooting had prior homicide conviction
A gas station's security guard who was previously convicted of homicide decades ago and was barred from possessing guns was charged in the shooting death of Isaiah Allen on Sunday. Prosecutors charged William Pinkin, 56, with first-degree intentional homicide in a case that has drawn scrutiny to the gas station who employed him and the state's laws on private security. The criminal complaint alleges Pinkin shot Allen in the back of the head after witnessing him take a box of snack cakes and walking out. Protests have been held outside the gas station, Teutonia Gas & Food, 4295 N. Teutonia Ave., since Allen, 29, was killed Wednesday. The business remained closed Monday. jsonline.com


Lynn, MA: Person stabbed to death inside a Lynn convenience store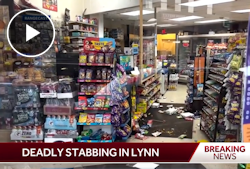 One person is dead and two people are in custody in connection with a stabbing that happened at a Lynn convenience store, according to authorities in Massachusetts. The Essex County District Attorney's Office said the deadly stabbing happened at about 6 p.m. Tuesday at the Alpha Convenience Store. The store at 1 Freeman Square is located in a building at the intersection of Baldwin and Union streets. The victim was pronounced dead at Salem Hospital a short time after the stabbing happened, according to District Attorney Paul Tucker and Lynn police Chief Chris Reddy. Two people were arrested and are being questioned in connection with the stabbing. Investigators believe there is no broader threat to the general public. Tucker and Reddy did not disclose the ages of the people involved in the stabbing. Maksedur Khan, the owner of the Alpha Convenience Store, told NewsCenter 5 reporter John Atwater that a fight broke out inside the store among a group of teenagers. wcvb.com


Sylacauga, AL: C-Store clerk accidentally shoots, kills himself
A store clerk in Sylacauga accidentally shot and killed himself Monday afternoon, according to police. A Sylacauga firefighter stopped by the Hop In Convenience Store. When he got inside, he found the body of 21-year-old Pankaj Pankaj of India behind the counter. Police found a hand gun lying on the floor next to Pankaj. During the investigation, the store video was reviewed and it was quickly determined that Pankaj had accidentally shot himself in the head while looking at the firearm that was property of the store owner and kept behind the counter for self-protection. Pankaj's death was ruled an accident by the Coroner after he too reviewed the video. wsfa.com


Pitt County, NC: Deputies investigating deadly shooting at Hustle Mart
Deputies in Pitt County are investigating a shooting death at a store where three employees were murdered eleven years ago. The shooting happened in the parking lot of the Hustle Mart on Highway 121 just outside of Farmville shortly before 1:00 p.m. The body was found in a red sports car parked between the gas pumps and the store. A sheriff's office spokesman told WITN that "as of right now, the investigation isn't leading into anything criminal." So far no information has been released about the person who died. witn.com


Bolingbrook, IL: Police Officer Shot Twice in Standoff; Suspect Apprehended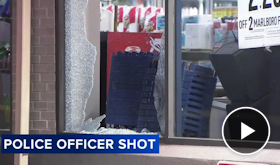 A man was taken into custody after a Bolingbrook police officer was shot in the southwest suburb Sunday night, police said. Charges are pending against 24-year-old Victor Zarate, police said. The officer who was shot is expected to recover. At around 6:15 p.m. Sunday, police said officers responded to a complaint of a theft at a business in the 100-block of South Bolingbrook Drive. Brenda Scott-Hubbard was at Hometown Pantry when she said the suspect walked in and demanded money from the clerk before stomping out the door. According to police, Zarate allegedly did just that. Police said at about 7:48 p.m., they responded to the same business, where they said the same suspect fired shots at the business. No one was hurt but some of the windows were damaged along with items inside the store. People who work nearby took cover. Authorities said an officer located the suspect across the street at his home but when he made contact, they said the man opened fire, hitting the officer twice. With tactical assistance from the Illinois State Police, authorities said they were ultimately able to take Zarate into custody without incident. Police did not release the name of the officer who was shot, but said the 38-year-old is a 12-year law enforcement veteran and a valued member of the Bolingbrook department. The store owners said they are familiar with the suspect, saying he is a regular customer and that they have had trouble with him in the past. Police said charges are pending. abc7chicago.com

---

Robberies, Incidents & Thefts
Duluth, GA: Georgia Woman Injects Teen Walmart Shopper With Unknown Substance in Bizarre Attack
A strange incident at a Walmart in Duluth, Georgia, involving a syringe with an unknown substance, led to two customers clashing with police in the parking lot before their arrest On Aug. 10, a 19-year-old Walmart shopper claimed that 55-year-old Jennifer Keenan stabbed him in the back of the neck with the syringe and told him he had "been poisoned," according to local station WSB. Upon their arrival, the store's security pointed out the vehicle that Keenan was seen approaching. Inside, 73-year-old Jay Carswell was found in the driver's seat. He informed officers that his friend, presumably Keenan, was in the backseat, as reported by Law and Crime. Police instructed Keenan to exit the car. She complied but became confrontational upon stepping out, leading police to handcuff her. Carswell then exited the vehicle, shouting at officers, who ordered him back inside. As officers reported, Keenan resisted arrest and even managed to free one hand from the handcuffs. In the ensuing struggle, one officer spotted a gun on Keenan, which was quickly secured by another officer. At this point, Keenan reportedly called out for assistance. Carswell then emerged from the car again, this time allegedly concealing his hands and later re-entered, trying to start the car with an apparent intent to flee. Officers responded by using a stun gun on him and removed him from the vehicle. The Macon Telegraph reported that a gun was found in Carswell's pocket, and in the car's backseat, two loaded rifles and a shotgun were discovered. Keenan faces charges of aggravated battery, willful obstruction of law enforcement officers, and possession of a weapon during the commission of certain felonies. Carswell has been charged with willful obstruction of law enforcement officers.
themessenger.com
Annapolis, MD: CVS Robbed at Gunpoint, Employees Pistol-Whipped, Ordered to Open Safe
On August 21, 2023, at 10:17pm, Annapolis Police officers responded to a call for a reported armed robbery at the CVS store in the 500 block of South Cherry Grove Road in Annapolis. As employees closed the business, an unknown male wearing a facemask, black hooded sweatshirt, red shorts, and grey sweatpants forced himself into the store. The suspect then used a silver-plated handgun to order the employees through the business, ending up in the manager's office with the safe. The suspect took the employees' cell phones from them. The suspect directed the employees to open and empty the safe at gunpoint. The suspect placed the $5,363.45 from the safe into a white trash can and fled the store via the rear exit. During this incident, the suspect struck one of the employees multiple times with the gun, causing minor injuries which required treatment from a local hospital.
eyeonannapolis.net
Hammond, IN: Update: Hammond city council passes ordinance closing gas stations in early morning hours
Starting on November 1, Hammond gas stations will close for part of the late night hours after an ordinance passed the city council.
The ordinance was first proposed after a 33-year-old Chicago man was shot at a Luke gas station around 2 a.m. on June 25. He later died at the hospital
. Hammond Mayor Thomas McDermott Jr. said violent crime is happening late at night at the city's gas stations.
The ordinance closes the city's 37 gas stations from midnight to 5 a.m
. The mayor said he's gotten support from major gas stations and their owners, but not all drivers are sold on this plan.
abc7chicago.com
Redwood City, CA: Jewelry thieves target Costco shoppers in parking lot
Police in Redwood City issued a warning Monday in response to reported robberies where victims lost valuable jewelry to scammers in a Costco parking lot. The first confirmed incident occurred Aug. 11, when a victim was approached by an unidentified woman offering a fake gold necklace. In the process, the suspect actually stole the victim's real gold necklace, and the victim didn't realized it until she arrived home, police said. The second robbery occurred Aug. 17, when another unsuspecting victim was approached by a woman who gave him a kiss on his cheek. The victim realized only a few moments later that she had stolen his necklace, police said. Both cases are under investigation, police said. They added that other reports of similar incidents circulating on social media are unsubstantiated. Redwood City police reminds people to be mindful of their belongings and surroundings when approached by strangers. The jewelry switch is a common scam in which suspects oftentimes target the elderly.
nbcbayarea.com
Cincinnati, OH: CBP Seizes 100 Shipments Containing Counterfeit MLB, MLS, NFL Merchandise
During a one-week period in July, U.S. Customs and Border Protection (CBP) officers intensified inspections on incoming shipments moving through the Cincinnati Port of Entry. On July 10-14, during Special Operation Home Plate, officers focused enforcement efforts on counterfeit merchandise bearing protected brands or trademarked logos of teams within Major League Baseball (MLB), Major League Soccer (MLS), and the National Football League (NFL). Cincinnati CBP officers seized 100 shipments containing counterfeit merchandise with a total Manufacturer's Suggested Retail Price (MSRP) of $155,919. An additional 34 shipments were abandoned by the importers. Most of the products originated from China and Hong Kong, but officers also seized shipments imported from Mexico, Guatemala, and Canada. CBP's Centers of Excellence and Expertise provided support via import specialists trained to identify infringing merchandise and valuate products should they have been genuine.
cbp.gov
Camden County, GA: Two men accused of stealing hundreds of lottery tickets in Georgia arrested
Cumberland County, PA: Three men arrested, allegedly connected to passing fake bills at Capital City Mall
Riverside County, CA: Employee pepper sprayed during robbery at Cabazon outlets store
• Auto – Cicero, NY – Burglary
• Bicycle – Springfield, VA – Robbery
• C-Store – Bolingbrook, IL – Armed Robbery / Officer wounded
• C-Store – Fresno, CA- Burglary
• C-Store – Woodbridge, VA – Armed Robbery
• C-Store – Madison, ME – Robbery
• CVS – Annapolis, MD – Armed Robbery /emp injured
• Cellphone – Rochester, NY – Burglary
• Check Cashing – Tifton, GA – Armed Robbery
• Clothing – Boston, MA – Burglary
• Clothing – Boston, MA – Burglary
• Dollar – Kansas City, MO – Armed Robbery
• Dollar – Nashville, TN – Burglary
• Gaming – Lancaster County, PA- Armed Robbery
• Gas Station – Cassopolis, MI – Armed Robbery
• Grocery – Dewitt, NY – Armed Robbery
• Guns – Arlington County, VA – Burglary
• Hardware – Lincoln County, MT – Burglary
• Home – Boston, MA – Burglary
• Liquor – Camden County, GA – Robbery
• Marijuana – Seattle, WA – Burglary
• Outlets – Cabazon, CA - Robbery
• Restaurant – Rochester, NY – Burglary
• Restaurant – Rochester, NY – Burglary
• Restaurant – Roxborough, PA – Armed Robbery
• Walgreens – Chicago, IL – Armed Robbery
Daily Totals:
• 14 robberies
• 12 burglaries
• 1 shooting
• 0 killed

---




Carolyn Homes named Territory Loss Prevention Manager for
Canadian Tire Corporation






Sean M. Hunt named Field Loss Prevention Manager for Staples

Submit Your New Hires/Promotions
or New Position
See all the Industry Movement
---




Feature Your Job Here For 30 Days -
70% Aren't On The Boards
Post your job listing
---
Featured Job Spotlights
An Industry Obligation - Staffing
'Best in Class' Teams

Every one has a role to play in building an industry.
Filled your job? Any good candidates left over?
Help Your Colleagues - Your Industry - Build a 'Best in Class' Community

Refer the Best & Build the Best
Quality - Diversity - Industry Obligation

---



Director of Retail Solutions - North America
Denver, CO - posted April 5
This role will be focused on selling our SaaS retail crime intelligence platform by developing new prospects, and progressing Enterprise level prospects through our sales process. You will report directly to the VP of Retail Solutions - North America, and work alongside our Marketing, Partnerships and Customer Success team to grow our customer base...

Regional Manager, Asset Protection - Southeast
Georgia or Louisiana - posted August 7
In this role, you will embody Do The Right Thing by protecting People, Assets, and Brands. You will work in an energized, fast paced environment focused on creating a safe environment for our employees, teams, and customers; this is critical to driving our Brand Power, Enduring Customer Relationships, and exuding our commitment to Team and Values...



Corporate & Supply Chain Asset Protection Leader
Quincy, MA - posted August 3
The primary purpose of this position is to manage the Corporate Asset Protection function for all US Support Offices and Supply Chain. Direct team in the design, implementation and management of physical security processes and equipment to ensure facilities are considered a safe and secure environment for all associates and external parties...



Occupational Health & Safety Manager
Mount Horeb, WI - posted July 27
This role is responsible for examining the workplace for environmental or physical factors that could affect employee or guest health, safety, comfort, and performance. This role is also responsible for reducing the frequency and severity of accidents. To be successful in the role, you will need to work closely with management, employees, and relevant regulatory bodies...



Loss Prevention Auditor and Fraud Detection Analyst
Boston, MA - posted July 7
As a LP Auditor and Fraud Detection Analyst for Staples, you will conduct LP operational field audits remote, virtual and in person, within a base of 60 retail stores to ensure compliance to operational standards to drive operational excellence and preserve profitability. You will also train store managers on Key-Holder responsibilities, Inventory Control standards, Cash Office procedures, Protection Standards, Safety and Fraud trends...



Manager, Physical Security
Jacksonville, FL - posted July 7
Responsible for overseeing all aspects of the company's physical security strategy for retail stores, warehouses, and store support center and field offices. This includes responsibility for the capital expense and repair budgets, developing written specifications, layout and design for all systems and to ensure all installations and repairs are made to SEG standards...



Regional AP Mgr – South FL Market – Bilingual required
Miami, FL - posted August 8
Responsible for managing asset protection programs designed to minimize shrink, associate and customer liability accidents, bad check and cash loss, and safety incidents for stores within assigned region. This position will develop the framework for the groups' response to critical incidents, investigative needs, safety concerns and regulatory agency visits...



Regional Manager, Loss Prevention (Western Territory)
Remote - posted June 28
The Regional Loss Prevention Manager is responsible for the control and reduction of shrinkage at the stores in their Territory. Investigate and resolves all matters that jeopardize or cause a loss to the company's assets. Has ownership for all company related shrinkage programs in their assigned stores.



Regional Manager, Loss Prevention (Central Territory)
Remote - posted June 28

The Regional Loss Prevention Manager is responsible for the control and reduction of shrinkage at the stores in their Territory. Investigate and resolves all matters that jeopardize or cause a loss to the company's assets. Has ownership for all company related shrinkage programs in their assigned stores...



Regional Director, LP & Safety (Midwest)
MN, MO, IL, KS, WI, MI, IN, or WA - posted June 27
We are looking for a Regional Director of Loss Prevention to join us in MN, MO, IL, KS, WI, MI, IN, or WA. You will develop, execute, and maintain shrink and shrink compliance initiatives. You will also conduct internal and external field investigations, loss control auditing, store safety programs, and compliance programs and audits...
---

Featured Jobs

To apply to any of today's Featured Jobs, Click Here

---

---

Listening and hearing what your internal customers are saying is critical if you expect to be successful with any program or project. Oftentimes, the speed of delivery negatively impacts the process of success and keeps us from hearing exactly what we need to hear when we so passionately roll out our programs and projects. After testing and reviewing our plans and being so committed to our beliefs, we oftentimes don't hear our retail partners once we've committed ourselves to a specific path. And sometimes it's not what they say that's important as much as what they don't say or as much as what they quietly say beneath their breath or maybe even how they react. Whenever you're rolling out a new program or project, use those interrogative skills, in a positive way, and read the reactions of your internal customers because they will determine the success regardless of how good it is.


Just a Thought,
Gus




(content subject to approval)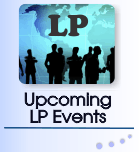 ---

Recruiting?
Get your job e-mailed to everyone... everyday
Post on our Featured Jobs Board!
Not getting the Daily?
Is it ending up in your spam folder?
Please make sure to add d-ddaily@downing-downing.com to your contact list, address book, trusted sender list, and/or company whitelist to ensure you receive our newsletter.
Want to know how? Read Here



36615 Vine Street, Suite 103
Willoughby, OH 44094
440.942.0671
copyright 2009-2019
all rights reserved globally