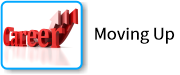 ---
Courtney Underwood promoted to Senior Director, LP Operations for Ross Stores Inc.

Courtney has been with Ross Stores for more than eight years, starting with the company in 2014 as Manager, Merchandise Protection & LP Operations. Before her March 2022 promotion to Senior Director, LP Operations, she served as Director, LP Operations; Associate Director, LP Operations; and Senior Manager, LP Operations & Initiatives. Earlier in her career, she spent over a decade with Gap Inc./Old Navy. Congratulations, Courtney!

See All the Executives 'Moving Up' Here

Submit Your New Corporate Hires/Promotions or New Position

---

---

Checkpoint announces update to revolutionary antenna



Checkpoint Systems – a global leader in retail technology solutions – has launched an updated version of its market-leading NS40 antenna. The NS42 benefits from all the same award-winning features as the NS40, but with different installation options available, meaning this revolutionary free-standing sensor can now be located anywhere in-store, rather than being confined to a checkout. As a result, it provides grocery retailers with a discreet but powerful loss prevention solution that can provide protection at any point on the shop floor.

Developed in response to demand from retailers for an NS40 antenna that could be placed in different locations around a store, the NEO-based NS42 antenna features the same award-winning design, detection and ease-of-installation characteristics as the NS40. These include an ultra-slim, unobtrusive and slick design that can be tailored to any different retailer requirements without an adverse impact on detection rates. Read more here

---

The U.S. Crime Surge
The Retail Impact

Killing to Protect Stores
More NYC bodega workers could kill to protect themselves as store crime up 70%: industry leader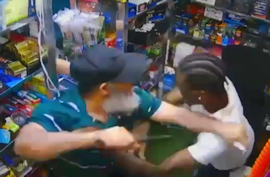 More Big Apple bodega workers may end up killing violent customers to protect themselves and their business, an industry leader told The Post Thursday — as he claimed crime is up 70 to 80% in bodegas and supermarkets citywide.

Frank Garcia, chairman of the National Association of Latinos State Chambers of Commerce, issued the grim warning after Manhattan bodega clerk, Jose Alba, wound up charged with murder for fatally stabbing an ex-con he was trying to fend off.

"Crime is up 70% to 80% at our bodegas and supermarkets," Garcia said, citing a recent survey conducted by the Bodega Association and the Hispanic Chamber of Commerce.

The survey also found that 80% of respondents who work in bodegas said crime was their biggest issue, according to Garcia. Supermarkets in The Bronx and northern Manhattan also cited crime as their top concern, he added.

"The crime is not just in the bodegas. It's in the supermarkets. It's in the retail stores that sell cellphones. We have issues with the restaurants," Garcia said. He warned more bodega workers, as well other merchants, are going to "kill more people because we have to defend our business."

Currently, there is no specific NYPD crime statistics for locations like bodegas. If the NYPD won't collate the data in a bid to reduce the crime rates, Garcia said he was going to rope in The City University of New York and John Jay College of Criminal Justice to help.

Garcia said the concerns about rising crime was raised with city Small Business Commissioner Kevin Kim three weeks ago. He added his chamber was going to have a town hall meeting on crime and invite Mayor Eric Adams and Gov. Kathy Hochul in an attempt to convince them to take rising crime in bodegas and supermarkets more seriously. nypost.com

Bomb-Sniffing Dogs with Electronic Harnesses Roll Out Across NYC
NYPD deploys K-9s with innovative electronic harness to prevent terrorist attacks
The New York Police Department is equipping its bomb-sniffing canines with an upgraded electronic harness that can sense biological and radiological threats that go unnoticed by the dogs. Police officials say the dogs will patrol the city's subway system — an area frequently targeted by terrorists.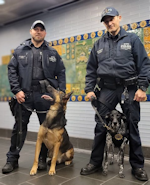 The new technology, called "Transit Enhanced Detection Dog," or TREDD, equips regular explosive detection K-9s with a wearable harness replete with sensors that detect a variety of threats, including explosive, biological, chemical or radiological weapons. The device then sends the readings to a mobile command post in real time.

Lieutenant John Pappas, commander of Transit Bureau K9 in Queens, came up with the idea for the device after receiving intelligence that terrorist organizations were looking to bypass the city's security systems.

Pappas explained that terrorists were building explosive devices that dogs were not trained to detect. With the help of grant money, Pappas and the NYPD partnered with Massachusetts-based private technology company Blueforce Development Corporation to address the new threat.

Readings are sent from the device to a mobile command post in real time, which allows NYPD officers on the ground to detect threats that would otherwise be imperceptible. Command post officers can also see where the dogs are at all times.

More recently, the technology was deployed during the April 12 Brooklyn subway shooting, when the NYPD initially responded to reports of several undetonated explosive devices in subway stations before determining the reports were unfounded.

For the NYPD and other departments around the country, COVID lockdowns afforded more time to revamp their K-9 units. The NYPD also shared the tech with the Pentagon, giving them the option to upgrade their K-9 capabilities. apbweb.com

From Defund to Refund in Crime-Ridden Philadelphia
Philadelphia spends almost a billion dollars on policing in new budget aimed at addressing gun violence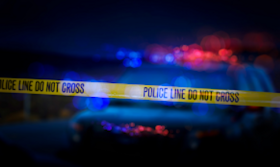 In an effort to combat gun violence, Philadelphia has approved one of its largest budget increases in recent years, allotting nearly a billion dollars to the city's police department for 2023.

The Philadelphia Police Department will receive an increase of nearly $30 million under the new $5.8 billion city budget approved by the City Council in late June, bringing the total police allotment to $800 million.

The budget, proposed initially by Mayor Jim Kenney, aims to cover contractually obligated pay raises for officers. What began as a $23.7 million budget grew into nearly $30 million after additional expenses were added for recruitment, crime lab improvements and anti-violence programs.

The new budget puts Philadelphia police at the top when it comes to city spending. It is worth noting that two years ago the City Council froze police funding following the killing of George Floyd.

A large chunk of the budget will go toward a broad anti-violence plan pushed by the City Council last year, with $4 million going toward security camera installation and addressing quality-of-life issues, such as removing abandoned vehicles and cleaning up short dumping sites.

Citywide violence in the form of shootings remains an urgent issue debated by officials.

According to the Philadelphia P.D., there have been around 1,100 shooting victims in the city this year. Around a fifth of shooting victims died. The grim trend comes after an especially deadly year in 2021, which recorded a high of 562 homicides, with the majority due to gunfire. privateofficerbreakingnews.blogspot.com

The Link Between Gun Deaths & Gun Sales
The staggering scope of U.S. gun deaths goes far beyond mass shootings
The spate of shooting attacks in communities such as Highland Park, Ill.; Uvalde, Tex.; and Buffalo has riveted attention on America's staggering number of public mass killings. But the rising number of gun deaths in the United States extends beyond such high-profile episodes, emerging nearly every day inside homes, outside bars and on the streets of many cities, according to federal data.

The surge in gun violence comes as firearm purchases rose to record levels in 2020 and 2021, with more than 43 million guns estimated to have been purchased during that period, according to a Washington Post analysis of federal data on gun background checks. At the same time, the rate of gun deaths in those years hit the highest level since 1995, with more than 45,000 fatalities each year.

Guns are used in most suicides and are almost entirely responsible for an overall rise in homicides across the country from 2018 to 2021, according to data from the Centers for Disease Control and Prevention.

There is not one clear answer as to what is driving the rise in bloodshed, experts said, but possible factors include the stress of the coronavirus pandemic, fraying ties between the police and the public, mounting anger, worsening mental strain and the sheer number of guns in America.

"You put all that into a pressure cooker," said Alex Piquero, a criminologist at the University of Miami, "and you let the pressure cooker blow up."

The ample access to guns plays a significant role, experts said. Americans are arming themselves in the face of deepening fears and divisions, frightening public incidents involving gunfire or violence, or simply because they know others may also have guns. washingtonpost.com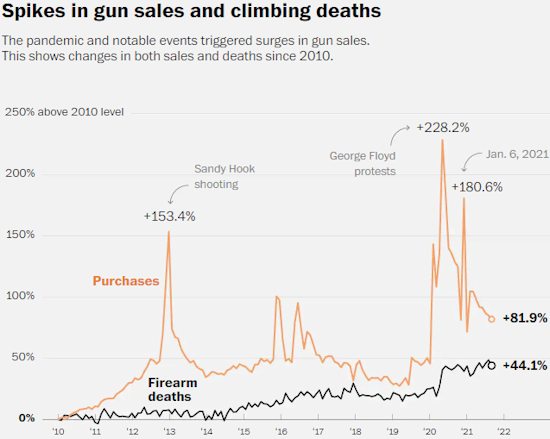 New Federal Gun Safety Legislation
Biden says gun violence has turned America's communities into 'killing fields'
President Joe Biden on Monday said gun violence has turned everyday places in America into "killing fields" as he marked the passage of the first significant federal gun safety legislation in 30 years.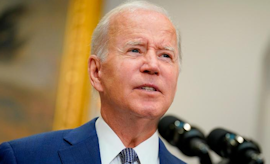 Biden said the package he signed into law represents "an important start," but more needs to be done to curb the alarming rate of shootings.

"Now's the time to galvanize this movement because that's our duty to the people of the nation. That's what we owe those families in Buffalo, where a grocery store became a killing field. That's what we owe those families in Uvalde, where an elementary school became a killing field. That's what we owe those families in Highland Park, where on July Fourth, a parade became a killing field," Biden said.

Biden touted the investments the new legislation makes in community violence prevention, including $750 million to help states implement and run crisis intervention programs. The money can be used to implement and manage red flag programs -- which through court orders can temporarily prevent individuals in crisis from accessing firearms -- and for other crisis intervention programs like mental health courts, drug courts and veterans courts.

It also closes a years-old loophole in domestic violence law, known as the "boyfriend loophole," which barred individuals who have been convicted of domestic violence crimes against spouses, partners with whom they shared children, or partners with whom they cohabitated, from having guns. Old statutes didn't include intimate partners who may not live together, be married or share children. cnn.com

There are too many mass shootings for the U.S. media to cover
News organizations must make agonizing decisions about which shootings deserve on-the-ground reporting, and for how long

Private security guards coming to downtown Annapolis this summer

Neighborhoods with more dogs have less crime, study suggests
---

COVID Update

597.6M Vaccinations Given
US: 90.4M Cases - 1M Dead - 86M Recovered
Worldwide: 561.8M Cases - 6.3M Dead - 534.7M Recovered


Former Senior Loss Prevention Executive
Know of any fallen LP exec? Let's remember & recognize.
Private Industry Security Guard Deaths: 360
Law Enforcement Officer Deaths: 787
*Red indicates change in total deaths




America Facing 'Worst Version' of COVID Yet
As the BA.5 variant spreads, the risk of coronavirus reinfection grows
America has decided the pandemic is over. The coronavirus has other ideas. The latest omicron offshoot, BA.5, has quickly become dominant in the United States, and thanks to its elusiveness when encountering the human immune system, is driving a wave of cases across the country.

The size of that wave is unclear because most people are testing at home or not testing at all. The Centers for Disease Control and Prevention in the past week has reported a little more than 100,000 new cases a day on average. But infectious-disease experts know that wildly underestimates the true number, which may be as many as a million, said Eric Topol, a professor at Scripps Research who closely tracks pandemic trends.

Antibodies from vaccines and previous coronavirus infections offer limited protection against BA.5, leading Topol to call it "the worst version of the virus that we've seen." washingtonpost.com

Shopping: The Highest-Risk Activity for Catching COVID?
You Can Catch COVID From These "Unexpected" Places
COVID cases are on the rise again nationwide, thanks to the highly contagious subvariants BA.4 and BA.5, which are making both first-time infections and reinfections more common. Also playing a part: COVID fatigue and the relaxation of public-health precautions like mask mandates. You might think you know the best practices to avoid COVID, but if you've let your guard down in recent weeks, you're not alone. These are some unexpected places you may catch COVID.

A recent UK study found that people who visited stores once a week were nearly 2.2 times more likely to contract COVID than people who didn't. It was the highest-risk activity the researchers found, an even higher risk than going to indoor bars or taking crowded public transportation.

Since the early days of the pandemic, health experts have warned against large indoor gatherings as a major source of COVID transmission. But small indoor gatherings are risky too. The most important factor isn't the number of people but whether the gathering is held indoors or outdoors, says a new study, which reiterates that space and airflow are key to preventing COVID infections.

Researchers looked at two theoretical gatherings—​​an indoor conference of 3,000 people and an outdoor event attended by 50,000—and found that even large outdoor events would lead to fewer infections. eatthis.com

Disney Mask & Vaccine Mandate Lawsuit
3 Florida Disney employees sue company over mask, vaccine requirements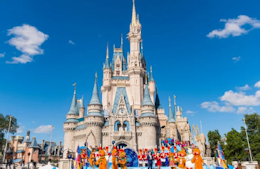 Three former Disney employees are suing the company over masking and vaccine requirements for COVID-19, saying they were fired over lack of compliance. The three plaintiffs, residents of Florida, say their religious liberty was violated by the termination and requirements enforced by Disney.

The employees — Barbara Andreas, Stephen J. Cribb and Adam Pajer — are suing the Walt Disney Company and Disney Parks, Experience and Products, Inc., saying that while "Disney has brought wonder and magic into the lives and homes of millions," the company had "cast itself as the villain" and "a shadow has come over Disney" during the COVID-19 pandemic.

According to the lawsuit filed by the plaintiffs, Disney policies during COVID-19 "targeted cast members who declined COVID-19 vaccinations," despite their filing of exemptions based on religious grounds. The plaintiffs said "taking these injections would violate their deeply-held convictions."

When Gov. Ron DeSantis signed a law on Nov. 18, 2021, that banned vaccine requirements, the company's policies were updated to "pause the enforcement" for its Florida cast members. The plaintiffs allege that despite their employment records — all of them worked for Disney for minimum seven years or longer — they were terminated for choosing not to wear masks or be fully vaccinated against COVID-19. fox8.com

Operating Stores During a Pandemic
Balancing 12 Stores in a Global Pandemic

One multi-pharmacy owner shares how adaptability and the right set of tools set her up for success

As the new owners of 12 franchise locations of The Medicine Shoppe in central Pennsylvania and Binghamton, New York, they faced a unique situation: navigating their way through not only the challenges that came with first-time pharmacy ownership, but also operating 12 stores during a global pandemic.

Clark and Brown say they have seen and experienced more than they could have ever imagined in the past year since taking ownership of the 12 independent pharmacies, three of which are long-term care pharmacies. During unprecedented times, they quickly had to learn what opportunities would enhance the efficiency of their operations while providing the highest and safest levels of care for their patients.

Now, Clark is sharing what she has learned with the hope that other independent pharmacy owners can benefit and continue to serve their communities with the same passion. drugtopics.com

Undercounted Covid-19 cases leave US with a blind spot

Shanghai fears a second lockdown as China battles BA.5 outbreaks
---

National Association for Shoplifting Prevention
Provide Opportunity; Create Loyalty

The Most Loyal Employees are Born of Second Chances



More and more companies are successfully implementing programs to hire people re-entering the workforce after a period of incarceration. There is great value in this effort as it is not only critical to identifying new talent in a shrinking workforce but also in bolstering brand value by helping people re-build their lives.

This is not to say that companies are looking at hiring through rose-colored glasses or foregoing the safeguards and hiring protocols currently in use. They continue to use the traditional protective tools and assessment measures but are viewing these tools through a new lens that evaluates each person on their individual merits and relevant skill set rather than focusing solely on a past or even a current transgression.

Employers will reap the same benefits found in re-entry hiring when current employees who make a first-time mistake are given a similar second chance. Offering education programs to otherwise productive employees after a first-time policy violation or lapse in judgment, is an opportunity to reinforce brand value and re-build, rather than break down, your workforce and community.

The challenge will be how to reconcile historical precedent with present need. How to shift from a no tolerance directive to giving second chances when appropriate. The answer is a corporate policy change. The truth is that education gives retailers a third and better choice beyond the tradition of compulsory discharge or simply "writing them up." Moreover, today's focus on inclusiveness and Corporate Social Responsibility make it the ideal time to modify past policy to offer second-chance education; thus pairing valuable opportunity with needed accountability.

Click to learn more about the Workplace integrity Project and Better Choices employee education. linkedin.com

Gas Station Owners Caught in the Middle of a Political War Over Prices
Gas Station Owners, Blamed When Prices Rose, Face Risks as Prices Fall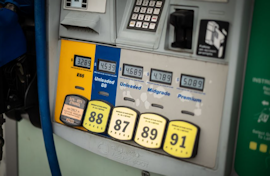 Gasoline prices are falling almost as quickly as they rose, creating new headaches for the mom-and-pop entrepreneurs and other independent operators who run roughly half of U.S. gas stations.

Heightened volatility makes those pump pricing decisions painstaking for gas station owners such as Doug Robinson. When prices drop, he still has to sell the fuel he already bought for his two stations in central Texas at a higher amount. Because he doesn't know where prices will go next, he also risks losing money on every new fuel order he places.

As gas prices rose to a record of more than $5 a gallon this year, gas station owners have gotten caught up in the political debate over how to tame soaring inflation. They say few truly understand their situation.

The average price of regular gasoline dipped to $4.68 a gallon on Sunday, according to AAA, down about 12 cents from a week ago and 6% since a high of $5.02 in June. But better-than-expected consumer demand for gasoline this summer and further instability in Europe amid the war in Ukraine could make this reprieve short-lived, said Garrett Golding, a senior business economist at the Federal Reserve Bank of Dallas.

Those gas station owners typically make small margins on fuel itself, earning more from other items such as cigarettes and coffee. They face competition from other independent gas station owners, as well as chain retailers such as Costco Wholesale Corp. and Kroger Co., who can obtain supplies at an advantageous price and forsake fuel margins altogether, said Patrick De Haan, head of petroleum analysis at price tracker GasBuddy. wsj.com

Retail Foot Traffic Boost Coming?
Placer.ai: Workers returning to offices but...

Foot traffic to office buildings in several key U.S. cities continues to rebound.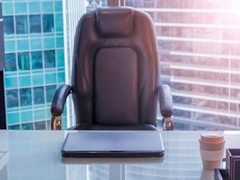 Workers piled into office buildings in New York City, Boston, Chicago, and San Francisco in June, according to data from foot traffic analytics firm Placer.ai's Office Building Indexes. But the data also showed that visits are still down considerably from the pre-pandemic era.

Compared to last year, office buildings are humming. Placer.ai found that year-over-year visits were up 54.4%, 38.3%, 84.6%, and 31.2% in New York City, Chicago, San Francisco, and Boston, respectively. Visits were up in each city in June compared to May also, with visits jumping 17% in NYC, 7.6% in Chicago, 19.3% in SF, and 5.1% in Boston.

If buildings hope to get back to pre-pandemic visit levels, however. There's still a lot of work ahead, according to the report. Compared to June 2019, visits in June were still down considerably in NYC (down 33.5%), Chicago (down 40.9%), SF (down 60.4%), and Boston (down 24.6%). chainstoreage.com

88 Sephora Store Closures in Russia
LVMH's Beauty Retailer Sephora Makes Permanent Exit From Russia
Sephora, the cosmetics retailer owned by LVMH, agreed to sell its Russian subsidiary, making it the latest brand to pull out of the country following its invasion of Ukraine. LVMH is selling Sephora's Russia business to the local general manager, the company said on Monday in an emailed statement. In early March, the group temporarily closed its Russian stores.

Sephora's exit comes as European and US sanctions on the country have made operations in Russia increasingly complex. It joins Nike Inc. which also said last month that it was leaving Russia.

"It sounds very rational indeed that Western companies in general will not go on paying rent and labor forever in Russia if operations cannot be resumed," Luca Solca, an analyst at Sanford C Berstein, said by email.

The move will provide "continuity" for employees, according to Sephora, which employed 1,200 workers in 88 Russian stores and in operations to support the company's website in the country. bnnbloomberg.ca

Walmart to buy electric vehicle fleet for last-mile deliveries
Walmart has a definitive agreement to buy 4,500 electric delivery vehicles from Canoo, the two companies announced Tuesday morning.

Gap Inc. CEO Sonia Syngal steps down

Dollar General CEO Todd Vasos to Step Down, Insider Owen to Take Over

Discover @ Kohl's to feature diverse, women-owned brands at 600 stores

Shoe companies pause hiring and investing as they brace for weaker sales
---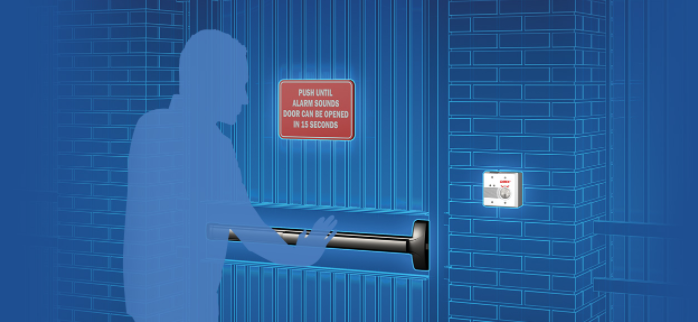 Even out here, you're in control.
Only Detex offers a delayed egress solution for outdoor applications. Which is no surprise. For decades Detex has led the way in innovating weatherized security systems that can handle the harshest conditions out there.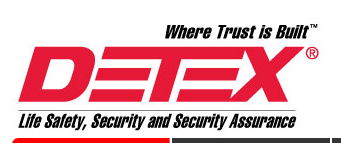 Instead of the alarm-only setups commonly used outdoors, our system sounds an alarm and delays exit 15 or 30 seconds. Plus it's fully configurable to best suit your application. Count on it - season after season, year in and year out.

Watch the video and get connected with an outdoor exit expert.
---
Law Enforcement Agencies Under Attack
Cyberattacks against law enforcement are on the rise
Resecurity, a Los Angeles-based cybersecurity company protecting Fortune 500 companies worldwide, has registered an increase in malicious activity targeting law enforcement agencies at the beginning of Q2 2022. Threat actors are hacking email and other accounts which belong to law enforcement officers and their internal systems.

The emerging trend consists of threat actors sending fake subpoenas and EDR's (Emergency Data Requests) to their victims from the hacked law enforcement email accounts. Using such capabilities, the threat actors are targeting major technology companies such as Apple, Facebook (Meta), Snapchat, and Discord are to name a few, to collect sensitive information about targets of interest. The replies received by the bad actors contain sensitive details which could/are being used for leverage extortion, or cyberespionage. Such incidents have become especially notable in cybercriminal group activities such as LAPSUS$ and Recursion Group.

Resecurity has been observing multiple Dark Web marketplaces where cybercriminals are monetizing their efforts by selling credentials belonging to police officers of various foreign countries (e-mails, VPNs, SSO, etc.). One example of an email account previously used to send fake EDR requests on behalf of the Bangladesh Police was recently covered in a Bloomberg article illustrating the risk of such tactics.

Based on experts' opinion, one of the biggest concerns is the visible insecurity of the law enforcement IT infrastructure, such infrastructure creates significant risk to our society, not just in cyberspace but in real life too. Organized crime, terrorists and extremist groups may leverage such access for malicious purposes.

The most typical scenarios involving attacks on law enforcement systems include:

● Protest activity (15%)
● Unauthorized access (25%)
● Cyberespionage (40%)
● Law enforcement systems and applications abuse (8%)
● Data theft (12%)

Based on the published research, such malicious activity is especially visible in countries of Latin America, South-East Asia, and offshore jurisdictions. Last year, Resecurity registered a targeted security incident related to one of the law enforcement organizations in the Middle East and its counterpart in the face of one of the international police organizations. helpnetsecurity.com

Accelerate 'Deep Tech' Cyber Advancements
White House backed fund promises to accelerate 'deep tech' advancements in cybersecurity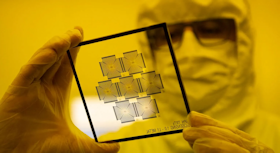 An investment fund supported by the White House and partially bankrolled by tech heavyweights Peter Thiel, Eric Schmidt and Craig Newmark is making a big bet that "deep technologies" will give the U.S. the edge over China — especially when it comes to cybersecurity.

The U.S. needs to do more to win the "great nation competition," according to Gilman Louie, CEO of the newly launched America's Frontier Fund (AFF), and that means supporting innovation in artificial intelligence, quantum computing, fusion, microelectronics, 6G cellular technology, advanced manufacturing and synthetic biology.

Most of these technologies will soon be increasingly embedded in cybersecurity, he said.

AFF will be a hub for what Louie calls the Quad Investor Network (QIN), a partnership that AFF will lead with other global democracies to invest jointly in emerging technology. The White House announced the QIN effort in late May, about three weeks after it said Louie had been selected alongside three others for the intelligence advisory board.

Cybersecurity has been a White House priority since Biden took office and the administration increased efforts to work alongside the private sector after the SolarWinds and Colonial Pipeline shook the economy during the president's first term.

The NSCAI report focused heavily on the urgency of U.S. investment not only in artificial intelligence, but also in the quantum sciences, microelectronics and other issue sets that AFF intends to prioritize.

"The White House is looking for new ways to accelerate innovation in the the tech competition and the NSCAI is the foundational report on this stuff," Lewis said. "A lot of this rotates around the conclusion of a few years ago that Washington needed to reconnect to Silicon Valley. Things that drive innovation and government policy are not the same and so this is an effort to make that connection." cyberscoop.com

Federal Cyber Insurance Intervention?
The cyber insurance market has a critical infrastructure problem
Growing worries about digital assaults on critical infrastructure compounded by the war in Ukraine are reviving questions about the ability of cybersecurity insurance to cover the risks of a catastrophic attack.


"The cyber insurance industry is not just discovering the cyber risk, with respect to critical infrastructure," said Michael Phillips, chief risk officer at cyber insurance firm Resilience. "I think what is new is there is a more vivid understanding in the market that the time to understand systemic cyber risk and the risk to critical infrastructure is now."

The challenge has policymakers wondering if and when the government should intervene with its own form of insurance, a U.S. Government Accountability Office report last month showed.

"The Department of the Treasury's Federal Insurance Office (FIO) and the Department of Homeland Security's Cybersecurity and Infrastructure Security Agency (CISA) both have taken steps to understand the financial implications of growing cybersecurity risks," the report notes. "However, they have not assessed the extent to which risks to critical infrastructure from catastrophic cyber incidents and potential financial exposures warrant a federal insurance response."

Cybersecurity insurance has existed in some form since at least the early 2000s. The coverage initially started out as a means to deal with cybersecurity issues such as data breaches and the lawsuits and regulatory penalties that could ensue.

That changed rapidly in 2017 when the WannaCry and NotPetya attacks showed how quickly a cyberattack could have resounding consequences around the globe. Then came another crisis moment for the industry: a rapid rise in ransomware attacks and an increase in ransomware demands, including a high-profile ransomware attack on U.S. fuel provider Colonial Pipeline. cyberscoop.com

Protecting Your Business from Future Cyber Attacks
VIDEO: The impact of DNS attacks on global organizations
Often we see stories about cyber attacks that breached an organisations' security parameters, and advice on how we can protect against future threats. However, what is often missed, is just how these threat actors managed to breach a system, and as such, the fact that the Domain Name System (DNS) probably played a very large role in the attacker's entry point.

In this Help Net Security video, Chris Buijs, Chief Evangelist at EfficientIP, talks about the importance of making the DNS as part of an organisation's security strategy. helpnetsecurity.com

CISA and NPower offer free entry-level cybersecurity training

Phishing Attacks Shame, Scare Victims into Surrendering Twitter, Discord Credentials
---

Track the apps tracking you
If you are an iPhone user, it is always good practice to go in and review what Apps have been tracking your data. To view, go to Settings > Privacy, then scroll down and tap App Privacy Report (iOS 15.2 or later). If you have not already, turn on the App Privacy Report to collect what apps have permissions to your data and review the network activity generated by them.
---


Prime Day for Fraudsters Too
There's another huge reason to be careful shopping online this Amazon Prime Day

Online payment fraud is only getting worse, Juniper finds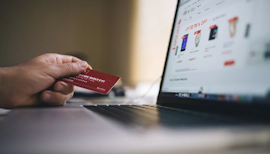 Ahead of the Amazon Prime Day 2022 sales, online shoppers have been urged to be on their guard once again against scams and online fraud. A report from Juniper research has estimated that if current trends persist, the total overall losses to online payment fraud for merchants across the world between 2023 and 2027 will top $343 billion.

With shoppers keener than ever to land a good bargain, many are falling victim to a range of attacks, ranging from money transfer scams, purchasing fake or non-existent goods, or simply having their card details swiped by malicious websites.

Juniper's report found physical goods purchases are set to be the largest single source of losses, set to make up nearly half (49%) of all online payment fraud losses globally over the next five years, a 110% growth from the current figure.

The firm found that poor address verification processes in developing markets are also becoming a major fraud risk, with fraudsters specifically targeting physical goods due to their resell potential. The report adds that the predicted losses are the equivalent of over 350% of Apple's reported net income in the 2021 fiscal year; showing the massive extent of these losses.

Merchants and resellers are being urged to ensure their anti-fraud protection systems are as robust as possible, and provide a combination of verification tools, including multiple sources of address verification and multi-factor authentication, to make sure their customers stay safe.

The report comes shortly after security researchers from Check Point found the volume of Amazon-related phishing emails has spiked by 37% month-on-month, alongside 1,900 new domains linked in some regard to the ecommerce giant, at least 9.5% of which have been deemed "risky". techradar.com

Target's Answer to Prime Day?
Target Makes a Bold Move Ahead of Amazon Prime Day
Target has decided to offer college students a 20% discount through its Target Circle rewards program. It's also bringing back tax-free weekends and will extend its Teacher Prep event from July 17 through Sept. 10. That's six weeks longer than the program, which offers teachers 15% off on school supplies, usually runs.

"We know the back-to-school season signals an important milestone for millions of families across the country – and we're here to help by introducing even more ways for guests to save and find everything they need all in one convenient location," said Target Chief Merchandising Officer Jill Sando.

Target will also offer its special "Deal Days," essentially its answer to Amazon's Prime Day, from July 11-13. thestreet.com

Buying Groceries Online vs. In-Store: We Find Out Which Is Cheaper
---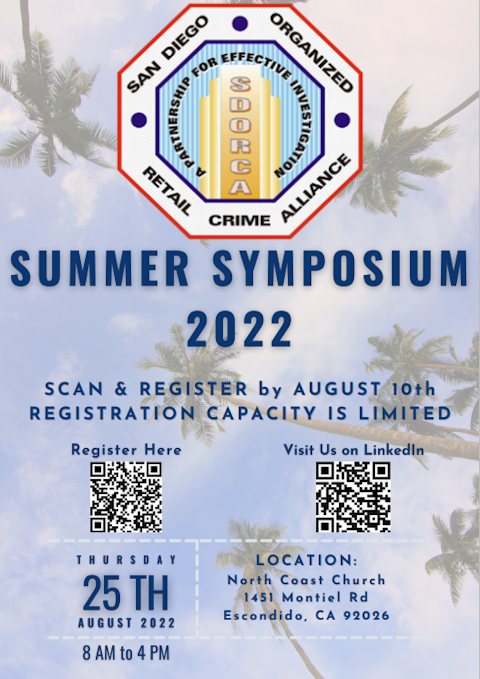 ---

Newman, GA: Former Amazon employee arrested for stealing more than $100,000 in merchandise from warehouses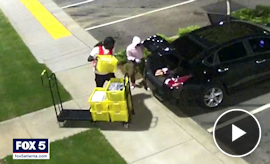 A former Amazon worker is being charged with stealing more than $100,000 in merchandise from the company's warehouses across the Southeast. Investigators say at least one of those thefts happened in metro Atlanta. Markece Ryans is accused in Georgia of stealing more than $30,000 worth of merchandise from the big Amazon distribution center in Coweta County. An investigator with Coweta County Sheriff's Office says Ryans knows how to navigate the big building, from getting in, to getting around, to getting out. While doing that, he's accused of stealing tens of thousands of dollars' worth of Apple products and other electronics. The thefts were not just in Georgia, but also in Alabama and Mississippi. Investigators say the 28-year-old man was arrested in Alabama, and will eventually be extradited to Georgia. He's accused of stealing over a $100,000 worth of merchandise from Amazon distribution centers in Huntsville in Alabama as well as Hornlake and Olive Branch is Mississippi in addition to Newnan. fox5atlanta.com

Madison, WI: The impact of theft on Madison businesses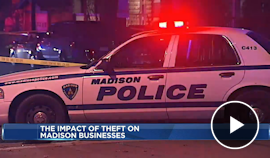 A Madison business is contending with theft in recent weeks and highlights one of the many problems endured by business owners in the area. According to Madison Police reports, the city averages over 5,200 incidents classified as theft offenses in the past three years. It is one of the many different types of stealing categorized in the report. While some areas, like burglary, are down, other offenses, like car theft, have more than doubled in the past five years. But this year, things like theft offenses or shoplifting is more of a burden on business. "Petty theft and robberies are a part of being in the retail business and an unfortunate part of being in the retail business," said Downtown Madison Inc. President Jason Ilstrup. "You have to watch very carefully; you don't want to lose the supply that is sometimes so hard to get." nbc15.com

San Francisco, CA: 3 Teens Arrested In Connection To GameStop Thefts In SF's Mission District: Police
Three teen boys from San Francisco were arrested in connection to a series of thefts at a GameStop in the Mission District, police announced in a press release Thursday afternoon. There were three separate incidents on April 3, 6, and 8 at 2673 Mission St. A 14-year-old was arrested on four counts of burglary, grand theft, and organized retail theft. A 15-year-old was arrested on two counts of robbery, burglary, grand theft, and organized retail theft. mydroll.com

Nashville, TN: Man accused of felony theft from Hopkinsville Walmart
A Nashville man accused of stealing from the Hopkinsville Walmart has been arrested on felony theft charges. The alleged incidents happened in April and May and a warrant says 58-year old James Morris of Nashville would bag unpaid for items, leave the store and then return the items. There are seven documented incidents and the stolen merchandise had a total value just over $1,000. Morris was arrested at the Walmart Supercenter Monday night and charged with felony theft. whopam.com

Bethalto, IL: Police Announce Charges Against East Alton Man For Felony Retail Theft
---

---

Shootings & Deaths
Brea, CA: 7-Eleven shootings: At least 2 dead in 4 incidents at multiple locations across SoCal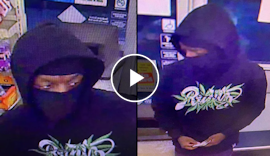 A string of armed robberies at several 7-Eleven locations throughout Southern California early Monday morning left at least two people dead - and police said preliminary evidence indicates at least three of the crimes are linked to each other. A surveillance photo of the suspect wanted in connection with the incidents at the Brea, La Habra, and Santa Ana 7-Eleven locations has since been released as detectives continue to investigate. In Brea, a store clerk was fatally shot during an armed robbery at the 7-Eleven on Lambert Road and N. Brea Boulevard around 4:18 a.m., police said. The male victim died at the scene. According to authorities, they believe based on preliminary evidence that the suspect involved in this fatal shooting is linked to the incidents at the La Habra and Santa Ana 7-Eleven stores. foxla.com

Wyoming, MN: 1 killed, 2 injured in crash during police chase in Anoka County
A police chase on Monday in the north Twin Cities metro ended in a deadly crash, claiming the life of one of the people inside the wanted vehicle. Wyoming, Minnesota police say the incident started around 10:48 a.m. with a report of a shoplifting at Cartfull in North Branch. Witnesses were able to get a license plate number and description of the vehicle, which Wyoming police spotted about 10 minutes later on I-35 south. The vehicle got off the highway on East Viking Boulevard and continued into Anoka County, while the Wyoming police officer waited on a Chisago County deputy to make the traffic stop. Law enforcement officers say they tried to stop the vehicle a few minutes later, around 11:01 a.m., on East Viking Boulevard. But, instead, police say the driver took off. Less than a minute later, police say the driver attempted to pass a vehicle over the double yellow line and crashed into a passenger vehicle. As a result, both vehicles caught on fire. Police say both people inside the pursued vehicle were seriously hurt. Hours later, police say the passenger in that vehicle. The person in the other vehicle suffered non-life threatening injuries. fox9.com

Oakland, CA: Owner of Cherished Oakland Restaurant Shot and Killed in Front of 11-Year-Old Son
The Oakland foodie community was filled with unexpected grief on Wednesday night after Artgel "Jun" Anabo, the co-owner of a cherished Filipino restaurant, was shot and killed in front of his 11-year-old son. Anabo's restaurant, Lucky Three Seven, is known for its role in the community, as employees pass out not only the famed chicken wings, but also free meals and school supplies. thedailybeast.com

Kansas City, MO: Westport shooting involving Kansas City police officers leaves 1 dead, 5 injured
A shooting Sunday night in Westport involving Kansas City police officers left one person dead and five injured, according to the Missouri State Highway Patrol. The shooting occurred about 11 p.m. outside the Wesport Ale House restaurant and bar, 4128 Broadway Blvd., said Sgt. Bill Lowe, a spokesman for the patrol. The gunfire began when a fight that started inside the bar moved outside, Lowe said. Three off-duty Kansas City police officers in uniform who were working security at the bar then exited and shot back. kansascity.com

Dallas, TX: 18-year-old killed in shooting at Oak Cliff convenience store
A man was shot and killed at a Dallas convenience store overnight. It happened around 11 p.m. Sunday at the Time Saver Food Mart in southeast Oak Cliff near South Marsalis and Ann Arbor avenues. Dallas police said 18-year-old Curdarrius Chapple and another man were inside the store when the shooter entered and opened fire. fox4news.com

Update: Montgomery County, NC: Winston-Salem police arrest shooter that killed a convenience store employee


A suspect in the murder of a clerk at a Montgomery County convenience store is now in custody. Winston-Salem police arrested James Ward on Saturday night. Ward is charged with first-degree murder and robbery with a dangerous weapon. On June 25, Ward entered the Quik Chek on South Main Street in Star. He then showed a gun and jumped over the counter where the employee was standing, according to police. The worker, a 52-year-old woman, and Ward got into an argument, which escalated to him shooting her. She was pronounced dead at the scene. wxii12.com

Dayton, OH: Auto parts store employee facing charges for shooting customer after fight in store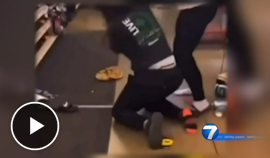 An auto parts store employee seen on a social media video firing a weapon after being assaulted by a customer is facing charges. Police responded to the O'Reilly Auto Parts store in W. Third Street in Dayton Thursday evening on reports of a shooting. Video posted to social media showed two women in a physical altercation. When the pair briefly broke away from each other, an employee, later identified as 31-year-old Ke'Laron Watson, went to the counter, grabbed a gun and fired one shot at the other woman. That woman was taken to Miami Valley Hospital by her boyfriend, according to the affidavit and statement of facts. News Center 7 checked Monday afternoon and that woman had been discharged from the hospital, according to a Miami Valley Hospital spokesperson. When police arrived on scene, they said Watson admitted to shooting the other woman and told officers the gun was in her car. Police then took Watson into custody. Watson told officers that she was helping the woman find a car part when she became upset and threatened her. She also told officers that the woman attacked her and "beat her about the head with her fists," according to court documents. whio.com

Flint, MI: Shooting outside Home Depot store nets Flint man prison time, probation
A Flint man was sentenced Monday to two years in prison and a concurrent probation term in connection with a 2020 shooting outside a Flint Township Home Depot store that left a man critically injured. Chancy Sherrod McGowan appeared before Judge Mark W. Latchana Monday, July 11, for sentencing on charges of assault with intent to do great bodily harm less than murder and felony firearm. Latchana sentenced McGowan to 24 months in prison as well as three years probation for the charges. mlive.com

Columbus, GA: 3 armed robbery suspects arrested after shots exchanged with Pawn Shop employee, CPD standoff
More than 50 shots fired, a short police chase, and a standoff with officers all ended with three armed robbery suspects squarely behind Muscogee County Jail bars. A press release by Columbus Police Department Major Gil Slouchick confirms Marquis L. Johnson, Quantavius M. Pigler, and Jamal C. Head were all arrested after the events that occurred around 11 a.m. Wednesday. The release says an employee at the Village Pawn Shop on Fort Benning Road reports two of the suspects entered with a handgun and a rifle, demanding money. They were able to take an undisclosed amount of money and were about to leave when the shop employee pulled out a gun and started firing at the suspects. Police say the alleged armed robbers started to fire back, in total exchanging more than 50 shots. The report confirms surprisingly, no one was hit by any of the many bullets. wrbl.com

Virginia Beach, VA: Shooting at Birdneck Shopping Center leaves man wounded

---

Robberies, Incidents & Thefts
San Marcos, TX: Robbery suspect causes stir after loading air gun in front of Academy store
What started as a robbery at an Academy Sports + Outdoors store in San Marcos sent many in a panic after seeing the suspect load an air gun in front of the business, according to San Marcos police. Officers were called to the store, located on Barnes Drive, after a man went inside and stole three CO2 pistols, or air guns that shoot pellets, police said. The man then left the store, stopped near the front door and began loading the pellets into the air pistols, according to SMPD. Witnesses in the area called police, stating that a man was in the parking lot, trying to load a gun near the store. Store employees evacuated customers through an exit in the back of the store. As officers were making their way to the scene, the man went back inside the store. An off-duty officer, who wasn't far from the store's entrance, went inside and stopped the man, according to SMPD. ksat.com

Yakima County, WA: Burglars have hit 4 coffee shops in Yakima County in less than a week, thousands in damages

Scottsdale, AZ: A year after Fashion Square riots, Police continue to make arrests, recover stolen goods

Albuquerque, NM: Stores lock up products in response to retail crime
● Boost – Culver City, CA – Armed Robbery
● C-Store – Dallas, TX – Armed Robbery / Cust killed
● C-Store – Pensacola, FL – Robbery
● C-Store – New Orleans, LA – Burglary
● C-Store – Blackfoot, ID – Armed Robbery
● CVS – Indianapolis, IN – Robbery
● Hardware - Bettendorf, IA – Robbery
● Jewelry – Newark, DE – Burglary
● Jewelry – Albuquerque, NM – Burglary
● Jewelry – Houston, TX – Robbery
● Jewelry – Coral Springs, FL – Robbery
● Jewelry – Auburn, AL – Robbery
● Jewelry – Wellington, FL – Robbery
● Jewelry – Tucson, AZ – Robbery
● Jewelry – Altamonte Springs, FL – Robbery
● Liquor – Woodbridge, VA – Armed Robbery
● Restaurant – Yakima County, WA – Burglary
● Restaurant – Yakima County, WA – Burglary
● Sports – San Marcos, TX – Armed Robbery
● Walmart – Raleigh, NC – Armed Robbery
● 7-Eleven – Brea, CA – Armed Robbery / Clerk killed
● 7-Eleven – Santa Ana, CA – Armed Robbery / Customer killed
● 7-Eleven – La Habra, CA – Armed Robbery / Two wounded
Daily Totals:
• 18 robberies
• 5 burglaries
• 4 shootings
• 3 killed

---
| | |
| --- | --- |
| | Cheyne Collins named Regional Loss Prevention Manager for Dollarama |
Submit Your New Hires/Promotions
or New Position
See all the Industry Movement
---




Feature Your Job Here For 30 Days -
70% Aren't On The Boards
Post your job listing
---
Featured Job Spotlights
An Industry Obligation - Staffing
'Best in Class' Teams

Every one has a role to play in building an industry.
Filled your job? Any good candidates left over?
Help your colleagues – your industry - Build 'Best in Class' teams.

Refer the Best & Build the Best
Quality – Diversity – Industry Obligation

---

VP, Asset Protection & Retail Operations
Washington, D.C. - posted April 29
The candidate will oversee the development of innovative strategies, programs and solution which help retailers mitigate loss and reduce total retail risk; Direct oversight of the NRF Loss Prevention Council and Retail Operations Council...



National Account Sales Executive
Remote Opportunity - posted May 31
Interface is seeking a talented National Account Sales Executive to join our diverse, highly motivated sales team.  This individual will propose, advance the sales process, close and support the sale of our managed Access Control, Intrusion & Interactive Alarm monitoring portfolio, IP video products, and industry leading Business Intelligence solutions with a focus on the large, multi-site U.S. businesses and targeted verticals...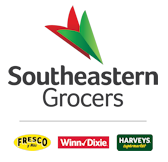 Region AP Manager (Florida - Treasure Coast Market)
Jacksonville, FL - posted June 17
Responsible for managing asset protection programs designed to minimize shrink, associate and customer liability accidents, bad check and cash loss, and safety incidents for stores within assigned region. This position will develop the framework for the groups' response to critical incidents, investigative needs, safety concerns and regulatory agency visits...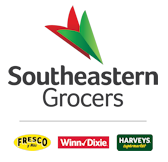 Regional Safety Manager – South Florida Region
Jacksonville, FL - posted June 17
This position will manage the safety program for an assigned group of stores that is designed to minimize associate and customer accidents. This includes reviewing and recommending loss control strategies, ensuring program conformance to applicable laws and regulations, preparing required reports, and monitoring and evaluating the program activities in stores...



Corporate Risk Manager
Seattle, WA / Tacoma, WA / Portland, OR - posted June 14
Summary of Role and Responsibilities: A proactive approach to preventing losses/injuries, whether to our employees, third parties, or customer's valuables. They include but are not limited to cash in transit, auto losses, or injuries....



Corporate Risk Manager
San Diego, CA / Los Angeles, CA / Ontario, CA
- posted June 10
Summary of Role and Responsibilities: A proactive approach to preventing losses/injuries, whether to our employees, third parties, or customer's valuables. They include but are not limited to cash in transit, auto losses, or injuries....



Corporate Risk Manager
Atlanta, GA / Birmingham, AL - posted June 10
Summary of Role and Responsibilities: A proactive approach to preventing losses/injuries, whether to our employees, third parties, or customer's valuables. They include but are not limited to cash in transit, auto losses, or injuries....



Physical Security Operations Center Leader
Columbia, MD - posted June 8
The primary purpose of this role is to partner, lead and manage a Central Station/Physical Security Operations Center driving operational execution and enhancements to ensure effectiveness and a positive customer experience. This individual is also responsible for leading a team of operators providing professional and accurate responses...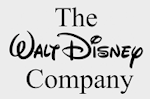 Senior Manager, Asset Protection
Orlando, FL - posted May 13
You will lead and manage NA processes and programs to protect company assets, people and brand. Our mission for this role is to provide an operational focus on workplace and physical security programs, profit protection and investigations. You will report to the Consumer Products, Games and Publishing Executive Director, Global AP and Safety...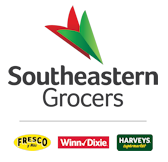 Region Asset Protection Manager–Southwest Florida
Fort Myers, FL - posted May 12
Responsible for managing asset protection programs designed to minimize shrink, associate and customer liability accidents, bad check and cash loss, and safety incidents for stores within assigned region. This position will develop the framework for the groups' response to critical incidents, investigative needs, safety concerns and regulatory agency visits...



Loss Prevention Specialists (Store Detective)
Albany, NY; Hyannis, MA; Burlington, VT; Hartford, CT
- posted May 6
Detect and respond to external theft and fraud by working undercover within the store(s) you are assigned to. Working as a team with store management and associates in combating loss in the store(s). Developing and analyzing external theft trends, utilizing information in company reports and information gathered from store management and associates...

Retail Asset Protection Associate
Medford, MA; Brockton, MA; East Springfield, MA
- posted May 6
The Asset Protection Greeter role is responsible for greeting all customers as they enter the store, ensuring that customers see the Company's commitment to provide a safe and secure shopping environment, as well as deterring theft, shoplifting, or other dishonest activities...



Loss Prevention Supply Chain Manager
Fresno, CA - posted April 25
The Loss Prevention Manager, Supply Chain (LPMSC) drives shrink improvement and profit protection activities for an assigned distribution center (DC), its in-bound and outbound shipping networks and its third party pooling centers...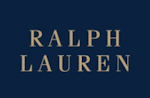 Asset Protection Lead (Regional), Atlanta/Carolinas
Atlanta/Charlotte - posted April 22
Responsible for the protection of company assets and mitigation of risk. Effectively communicates, trains, implements, and monitors all aspects of Asset Protection programs in assigned markets. These programs include Tier Shrink Reduction Strategy, training and awareness, store audits, investigative initiatives, profit protection, health and safety and budgetary compliance...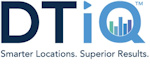 Regional Loss Prevention Auditor
Multiple Locations - posted April 20
The Regional Loss Prevention Auditor (RLPA) is responsible for conducting operational audits and facilitating training meetings in our clients' locations. The audit examines operational controls, loss prevention best practices, and customer service-related opportunities...



Business Manager
Dallas/Fort Worth Area, TX - posted April 6
Sapphire Risk Advisory Group is seeking a Business Manager to work in the company's Dallas-area office in a W2 position and will closely partner with other members of the team to manage projects and communicate with contractors, vendors, and clients...
---

Featured Jobs

---

---

Being a mentor can be an extremely worthwhile experience and sometimes the mentee brings mentoring to the relationship as well because we all learn from each other no matter what role we play. And while you may be reluctant or just feel time-strapped, try giving it a chance even for a short time and see what happens. As the old expression goes, one person can make a difference and you could help a fellow LP executive grow beyond their own expectations and, in having helped the number of people we've helped in our mere search role, I for one can say there is no better feeling in the world than helping someone reach beyond! That's what has actually kept me doing what I do for all these years!


Just a Thought,
Gus



(content subject to approval)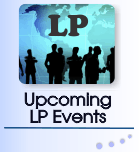 ---

Recruiting?
Get your job e-mailed to everyone... everyday
Post on our Featured Jobs Board!
Not getting the Daily?
Is it ending up in your spam folder?
Please make sure to add d-ddaily@downing-downing.com to your contact list, address book, trusted sender list, and/or company whitelist to ensure you receive our newsletter.
Want to know how? Read Here



36615 Vine Street, Suite 103
Willoughby, OH 44094
440.942.0671
copyright 2009-2019
all rights reserved globally