---

Industry Leader Alisa Dart, GVP AP for Albertsons Companies, to be Honored
at NRF Protect

The National Retail Federation will honor two veteran loss prevention professionals for their outstanding contributions to combat retail crime on June 23 during the annual NRF PROTECT conference in Cleveland.

The Ring of Excellence Award is reserved for distinguished professionals who have shaped the loss prevention industry through their leadership and innovations. One of this year's recipients is Alisa Dart, group vice president for asset protection for Albertsons Companies.

Dart has been in the asset protection field for more than 25 years. She oversees asset protection functions for more than 2,200 Albertsons Companies stores across 34 states and is a leader in defining standards and analytic functions to identify and reduce shrink. She has also held the positions of director of store loss at Nordstrom and national vice president of operations and asset protection at Macy's Inc.

Dart highly values diversity and inclusion and has leveraged that sense of purpose to attract new talent to the industry. She has been credited with paving the way for other female leaders in the field and has mentored hundreds of asset protection pr

ofessionals, many of whom now serve in executive positions.

Retail security executives from across the country are expected to attend NRF PROTECT at Cleveland's Huntington Convention Center June 21-23 for three days of content with 29 sessions, more than 100 speakers and 200 exhibitors. nrf.com

---

Flashback to Alisa Dart's Appearance at 'Live in DC' at NRF Protect 2017

Developing High Performance Teams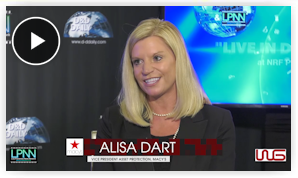 "Good People, Good Everything"

With all the changes the retail world is facing, there's one aspect of the industry, every organization and every team that's never changed and will never change. And that is the people - the human beings on your team who will determine your success or your failure.

Hear Alisa Dart's perspective and experience when it comes to developing high performance teams.
---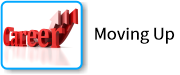 ---

Tammy Richards (Cunningham), CFI named Loss Prevention Director - East Division for Ulta Beauty


Before being named Loss Prevention Director - East Division for Ulta Beauty, Tammy served as Senior Manager of Asset Protection for Bath & Body Works and Area Asset Protection Manager for L Brands. Prior to that, she served as Regional Loss Prevention Manager with Limited Brands for two years. Earlier in her career, she held AP/LP roles with Polo Ralph Lauren, Gap Inc., and Macy's. Congratulations, Tammy!

Scott King named Director of Security for Titan Security Group


Before being named Director of Security for Titan Security Group, Scott served as Regional Loss Prevention & Safety Director for The Bon-Ton Stores for 12 years in the Greater Chicago region. Prior to that, he spent more than six years with Saks as Corporate Investigator. Overall, he has nearly two decades of LP and Safety leadership experience at the corporate level and multi-unit experience. Congratulations, Scott!

See All the Executives 'Moving Up' Here

Submit Your New Corporate Hires/Promotions or New Position

---

---

Solink® Announces Integration with Hanwha to Advance AI Technology of Security Cameras
Collaboration Helps Customers Increase the Value Provided by their Security Cameras While Offering Integration with POS to Streamline Business Metrics



OTTAWA, June 20, 2022 – Solink, a modern, cloud-based video security company for businesses, today announced that Solink is now integrated with Hanwha cameras and all edge-based AI Video Analytics (IVA) including AI video analytics. This integration enables Solink to capture any Hanwha IVA data and turn it into a searchable and reportable Event within the Solink platform, augmenting the standard Hanwha offering. This integration will offer customers a single view of their business by providing video details aligned with foot traffic and transaction data in real-time.

Solink provides a complete video security solution to commercial retailers, restaurants and other businesses, allowing owners and operators to easily manage security in their business. Through this integration with Hanwha, Solink allows users of Hanwha cameras to go beyond simply seeing numbers of visitors in a location. This gives customers the ability to track a business's foot traffic and pair that with transaction data from the POS to measure and track conversion rates (ie. per hour, per day), which is ideal for any business with a retail footprint.

Read more here

---

Summer 2022 Weekend Shooting Analysis
America's Crime & Violence Surge Continues

Most Deadly Weekend of Big City Shootings Since Memorial Day Weekend

438 Shootings - 155 killed - 460 Injured in 15 Big Cities Over Last 4 Weekends
The D&D Daily's Big City Weekend Violence Study - Memorial Day to Labor Day

The Daily's study analyzes weekend shooting data in 15 major U.S. cities from Memorial Day Weekend through Labor Day Weekend 2022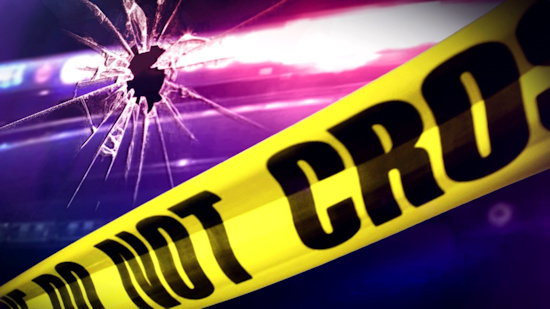 Starting Memorial Day Weekend, the D&D Daily began compiling and analyzing data from 15 major U.S. cities to get a snapshot of summer gun violence.

This past weekend, from June 17th through June 19th, there were 101 shootings recorded in these same cities, resulting in 34 deaths and 94 injuries.

The chart below shows the totals for each of the past four weekends dating back to Memorial Day weekend.

The D&D Daily will continue to track this data throughout the summer to capture the weekend violence trend in our nation's big cities as warm weather typically brings about more crime and violence.

Click here to see the list of incidents per city and follow along each week as this spreadsheet will be updated every Monday. docs.google.com

Read more coverage about America's crime & gun violence epidemic in the section below

---

The U.S. Crime Surge
The Retail Impact

NYC's Plan to Target Repeat Shoplifters & Smash-and-Grab Robbers
Manhattan DA Bragg to fight shoplifting surge by going after repeat offenders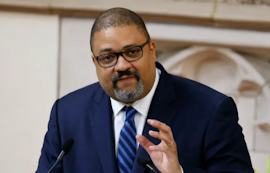 Manhattan District Attorney Alvin Bragg is rolling out a plan to cut shoplifting and smash-and-go robberies, the president of a top business group said Sunday.

The Manhattan District Attorney's Office — which has faced blowback over Bragg's progressive prosecution policies — will now focus on targeting repeat offenders, Kathy Wylde, president of Partnership for New York City, said on Cats Roundtable on WABC 770 AM.

"They're going to be focusing on a much closer working relationship with the NYPD to aggressively identify those folks who have high rates of recidivism," she continued, "you know, it's a relatively small number of relatively well-organized people who are committing most of these robberies that have so much increased in the recent years."

Partnership for NYC — a non-profit that reps more than 300 business leaders — has worked with Bragg and small business owners on a plan to combat shoplifting since January, Wylde said. The DA's office has previously come under fire for not requesting bail for some repeat shoplifting suspects.

Part of Bragg's plan includes "focused deterrence," Wylde said, explaining that pre-trial detention will be requested for accused thieves who have prior felony convictions, multiple open cases and a history of skipping out on court dates.

With the help of retailers, Wylde said Bragg's prosecutors will also work to aggregate numerous misdemeanors charges to become a felony. She called on merchants to keep records, with the help of security cameras, to keep track of offenders and how much they are swiping.

When asked if someone like a serial shoplifter who has been arrested more than 100 times would be locked up, Wylde replied, "That's right." "Now, if the store keeper is able to keep the records and have the camera shots, [the district attorney] will be able to aggregate repeat offenses," Wylde explained.

Manhattan prosecutors are also targeting fencing operations, Wylde said, noting one case pursued by the New York Attorney General's Office where a 47th Street pawn shop owner raked in stolen good purchased for pennies on a dollar and then resold at a higher price. nypost.com

Mass Murderers Targeting More Grocery Stores
Lessons From Buffalo Grocery Store Mass Shooting

The time for grocers to prepare for the next catastrophe is now

Before 2017, there was just one mass shooting at a grocery store in the United States, according to The Violence Project, a nonpartisan research center, and CNN. That was in 1999, when a man randomly killed four people at a Las Vegas Albertsons store.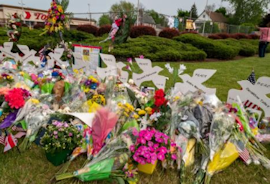 In the last three years, however, shooters have killed five people at a kosher market in Jersey City, N.J.; two people at a Publix in Palm Beach, Fla.; 23 people at a Walmart in El Paso, Texas; 10 people at a King Soopers in Boulder, Colo.; and now 10 people at a Tops market in Buffalo.

While the motivations for these shootings may have been different, the locations depict an undeniable new trend: Mass murderers are increasingly targeting grocery stores. If we're to learn any lesson from Buffalo, it's that this won't be the last time one of our most beloved American institutions, the neighborhood supermarket, is attacked.

Seeking 'a Safe Way Forward'

While it would be impossible to predict or stop every grocery store shooting, food retailers should do more to protect customers and employees, both physically and emotionally. The National Grocers Association (NGA) and the National Retail Federation (NRF) both publish excellent guides on active-shooter preparedness.

After the Buffalo shooting, Leslie Sarasin, CEO of FMI – The Food Industry Association, wrote in a blog post that the grocery industry "must work together to find new solutions and strategies to help mitigate growing levels of violence in our facilities and empower our employees with the tools they need to respond when necessary."

Nobody knows when the next disaster will happen, but grocers can be better prepared to protect employees both physically and psychologically to meet any crisis and come through it stronger as an organization. The time to act is now, before the next catastrophe occurs. progressivegrocer.com

Florida's New Retail Theft Law
Attorney General Moody's Priority Legislation Combating Organized Retail Theft Signed by Governor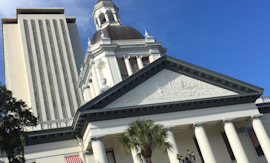 Attorney General Ashley Moody is thanking Gov. Ron DeSantis for signing priority legislation to help Florida prosecutors dismantle organized retail theft rings. During the 2022 Florida Legislative Session, Attorney General Moody worked with lawmakers to pass Senate Bill 1534 to provide more tools to prosecute members of organized retail theft rings. Prior to the start of session, retail theft escalated dramatically in large cities outside of Florida—with major incidents occurring during the holiday shopping season in locations like Los Angeles and San Francisco.

Attorney General Ashley Moody said, "We continue to be proactive in making sure organized retail theft rings do not have a free pass to pillage retailers in Florida. While prosecutors in other states may turn a blind eye to these massive retail crimes, in Florida we enforce the law to protect our citizens and visitors. This new law will help us continue this important work and enhance public safety. I want to thank Gov. DeSantis and state lawmakers who fought for this important legislation to help us build a Stronger, Safer Florida."

Florida Retail Federation President and CEO Scott Shalley said, "Under the leadership of Attorney General Moody, Florida continues to lead the nation in the fight against organized retail crime. We thank Governor DeSantis and the Legislature for supporting and protecting Florida retailers."

The new law, that takes effect Oct. 1, creates second-degree and third-degree felony retail theft crimes based on multiple retail thefts occurring in a limited time period in different merchant locations. Under the new law, someone who steals 20 or more items, through five or more separate thefts within a certain period, can be charged with a second-degree felony. A person who steals 10 or more items, through at least five thefts within a certain period, can be charged with a third-degree felony.

In December 2021, Attorney General Moody launched the Florida Organized Retail Crime Exchange—a statewide task force and database to help spot trends, identify suspects and take down massive, organized retail theft rings. It also bridges the gap between law enforcement, prosecutors and retailers to work together and share information on theft incidents statewide. For more information on FORCE, click here. einnews.com

9 Mass Shootings This Weekend Alone
At least 6 dead, 42 injured in weekend mass shootings across US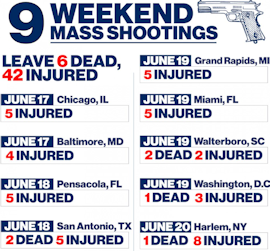 A family barbecue, a park gathering and a nightclub were among the settings for at least nine mass shootings that broke out across the country between Friday and early Monday, marking the fourth consecutive weekend U.S. law enforcement officers have responded to multiple incidents, each involving four or more victims shot.

The shootings this weekend have left at least six people dead and 42 injured in nine cities, according to the Gun Violence Archive, a site that tracks shootings across the country. The website defines a mass shooting as a single incident involving four or more victims, which differs from the FBI's definition as a single incident in which four or more people, not including the suspect, are killed.

The string of consecutive weekend mass-casualty incidents began over the Memorial Day holiday, when at least 17 shootings left a total of 13 dead and 79 injured in cities across the country. The three-day holiday was followed by a weekend that saw at least 11 mass-casualty shootings that left 17 dead and 62 injured across the nation.

Last weekend, at least 10 mass-casualty shootings nationwide killed 10 people and injured 42. abcnews.go.com

Summer of Record-Breaking Violence Coming?
Five major US cities already on track to break their 2021 homicide totals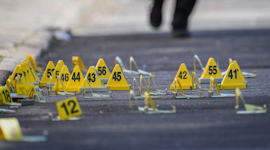 Five major US cities are already on track to break their steep 2021 homicide figures — suggesting a particularly violent summer ahead.

This year's homicide numbers for Los Angeles, Washington DC, Baltimore, Milwaukee and Atlanta have all surpassed the rates reached at the same time in 2021, according to the data, first reported by Fox News.

Milwaukee has been the city with the largest spike, recording 96 homicides as of June 17 — a 25% increase compared to its 77 figure recorded this time last year. In Washington DC, there have already been 93 homicides compared to the 82 in its first six months of 2021, or a 13% jump.

Atlanta's rate has increased more than 13% compared to last year, too, with 68 homicides across the city as of June 11 compared to 60 for the same period in 2021.

Meanwhile, Baltimore has experienced a nearly 8% increase, or a jump from 142 incidents for the period last year to 153 so far in 2022. And Los Angeles has had a 7% spike, with 151 incidents in the same time frame last year and 162 homicides so far in 2022.

The latest figures follow a spate of deadly violence across the country over the weekend, including multiple shooting slayings. nypost.com

2 killed, 5 injured in drive-by shooting at family barbecue in San Antonio

At least 1 killed, 8 injured in shooting on Harlem street
---

COVID Update

592.2M Vaccinations Given
US: 88M Cases - 1M Dead - 83.9M Recovered
Worldwide: 544.9M Cases - 6.3M Dead - 520.3M Recovered


Former Senior Loss Prevention Executive
Know of any fallen LP exec? Let's remember & recognize.
Private Industry Security Guard Deaths: 359 Law Enforcement Officer Deaths: 784
*Red indicates change in total deaths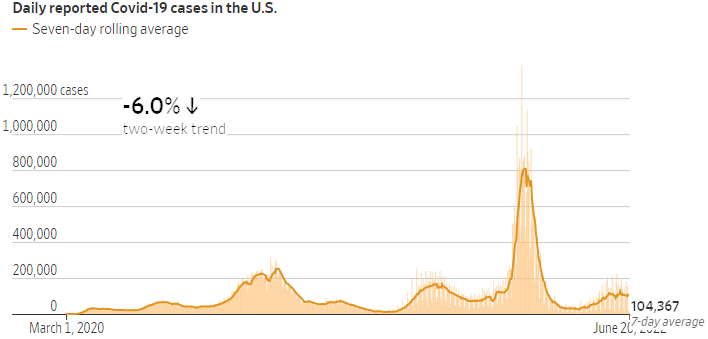 Has America Turned the Page on COVID - Finally?
Covid Cases Surge, but Deaths Stay Near Lows

Most Americans now carry some immune protection, experts said, whether from vaccines, infection or both.

For two years, the coronavirus killed Americans on a brutal, predictable schedule: A few weeks after infections climbed so did deaths, cutting an unforgiving path across the country. But that pattern appears to have changed. Nearly three months since an ultra-contagious set of new Omicron variants launched a springtime resurgence of cases, people are nonetheless dying from Covid at a rate close to the lowest of the pandemic.

The spread of the virus and the number of deaths in its wake, two measures that were once yoked together, have diverged more than ever before, epidemiologists said. Deaths have ticked up slowly in the northeastern United States, where the latest wave began, and are likely to do the same nationally as the surge pushes across the South and West. But the country remains better fortified against Covid deaths than earlier in the pandemic, scientists said.

Because so many Americans have now been vaccinated or infected or both, they said, the number of people whose immune systems are entirely unprepared for the virus has significantly dwindled. nytimes.com

COVID's Permanent Impact on the Workplace
Some COVID-inspired workplace shifts to be permanent
Workplace shifts that already were in progress got turbocharged under the pandemic, forcing employers to re-examine their workspaces and how they best can serve employees. Stakeholders and employees now have a greater voice, are resisting returning to the office full-time and have begun seeking more incentive and purpose in their work, said Daniel Olberding, associate vice president at CannonDesign, during remarks at George Mason University's Arlington campus.

As a result, companies have had to accelerate their timeline for cultural change and embrace the future of work, he said. "People are brushing up their résumés," Olberding said. "Expectations are really high. The emphasis is on equity."

"At the core were equity and flexibility," he said, adding that now only the organization's chief executive officer and chief financial officer will have dedicated space. Instead of a one-size-fits-all approach, employers must continually evolve, said Olberding. sungazette.news

CDC recommends COVID vaccines for children 5 years old and younger
---

Retail's Global Facial Recognition Expansion
Biometrics deployments for retail & hospitality increasing globally
Businesses across Australia, South and North America, and Asia are in the spotlight for their efforts to encourage the adoption of biometric technologies for a wide range of retail and hospitality applications, from loss-prevention to menu customization.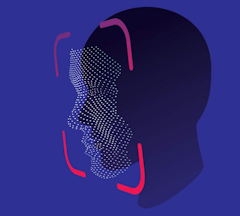 Éxito to implement facial recognition in Colombian stores

Colombian retail group Éxito will deploy facial recognition technologies to enable buyers to pay using biometric authentication. The announcement was made by the company's president Carlos Mario Giraldo at the Tech Day event in Bogotá.

Giraldo said the company's upcoming steps, which heavily involve facial recognition, will require investments of roughly 150,000 million Colombian pesos (roughly US$37.45 million). The so-called 'Smile ID' project, currently being tested in the country, will be reportedly extended to other brands this year.

Raydiant's facial analysis technology can 'predict' food preferences

The company, which raised $30 million in a Series B funding round in February, says its mission is to modernize the brick-and-mortar tool stack so that "brands can thrive in our new experience-driven world." Raydiant's technology is the fruit of a partnership with Sightcorp and uses cameras and artificial intelligence (AI) to analyze people's faces and suggest food preferences based on age, gender, attention, and even mood.

Taisho Pharmaceutical deploys facial recognition vending machine in Tokyo

The machine has a built-in facial recognition system designed to prevent users from bulk buying medicine, and pharmacists stationed inside the drugstore nearby will be notified through a device when a customer selects nonprescription medicine via the vending machine. Taisho said it will use the trial to assess issues arising during testing in the hope of installing the vending machines in regions that do not have many drugstores. biometricupdate.com

Recession Fears Hitting All Industries
Inflation and recession fears are squeezing some industries more than others

Shoppers are feeling the pressure as inflation pushes up prices for gas, groceries and a range of other goods and services.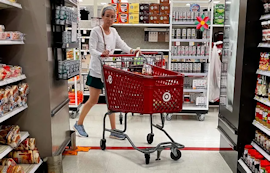 People still appear willing to shell out to travel, go to the movies and have a drink or two, even as surging prices and fears of a recession have them pulling back in other areas.

How people spend their money is shifting as the economy slows and inflation pushes prices higher everywhere including gas stations, grocery stores and luxury retail shops. Other industries have long been considered recession proof and may even be enjoying a bump as people start going out again after hunkering down during the pandemic.

People's desire to get out and socialize again is also boosting products like lipstick and high heels that were put away during the pandemic. That recently helped sales at retailers including Macy's and Ulta Beauty, which last month boosted their full-year profit forecasts.

Luxury brands such as Chanel and Gucci are also proving to be more resilient, with wealthier Americans not as affected by climbing prices in recent months. Their challenges have been more concentrated in China of late, where pandemic restrictions persist.

But the fear is that this dynamic could change quickly, and these retailers' short-term gains could evaporate. More than eight in 10 U.S consumers are planning to make changes to pull back on their spending in the next three to six months, according to a survey from NPD Group, a consumer research firm. cnbc.com

First Unionized Apple Store
Apple workers in Maryland vote for company's first unionized store in U.S.

The tally was 65 votes in favor and 33 opposed out of approximately 110 eligible employees.

Employees at an Apple store in Towson, Maryland voted Saturday to join a union, a significant achievement for organized labor. The Towson store is the first unionized Apple store in the U.S.

The vote is a defeat for Apple, which has opposed unionization efforts, and could energize workers at the company's other retail locations to move forward with organizing.

The tally was 65 votes in favor and 33 opposed. Approximately 110 employees were eligible to vote to join the International Association of Machinists and Aerospace Workers. Voting started on Wednesday and ran through Saturday evening.

The National Labor Relations Board still needs to certify the votes. That could take around a week. Apple is required to bargain with the union over working conditions after the vote is certified, according to the NLRB. cnbc.com

Group of Trader Joe's Workers Seeks to Unionize
In a first for that retailer, Trader's Joe's is facing an organized labor push. Workers at a Trader Joe's store in Hadley, Mass., recently filed a union petition, according to media reports.

Lego to open first US factory in Virginia - 1,700+ jobs

Starbucks' North American head to leave the company as chain shakes up leadership

---

Senior LP & AP Jobs Market
VP Loss Prevention job posted for The Exchange in Texas


Oversees investigations involving incidents of pilferage, fraud, waste, abuse, misconduct, accidents and other issues involving senior executives. Develops strategic direction of LP programs. Directs the implementation of program modifications and procedures to increase effectiveness. Promotes/supports OSHA, environmental and LP programs. Builds and develops a high performance organization. sjobs.brassring.com

Director - Field AP & Risk Management job posted for REI in Seattle, WA


The Director, Asset Protection & Risk Management Field Operations is responsible for the leadership, oversight and execution within REI Stores and Experiences (adventure travel) to protect the co-op's people, product and profitability. This role collaborates with leaders in their own and other divisions to drive operational execution, continuous improvement, education and creation/modification of asset protection & risk management field operations best practices. rei.jobs

---

Last week's #1 article --

Retailers Among 12 Most Dangerous Companies
The 12 Most Dangerous Companies of 2022: Amazon, Dollar General & Starbucks Make List of Most Dangerous Companies of 2022

National COSH is back with an all-new list of companies for its annual compilation of the Dirty Dozen.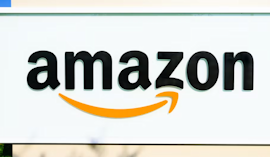 After shelving its annual compilation of the country's "Dirty Dozen" employers last year during the pandemic, the National Council for Occupational Safety and Health (National COSH) is back with an all-new list of companies who, according to National COSH, "put workers, families and communities at risk." Actually, the list isn't quite all-new, as Amazon has now appeared on it three times.

"The Dirty Dozen are companies that needlessly expose workers to preventable hazards, leading to preventable illnesses, injuries and fatalities," explains Jessica Martinez, co-executive director of National COSH. ehstoday.com
---

---
Inaugural Emerging Technology Showcase to Provide New Solutions that Reduce Cyber Threats in the Retail & Hospitality Industry
The RH-ISAC event will take place on June 29-30 in a virtual format and is open to cybersecurity professionals working in the consumer-facing sector.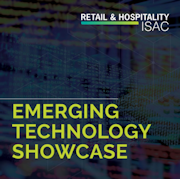 The Retail & Hospitality Information Sharing and Analysis Center (RH-ISAC) will host an Emerging Technology Showcase on June 29-30. The event will highlight cutting-edge cybersecurity technologies and demonstrate how these solutions can mitigate cyber threats in the consumer-facing sector.

"The Emerging Technology Showcase aims to help companies strengthen their security posture through the use of new technologies," said Suzie Squier, president of the RH-ISAC. "Each tech company showcased has been recommended by RH-ISAC members and vetted by the Emerging Technology Working Group."

The Emerging Technology Showcase is tailored for strategic leaders and cybersecurity practitioners from physical and online retailers, gaming properties, grocers, hotels, restaurants, consumer product manufacturers, or any company that handles consumer data.

To learn more about the event or to register, visit rhisac.org/emergingtechshowcase

---

Ex-Amazon employee convicted over 2019 Capital One hack of 100M People
Former Seattle tech worker convicted of wire fraud and computer intrusions


A 36-year-old former Seattle tech worker was convicted today in U.S. District Court in Seattle of seven federal crimes connected to her scheme to hack into cloud computer data storage accounts and steal data and computer power for her own benefit, announced U.S. Attorney Nick Brown. Paige A. Thompson a/k/a 'erratic,' was arrested in July 2019, after Capital One alerted the FBI to Thompson's hacking activity.

"Ms. Thompson used her hacking skills to steal the personal information of more than 100 million people, and hijacked computer servers to mine cryptocurrency," said U.S. Attorney Nick Brown. "Far from being an ethical hacker trying to help companies with their computer security, she exploited mistakes to steal valuable data and sought to enrich herself."

Thompson was found guilty of Wire fraud, five counts of unauthorized access to a protected computer and damaging a protected computer. The jury found her not guilty of access device fraud and aggravated identity theft.

Using Thompson's own words in texts and online chats, prosecutors showed how Thompson used a tool she built to scan Amazon Web Services accounts to look for misconfigured accounts. She then used those misconfigured accounts to hack in and download the data of more than 30 entities, including Capital One bank. With some of her illegal access, she planted cryptocurrency mining software on new servers with the income from the mining going to her online wallet. Thompson spent hundreds of hours advancing her scheme, and bragged about her illegal conduct to others via text or online forums.

The intrusion to Capital One accounts impacted more than 100 million U.S. Customers. The company was fined $80 million and settled customer lawsuits for $190 million.

Wire fraud is punishable by up to 20 years in prison. Illegally accessing a protected computer and damaging a protected computer are punishable by up to five years in prison. The ultimate sentence is up to Judge Lasnik who will consider the sentencing guidelines and other statutory factors. justice.gov

Another FBI-DOJ Cybercrime Takedown
DOJ, international law enforcement disrupt massive RSOCKS botnet
An international operation involving the U.S. Department of Justice alongside law enforcement officials in Germany, the Netherlands and the United Kingdom took down a Russian botnet made up of millions of hacked internet-connected devices, the DOJ said in a statement Thursday.

Federal prosecutors in the Southern District of California said operators of a botnet known as "RSOCKS" leased access to tens of thousands of compromised internet-connected devices at at time to carry out a variety of malicious actions.


A botnet — a group of compromised internet-connected devices that can be controlled as a group — can be used toward a variety of malicious ends such as to flood targets with traffic, send spam email or engage in credential stuffing at scale, where attackers use stolen username/password combinations to gain access to user accounts with automated login attempts.

It's the second known international operation to take down a botnet this month alone. Botnets, however, can prove difficult to put down for good, and sometimes bounce back from such operations. According to the unsealed search warrant in the case, the FBI have been investigating RSOCKS dating back to late 2016. The agency's investigators used undercover purchases to obtain access to the botnet to identify backend infrastructure and victims.

FBI investigators learned that RSOCKS customers were routed through a Florida-based hosting company — The Constant Company, or "Vultr" — to access the botnet's services. Agents also identified multiple victims in San Diego whose devices had been compromised and used as part of the botnet, including an unnamed university, hotel, television studio, an electronics manufacturer, home businesses and individuals, according to the warrant.

FBI investigators were able to replace compromised devices with government-controlled computers "and all three were subsequently compromised by known RSOCKS [command and control] server IP addresses," the warrant reads.

"In September 2020, FBI Director Christopher Wray announced the FBI's new strategy for countering cyber threats," the DOJ statement read. "The strategy focuses on imposing risk and consequences on cyber adversaries through the FBI's unique authorities, world-class capabilities, and enduring partnerships." cyberscoop.com

Devices Used to Store Surveillance Footage Targeted
DeadBolt Ransomware Actively Targets QNAP NAS Devices — Again

The QNAP network-connected devices, used to store video surveillance footage, are a juicy target for attackers, experts warn.

QNAP network-attached storage (NAS) devices running out-of-date software are under snowballing numbers of active attacks in a new DeadBolt ransomware campaign, an advisory has warned.

The company is investigating the situation, but meanwhile, QNAP recommends updating its QTS and QuTS hero to the latest versions as soon as possible. This is the second spate of attacks in the past few weeks.

QNAP NAS devices are used to store video surveillance footage and the data. In the hands of ransomware threat actors, the data could be used to extort any number of organizations and individuals, experts warned.

"Ransomware is starting to shift towards data theft, as the cybercriminals can gain from both being paid the ransom as well as sale of the data," Bud Broomhead, CEO of Viakoo, told Dark Reading in reaction to the campaign. "Threats against NAS devices will increase along with the shift to extending ransomware into data theft."

Besides the potential data bonanza stored inside, Broomhead added that NAS devices are soft targets for cybercriminals because they're often not set up properly or protected by a firewall. They're also often not managed by IT teams, meaning there isn't a robust security patching or monitoring strategy in place to protect them from attack, he said. darkreading.com

Former Facebook security chief moving startup from San Francisco to Austin
Former Facebook chief security officer whose resume includes stops at FBI computer forensics, the NSA and U.S. Cyber Command is moving is going remote with his cybersecurity startup.

The future is passwordless. What's slowing it down?

WordPress Plug-in Ninja Forms Issues Update for Critical Bug

---

Pull up websites faster!
When typing in the address bar, you can use CTRL+Enter to automatically wrap the text you wrote with "www." and ".com". For example, if you wrote controltekusa in the address bar, pressing CTRL-Enter will automatically bring you to www.controltekusa.com.
---

---

Fraud Isn't Keeping Online Shoppers Away
Consumers Are Increasing Their Digital Activity Despite Rising Fraud Concerns

New research finds that consumers trust known brands who protect them online

Digital financial transactions have become commonplace in recent years, growing a number of savvy consumers with a heightened awareness of fraud and the role recognition and security tools play in protecting them. Insights from Experian's annual Global Identity & Fraud Report found that more than half of consumers surveyed globally have been a victim of fraud or know someone who has – where identity theft has surpassed credit card theft as their biggest security worry. Despite these concerns, most consumer respondents say their online activity will increase in the next three months.

"Criminals persistently seek the path of least resistance and to combat that, organizations must be equally aggressive in leveraging data as a defence, prioritizing investments in fraud detection and prevention, and proving to customers that their security is paramount," said Eric Haller, EVP/GM Global Identity & Fraud at Experian.

Consumers globally value security in their online experience above other factors. Interviews conducted with participants revealed that for many people, balancing the need for security with the convenience of online transactions comes down to which companies they trust. Payment system providers, credit card companies, tech providers, and streaming services are the businesses most trusted by consumers to address online security issues.

Consumers also said that regardless of company size, if a brand consistently provides positive digital experiences, they will trust that the organization is protecting their data. Fifty-seven percent of consumers report that they are willing to share data if it ensures greater security or prevents fraud, with consumers expecting protection from companies in return.

Nearly 75 percent of consumers expect businesses to take the necessary security steps to protect them online. This isn't a surprise to businesses, a majority of which expect consumers to cite security as a top priority. Yet, regardless of business investment, 70 percent of businesses say preventing fraud is their top concern – the highest that figure has ever been. businesswire.com
Amazon Latest Crisis Isn't Union-Related
Leaked Amazon memo warns the company is running out of people to hire

Unions might not be the tech giant's biggest labor threat.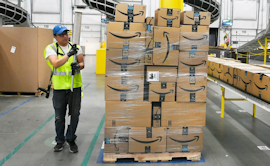 Amazon is facing a looming crisis: It could run out of people to hire in its US warehouses by 2024, according to leaked Amazon internal research from mid-2021 that Recode reviewed. If that happens, the online retailer's service quality and growth plans could be at risk, and its e-commerce dominance along with it.

Raising wages and increasing warehouse automation are two of the six "levers" Amazon could pull to delay this labor crisis by a few years, but only a series of sweeping changes to how the company does business and manages its employees will significantly alter the timeline, Amazon staff predicted.

"If we continue business as usual, Amazon will deplete the available labor supply in the US network by 2024," the research, which hasn't previously been reported, says.

The report warned that Amazon's labor crisis was especially imminent in a few locales, with internal models showing that the company was expected to exhaust its entire available labor pool in the Phoenix, Arizona, metro area by the end of 2021, and in the Inland Empire region of California, roughly 60 miles east of Los Angeles, by the end of 2022. Amazon's internal report calculated the available pool of workers based on characteristics like income levels and a household's proximity to current or planned Amazon facilities; the pool does not include the entire US adult population. vox.com

Worker partially crushed by forklift at Amazon Fulfillment Center
---
Modesto, CA: Police Arrest Suspects After Gun Store Break-In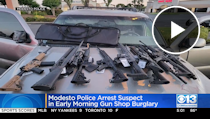 Early Sunday morning Modesto police arrested one or more persons for breaking into a gun store, said the Modesto Police Department. Around 4:34 a.m. police were called to the store Turner's Outdoorsman located on Parkway Plaza for reports of a break-in. When officers arrived they immediately located the suspects leaving the area in a vehicle. A traffic stop was initiated and the suspects were arrested after colliding with a police vehicle. No one was injured during the incident. Multiple firearms and hundreds of rounds of ammunition belonging to Turner's Outdoorsman were recovered. sacramento.cbslocal.com

Memphis, TN: Update: Police make arrests in $30k smash and grab, other business thefts
Workers at a Summer Avenue clothing store targeted by thieves three times over the last month are relieved police have made an arrest. It's one of three business theft cases Memphis police have cracked in recent weeks. Gerald Johnson, 34, is charged with burglary of a building and theft of property in a break-in on May 18 at New Trends. The store manager didn't want to be identified but said the thieves got away with boxes of shoes. This week, police also made an arrest in a smash and grab at the Wolfchase mall in late April. Investigators said Quintaurus Harris, 33, was part of a group caught on camera smashing several display cases at the JC Penney store and stealing $30,000 worth of jewelry. wate.com

Walnut Creek, CA: Smash-and-Grab Suspects Steal From Jewelry Cases at Walnut Creek Macy's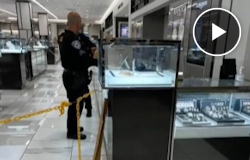 Hammer-wielding looters smashed jewelry cases at Macy's in Walnut Creek during morning open hours, police said, terrifying shoppers and employees before fleeing with high-end watches. No one was injured during the robbery that began at 10:48 a.m. when three men in hooded sweatshirts and masks entered the Macy's at Broadway Plaza. They fled in an older model white Honda sedan, according to the Walnut Creek Police Department. nbcbayarea.com

Lincoln, NE: Plywood Thieves Arrested For Stealing Over 70 Sheets Worth Almost $3,000
Early Saturday morning, three men were arrested for stealing 74 sheets of plywood from a construction site, said the Lincoln Police Department. The three men were seen loading the stolen plywood into a white Ford pickup and a black Ford pickup with an attached trailer. When one of the vehicles attempted to flee, the officer alerted another officer who pulled them over In total, the three men stole 74 sheets of plywood for a total value of $2,960. sacramento.cbslocal.com

Pittsfield, MA: PhoneBros burglary of 15 pairs of shoes ($5000) and $3000 in cash

Suffolk County, NY: 2 men wanted for stealing over $3,000 in fragrances from Ulta

Sonora, CA: Valley Man Arrested For $1800 Sonora Lowe's Burglary

Hilo, HI: HPD Looking To Identify Hilo Theft Suspects, clothing totaling over $500, store employee injured
---

---

Shootings & Deaths
Poughkeepsie, NY: 1 Killed, 2 Wounded After Shooting at Grocery Store
A shooting at a Hudson Valley grocery killed one Dutchess County man and left two others wounded. On Saturday, June 18, City of Poughkeepsie 911 called the City of Poughkeepsie Police Department reporting a shooting at 386 Main Street in the City of Poughkeepsie. Casa Blanca Grocery is located at 386 Main Street in the City of Poughkeepsie, according to Google. Responded officers found a 27-year-old man from the City of Poughkeepsie who was shot multiple times, police say. He was transported to Mid Hudson Regional Hospital where he died of his wounds. Police have not released the man's name. A short time later, a second victim, a 31-year-old City of Poughkeepsie resident, arrived at a local hospital with a gunshot wound to his abdomen. The unnamed man underwent surgery and is expected to live, according to the City of Poughkeepsie Police Department. hudsonvalleypost.com

Hollywood, FL: Security guard charged after deadly shooting at a Broward Publix store


A Fort Lauderdale man turned himself in to Hollywood police eight days after, police say, he shot and killed a man at the Hollywood Circle Publix. Andre Grey, 44, gave up his freedom Saturday and sits in Broward County Jail on $100,000 bond, charged with manslaughter with a firearm. Hollywood police say Grey, a security guard at the Publix at 1740 Polk St., and a man he knew from elsewhere got into a fight at the store around 10:04 p.m. on June 10. The fight ended with the man shot and on his way to Memorial Regional Hospital, where he would die while Grey talked to Hollywood police. miamiherald.com

Des Moines, IA: Shooter fired in self-defense after violent assault at grocery store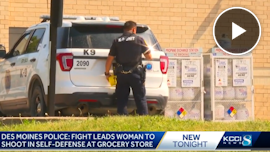 Des Moines police say a violent assault led to a shooting inside a Hy-Vee grocery store in Des Moines on Sunday morning. Police say the shots rang out around 10 a.m. inside the store at East 26th Street and East Euclid Avenue. Police say Kapri Lashawn Francis, 30, of Des Moines, violently assaulted a woman without provocation. The woman who was assaulted, who lawfully possessed a handgun, fired once in self defense. She shot Francis in the leg. Another male customer was shot in the foot by the bullet when it ricocheted. Police want to emphasize that the shooting was not an active shooter situation. It was a targeted incident that took place in a public space. "This was something spontaneous that unfortunately happened in that grocery store where a lot of people were grocery shopping this morning," said Sgt. Paul Parizek of the Des Moines Police Department. With the number of mass shootings making national headlines, authorities say they are on high alert. While no casualties came out of this shooting, it still warranted a massive police response. kcci.com

Nashville, TN: Patron and store clerk exchange gunfire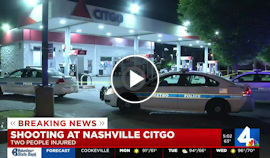 A store clerk is recovering Monday after an overnight shooting in downtown Nashville. Metro Police said around 1:15 a.m., a patron and store clerk exchanged gunfire at the Citgo Gas Station located at 5th and Main. Authorities said the person fired at the clerk after getting into an argument outside the store. Police believe there were at least a dozen shots fired between the two. Officials said the patron is in critical condition, whereas the store clerk is in stable condition. wsmv.com

Oklahoma City, OK: Oklahoma City Police searching for suspect in violent dispensary robbery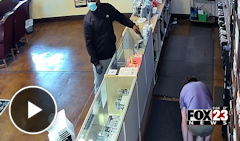 Police in Oklahoma City are searching for the suspect in a robbery where the thief opened fire at an employee of Big Buds Cannabis Company. A man in a cowboy hat, sunglasses and a medical mask threw duct tape at the assistant manger of the store. He then fired at the floor in front the employee. The employee was forced to tape up his own legs and gather money in the back. A customer, who entered the store mid-robbery, was forced to tape her own legs as well. She was also forced to fill a bag with marijuana products for the thief. Nobody was hurt, but the employee has been given time off after the incident. fox23.com

Shoplifting incident leads to gunfire twice into Indy convenience store
There's a convenience store on the south side of Indianapolis where signs and stickers cover up several bullet holes left in glass from a semi-automatic rifle fired by a man who was mad that he got caught shoplifting a bottle of water. That led to two incidents on two consecutive days earlier this month when bullets from a high-powered rifle shattered the store's windows and frames and cooler doors and even destroyed wiring inside the refrigerated unit. The 24-year-old man was arrested and charged on two counts of criminal recklessness but does not face a charge of not having a gun permit. fox59.com

Indianapolis, IN: 3 critically hurt after triple shooting at east side gas station

---

Robberies, Incidents & Thefts
Okaloosa County, FL: OCSO arrests two suspects that stole over $34K from Circle K, shot at deputies
The identity of the armed robbery suspect who reportedly stole money from the Circle K on Poinciana Boulevard and led multiple law enforcement agencies on a high-speed pursuit on Interstate 10 has been identified, along with a second suspect. Dallas Francis, 33, of Defuniak Springs, was shot twice while exchanging gunfire with police after reportedly robbing the Circle K and was taken to a local hospital for treatment before being booked into the Okaloosa County Jail. He was charged Saturday with fleeing and attempting to elude law enforcement, aggravated assault on a law enforcement officer and possession of a firearm by a convicted felon. The Circle K gas station clerk who was initially thought to be the victim of the robbery, Mary Yard, 30, of Defuniak Springs, was also arrested for her involvement in the crime. Yard lives at the same address as Francis and reportedly drove Francis during the pursuit as he shot at deputies and troopers following an attempted traffic stop. news.yahoo.com

Hartsville, SC: Employee unlocked door for man accused of robbing Taco Bell
A second person has been charged in connection with a New Year's Day robbery at a Taco Bell in the 900 block of South Fifth Street in Hartsville, according to police. Marshawn Nijiear Spruill, 21, was arrested on Wednesday and charged with accessory before the fact of a felony, according to police. Spruill allegedly knew Joseph McFadden — who was previously arrested in connection with the robbery — planned to rob the store and unlocked the door so he could get inside, police said. Both Spruill and McFadden were employees at the Taco Bell at the time. wbtw.com

Tooele, UT: Teens arrested for armed robbery, assault with knife at Walmart
Two teenagers were arrested Sunday for allegedly robbing a Walmart in Tooele with a knife, cutting a witness who intervened in the process. Police received reports of an armed robbery around 3:30 p.m. at the store, located at 1280 N. Main Street. Witnesses said two teenage boys were trying to steal beer but were confronted by a customer. While officers were on their way to the store, dispatchers told them that one of the teens pulled a knife and cut the customer who confronted them. The suspects then fled from the area on foot. fox13now.com

Lynnwood, WA: Burglary suspect gassed after barricading himself in Pawn Shop

Rutland, VT: Man Imprisoned Following Guilty Plea to String of Convenience Store Robberies

Portland, OR: Man sentenced to 17 years in prison for crime spree

Las Vegas, NV: California Man Sentenced To 10 Years In Prison For Committing Multiple Robberies Including Several While On Pretrial Release
● Beauty – New York, NY - Robbery
● C-Store – Austin, MN – Armed Robbery
● C-Store – Paducah, KY – Burglary
● C-Store – Vanceboro, NC – Burglary
● C-Store – Orange, TX – Robbery
● C-Store – Houston, TX – Armed Robbery
● Clothing – Pittsfield, MA – Burglary
● Dollar Tree – Ephrata, PA – Armed Robbery
● Family Dollar – Akron, OH – Armed Robbery
● Grocery – Augusta, ME - Robbery
● Grocery – Flora, MS - Burglary
● Guns – Modesto, CA – Burglary
● Hardware – Sonora, CA – Burglary
● Jewelry – Walnut Creek, CA – Robbery
● Jewelry - Charlotte, NC - Robbery
● Jewelry – Aurora, OH – Robbery
● Jewelry - Commerce, GA - Robbery
● Jewelry - Albany, NY - Burglary
● Jewelry - Canoga Park, CA – Robbery
● Jewelry - Newburgh, NY - Robbery
● Jewelry - Somerset, KY - Robbery
● Jewelry - Miami, FL - Robbery
● Jewelry - Collierville, TN - Robbery
● Jewelry – Kennewick, WA – Robbery
● Jewelry – Santa Rosa, CA – Robbery
● Marijuana – Oklahoma City, OK – Robbery
● Pawn – Lynnwood, WA – Burglary
● Pet – Cleveland, OH – Robbery
● Restaurant – Lexington, SC – Burglary
● Restaurant – Colorado Springs, CO – Burglary
● Walmart – Tooele, UT – Armed Robbery
Daily Totals:
• 21 robberies
• 10 burglaries
• 0 shootings
• 0 killed

---
| | |
| --- | --- |
| | Jason Cody, CFI named Senior Regional Asset Protection and Safety Specialist for Whole Foods Market |
| | Deb Brown, LPC, ACA named Multi-Site Loss Prevention Lead for Amazon |
Submit Your New Hires/Promotions
or New Position
See all the Industry Movement
---




Feature Your Job Here For 30 Days -
70% Aren't On The Boards
Post your job listing
---
Featured Job Spotlights
An Industry Obligation - Staffing
'Best in Class' Teams

Every one has a role to play in building an industry.
Filled your job? Any good candidates left over?
Help your colleagues – your industry - Build 'Best in Class' teams.

Refer the Best & Build the Best
Quality – Diversity – Industry Obligation

---

VP, Asset Protection & Retail Operations
Washington, D.C. - posted April 29
The candidate will oversee the development of innovative strategies, programs and solution which help retailers mitigate loss and reduce total retail risk; Direct oversight of the NRF Loss Prevention Council and Retail Operations Council...



National Account Sales Executive
Remote Opportunity - posted May 31
Interface is seeking a talented National Account Sales Executive to join our diverse, highly motivated sales team.  This individual will propose, advance the sales process, close and support the sale of our managed Access Control, Intrusion & Interactive Alarm monitoring portfolio, IP video products, and industry leading Business Intelligence solutions with a focus on the large, multi-site U.S. businesses and targeted verticals...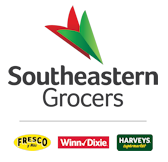 Region AP Manager (Florida - Treasure Coast Market)
Jacksonville, FL - posted June 17
Responsible for managing asset protection programs designed to minimize shrink, associate and customer liability accidents, bad check and cash loss, and safety incidents for stores within assigned region. This position will develop the framework for the groups' response to critical incidents, investigative needs, safety concerns and regulatory agency visits...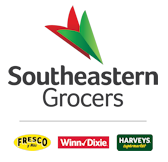 Regional Safety Manager – South Florida Region
Jacksonville, FL - posted June 17
This position will manage the safety program for an assigned group of stores that is designed to minimize associate and customer accidents. This includes reviewing and recommending loss control strategies, ensuring program conformance to applicable laws and regulations, preparing required reports, and monitoring and evaluating the program activities in stores...



Corporate Risk Manager
Seattle, WA / Tacoma, WA / Portland, OR - posted June 14
Summary of Role and Responsibilities: A proactive approach to preventing losses/injuries, whether to our employees, third parties, or customer's valuables. They include but are not limited to cash in transit, auto losses, or injuries....



Corporate Risk Manager
San Diego, CA / Los Angeles, CA / Ontario, CA
- posted June 10
Summary of Role and Responsibilities: A proactive approach to preventing losses/injuries, whether to our employees, third parties, or customer's valuables. They include but are not limited to cash in transit, auto losses, or injuries....



Corporate Risk Manager
Atlanta, GA / Birmingham, AL - posted June 10
Summary of Role and Responsibilities: A proactive approach to preventing losses/injuries, whether to our employees, third parties, or customer's valuables. They include but are not limited to cash in transit, auto losses, or injuries....



Physical Security Operations Center Leader
Columbia, MD - posted June 8
The primary purpose of this role is to partner, lead and manage a Central Station/Physical Security Operations Center driving operational execution and enhancements to ensure effectiveness and a positive customer experience. This individual is also responsible for leading a team of operators providing professional and accurate responses...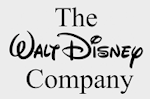 Senior Manager, Asset Protection
Orlando, FL - posted May 13
You will lead and manage NA processes and programs to protect company assets, people and brand. Our mission for this role is to provide an operational focus on workplace and physical security programs, profit protection and investigations. You will report to the Consumer Products, Games and Publishing Executive Director, Global AP and Safety...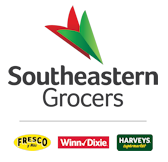 Region Asset Protection Manager–Southwest Florida
Fort Myers, FL - posted May 12
Responsible for managing asset protection programs designed to minimize shrink, associate and customer liability accidents, bad check and cash loss, and safety incidents for stores within assigned region. This position will develop the framework for the groups' response to critical incidents, investigative needs, safety concerns and regulatory agency visits...



Loss Prevention Specialists (Store Detective)
Albany, NY; Hyannis, MA; Burlington, VT; Hartford, CT
- posted May 6
Detect and respond to external theft and fraud by working undercover within the store(s) you are assigned to. Working as a team with store management and associates in combating loss in the store(s). Developing and analyzing external theft trends, utilizing information in company reports and information gathered from store management and associates...

Retail Asset Protection Associate
Medford, MA; Brockton, MA; East Springfield, MA
- posted May 6
The Asset Protection Greeter role is responsible for greeting all customers as they enter the store, ensuring that customers see the Company's commitment to provide a safe and secure shopping environment, as well as deterring theft, shoplifting, or other dishonest activities...



Loss Prevention Supply Chain Manager
Fresno, CA - posted April 25
The Loss Prevention Manager, Supply Chain (LPMSC) drives shrink improvement and profit protection activities for an assigned distribution center (DC), its in-bound and outbound shipping networks and its third party pooling centers...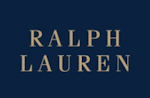 Asset Protection Lead (Regional), Atlanta/Carolinas
Atlanta/Charlotte - posted April 22
Responsible for the protection of company assets and mitigation of risk. Effectively communicates, trains, implements, and monitors all aspects of Asset Protection programs in assigned markets. These programs include Tier Shrink Reduction Strategy, training and awareness, store audits, investigative initiatives, profit protection, health and safety and budgetary compliance...



Regional LP Manager
Pacific Northwest - posted April 22
Minimize losses to the business, improve profitability and provide dedicated support to the field and all field personnel, focusing on external theft, internal theft, systems and administrating training and P&P compliance, stocktaking processing and analysis...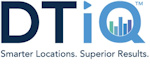 Regional Loss Prevention Auditor
Multiple Locations - posted April 20
The Regional Loss Prevention Auditor (RLPA) is responsible for conducting operational audits and facilitating training meetings in our clients' locations. The audit examines operational controls, loss prevention best practices, and customer service-related opportunities...



Business Manager
Dallas/Fort Worth Area, TX - posted April 6
Sapphire Risk Advisory Group is seeking a Business Manager to work in the company's Dallas-area office in a W2 position and will closely partner with other members of the team to manage projects and communicate with contractors, vendors, and clients...
---

Featured Jobs

---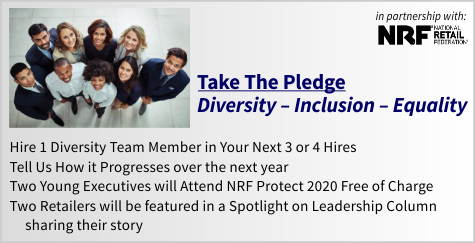 ---

Making judgments on people is a serious thing and has a ripple effect that goes well beyond your immediate group. We all make judgments on every executive we know and it's human nature to be critical. Leave it to say that the best opinion is one of direct first-hand experience and is based on both sides of every story. It's easy to react to the self-serving opinions of others, but the real professional takes the high road and focuses on what's best for their organization, their team, and their industry.


Just a Thought,
Gus



(content subject to approval)
---

Recruiting?
Get your job e-mailed to everyone... everyday
Post on our Featured Jobs Board!
Not getting the Daily?
Is it ending up in your spam folder?
Please make sure to add d-ddaily@downing-downing.com to your contact list, address book, trusted sender list, and/or company whitelist to ensure you receive our newsletter.
Want to know how? Read Here



36615 Vine Street, Suite 103
Willoughby, OH 44094
440.942.0671
copyright 2009-2019
all rights reserved globally