---

---






It's 'CIS Week' on the D&D Daily!

Follow along in the 'Vendor Spotlight' column below as CIS Security Solutions showcases solutions for the retail industry

---

Agilence Webinar Coming Tomorrow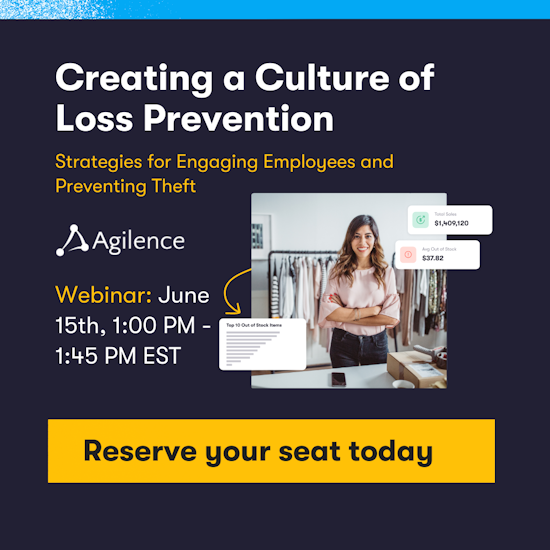 Protect your assets, boost profitability,
and create a positive work environment

In today's ever-changing business landscape, losses due to theft, fraud, and other issues can severely impact your bottom line. That's why it's crucial to implement a culture for loss prevention, where everyone in your organization is aware of its significance and committed to playing their part.

Agilence's Christopher Hoffman will guide you through the essential steps to establish and foster a loss prevention culture within your organization.

Click here to reserve your seat

---

The U.S. Crime Surge
The Retail Impact

Yesterday's Hearing on Organized Retail Crime

House Subcommittee Hears Testimony About Growing Threat of ORC
Kansas AG Kris Kobach testifies about retail theft at Washington hearing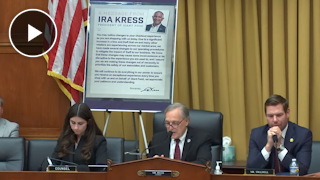 Attorney General Kris Kobach testified about Kansas retail theft Tuesday in Washington, D.C., during a U.S. House Subcommittee on Crime and Federal Government Surveillance hearing.

Kobach claimed Kansas is in the top 10 states hit by organized retail crime in terms of money lost. He highlighted cases such as the owner of a Kansas City, Missouri, pawn shop pleading guilty in March to gathering items stolen from retailers and reselling them online.

"You typically see box stores being hit two to three times per week," Kobach said. "The fence at the center is usually, in Kansas, is usually a pawnshop. But oftentimes, it's just a warehouse that's used to move the goods. Almost all of the products are sold online."

The hearing about a rise in organized retail crime and the threat to public safety began with an opening statement Rep. Andy Biggs, chairman of the subcommittee and an Arizona Republican, who said he was disappointed he needed to hold the hearing.

"We are coddling criminals and (fanning) the flames of this problem, and it's open season on our stores, and criminal syndicates are taking advantage," Biggs said.

Kobach listed factors in the legal system that worsen the problem, including a lack of prosecutorial capacity, the threshold amount that must be stolen in order to prosecute the theft, investigative capacity, bail being set too low and the speed at which suspects are released.

Wisconsin Republican Rep. Thomas Tiffany asked Kobach if he believed the lawlessness of the country and the "defund the police" movement contributed to the problem. "I do, sir," Kobach said. "And there's, at the end of my comments I briefly noted on this, is there's a cultural element here, too. It's a lack of respect for the rule of law. And it gets to a point in certain areas where people feel like shoplifting is accepted, or at least tolerated, or nothing's being done about it."

John Milhiser, a former U.S. attorney, and John Flynn, president of the National District Attorneys Association, also spoke about organized retail crime at the hearing. Lorie Mohs testified as well. Her son, Blake Mohs, died in April during the theft of a phone charger from the California Home Depot where he worked as a guard. kansasreflector.com


Business Community Applauds ORC Hearing
'Thank you ... for your attention to this "national crisis.'

U.S. Chamber Letter on the hearing, "The Rise in Organized Retail Crime and the Threat to Public Safety"

This Hill letter was sent to the Members of the House Committee on the Judiciary's Subcommittee on Crime and Federal Government Surveillance, on the hearing, "The Rise in Organized Retail Crime and the Threat to Public Safety."

Dear Chairman Biggs and Ranking Member Jackson Lee: Thank you for scheduling the hearing on, "The Rise in Organized Retail Crime and the Threat to Public Safety," and for your attention to this "national crisis."

Last year, Congress took an important step on this issue by approving the INFORM Act, which aimed to close off online markets for stolen goods by establishing verification requirements for third party online marketplace sellers. In addition to the efforts in your Committee this Congress, Senator Grassley's Combating Organized Retail Crime Act of 2023 (S. 140), which would establish a coordinated multi-agency response to organized retail crime and would create new tools to tackle evolving trends in organized retail theft is a positive federal response.

At the state level, there has been significant progress with 34 state laws increasing penalties and enforcement including in:

• Virginia, which passed a law to make organized retail theft a felony and make those convicted of the crime eligible for prison sentences of up to 20 years

• Georgia, which sought to make it more difficult for organized gangs to sell stolen goods online

• Minnesota, which created a separate offense for organized retail theft with a possible sentence of 15 years depending on the value of the good stolen

• Oregon, which passed a law allowing for prosecutors to combine organized retail crime offenses happening across jurisdictions

• North Carolina, which made a felony of organized retail crimes that result in $1,500 or more in damage.

This is an outstanding foundation to build on but sustained effort in all 50 states is needed to ensure that no jurisdiction is a safe haven for these organized criminal operations. uschamber.com


Lowe's 'Project Unlock' Highlighted at NRF PROTECT 2023
Lowe has seen a 180% increase in acts of violence against associates & customers since 2020

How Lowe's uses collaboration and tech to battle theft

NRF PROTECT: Tap into individual expertise and collective thought leadership to create new asset protection tools and strategies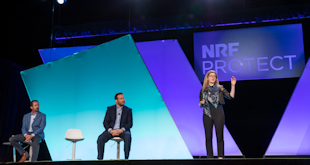 Lowe's Innovation Labs and Asset Protection teams are collaborating on the next big idea in asset protection and loss prevention — Project Unlock.

Vice President of Asset Protection and Safety Scott Draher, Vice President of Lowe's Innovation Labs Cheryl Friedman and Senior Director of AP Operations Luke Moeller discussed the early-stage project during a presentation at the NRF PROTECT conference and expo in Grapevine, Texas.

Project Unlock is designed to tackle the theft of powered products — in Lowe's case, power tools — in a way that is virtually invisible to retail customers. Products are embedded with an RFID chip and are set to inoperable. When the item is purchased at a store register with a point-of-sale RFID scanner, the item is unlocked and ready to use, ensuring that only legitimately purchased products are activated. If it's stolen or not unlocked, the product won't work.

In addition, the product and box barcode are embedded with a unique serial number so the transaction is recorded on the blockchain. That allows vendors, resellers and law enforcement to quickly verify the item was legally purchased.

Project Unlock is just one of many security and asset protections initiatives that have come about from collaboration among Lowe's Innovation Labs and Asset Protection teams.

Lowe's has seen a 180% increase in acts of violence against associates and customers in stores since 2020 and a 77% increase in weapons-related incidents over the last year, Draher noted. Criminals are becoming more brazen, he said.

In response, Lowe's has put in place several security solutions to keep people and products safe from criminals, creating a full-organization, collaborative ecosystem to detect, deter and respond to thefts and violence.

The outside of each store has robot parking lot patrols, security towers, integrated CCTV and camera platforms that use analytics to identify vehicles, not just plates. Vehicle analytics has been particularly useful, Moeller said: Within the first 60 days of deploying the technology, the AP team was able to close 478 active cases. nrf.com


Dollar Tree Warns of Store Closures, Price Hikes & More to Combat Theft
Dollar Tree warns it could follow Walmart and CVS with major store change in 'defensive' strategy

Discount retailer is concerned about a rise in crime in stores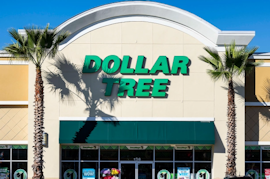 In a post-earnings call with analysts, Dollar Tree Chief Financial Officer Jeff Davis said the company may be instituting what they call "defensive merchandising" to discourage theft, according to reporting by the U.S. Sun.

On the call, Davis said he defines defensive merchandising as any steps taken to prevent in-store theft. Davis said Dollar Tree aims to "improve our performance on shrink through defensive merchandising efforts, real estate optimization, and perhaps higher prices to compensate for areas of systematically higher shrink."

Target and Walgreens have both said they would take steps towards increasing measures around theft prevention in the coming months.

Walgreens recently opened a store specifically designed to prevent theft, with hardly any shoppable areas on the store floor. The store is located in Chicago's South Loop, an area that has experienced an uptick in crime. Walgreens has said the store could be a blueprint for other locations.

Davis added that Dollar Tree headquartered in Chesapeake, Va., is looking into real estate optimization and even higher prices to combat shrink inventory. Target CEO Brian Cornell said recently shrink inventory will cost the retailer over $1 billion this year alone.

"And we're taking all the appropriate steps that we can to control and mitigate this where we can."

Along with defensive merchandising, Dollar Tree said another way the issue can be resolved is by closing stores or local governments taking action. The warning by Dollar Tree came after the company missed earnings expectations from Wall Street. supermarketnews.com the-sun.com


Facial Recognition & Other Tech Can Help Prevent Crime
The Retail Threats That Impact the Safety of Retail Employees

As the retail landscape evolves, employees rely more on enhanced video surveillance and data analytics to prevent loss and boost productivity.

Detailing the trend, NRF notes that "the majority of retailers report that in-store, ecommerce and omnichannel fraud have risen." Violence is another a growing concern. In response, retailers have made addressing guest-on-associate violence, external theft and organized retail crime a priority, NRF says.

Enhanced Video Surveillance Improves the Employee Experience

One potential solution to deter this activity is OnView's real-time security system. Andy Szanger, director of strategic industries at CDW, recommends OnView for multiple uses in retail. "It's obviously deterring the nuisance crimes, but it's also helping with employee safety and customer experience," he says.

Enhanced video surveillance can also be used to prevent repeat offenses, alleviating stress on employees. Link Simpson, CDW's enhanced video surveillance practice lead, explains that facial matching can be used when a person commits crimes repeatedly, even across multiple locations. "By establishing that someone is a repeat offender, you're much more likely to get a response in terms of somebody showing up from the police department. OnView does that type of thing," he says.

Tech Tools Allow Employees to Improve the Customer Experience

While enhanced video surveillance and data analytics can allow employees to focus on providing good customer service, other tech tools can amplify those efforts. Automation allows store employees to spend less time on tasks such as inventory management and more time on providing the face-to-face service shoppers have come to expect from an in-store experience.

The rise of mobile devices and edge computing have given retailers access to real-time data that's extremely valuable when working with customers. According to Accenture, "Empowering retail workers with data means giving them actionable insight, which should look to augment their retail expertise, thereby helping them decide what activity would be most valuable at any given moment." biztechmagazine.com


Retailers in the Bay Area Fight Back Against Theft
Bay Area stores locking up more merchandise to combat theft
An increasing number of stores around the Bay Area are locking up merchandise as a way to combat a rise in organized retail crime.

From vacuums and cleaning products at Home Depot, to hard drives and headphones at Office Depot, to shaving cream and detergent at Target, big box retailers are putting more items behind plexiglass.

Retail theft isn't a new problem. It's happening all over the country. Recent surveys show San Francisco and Oakland are part of the five top metropolitan areas being targeted.

Home Depot said high-risk products will always have multiple levels of security. In a statement, Target sad aside from increasing security, the retail giant is also working with lawmakers to address the rise in crime.

"Theft and organized retail crime are urgent issues that are increasingly impacting the team and guests…limiting product availability, creating a less convenient shopping experience and putting our team and guests in harm's way. We will do everything in our power to continue to keep our stores open," Target stated. nbcbayarea.com


Shoppers Respond to the Retail Theft Crackdown
Walmart worker enforces new anti-theft 'clip' measure – but shopper says it will lose them hundreds
A Walmart employee has been spotted locking up items with security clips in a bid to combat theft. But, the measure designed to tackle shoplifting has been slammed online by shoppers.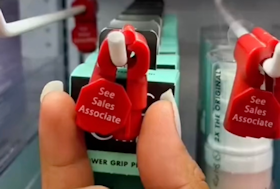 Walmart execs have blasted the impact of theft on customers and its stores and have resorted to introducing a raft of measures. In a viral video, a Walmart staffer placed a clip on the pegs holding e.l.f cosmetic products.

The clips are designed to prevent shoppers from sliding products off a peg without the peg's removal. Shoppers are required to ask a staffer to open the peg. But, the anti-theft measure has been ridiculed by viewers.

One shopper said she struggles to find a staffer whenever she needs someone to unlock the security tag. Another influencer said she would not shop at Target if required to ask someone to unlock an item. the-sun.com


Shoplifting Is Getting Worse. Retailers Are Fighting Back.

Virginia State Police releases 2022 crime report

---

San Francisco's Retail Exodus Continues
Westfield is handing over the keys to San Francisco Centre mall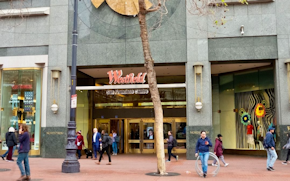 After more than two decades operating San Francisco Centre, Westfield is handing over the mall's keys to its lender, a spokesperson for shopping center operator Unibail-Rodamco-Westfield said by email Tuesday.

Annual sales at the mall plummeted from $455 million in 2019 to $298 million in 2022, per the email. In that time, sales at Westfield's Valley Fair mall in nearby San Jose rose 66% and the company's overall U.S. flagship sales rose 23%.

Also in that time, foot traffic declined 43% to 5.6 million visits from 9.7 million, while the U.S. portfolio saw a 98% recovery. Occupancy also fell some 55% — including the recent closures of Nordstrom and Banana Republic — while the portfolio averages about 93%, the spokesperson said.

In its statement, Westfield said that in the past 20 years operating San Francisco Centre, it has been "investing significantly over that time in the vitality of the property."

"Given the challenging operating conditions in downtown San Francisco, which have led to declines in sales, occupancy and foot traffic, we have made the difficult decision to begin the process to transfer management of the shopping center to our lender to allow them to appoint a receiver to operate the property going forward," according to the statement. The action has no impact on the rest of URW's debt, the company also said. retaildive.com


The Push to Bring Employees Back to Work
Should Companies Order Workers Back to The Office?
Google has joined Amazon.com, Apple, The Walt Disney Company and others that have announced plans to more strictly enforce or add restrictions to their hybrid work policies. As of April 2022, most Google employees are expected in offices at least three days a week.

At Amazon, tensions boiled over on May 28 as hundreds of office workers staged a walkout over a three-day office return mandate. In a memo from February 17, Andy Jassy, Amazon's CEO, wrote that in-person work fosters culture building, learning, collaboration and innovation.

Meta, in late May, notified employees they would be required to be in the office three days a week starting in September, its strictest remote work policy change since the novel coronavirus pandemic outbreak.

JPMorgan, Microsoft, Walmart, Salesforce, Starbucks, Twitter, Chipotle, Citigroup and IBM are among others recently mandating in-office attendance at least some days of the week.

Unispace's "Returning for Good" global survey taken in April found 72 percent of companies have mandated office returns, but 74 percent are struggling to keep their employees happy, 42 percent report a higher level of employee attrition than anticipated, and 29 percent are struggling to recruit altogether. retailwire.com


Despite Cuts, Walmart Looks to Disrupt the Retail Industry
Walmart Has a New Way to Change the Future of Retail

The company wants to develop tech startups that might disrupt the entire industry.

Walmart (WMT) has been laying off thousands of workers, closing stores, and jettisoning assets to cut costs and preserve profits. Like many retailers, the company faces an uncertain economy marked by inflation and wary consumers.

But Walmart is still finding the time and resources to invest for the future. The company recently announced that it is creating an accelerator program for startups developing emerging technologies like the metaverse, artificial intelligence, and blockchain.

Walmart Store No. 8, a tech incubator the company created in 2017, will partner with Outlier Ventures to provide funding and mentorship to selected startups.

Retailers have long been enamored with the idea of investing and developing startups that could give them a head start with technologies that could transform the industry. However, such programs, though they look good on paper, have a decidedly mixed track record. For one thing, companies often find it difficult to apply new innovations to big corporate cultures invested in the status quo and thus resistant to change. thestreet.com


The Feds Change the Definition of an Employee (Again)
Labor Board, Reversing Trump-Era Ruling, Widens Definition of Employee

The National Labor Relations Board, with a Democratic majority, restored a standard that counts more workers as employees rather than contractors.

Labor regulators issued a ruling on Tuesday that makes it more likely for workers to be considered employees rather than contractors under federal law.

Overturning a ruling issued when the board was under Republican control, the decision effectively increases the number of workers — like drivers, construction workers or janitors — who have a federally protected right to unionize or take other collective action, such as protesting unsafe working conditions.

The ruling ensures that "workers who seek to organize or exercise their rights under the National Labor Relations Act are not improperly excluded from its protections," said a statement by Lauren McFerran, the Democratic chairman of the labor board, which voted 3 to 1 along party lines to broaden the standard. nytimes.com


Man sues Portland store, alleges he was racially targeted in false shoplifting allegations
Nguyen Cao said he was inside the fisherman supply store he frequented in January when a manager he did not recognize approached and accused him of stealing. Video shows a security guard threatening to "put (him) on the ground."

Uber & DoorDash warn of changes when NYC adopts $18 min. wage for drivers

Americans in the Midwest are obsessed with these 9 grocery stores
---


What's Small And Round And Makes Lots Of Sound? The Tick-R-Tape Tag and Super Mini Tape Tag!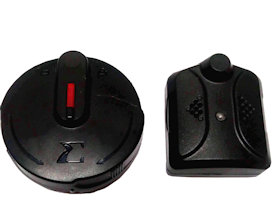 The Tick-R-Tape Tag can be used alone with just the base or secured to the package with conductive tape or a conductive label, creating additional alarm capabilities. It can replace wire package wraps and "keepers". When the merchandise goes through the POS, the associate keeps the tag and leaves the base and tape on the package to go home with the customer for removal later, with no damaged packaging. Through testing and research with the LPRC, it has been established that the customers are not bothered by that and actually feel better knowing the package had not been opened by others. See the report on our website, or in the LPRC knowledge Center.

This tag has 6-alarm capability when using 2-pieces of conductive tape and can self-alarm out the door while activating the EAS pedestals. Its 98 dBl alarm can be heard throughout the store. The Tick-R-Tape Tag uses our handheld decoder to deactivate the alarm before removing it from the package. This will prevent unauthorized detachers from being used. The Tick-R-Tape Tag has unlimited life due to having a replaceable battery. It is water resistant and cannot be "jumped". With our new modifications, the Tick-R-Tape Tag can be used with the new Gen6 SP on large, boxed goods like vacuums.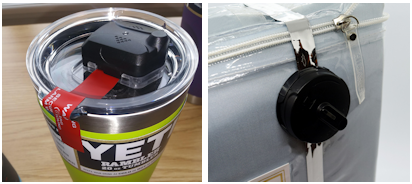 The Super Mini Tape Tag can protect most items, with or without using the conductive tape or label. Prevent shoplifters from taking the product out of the box and leaving JUST the box! Use the Super Mini Tape Tag to keep all the components together. It is perfect for small fragrances and electronics.

The Tick-R-Tape Tag can provide up to 630% more available shelf space compared to keepers and can provide up to 33% more available shelf space compared to small wire package wraps. Both the Tick-R-Tape Tag and the Super Mini Tape Tag can be placed anywhere on the package to optimize merchandising and visual appeal.

Reduce shrinkage, increase available shelf space, reduce check-out time by up to 50%, and reduce labor at the front end.

We may not stop shoplifting in its tracks, we can deter, displace, and slow down thieves from targeting your stores by using the CIS Tape Tag solutions.

Call 772-287-7999 or visit www.cisssinc.com for more information on these and other solutions from CIS Security solutions.
---
---

Retail is the Top Targeted Commerce Sector
Commerce remains top target for online attacks

A new report from Akamai Technologies shows that there is an increasing number and variety of attacks on the commerce sector, with retail accounting for 62% of these.

kamai Technologies' report, 'Entering through the Gift Shop: Attacks on Commerce', finds that commerce remains the most targeted for web attacks, accounting for more than 14 billion (34%) of observed hacking.

Retail remains the most targeted in the commerce sector, accounting for 62% of attacks.

As organisations increasingly rely on web applications to drive customer experience and online conversions, hackers can target design flaws or security gaps to abuse web-facing servers and applications.

GlobalData's thematic analysis of the retail sector finds that the frequency of such cyberattacks has been increasing since 2020, with notable attacks on JD Sports and WHSmith reported in Q1 2023.

In addition, Akamai finds that the most common attack is local file inclusion (LFI). This involves attackers exploiting vulnerabilities in how a web server stores or controls access to its files.

Reportedly, a few years ago, the most common attack was against structured query language, which is programming used to manage databases. Akamai states that the move towards LFI indicates a trend towards remote code execution and hackers leveraging LFI vulnerabilities to gain a foothold for data exfiltration. retail-insight-network.com


BEC Scams Cost Companies $50B Over Last 10 Years
Analysis: Social Engineering Drives BEC Losses to $50B Globally

Threat actors have grown increasingly sophisticated in applying social engineering tactics against their victims, which is key to this oft-underrated cybercriminal scam's success.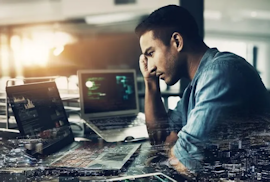 Business email compromise (BEC) continues to evolve on the back of sophisticated targeting and social engineering, costing business worldwide more than $50 billion in the last 10 years — a figure that reflected a growth in business losses to BEC of 17% year-over-year in 2022, according to the FBI.

The agency's Internet Crime Complaint Center (IC3) 2022 report on BEC found that US business have lost more than $17 billion to these types of scams between October 2013 and December 2022, with global businesses counting losses of nearly $51 billion for the same period, according reports that the IC3 receives from organizations.

The number of organizations that have reported falling victim to BEC in the US alone over these years is 137, 601 across all 50 states — a number that's likely higher as it represents only the incidents that have been reported to the FBI, security professionals say. This means the total losses attributed to BEC for companies not just in the US but also globally is probably a lot higher than reported numbers as well, they say.

Despite organizations' overall increased awareness of and defense against BEC — which has been an attack vector for more than a decade — it continues to represent a thriving cybercriminal activity.

Security professionals attribute BEC's continued dominance in the cyber threat landscape to a number of reasons. A key one is that attackers have become increasingly savvy in how to socially-engineer messages so that they appear authentic to users, which is the key to being successful at this scam, Oren Falkowitz, field chief security officer for Cloudflare, tells Dark Reading.

"Successful BEC is not about being clever, it is about authenticity and achieving legitimacy in the eyes of the victim," Falkowitz says in an email. "Part of seeming legitimate is following physical events and trends in the news closely — which end up being leveraged and having resonance in cyberspace." darkreading.com


BEC Attacks Surging
The multiplying impact of BEC attacks
The 2023 Verizon Data Breach Investigations Report (DBIR) has confirmed what FBI's Internet Crime Complaint Center has pointed out earlier this year: BEC scammers are ramping up their social engineering efforts to great success.

The FBI has recently published a new public services announcement, warning again about the continuous evolution and danger of BEC attacks. "Between December 2021 and December 2022, there was a 17% increase in identified global exposed losses," the FBI shared.


BEC attacks against the financial services sector

Microsoft's threat analysts have recently uncovered a multi-stage adversary-in-the-middle (AiTM) phishing and business email compromise (BEC) attack against banking and financial services organizations.

This particular attack started with a phishing email from one of the target organizations' trusted vendors, instructing the target to view or download a fax document.

The link pointed to a malicious URL hosted online graphic design platform Canva, hosting a page showing a fake OneDrive document preview and links containing another phishing URL, pointing to a spoofed Microsoft sign-in page requesting a password.

BEC scammers are master of social engineering

More often than not, BEC attackers are after the target companies' money or sensitive information, but the FBI has recently warned that they are also occasionally after physical goods (construction materials, agricultural supplies, computer technology hardware, and solar energy products).

In these latest attacks outlined by Microsoft, it's clear how the attackers are exploiting the trust relationship companies have established with partner/customer organizations, thus increasing the attack's effectiveness, while potentially destroying business connections, reputation and trust.

BEC cybercriminals are also not limiting their attacks to emails. According to a recent report by IRONSCALES and Osterman Research, they are using SMS messages (36%), social media connection requests (28%), and phone calls (22%) as well. helpnetsecurity.com


'First of its Kind Attack'
Researchers Report First Instance of Automated SaaS Ransomware Extortion

The attack highlights growing interest among threat actors to target data from software-as-a-service providers.

The 0mega ransomware group has successfully pulled off an extortion attack against a company's SharePoint Online environment without needing to use a compromised endpoint, which is how these attacks usually unfold. Instead, the threat group appears to have used a weakly secured administrator account to infiltrate the unnamed company's environment, elevate permissions, and eventually exfiltrate sensitive data from the victim's SharePoint libraries. The data was used to extort the victim to pay a ransom.

Likely First of its Kind Attack

The attack merits attention because most enterprise efforts to address the ransomware threat tend to focus on endpoint protection mechanisms, says Glenn Chisholm, cofounder and CPO at Obsidian, the security firm that discovered the attack.

"Companies have been trying to prevent or mitigate ransomware-group attacks entirely through endpoint security investments," Chisholm says. "This attack shows that endpoint security isn't enough, as many companies are now storing and accessing data in SaaS applications." darkreading.com


New Loader Delivering Spyware via Image Steals Cryptocurrency Info

Critical patches for Microsoft Windows, SharePoint, Exchange

---

In Case You Missed It

RCC's 2023 Excellence in Retailing Awards: Winners Announced

Remarkable Innovativeness and Intense Competition Spotlights 2023 Winners

Retailers across Canada have once again showcased their remarkable innovativeness and leadership, raising the bar for excellence in the retail industry.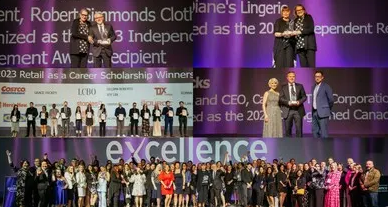 The competition for the highly coveted Excellence in Retailing Awards reached new heights this year, with an unprecedented 88 finalists contending for the top honors. The 15 winners of these prestigious awards were unveiled last night at the Excellence in Retailing Awards Gala, held as a highlight of Retail Council of Canada's (RCC) STORE 2023 Conference in Toronto. Adding to the excitement of the evening was also the presentation of three Awards of Distinctions, and eighteen Retail Education scholarships.

The outstanding innovations recognized this year reflect the retail industry's proactive response to current challenges. From prioritizing employee mental and physical well-being, to revolutionizing store design for enhanced customer experiences, embracing sustainable practices, reinforcing loss prevention measures, and actively engaging in philanthropic initiatives to support communities, these remarkable achievements have pushed the boundaries of retail excellence.

The winners of the 2023 Excellence in Retailing Awards are:

RCC's Cybercrime Prevention Campaign

Retail Council of Canada embarks on new cybercrime awareness venture

The Retail Council of Canada (RCC) recently launched a new cybercrime prevention campaign to provide educational resources for retailers and their employees, from frontline workers to IT security professionals.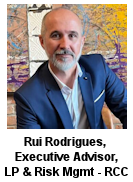 The Retail CyberSecure initiative, which kicked off at the beginning of this year, was made possible through the support of the Ontario Ministry of the Solicitor General and includes partnerships with the RCMP and the Ontario Provincial Police, among other organizations.

The program, which will continue to roll out throughout the year, comprises a series of six webinars along with downloadable guides and e-learning training modules. The resources are offered for free to achieve maximum impact, said Rui Rodrigues, the RCC's executive advisor for loss prevention and risk management.

The issue of cybercrime has become more acute for retailers, he said, as threats continue to ramp up. The pandemic also saw retailers become more reliant on online storefronts when in-store shopping was curtailed or temporarily restricted.

"Over the last few years, we've heard more and more from retail organizations about cyber," said Rodrigues. "You can't escape it."

The CyberSecure initiative is "really focused on ways we could educate, provide awareness and share best practices," added Rodrigues, "and doing it through various mediums."



Three of the six planned webinars are currently available on the RCC Retail CyberSecure resource website, focused on awareness training and current cyberthreats. Webinars on threat action plans, defensive procedures, ransomware training and brute force attacks will follow in the coming months.

Battle on two fronts

In some ways, loss prevention specialists are waging a battle on two fronts: the threat of shoplifting in brick-and-mortar retail locations and the ever-present spectre of cybercrime in the digital realm.

In both cases, education and awareness are key, said Rodrigues, along with collaboration with government and likeminded organizations to get the word out. canadiansecuritymag.com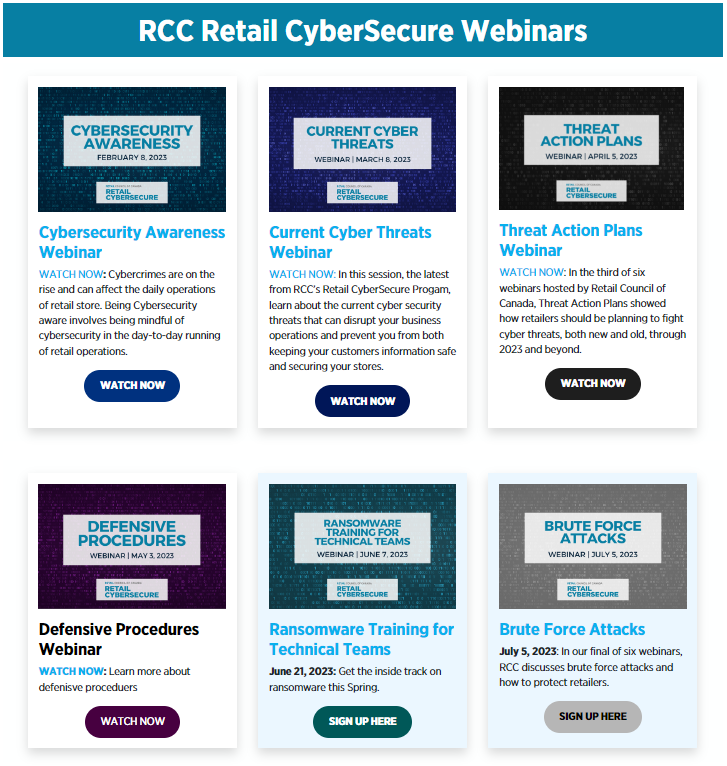 Click here to learn more about the
RCC Retail CyberSecure program

---

Canadian Stores Ramping Up Security to Battle Theft
A Kitchener grocery store is checking receipts, part of a multibillion dollar theft
story in Canada

'It is really hard to get a true sense of what the value of a crime is because so much of it goes unreported'

KITCHENER — Canadian retail stores are ramping up security to limit billions of dollars in losses due to theft. Customers at a Zehrs in Kitchener were greeted with a new sign as they walked into the grocery store this week.

Written on a whiteboard with purple and pink marker, the sign read: "Please be prepared to show your receipt upon exiting to validate and maintain inventory accuracy. Thank you."

It's not an isolated incident, Loblaws said, and stores across the chain are implementing the new security step. Down the street at a Kitchener Walmart, the retailer has created a store within a store for selling beauty and cosmetics products, where customers have to pay for the items before moving on to other sections in the store.

Shoplifting has long plagued the Canadian retail industry, but the situation has only gotten worse since the beginning of the COVID-19 pandemic, and companies are responding.

"We have seen that shoplifting has increased across all categories," said Michelle Wasylyshen, spokesperson for the Retail Council of Canada. "Some of this comes down to escalating inflation, some of it is due to a growing resale market for stolen goods, and there is increased organized crime."

"Part of the problem is that it is really hard to get a true sense of what the value of a crime is because so much of it goes unreported," Wasylyshen said.

Qiu said the problem in Canada is likely similar in scale to what is occurring south of the border, representing somewhere between one to two per cent of total national retail sales.

The latest figures from 2017 estimate that Canadian retailers lost more than $5 billion due to shrinkage, representing about 1.5 per cent of total retail sales, with shoplifting making up the bulk of the problem. It estimated shoplifters successfully stole items in Canada more than 10 million times in 2017, representing about 29,000 successful thefts per day. therecord.com


Canadian Restaurants Coming Back Strong After COVID
Reports Reveal Canadian Restaurant Industry's Remarkable Revival As Consumers Defy Inflation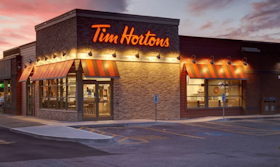 If there's one sector that deserves some good news, it's the restaurant industry. This sector has been through hell due to the pandemic, putting our restaurateurs and their employees to the test. However, recently published reports indicate that the restaurant industry is making a strong comeback.

According to a report from Circana, the restaurant industry continued its robust recovery in the first quarter of 2023. Restaurant visits increased by 11%, and spending rose by 18% during the quarter ending in March, compared to the same period last year. This is great news considering the evidently painful challenges this sector has faced in recent years. Since March 2020, despite higher prices, consumers appear to be visiting restaurants more often.

According to the Circana report, the increase in visits to food services at different times of the day can be attributed to changing behaviours, such as the gradual return of people to workplaces and engaging in formal or informal routines outside the home. Breakfast and morning snack periods experienced significant growth, with morning meal demand up by 13%, representing the largest share of daily traffic. Lunch and dinner visits also saw a growth of 10%, while afternoon snack demand increased by 8% compared to the same quarter last year. All very encouraging metrics for the sector. retail-insider.com


Canadian Wildfires: The Economic Impact
Analysis: Canadian wildfires shutter sawmills, drive up lumber prices
anada's worst-ever spring wildfire season has forced its forestry industry to shutter sawmills, driving up lumber prices and setting production back for months just as housing construction has slowed due to higher costs and a tight labour market.

Canada has the world's third-largest forest area and is the second-largest softwood lumber producer, according to Canadian government estimates, making it a key supplier of a critical housing material. The fires are blazing through Alberta, British Columbia and Quebec, all provinces with active forestry industries. reuters.com


Here's when the Nordstrom store in the Rideau Centre will close this week

Toronto, ON: Delivery van driver dead after midday shooting in North York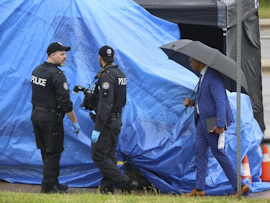 A man in his late 40s is dead after being shot to death Monday morning while driving along Steeles Ave. W. in the northwest part of the city. Toronto Police and York Regional Police responded to an incident that may have started at a business on Fenmar Dr. and then continued northbound and westbound along Steeles toward Islington Ave. at 11:30 a.m. A white Mercedes Sprinter delivery van was shot up and the driver died at the scene. The vehicle's final resting place came as it slowly veered off the roadway and bumped up on the curb and sidewalk — as seen via a surveillance camera from a business in a strip mall. Casey Balsamo of Vince's Pet Supply store — located in a long strip mall east of Islington — said his outside surveillance camera caught the final moments of the van coming to a rest on the sidewalk. torontosun.com


Winnipeg convenience store employees attacked, taken to hospital after robbery
Winnipeg police say two men in their 20s were attacked and sent to hospital following a convenience store robbery in the early hours of Sunday morning. Two men armed with bear spray and a hatchet — one of whom was disguised — entered the store and demanded money from the 20-year-old and 24-year-old store employees, the police investigation found. The employees attempted to stop the robbery, but one of the robbers armed himself with a metal object and assaulted both victims in the upper body, police said. Both victims were taken to hospital and received treatment for their injuries. Police began to search the area for the suspects, who had fled on foot after stealing the till's cash drawer and tobacco products. Officers located the two men in a back lane of Manitoba Avenue near Sinclair Avenue and placed them under arrest without incident, police said. cbc.ca


Two teenage boys arrested after armed robberies at pharmacies in Toronto

Two armed robberies within minutes in Moncton

Sentence reduced for robber who mugged comic store owner of valuable publications

Allstate Canada sounds alarm over dramatic rise in catalytic converter theft
---

Hibbett Fights Back Against Fraud & Chargebacks
CSA Exclusive: Hibbett tackles online fraud and payment issues
The parent company of Hibbett Sports and City Gear is leveraging managed solutions to ensure smooth and safe e-commerce transactions.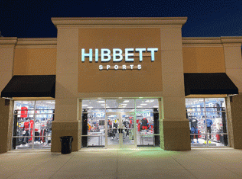 Chain Store Age recently sat down with Bill Quinn, senior VP, marketing and digital at Hibbett, to discuss how the athletic-inspired apparel retailer utilizes cloud-based Radial Payment Solutions technology to manage online transactions and prevent e-commerce fraud.

"There were two issues that were significantly mitigated by Radial's services," said Quinn. "Radial technology has helped protect us from ongoing fraud and chargebacks. These costs would impact our profit without help from these solutions.

When discussing Hibbett's initial selection of Radial Payment Solutions, Quinn cited his company's relative late adoption of e-commerce.

"Hibbett is unique in that seven years ago, we did not have an e-commerce site," he explained. "In order to launch a best-in-class experience, we needed a partner that could provide secure and managed payment services while partnering with us to continue to grow and innovate."

It also helped that Radial is a partner with Salesforce, which Hibbett uses as its main e-commerce platform. This helped make implementation of the managed fraud and payment technology faster and more efficient.

Hibbett brings cloud to the store

In addition to using cloud-based technology to support e-commerce activities, Hibbett also recently started implementing Oracle retail cloud technology. The deployment includes upgrading an existing install of the mobile Oracle Retail Xstore POS solution; as well as rollouts of Oracle Retail Store Inventory Operations Cloud Service, Oracle Retail Customer Engagement Cloud Service, Oracle Retail Order Broker, and Oracle Retail Assortment Planning Cloud. chainstoreage.com


Amazon Outages Hits Major Websites
Amazon Web Services briefly hit by wide-ranging outage, impacting major websites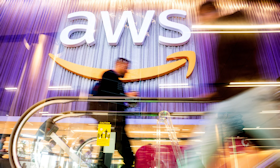 Amazon Web Services was briefly hit by a wide-ranging outage on Tuesday afternoon that impacted a large number of major websites, including the Boston Globe and New York City's Metropolitan Transit Authority.

The afternoon outage affected some news organization's ability to publish coverage of former President Donald Trump's court appearance in Miami. In a tweet, The Boston Globe wrote, "Amazon Web Services is experiencing an outage, which has affected digital publishing operations at the Globe since around 2:45 p.m. EDT."

New York's Metropolitan Transportation Authority similarly reported on Twitter that its website and app are "temporarily unavailable because of an Amazon Web Services outage." The transit agency said it would post alerts about train and bus service disruptions on Twitter.

Other news outlets such as The Verge also publicly confirmed that their websites were temporarily hit by the AWS outage. Southwest Airlines said in replies on Twitter that it was working with Amazon to resolve issues that some customers were reporting involving accessing its website.

There were some 12,000 reports of issues accessing AWS services on outage-tracking site DownDetector at around 3 p.m. ET, though new reports began to rapidly subside by 5 p.m. ET.

AWS referred CNN's request for comment to its Service Health dashboard, which first confirmed "increased error rates and latencies" impacting regional servers in its Northern Virginia hub at a little after 3 p.m. ET.

By 5 p.m. ET, the dashboard reported that, "Many AWS services are now fully recovered and marked Resolved on this event. We are continuing to work to fully recover all services." cnn.com


Amazon Prime Day is coming. Here's how sellers can prepare to boost their sales

European Union: A New VAT And Customs Regime For E-Commerce Platforms
---
North Port, FL: Police report results of retail theft bust
North Port Police conducted a retail theft operation to stop thefts in the U.S. 41 corridor of North Port. The department made uses of members of the NPPD Special Enforcement Team, Traffic Unit, K9 Unit, Drone Unit, and Intel Division. The operation took place from June 6-9 and focused on thefts at national retail chain stores. As a result, several individuals who are believed to be part of large retail theft organizations were identified and arrested. In total, there were 26 cases worked. 13 felony charges and 13 misdemeanor charges. Multiple felony drug arrests were also made during this operation, which included a large amount of methamphetamine. Officers recovered roughly $7,100 worth of merchandise during the operation. Many of those arrested in our operation are not from the North Port area. Those arrested included residents from Miami, Bradenton, Venice, Ocala and Hillsborough County. "These thieves should know that law enforcement is working closely with businesses to reduce the trend of organized and other types of retail thefts," said NPPD Chief Todd Garrison. "They should certainly understand that our department is committed to protecting our local retailers here in North Port. A few more have now gotten the message." mysuncoast.com


Shaker Heights, OH: Truck backs into Shaker Heights clothing store; number of items then stolen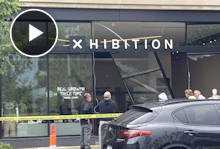 Thieves caused major damage to a clothing store early Tuesday morning. According to officials, the suspects backed up a truck into Xhibition's glass storefront in the 3400 block of Tuttle Rd. around 5 a.m. Shaker Heights Police said several unknown suspects were seen on surveillance crashing a truck stolen out of Macedonia into the store. cleveland19.com


Linden, NJ: Violent Linden shoplifters may be connected to NJ retail gangs, cops say
A Linden police officer was injured when a shoplifting at a Kohl's turned violent Saturday night. Linden Police Chief David Hart said two suspects pushed the first responding officer to the ground as he entered the store on Route 1/9 southbound around 9:50 p.m. as they ran to a vehicle to make their getaway. The driver made a U-turn at the Phillips 66 Domestic Sales entrance where police pulled their vehicle over near Route 278. As the officers approached Hart said two suspects got out of their vehicle and walked away ignoring orders to stop. The suspects got into a fight with the officers as they tried to get back into their car. The officers detained one of the suspects but three other people in the vehicle continued to resist officers until they used oleoresin capsicum, or pepper spray, to bring the suspects under control to take them into custody. The thieves took $5,500 worth of items from Kohl's, according to Hart. nj1015.com


Update: Eau Claire, WI: Man charged with stealing over $20K in jewelry from Kohl's sentenced
A man charged with theft after investigators say he hid in Kohl's Department Store in Eau Claire overnight and then stole over $20,000 in jewelry is sentenced. Court records show 27-year-old Thomas McRunnel of Rosemount, Minn. plead guilty to burglary-building or dwelling and retail theft of over $10,000. According to court records, McRunnel is ordered to serve five years of probation, but can reduce it to three years if he pays restitution. The Eau Claire Police Department responded to a security alarm that had gone off early in the morning on April 29, 2022, at the Kohl's store, according to court documents filed with the charges. The security company for the store said they saw a man on security cameras inside the store. Officers arrived and heard an alarm from outside of the store. No one was inside, but officers said that four drawers in the jewelry section had been opened and emptied and an air wedge was holding one of the cases open. Kohl's said that $22,915 worth of jewelry had been taken. weau.com


Fairfax County, VA: Police target retail theft in summer crime prevention initiative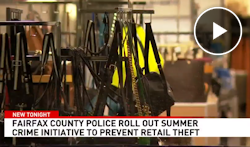 There is a big law enforcement initiative happening in Fairfax County that is aiming to crack down on retail theft. The Fairfax County Police Department (FCPD) plans on launching the 2023 Summer Crime Prevention Initiative and announced this year's focus areas. According to Deputy Chief of Patrol, Bob Blakely, "20% of all crime in Fairfax County only occurs at 20 addresses." wjla.com


Lexington, SC: Police searching for individuals accused of $4,200 theft from Ulta

Charleston, SC: Police seeking help identifying two accused of shoplifting at Louis Vuitton at The Shops at the Charleston Place

Mission, BC, Canada: RCMP arrest couple in connection to $2,000 baby formula theft
---

---

Shootings & Deaths

Hartford, CT: Clothing Store Owner shoots at 2 Burglary suspects, one in critical condition

---

Robberies, Incidents & Thefts
Hutchinson, KS: Man with multiple warrants in 3 Counties arrested, charged in Target theft
A Monticello man was arrested and charged after Hutchinson Police responded to a theft in progress at the Target store on Sunday afternoon. At just after 4pm, the first responding officer on scene discovered the suspect walking in the parking lot and made verbal commands for the suspect to stop. The suspect acknowledged the officer's presence but proceeded to enter the vehicle they arrived in. The officer stepped onto the running board of the vehicle in attempt to stop the driver. The suspect attempted to flee with the officer on the running board of the SUV and reversed, crashing into a cart corral. The officer was able to reach into the vehicle and put it in park. Twenty-six-year-old Preston Alan Bredow was arrested and formally charged in McLeod County with Felony – Obstruct Legal Process – Interfere w/Peace Officer, Felony – Controlled Substance Crime in the 5th Degree, Felony – Fleeing a Peace Officer in a Motor Vehicle, and Gross Misdemeanor – Theft. Police say there was a female passenger and a toddler in the vehicle at the time of the incident but no injuries were reported.
Bredow also had active warrants out of Dakota County ( 3 Felony – Theft, 1 Misdemeanor – Theft warrants – $3000 bail each), Anoka County (4 Misdemeanor – Theft warrants – $200 bail each), and Wright County (Felony – Terroristic Threats, and 5th Degree Assault warrants – Body Only)
.
kduz.com
Bridgeton, NJ: 3 Arrested In Walgreens Armed Robbery
Three South Jersey residents were charged last week in connection with an armed robbery at a Walgreens in Bridgeton on May 29, authorities said. Three Bridgeton residents, Jamar Doyle, 22, Gabriel Cisneros, 23, and Mariah Vaughn, 27, were charged on June 6 in connection with the armed robbery at 25 E. Broad Street, police said. Doyle was charged with Robbery, Theft, Possession of Weapon for Unlawful Purpose, Unlawful Possession of Weapon; Cisneros was charged with robbery and conspiracy and Vaughn was charged with conspiracy, police said. All three were committed to the Cumberland County Jail pending court appearances.
patch.com
Lufkin, TX: Woman arrested after allegedly biting mall security who tried to stop her from shoplifting

A Lufkin woman was arrested after allegedly biting a security guard who police say was trying to stop her from shoplifting. 27-year-old Crosby McClendon was arrested on a robbery charge on Monday around 2 p.m. According to Lufkin police, a security guard was trying to prevent her from leaving with $146 worth of clothing from Buckle when she allegedly bit him. McClendon had existing warrants dating back to at least 2019 for charges including a parole violation, bond surrender, bail jumping and forgery of a financial instrument. She was booked into the Angelina County Jail.
ketk.com
Des Moines, IA: Police arrest 6 people for allegedly stealing $70K from Grocery store
A group of six people robbed a family-owned grocery store on Saturday, stealing an estimated $70,000 before being caught and arrested by police, the owners say. La Michoacana has been serving Mexican groceries and signature dishes in the Historic Valley Junction neighborhood of West Des Moines for nearly two decades, according to 17-year-old Jesus Castro-Dominguez, whose parents and older brother co-own the store. The store also routinely helps local businesses and construction companies cash checks and helps people transfer money back to family members in Mexico, according to Castro-Dominguez's brother and one of the store's owners Diego Castro. "In my head, I thought it was a normal customer that needed help," he said. Diego Castro said his little brother "is always happy to help any customer that comes into our store." As Castro-Dominguez went over to the spices aisle to assist the customer, a member of the group went behind the cash register and "took several bags from under the register," court records show. Police were able to identify the alleged assailants using security footage from the store, according to court records. The group made it all the way to South Charles before they were caught and arrested on charges of first-degree theft.
Even though the alleged robbers have been caught, police only recovered $1,138 out of the more than $70,000 of cash and checks Diego Castro said had been stolen
.
desmoinesregister.com
Nashville, TN: Police searching for gunman in grocery store robbery
Honolulu, HI: Felon with long record arrested for second time in 8 days
St. Louis, MO: Woman admits to running chop shop, could spend 15 years in prison

---

None to report.

Submit Your New Hires/Promotions
or New Position
See all the Industry Movement
---




Feature Your Job Here For 30 Days -
70% Aren't On The Boards
Post your job listing
---
Featured Job Spotlights
An Industry Obligation - Staffing
'Best in Class' Teams

Every one has a role to play in building an industry.
Filled your job? Any good candidates left over?
Help your colleagues - your industry - Build 'Best in Class' teams.

Refer the Best & Build the Best
Quality - Diversity - Industry Obligation

---



Director of Retail Solutions - North America
Denver, CO - posted April 5
This role will be focused on selling our SaaS retail crime intelligence platform by developing new prospects, and progressing Enterprise level prospects through our sales process. You will report directly to the VP of Retail Solutions - North America, and work alongside our Marketing, Partnerships and Customer Success team to grow our customer base...



Asset Protection Manager
Remote - posted May 30
The Asset Protection Manager is responsible for supporting global field and corporate operations execution of asset protection processes. This role has analysis-based responsibilities as well as investigation and recovery of losses within an assigned Region...

Region Asset Protection Manager: Fresco y Mas Banner (Bilingual Required)
Miami, FL - posted May 17
Responsible for managing asset protection programs designed to minimize shrink, associate and customer liability accidents, bad check and cash loss, and safety incidents for stores within assigned region. This position will develop the framework for the groups' response to critical incidents, investigative needs, safety concerns and regulatory agency visits...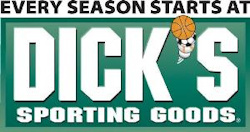 Store Loss Prevention Manager
Tacoma, WA - posted April 24
Store Loss Prevention Managers are responsible for leading Loss Prevention functions within a specific location and for partnering with Store Operations in an effort to prevent company loss. You will be responsible for driving company objectives in profit and loss control, sales performance, customer satisfaction, and shrink results...

Manager, Regional Loss Prevention
Minneapolis, MN - posted April 4
This position is responsible for managing all aspects of loss prevention for a geographic area to reduce and control shortage and other financial losses in 124+ company stores. The coverage areas average $850+ million in sales revenue...



Corporate Risk Manager
Charlotte or Raleigh, NC - posted February 14
Summary of Role and Responsibilities: Proactive approach to preventing losses/injuries whether they are to our employees, third parties or customers valuables. They include cash in transit, auto losses or injuries; Report all incidents, claims and losses which may expose the company to financial losses whether they are covered by insurance or not...
---

Featured Jobs

To apply to any of today's Featured Jobs, Click Here

---

---

Finding the right network into a company is critical if one expects to truly be able to compete in this job market. Going beyond the HR executives and finding the hiring managers and other decision makers and being able to communicate with them or have your network of colleagues communicate with them is important. Managing those communications is no easy task and ensuring that the information is handled correctly and expediently can be delicate.


Just a Thought,
Gus




(content subject to approval)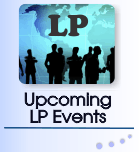 ---

Recruiting?
Get your job e-mailed to everyone... everyday
Post on our Featured Jobs Board!
Not getting the Daily?
Is it ending up in your spam folder?
Please make sure to add d-ddaily@downing-downing.com to your contact list, address book, trusted sender list, and/or company whitelist to ensure you receive our newsletter.
Want to know how? Read Here



36615 Vine Street, Suite 103
Willoughby, OH 44094
440.942.0671
copyright 2009-2019
all rights reserved globally