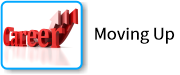 ---
Joe Anderson named Senior Manager of Asset Protection Supply Chain for Five Below

Before being named Senior Manager of Asset Protection Supply Chain for Five Below, Joe spent nearly five years with Duluth Trading Company as Senior Manager of Organizational Asset Protection & Safety. Prior to that, he spent nearly three years with Dollar Tree Stores as Regional AP Manager. Earlier in his career, he held roles with Shopko and Pamida. Congratulations, Joe!

See All the Executives 'Moving Up' Here

Submit Your New Corporate Hires/Promotions or New Position

---

---

In Case You Missed It

Empower Your Stores With the Future of
Video Loss Prevention
Broaden LP's Impact & Address In-Store Issues
Faster and More Efficiently


Watch Now On-Demand!

Join OpenEye and Gus Downing, publisher of the D&D Daily, for an insightful discussion on how retailers are using OpenEye's latest product, POS Connect, to gain a complete picture of their operations and improve their loss prevention efforts.

Register and discover how to leverage your video surveillance to:
Prevent fraud using proactive business intelligence and advanced tools for loss prevention.

Reduce shrink and fraud by marrying your POS data with video verification.

Improve productivity by evaluating employee performance, training procedures and personnel needs.

Streamline your operations across multiple sites, while reducing the burden on IT.
---

The U.S. Crime Surge
The Retail Impact

Retail Mass Shootings Back in the Headline After Texas Mall Massacre
Retail locations make up the second-most common site of mass shootings

'Mayhem inside': Texas shooting shows challenge of protecting malls
A mass shooting at a mall near Dallas on Saturday -- which left nine dead, including the suspect, as well as seven injured -- turned a shopping destination into a site of horrifying carnage.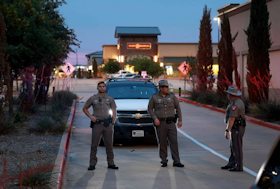 The attack comes less than a year after a gunman opened fire at a mall in Greenwood, Indiana, killing three people and injuring two others. A few months before that, last April, a shooter at a mall in Columbia, South Carolina, injured 14 people.

Shopping malls offer a vulnerable target for mass shooters and a near-impossible task for security, since droves of people often converge through multiple entry points with easy access, experts told ABC News.

Moreover, efforts to better secure malls with metal detectors or additional security guards risk pushback from developers and stores forced to bear added costs as well as customers faced with the inconvenience of airport-style lines and armed surveillance, they added.

Still, some malls may seek to find a balance between heightened security and consumer comfort, the experts said, noting that safety at such venues owes in large part to the wider context of gun laws and mental health services.

Retail locations make up the second-most common site of mass shootings, accounting for nearly 17% of mass shootings recorded between 1966 and 2021, according to a previous ABC News analysis of data compiled by The Violence Project.

The nation's roughly 700 malls are part of a category referred to as "soft targets," which includes religious institutions, restaurants and other locations.

Bolstered security at such locations would require checkpoints at every entryway as well as round-the-clock guards available to respond quickly in the event of an attack, Tung Yin, a national security expert and professor at Lewis & Clark Law School, told ABC News.

Such measures would call for malls to make a significant financial investment and consumers to tolerate inevitable delay and discomfort, Yin added.

"Think about a mall with 50 stores that want to do active-threat training -- who's going to pay for it?" Eliadis told ABC News. "Every store says, 'I'm not doing it, you do it. Oh, the landlord should do it.'"

Bolstered security at malls would not ensure their safety, experts said, since larger policies dictate key factors that contribute to mass shootings, such as the availability of guns and the screening of individuals with mental health issues. abcnews.go.com


The Lasting Impact of Mall Mass Shootings
U.S. shopping mall retailers impacted by mass shootings
The 199th mass shooting in the United States occurred on May 6th at a Dallas shopping mall, resulting in the deaths of nine individuals.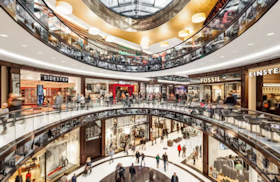 Shopping malls are particularly vulnerable to mass shootings, as it is nearly impossible to prevent armed individuals from entering. This latest shooting follows a deadly incident in a Greenwood mall in Indiana less than a year ago, and another in Columbia, South Carolina, which injured 14 people.

In the aftermath of a mass shooting, retailers may have to temporarily close their stores for investigation purposes, which can result in a loss of revenue. Some retailers may never fully recover from the financial impact, particularly if closures are for an extended period of time. Moreover, mass shootings in shopping malls can also damage a retailer's reputation and erode customer trust. Fearful shoppers may become hesitant to visit a particular mall or store, leading to decreased foot traffic, lower sales, and a damaged brand image.

Retailers may also face increased security costs following a mass shooting. They may need to invest in additional security measures, such as metal detectors, security cameras, and armed guards, to provide a sense of safety and security for their customers. These additional measures can be costly and time-consuming.

Mass shootings in shopping malls can also have a lasting impact on the mental health and well-being of employees and customers who were present during the shooting. Retailers may need to provide counseling and other support services to those who were affected, which can also be costly.

Despite the high number of mass shootings, the issue of gun control and the possibility of banning weapons in the United States remains a complex and contentious issue with no clear resolution in sight. fashionunited.uk


Should More Retailers Have Mass Shooting Training?
Demand for public shooting training on the rise amid mass shooting surge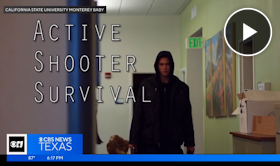 Once reserved for police who were expected to stop a threat, planning and training for public shootings is becoming increasingly common in retail stores, offices and other workplace according to security experts.

The training was cited by a retail store manager in Allen on Saturday, who said she moved customers and employees into fitting rooms, turned off the lights and locked the doors when shooting started. She told CBS News Texas she had reviewed the drill with staff just days earlier.

Teegna Broadwater, whose Fort Worth company Tactical Systems Network provides consulting and active shooter training, said he's worked with warehouses, strip malls, manufacturing companies and more.

"Everyone is more hyper aware of the fact that something like this could happen, whether it be from an internal standpoint, or an external standpoint," he said.

While circumstances and location can lead to individualized plans, Broadwater said often he aims to simplify training, teaching employees the process of "Run, Hide, Fight."

It is sometimes those employees now who are asking managers for the training and procedures, he said, with the incidents becoming more common. cbsnews.com


The Big City Exodus Driven by Crime & Other Factors
But It's Giving a Boost to Suburban Retailers

The Decline of the Five-Day Commute Is a Boon to Suburban Retail

Challenging time for urban downtowns presents opportunities in other locations

A growing number of retailers in city office districts are relocating their businesses to the suburbs, where visits to shopping centers are on the rise as fewer people commute to downtown workplaces.

With average office usage rates still only around half of where they stood before the pandemic in many major cities, many bars, restaurants and other retailers that cater to the five-day-a-week office crowd have been reeling.

Pedestrian foot traffic in U.S. urban downtowns was down about 25% in April compared with the same month in 2019, according to real-estate software provider MRI Springboard. Nordstrom's announcement last week that it was closing two stores in San Francisco was the latest sign of retailers' discontent with declining sales and rising property crime in big cities.

Some restaurants and retail businesses are now moving from their once bustling urban locations to the nearby burbs. Several restaurant chains have expanded beyond office corridors since the pandemic, including salad shop Sweetgreen, which closed several locations in Los Angeles, Boston and New York City last year. While the firm said it isn't abandoning cities, as of last summer, half of Sweetgreen's footprint was in the suburbs, up from 35% at the end of 2019, the company reported.

Suburban landlords say demand from retailers was strong during the first months of this year, even with high inflation and rising interest rates. Shopping-center owner Site Centers reported record-high leasing in the first quarter, while owner Phillips Edison reported a new high for occupancy. Retail Opportunity Investments Corp. said its portfolio is more than 98% leased. wsj.com


America's 10 Safest States
Meanwhile, Louisiana is the Worst State for Property Crime

These are the 10 safest states in the US, data shows
Which states in the U.S. are safest? U.S. News and World Report recently revealed the 10 states that are safest in regards to occurrences of both violent and property crimes per 100,000 residents using data from the FBI.

As explained by the FBI, violent crimes include murder, robbery, aggravated assault and sexual assault. Property crime includes events like burglary and motor vehicle theft. U.S. News explains the data shows that while violent crime rose 4.6% between 2019 and 2020, property crime dropped 8.1%.

Currently, the 10 safest states are: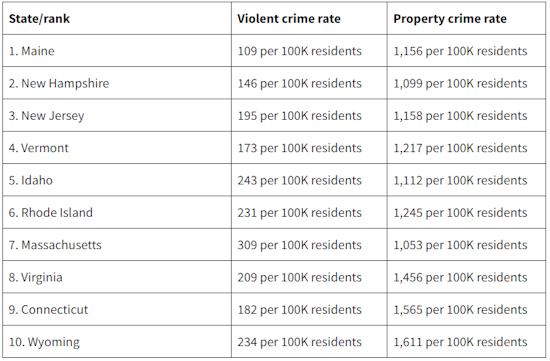 When it comes to the highest rates of violent crime, U.S. News reports Alaska ranks the highest, with 838 violent crimes per 100,000 residents. Louisiana experienced the highest numbers of property crime, with 2,884 crimes per 100,000 residents. ksn.com


Crime Doesn't Care About Politics - It's Rising Everywhere
The View from the Left: High Crime in Non-Progressive Cities Fueled by Guns, Inequality

Republicans have criticized progressive policies for fueling crime, but cities without those policies are also seeing high rates of crime.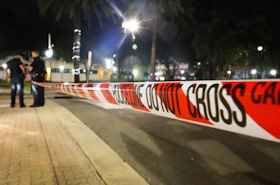 Republican mayors rejected progressive criminal justice reforms embraced by their Democratic counterparts, but factors such as inequality and guns are still driving crime in larger conservative cities, experts told Newsweek.

The GOP has seized on Democrats' support for criminal justice reform in recent election cycles, arguing these policies lead to higher crime rates in large cities. Instead, Republicans have offered "tough on crime" and pro-police positions that have proved salient, helping them secure control of Congress during the 2022 midterm elections.

However, a city's partisan lean generally does not necessarily correlate with its crime rate, according to data compiled by Newsweek. While cities like Chicago and Philadelphia indeed have higher crime rates than other cities, places like New York City or Los Angeles, frequently cast as crime-ridden by Republicans, have crime rates on par or lower than many cities led by Republicans.

New York City has particularly faced scrutiny following former President Donald Trump's indictment in April. Republicans have sought to accuse Manhattan District Attorney Alvin Bragg of ignoring crime in the city while engaging in a politically motivated prosecution. However, tough-on-crime cities like Jacksonville, Florida; Tulsa, Oklahoma; and Miami all reported higher crime rates in 2021. newsweek.com


Another Progressive City Looks to Beef Up Police Amid Crime Surge
Washington DC mayor considers adding cops to deal with crime surge: reports

Washington, DC mayor Muriel Bowser plans to host a Public Safety Summit on Wednesday to get input from the public on solving rising crime

The mayor of Washington, D.C. is turning to the public for a solution on how to solve the rising crime problem, which may include hiring more police officers, according to reports.

According to DC News Now, Mayor Muriel Bowser will be hosting a Public Safety Summit on Wednesday to give the public a chance to weigh in on how to fix crime in the district. Violent crime in the nation's capital is up 10% from the same time last year, which includes a 15% rise in homicides.

Also on the rise in Washington, D.C. are violent crimes committed by juveniles, which has sparked concern by some residents who want to see juveniles prosecuted as rigorously as adults.

The mayor, according to DC News Now, said one solution could be to hire more police officers.

"MPD is at a historic low in terms of staffing," Bowser said. Currently, MPD has 3,350 police officers, outgoing chief Robert Contee told the news outlet. He also said another 200 plan to leave by the end of fiscal year '24. foxnews.com


Texas mall shooter's 8 weapons were legally obtained

1 year after Buffalo store shooting, residents feel they're left to save themselves
---

Momentum Continues to Swing Back in Favor of Facial Recognition Tech
Cities are backing away from total bans & embracing thoughtful, measured use of facial recognition

US city ends facial recognition moratorium, considers new rules for police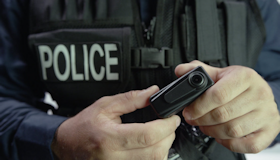 A pair of bills in Baltimore have been introduced that would prohibit the purchase of biometric software and hardware without first holding a public hearing and getting the City's Council's permission. The legislation also would create a surveillance systems commission to co-regulate their operation.

It also would create a regulatory framework, including reports to the council, to oversee police use of the algorithms, according to reporting by local news publisher The Baltimore Banner.

The changes come when debate over if and how law enforcement across the United States should use facial recognition swings from bans and moratoriums to unilateral deployments.

Baltimore had passed a facial recognition surveillance moratorium that ended last year. It prohibited most public and private use of surveillance, except for the police. Proposed language for the bill would bar police use of algorithms at political protests and rallies, and other large gatherings. biometricupdate.com


Self-Checkout Technology Making More Headlines
This time it's not about theft

Tipping at Self-Checkout Has Customers Crying 'Emotional Blackmail'

Consumers already bristling at higher prices question where the money goes when interaction with an employee was nonexistent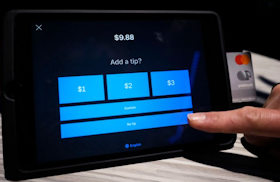 Zero interaction with employees during a transaction no longer guarantees freedom from the moral quandary of how much to tip.

Prompts to leave 20% at self-checkout machines at airports, stadiums, cookie shops and cafes across the country are rankling consumers already inundated by the proliferation of tip screens. Business owners say the automated cues can significantly increase gratuities and boost staff pay. But the unmanned prompts are leading more customers to question what, exactly, the tips are for.

"They're cutting labor costs by doing self-checkout. So what's the point of asking for a tip? And where is it going?" says Ishita Jamar, a senior at American University in Washington, D.C., who has noticed more self-serve tip cues at restaurants she frequents.

Tipping researchers and labor advocates say so-called tip creep is a way for employers to put the onus for employee pay onto consumers, rather than raising wages themselves. Companies say tips are an optional thanks for a job well done. wsj.com


Overworked & Fatigued Employees Jeopardize Workplace Safety
How Worker Fatigue Harms the Bottom Line

Studies show that an overworked and overtired workforce will ultimately cost the company money.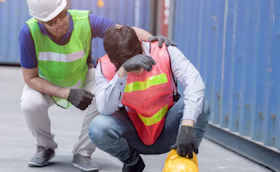 As a safety professional, you need to be aware of the dangers of workplace fatigue and warn company management to consider the economic impact of driving workers too hard. But you'll need solid evidence to support your argument.

There are two studies published in the Journal of Occupational and Environmental Medicine (JOEM) you can use: one is on the relationship between fatigue and health-related lost productive time, and the other links weekly work schedules of 60 or more hours to health and safety problems.

Fatigue in the Workforce

Workers suffering from fatigue—physical and mental—are not only less productive and more prone to illness but also more distracted and thus more likely to be involved in a safety incident. For example, studies show that fatigued workers are more than twice as likely to experience health-related lost productive time. One study found that 37.9% of U.S. workers experience fatigue, costing companies approximately $136 billion in lost productivity.

Fatigue clearly impairs work ability. Studies have shown that workers with fatigue are significantly more likely to miss work and experience long-term work absences than workers without fatigue. But there were no studies on the prevalence of fatigue within the workforce (at least in the U.S.) and how fatigue affected productive work time. ehstoday.com


Unionized Employees Accuse Starbucks of 'Illegal Union-Busting Campaign'
Buffalo Starbucks workers helped spark the chain's labor union movement. Now, one of the stores has filed to decertify its union.

Workers United cited an "illegal union-busting campaign" at the store, while Starbucks denies it.

One of the first Starbucks stores to vote to unionize has filed a petition to end its union. The store, located in downtown Buffalo, New York, would remove Workers United as its representative in negotiations with Starbucks, Bloomberg Law reported. Before that can happen, workers at the store must vote in an election to approve the action.

The store voted 18-to-1 for a union in April 2022, Quartz reported. It was among the first Starbucks stores in the country where employees voted to have union representation. A spokesperson for Workers United told TV station WGRZ that Starbucks had launched an "illegal union-busting campaign" at the store.

"Almost every union leader at the store was fired or forced out because of the environment of intimidation and fear that Starbucks management created," the spokesperson said. "In fact, the company is currently being prosecuted for the discriminatory treatment of workers at the Del-Chip store."

A Starbucks spokesperson told Insider: "The allegations are false. Starbucks policy strictly prohibits any retaliatory behavior directed toward partners who are interested in a union." businessinsider.com


LinkedIn is the latest company to slash jobs amid a layoff wave
LinkedIn employees are the latest to be hit by a wave of layoffs, as the company cuts 716 jobs. Over the past few months, layoffs have expanded outside of tech, media, and finance as Gap and Whole Foods announced cuts.

Party City is planning to close over 30 stores across the country

Tempur Sealy to acquire Mattress Firm in $4 billion deal

How Walmart turned Sam's Club's into Costco's biggest rival

CPI Report Shows Inflation Eased to 4.9% in April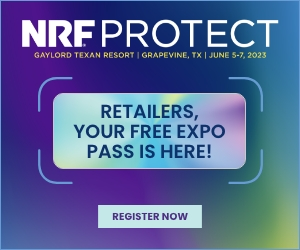 ---


Powered by Experience.
Driven by Excellence.
ADT Commercial is a premier provider of commercial security, fire, life safety and risk consulting services in the United States. Headquartered in Boca Raton, Fla., ADT Commercial supports more than 300,000 customer locations with its strong network of over 4,500 experts in their specific fields, spread across 150 locations and two monitoring and operations centers. ADT Commercial is built on a foundation of customer service excellence and strengthened by decades of industry expertise as it continues to broaden its comprehensive portfolio of solutions, geographic reach, and commercial field operations. For more information, please visit adtcommercial.com and follow us on Facebook, LinkedIn, and YouTube.
Solutions to help manage your organization's risks
ADT Commercial can help manage your organization's risks with custom integrated solutions to help cover all your locations - inside and out. Our local teams will tailor your systems to meet the specific needs of each facility.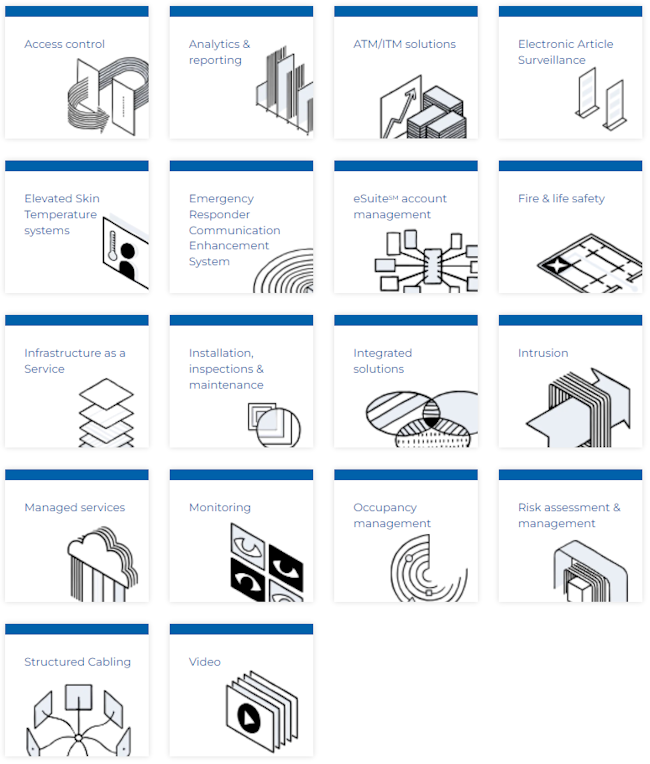 ---
---

Securing Infrastructure, Protecting Consumer Privacy & Preventing Breaches
3 Core Cybersecurity Priorities for Retailers and How to Address Them

Security expert Richard Purizaca offers advice on securing infrastructure, protecting consumer privacy and preventing breaches.

Cybercriminals have been increasing their attacks on retail businesses. That's why 70 percent of industry CISOs say they expect their budgets to increase for the third year in a row in 2023, according to the Retail & Hospitality ISAC.


We spoke to Richard Purizaca, a senior field security solution architect with CDW who specializes in cybersecurity, about the challenges faced by modern retailers. He said that shrewd retailers understand that there are three core priorities they must confront when it comes to cybersecurity and offered guidance on how they should address each one.

BIZTECH: Can you talk a bit about the three core security issues that retailers must address?

PURIZACA: Yes, let's take each one at a time. Retailers' No. 1 priority must be to secure retail infrastructure communications. Retailers need to have a solid understanding of all the assets that exist within their network infrastructure. This requires having clear visibility of those assets to make sure they are monitoring them properly.

BIZTECH: What's the second core issue?

PURIZACA: The next thing is that retailers must ensure they're keeping consumer data private, so they have to handle consumer data properly. For credit card information or any type of consumer information, they need to have the proper security and encryption levels in place to make sure that line of communication is secure. Any retailer who manages consumer traffic and consumer data should have these security guardrails in place.

BIZTECH: That brings us to the third core issue: preventing network breaches. How do these security measures enable that?

PURIZACA: Preventing network breaches means monitoring employees and having an extra layer of visibility. You start with a solid fundamental security program, with monitoring and other tools. You also have a firewall, intrusion detection, URL filtering, endpoint protection and identity and access management. A lot of these tools work together to establish the proper security posture for businesses to avoid any type of network breaches, or at least to lessen the risk in terms of them being exposed to a network hack. biztechmagazine.com


DOJ's Cybercrime Crackdown Continues
Justice Department Targets 13 Websites Linked to DDoS-for-Hire

Ten of the domains targeted today were "reincarnations" of services seized in December 2022.

On May 8, the Justice Department announced a court-authorized seizure of 13 Internet domains linked to stressor or booter platforms, more formally known as DDoS-for-hire services.


This is the third wave of US law enforcement action against these kinds of services that allow users to pay for distributed denial-of-service attacks (DDoS), which overload targeted machines with an onslaught of information and disrupt operations, including accessing the Internet. Not only this, but DDoS attacks can "completely sever Internet connections for other customers serviced by the same Internet service provider." Thousands of users pay for these services to launch millions of attacks against countless organizations, including schools, universities, government websites, and financial institutions, the Justice Department said in the release.

In December 2022, nearly 50 booter services were targeted and seized by US law enforcement and 10 of the 13 that were targeted today are "reincarnations of services that were seized" during the sweep in December. As the Justice Department cracks down on operators, they stress that investigations into these services will continue.

"Victims who are attacked by such services, or those providing Internet services to the victims, often have to 'overprovision,' that is, pay for increased Internet bandwidth in order to absorb the attacks, or subscribe to DDoS protection services, or purchase specialized hardware designed to mitigate the effects of DDoS attacks," stated the affidavit supporting the seizure warrants. "The prices of such overprovision or DDoS protection services are usually significantly more expensive than the cost of a given booter service." darkreading.com


DOJ Disarms Malware Network
FBI Disarms Russian FSB 'Snake' Malware Network

Operation "Medusa" disabled Turla's Snake malware with an FBI-created tool called Perseus.

The US Department of Justice announced it has pulled off a joint operation code-named Medusa that decimated a long-standing malware operation run by the Federal Security Service of the Russian Federation (FSB).

For nearly 20 years, threat group Turla, operating inside the FSB's notorious Center 16, used Snake malware to steal secrets from North Atlantic Treaty Organization (NATO)-member governments, according to an announcement from the US Attorney's Office in the Eastern District of New York.

Following compromise of target government systems, Turla would exfiltrate sensitive data through a network of compromised machines spread throughout the US and beyond to make detection harder, the DoJ said.

The FBI developed a tool named Perseus, which was able to successfully command components of the Snake malware to overwrite itself on compromised systems, the DoJ added. darkreading.com


New Ransomware Operation Targets 'Large Commercial Entities'
New Cactus ransomware encrypts itself to evade antivirus
A new ransomware operation called Cactus has been exploiting vulnerabilities in VPN appliances for initial access to networks of "large commercial entities."

The Cactus ransomware operation has been active since at least March and is looking for big payouts from its victims. While the new threat actor adopted the usual tactics seen in ransomware attacks - file encryption and data theft - it added its own touch to avoid detection.

Researchers at Kroll corporate investigation and risk consulting firm believe that Cactus obtains initial access into the victim network by exploiting known vulnerabilities in Fortinet VPN appliances.

Extensive details about the Cactus operation, the victims they target, and if the hackers keep their word and provide a reliable decryptor if paid, are not available at this time.

What is clear is that the hackers' incursions so far likely leveraged vulnerabilities in the Fortinet VPN appliance and follow the standard double-extortion approach by stealing data before encrypting it.

Applying the latest software updates from the vendor, monitoring the network for large data exfiltration tasks, and responding quickly should protect from the final and most damaging stages of a ransomware attack. bleepingcomputer.com


Microsoft Patches 2 Zero-Day Vulnerabilities

To enable ethical hackers, a law reform is needed

---

In Case You Missed It

Retail Council of Canada embarks on new cybercrime awareness venture

The Retail Council of Canada (RCC) recently launched a new cybercrime prevention campaign to provide educational resources for retailers and their employees, from frontline workers to IT security professionals.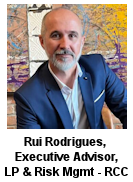 The Retail CyberSecure initiative, which kicked off at the beginning of this year, was made possible through the support of the Ontario Ministry of the Solicitor General and includes partnerships with the RCMP and the Ontario Provincial Police, among other organizations.

The program, which will continue to roll out throughout the year, comprises a series of six webinars along with downloadable guides and e-learning training modules. The resources are offered for free to achieve maximum impact, said Rui Rodrigues, the RCC's executive advisor for loss prevention and risk management.

The issue of cybercrime has become more acute for retailers, he said, as threats continue to ramp up. The pandemic also saw retailers become more reliant on online storefronts when in-store shopping was curtailed or temporarily restricted.

"Over the last few years, we've heard more and more from retail organizations about cyber," said Rodrigues. "You can't escape it."

The CyberSecure initiative is "really focused on ways we could educate, provide awareness and share best practices," added Rodrigues, "and doing it through various mediums."



Three of the six planned webinars are currently available on the RCC Retail CyberSecure resource website, focused on awareness training and current cyberthreats. Webinars on threat action plans, defensive procedures, ransomware training and brute force attacks will follow in the coming months.

Battle on two fronts

In some ways, loss prevention specialists are waging a battle on two fronts: the threat of shoplifting in brick-and-mortar retail locations and the ever-present spectre of cybercrime in the digital realm.

In both cases, education and awareness are key, said Rodrigues, along with collaboration with government and likeminded organizations to get the word out. canadiansecuritymag.com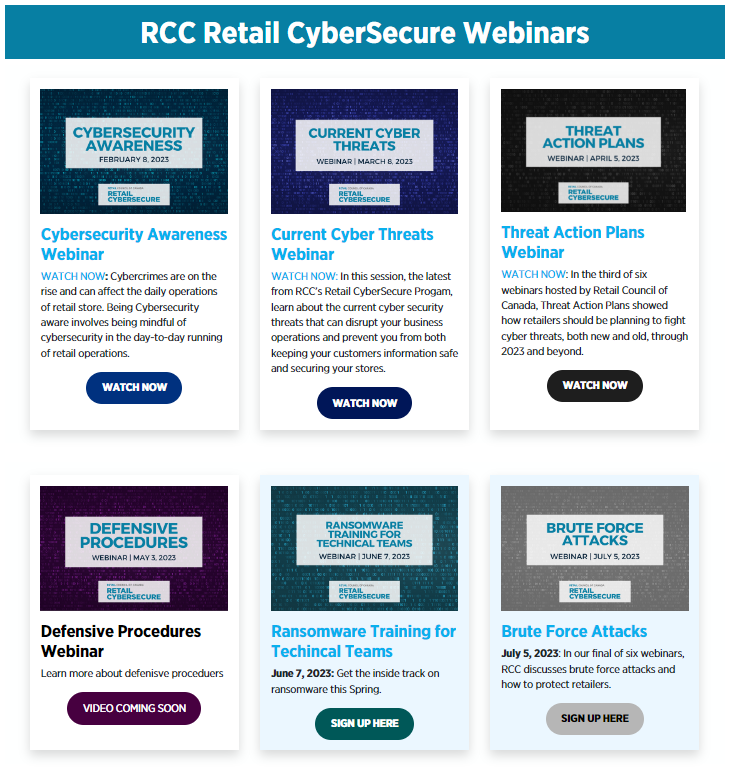 Click here to learn more about the
RCC Retail CyberSecure program

---

Security Leaders Should Prepare Emergency Kits for Employees
Canada provides emergency response recommendations
Recent storms have restarted conversations around how to prepare in the event of an emergency. Canada has written up recommendations for an emergency kit in the event of a power outage.

An emergency kit contains basic supplies to can survive on during an emergency, even in cases where the power is out for an extended period of time or there have no access to running water or other necessities.

While emergency kits are often recommended for households, security leaders should also prepare emergency supplies for employees. This is especially true for employees who remain in the workplace outside of traditional working hours, such as night-shift employees or hospital staff. Kits should be easy to access or carry for any employee who may need it.

According to recommendations, emergency kits should contain:

• Two liters of water per person per day. Include small bottles that can be carried easily.
• Food that won't spoil, liked canned goods, energy bars and dried foods. Remember to pack a manual can opener if one isn't readily available in the workplace.
• A flashlight.
• Battery-powered or wind-up radio.
• Extra batteries.
• First aid kit.
• Extra keys to necessary areas.
• A copy of the company's emergency plan. securitymagazine.com


Canadian Tire, Costco, and Staples Lead Canadian Retailers
These are Canada's most respected retail stores for 2023 according to a new poll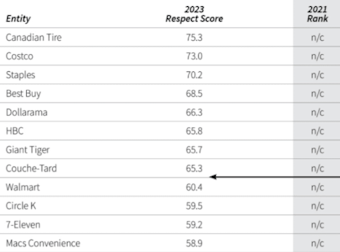 A new ranking has been released and it's all about our favourite Canadian retailers. Here's how these stores ranked in Canada's most respected merchandise retail stores of 2023. According to the results, for the second consecutive time, three retail stores have topped the list once again – Canadian Tire, Costco, and Staples, in that order.

Best Buy, Dollarama, and HBC come next, in that order, and also surpass the "respect score average" which stands at 65.3. Walmart, Circle K, and 7-Eleven fall just below the average leaving none other than Macs Convenience in last place.

"All the companies improved on their respect score but remained in the same ranked order from the previous sounding," shares the ranking.

"The results speak to the resilience of the brands and the hard work of employees, management, and suppliers who were on the frontlines during some of the most challenging times in recent memory." curiocity.com


Store 'Operating Completely Illegally'
A Store Selling Heroin, Meth, and Cocaine Just Opened in Canada

Jerry Martin has opened The Drugs Store in Vancouver. If arrested, he plans to launch a constitutional challenge.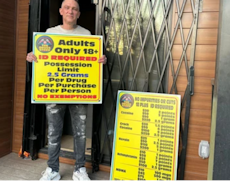 A Vancouver man has opened the only known brick-and-mortar store in Canada and the U.S. that sells heroin, cocaine, meth, MDMA, and other drugs.

Jerry Martin, 51, opened the Drugs Store Wednesday in Vancouver's Downtown Eastside, a neighborhood that's long been considered ground zero for Canada's overdose epidemic. While British Columbia has very progressive drug laws, the mobile shop is operating completely illegally. The province recently began a three-year drug decriminalization pilot project for possession of small amounts of opioids, cocaine, meth, and MDMA, but selling remains prohibited.

However, Martin told VICE News he opened the store because he wants to give people drugs that have been tested and are free from adulterants, including fentanyl. Although fentanyl, which is driving record overdoses in Canada and the U.S., is the primary street opioid that Vancouverites now use, Martin is instead selling heroin.

"People are dying," Martin said. "Especially now, they've allowed the entire province to do these drugs... But they've provided no clean, safe supply. They're getting it from the same supply that everybody's overdosing from." vice.com


'It's a huge facility': Walmart opens new distribution centre in Moncton

Canadian Tire to rebrand gas stations in new Petro-Canada partnership

One man killed, one wounded in Surrey gang shooting outside Circle K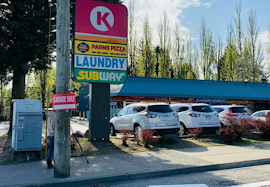 The man shot to death in Surrey Tuesday night was the latest victim in B.C.'s ongoing gang conflict. Jayden Prasad, 20, had links to the Brothers Keepers gang, according to sources. He was killed minutes after 8 p.m. as he sat inside a black Dodge Durango in the parking lot of the Circle K convenience store at 148th Street and 108th Avenue in Guildford. A second man was injured in the shooting, taken to hospital, but has since been released. The Integrated Homicide Investigation Team confirmed Prasad's identity Thursday, a day after Postmedia reported it. Cpl. Sukhi Dhesi said "Prasad was known to police and initial information suggests that this was a targeted incident with ties to the B.C. gang conflict. A possible suspect vehicle was located a short time later in Langley, with indications that an attempt was made to light it on fire." vancouversun.com


10 Retail Robberies Across Toronto
Suspect arrested following 'spree' of retail robberies Toronto's west end
Police have made an arrest following a "spree" of 10 retail robberies in Toronto's west end.

Between Saturday and Sunday, Toronto police said they responded to three robbery calls near the intersections of Sheppard Avenue West and Weston Road and Wilson Avenue and Keele Street. Police say the suspect entered each store wearing a mask, approached the checkout counter, indicated to retail staff he was armed with a gun, and demanded cash. The suspect fled one store with cash, and fled empty-handed from the other two stores.

These robberies follow a string of seven similar thefts near Toronto's Rexdale neighbourhood last week. The suspect is also facing charges in connection with those occurrences.

Following this weekend's final robbery, police located the man and took him into custody after a short chase by foot. cp24.com


Five suspects arrested in armed robbery attempt, including Milton man
A Milton man is among five suspects that have been arrested following an armed robbery attempt at a jewelry store in Brampton. On Thursday, April 6th, at roughly 11:00 a.m., the suspects attended a jewelry store in the area of McLaughlin Road and Wanless Drive in Brampton. It is alleged that the suspects, armed with firearms and other weapons, made attempts to break into the store; however, were not completely successful. They fled the area in a White Dodge Durango, which had no licence plates attached to it. One victim sustained minor injuries, as a result of this incident. Investigative efforts led to the identity of one of the culprits and several associated addresses throughout the GTA. miltonnow.ca


Police arrest, charge 16-year-old in shooting at bar in Greater Sudbury, Ont.
Police say a 16-year-old boy has been arrested and charged in a deadly shooting at a city bar in northern Ontario. They allege an argument between a group of males escalated until a 22-year-old man was shot, and was later pronounced dead in hospital.

Man hid in Ottawa store to steal electronics, police say

Police looking for suspect in 2 store robberies in south-end Guelph

Man wanted in 2 Toronto store robberies where cash, lottery tickets were stolen

Swan River RCMP catch robbery suspect who threatened employee with broken CD
---


INFORM Act's Impact on E-Commerce
INFORM Consumers Act aims to curb online sales of counterfeit goods
Retailers know all too well the headache and loss of profit caused by the online sale of counterfeit and stolen goods. Such sales are essentially theft from legitimate businesses, weaken brand value, and put consumers at risk of fraud and poor quality products.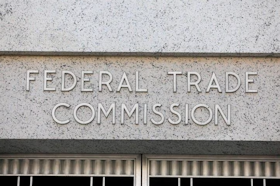 When a marketplace is alerted that such products are being offered through its online platform, the law provides immunity to the marketplace so long as it removes the products and provides contact information for the seller.

But often the contact information is as fake as the products, which pop back up under a new false name the next day. This counterfeit "whack-a-mole" game is expensive, frustrating, and often ineffective.

After considerable lobbying, Congress has taken action directed at combating the online market for counterfeit and stolen goods by recently passing the Integrity, Notification, and Fairness in Online Retail Marketplaces for Consumers Act (the INFORM Consumers Act). The Act places new disclosure obligations on high-volume sellers of consumer goods through online marketplaces aimed at bringing unscrupulous sellers out of the shadows and into the enforcement power of the Federal Trade Commission and states' attorneys general.

While traditional intellectual property protection through patents, trademarks and copyright remains crucial, the new statutory requirements of the Act should help legitimate businesses with their enforcement efforts and deter high volume counterfeiting.

The INFORM Consumers Act requires online marketplaces to collect and verify certain identification and bank account information for high-volume sellers, defined as those who have sold 200 or more items as "new" through that marketplace, totaling over $5,000 in revenue during any 12-consecutive-month period within the past two years.

The requirements of the INFORM Consumers Act go into effect June 27, 2023, and online marketplaces must implement the required policies and procedures by that date. Sellers should be prepared to submit the required information and, indeed, may already be seeing disclosure requests from marketplaces. While it will take time to assess the effects of the Act, and adjustments may prove necessary, this is an encouraging attempt by the federal government to stem the tide of counterfeit online goods, and is a clear acknowledgement of the ongoing problem. reuters.com


Amazon's Creative Bid to Control Delivery Costs
Amazon is offering shoppers $10 to pick up purchases in-store in a bid to address rising delivery costs

The e-commerce giant is among a number of retailers who are rethinking free shipping options.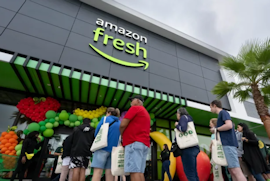 Amazon is offering shoppers $10 to collect their purchases in-store rather than getting them delivered in a bid to address rising shipping costs, Reuters reported Monday.

A number of Amazon Prime subscribers — those who pay a membership to have free shipping — received emails promising them $10 to pick up orders that cost $25 or more at pickup points like Amazon Fresh, Whole Foods, or Kohl's, per Reuters. Kohl's partnered up with Amazon in 2019 to accept Amazon returns at its stores.

A New York-based shipping consultant Dean Maciuba, who was one of the customers that received the offer, told Reuters that it's "a huge opportunity for Amazon to reduce the cost of delivery," while also training consumers to become accustomed to returning items in store.

The e-commerce giant is among a number of retailers including Zara, Abercrombie and Fitch, and Foot Locker who are rethinking free shipping options.

In recent months, Amazon has made changes to its delivery and returns offering due to rising costs. This includes hiking up the price of its annual Prime subscription by $20 to $139, tacking on a delivery fee of up to $10 on any grocery orders under $150, and charging a $1 fee on some returns made via UPS. news.yahoo.com


Amazon employee dies after injury at Fort Wayne facility: police

PayPal raises full-year profit above estimates on e-commerce strength, cost cuts
---
Albuquerque, NM: 'Operation Sticky Fingers' Nearly three dozen people arrested in APD retail crime operation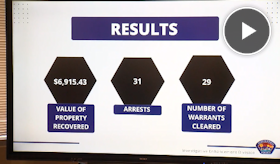 Albuquerque Police says a recent retail crime operation lead to the recovery of thousands of dollars in merchandise and the arrest of nearly three dozen suspects. The department highlighted the results of the work at a news conference Tuesday while also promising more operations targeting the problem throughout the summer.

Calling it "Operation Sticky Fingers," APD says teams of officers arrested 31 offenders, cleared 29 warrants and recovered nearly $7,000 in stolen merchandise in the recent sting. The operation took place the first week of May at several big box stores in the Coronado and Cottonwood shopping areas. "We're going out, we're interfacing directly with the stores and their loss prevention and their employees, and creating zero tolerance zones for any kind of theft that's occurring inside those businesses while we're there," said APD Acting Commander Kyle Hartsock, who oversees the department's Investigative Enhancement Division. "It's one thing that we all know someone's stealing, but we also wanted to better track how they're getting to these businesses."

Of the 31 people arrested in the recent operation, APD says 29 of those individuals were either using city buses or walking on foot to and from the target businesses. Hartsock qualified some of the suspects behavior as "very bold and brazen thefts with no real fear of enforcement." The highest alleged theft was at a Kohl's. APD arrested Wayne Toya, who was accused of walking out with $691.46 in merchandise. APD say Toya was compliant with police after being confronted. krqe.com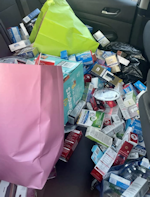 Port St Lucie, FL: Shoplifters Caught, $15K in Stolen Merchandise Recovered
27-year-old Asia Philmore and 26-year-old Jacquilla Morris, both of South Florida, have been arrested on shoplifting charges after Port St. Lucie Police (PSLPD) recovered over $15,000 of medicine, beauty products and toiletries in the suspect's stolen rental vehicle PSLPD Officers responded to a reported retail theft at the Walgreens on SW Prima Vista Blvd in Port St. Lucie where the pair were apprehended "in the store while still in the act," according to a release from PSLPD. The suspects had already filled up their tote bags once with stolen merchandise, and they had returned to the store for more when they were caught inside. They merchandise recovered had been stolen from multiple Walgreens and CVS locations throughout the Treasure Coast. Philmore and Morris were jailed on two counts of felony grand theft and two counts of felony retail theft. wqcs.org


Smithfield, NC: Update: 3 sought after thefts from designer handbag store at North Carolina outlet shops
Police in Johnston County say they are looking for three women who stole items from a store in the Carolina Premium Outlets in the last week. Three photos were released of women who the Smithfield Police Department said were involved in the thefts at 1227 Outlet Center Drive in Smithfield on Monday, May 1. The women entered the Michael Kors Outlet Store and later walked out — without paying — with various "totes and other merchandise," police said in a news release. Michael Kors describes its stores as selling "jet set luxury: designer handbags, watches, shoes, clothing." myfox8.com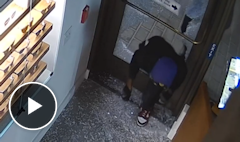 Washington, DC: Suspects caught on camera smashing store window, stealing sunglasses; Same store hit in April for $140,000
Detectives with the Metropolitan Police Department have released surveillance video in hopes of identifying the suspects of an overnight robbery in Southwest D.C. On Friday, surveillance video shows suspects smash the window of an eyeglass store located in the 600 block of Water Street, Southwest at 3:50 a.m. Once inside the store, the suspects took property before fleeing the scene in a vehicle. The suspects and their vehicle were captured by a nearby surveillance camera. wusa9.com


Lafayette, LA: Woman accused of 'distraction-style' theft at southside stores
Lafayette Police and Crime Stoppers are asking the community for help identifying a woman they say is linked to multiple cases of "distraction-style' theft at stores on Lafayette's southside. Police said the women, in her mid 20's, distracts shoppers in the store by sparking up a conversation while a man reaches into the shopper's cart and steals the wallet from the purse. The couple then leaves the store immediately, police said, and max out the victim's credit and debit cards at local Walmart's and Sam's Club buying thousands of dollars' worth of prepaid cards. klfy.com
---

---

Shootings & Deaths

Update: Detroit, MI: Gunman shot every customer in Detroit Gas Station after warning clerk, victim says
A victim in a Saturday triple-shooting at a Detroit gas station says the gunman warned a clerk during a dispute that he would shoot every customer in the store before opening fire. David Langston says he pleaded "don't shoot" to the gunman, who, according to police, was angered in a dispute with the clerk over $3. He said his best friend, Gregory Karlos Samuel Fortner-Kelly, also begged the gas station's clerk to open the locked doors of the business and let them out before being shot. The doors remained locked and the gunman shot the customers inside, Langston told Free Press reporter Jasmin Barmore, who is a friend of the victims. Langston, Fortner-Kelly and another patron were shot. Fortner-Kelly, 37, was killed.

Wayne County Prosecuting Attorney Kym Worthy confirmed late Tuesday evening that the clerk locked the gas station with the patrons and shooter inside. Samuel Anthony McCray, 27, of Detroit is charged in the triple-shooting with first-degree murder, two counts of assault with intent to murder, three counts of felony firearm, and another count of possessing a firearm as a felon. Worthy said McCray allegedly attempted to make a purchase inside the gas station, and when his card was declined, he attempted to leave with unpurchased items. The clerk then locked the doors, Worthy said in a news release. McCray allegedly began arguing with the clerk before he opened fire inside the locked gas station, Worthy said. After three people had been shot, the clerk unlocked the door and McCray fled, Worthy said. McCray was apprehended by police Sunday. freep.com


Portland, OR: Update: Security guard convicted of second-degree murder in North Portland parking lot shooting
The security guard who shot and killed a man in the parking lot of a North Portland shopping center two years ago has been found guilty of second degree murder. The Multnomah County district attorney announced Tuesday that a jury convicted Logan Conrad Gimbel, 30, in the fatal shooting of Freddy Nelson, who was 49 when he died. The shooting took place on the night of May 29, 2021, at the Delta Park Center shopping plaza. Gimbel shot through the windshield of Nelson's vehicle, killing Nelson as he sat in the plaza parking lot.

Gimbel initially said he'd acted in self defense and believed Nelson was going to run him over with his car. Eyewitnesses questioned that account, saying Gimbel was never in danger from the vehicle and that he had stepped in the vehicle's path to prevent Nelson from leaving. The private security agency that employed Gimbel had been hired by a real estate company to guard the shopping center, in part because of the large crowds that would form around a BottleDrop facility. An OPB investigation found that Gimbel was one of three guards with the security company who did not have a license to carry a gun at the time of the shooting. opb.org


Nashville, TN: Two 7-Eleven workers shot during robbery attempt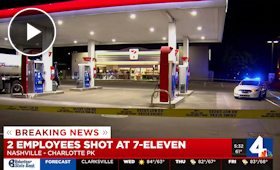 Police continue to look for a suspect in an Armed Robbery of a 7- Eleven on Charlotte Pike. An employee working in the rear of the store was shot by the suspect, a second employee pulled his own weapon and shot at the suspect. The clerk's shot missed and the suspect returned fire, hitting the 2nd clerk. Both employees were transported to the hospital and expected to survive. wsmv.com


Lexington, NC: Pharmacist grazed by bullet during attempted robbery, fired back at suspects; 2 arrested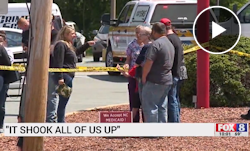 Police say suspects fired shots inside a Lexington pharmacy during an attempted robbery on Tuesday afternoon, and two people have been arrested. FOX8 is told that around 2 p.m., a pharmacist was grazed by a bullet and then fired back with his own gun. Steve Koontz is the pharmacy manager at the Lexington Family Pharmacy. He said two masked men came to rob the pharmacy and shot at him. Koontz legally carries at the pharmacy and fired back. myfox8.com

---

Robberies, Incidents & Thefts
New Hanover County, NC: In a grocery store, Deputy spots man wanted by U.S. Marshals
An off-duty deputy with the New Hanover County Sheriff's Office helped with the arrest of a suspect wanted in connection with a woman's death in West Virginia. According to a news release from the New Hanover County Sheriff's Office, while shopping at a Food Lion in Pender County on Saturday, a deputy noticed a man from a wanted poster from the U.S. Marshals Service (USMS). The suspect was identified as Kenneth Alan Stout. The deputy called 911 and Pender County deputies came to the store. According to a report, Stout took off running when they tried to detain him. They chased him down and placed him in custody.
starnewsonline.com
Missouri man who robbed Kohl's store sentenced to nearly 11 years in prison
U.S. District Judge Ronnie L. White on Tuesday sentenced a robber who stole from a Kohl's store in Manchester, Missouri to 130 months in prison. Mercedes W. Gregory, 34, of St. Louis, pleaded guilty in U.S. District Court in St. Louis in February to one count of robbery and one count of being a felon in possession of a firearm. Gregory admitted placing multiple items of clothing in a cart and walking out of the Kohl's store just before 1:30 p.m. on July 12, 2021. A loss prevention officer followed until Gregory said, "If you keep following me, I'm going to shoot you." Gregory left in a white Chevrolet. That night, officers with the St. Louis Metropolitan Police Department spotted the car at a gas station in St. Louis. Gregory ran but was caught. Officers found a Taurus handgun in Gregory's satchel. The Kohl's merchandise was in the trunk. Gregory has two prior robbery convictions, a 2008 case in St. Louis County and a 2013 case in St. Louis. Gregory's parole in the 2013 case ended 11 days before the Kohl's robbery.
kttn.com
• Beauty – Pittsburgh, PA – Robbery
• C-Store – Nashville, TN – Armed Robbery / 2 Emp wounded
• C-Store – Chicago, IL – Armed Robbery
• C-Store – Punxsutawney, PA – Robbery
• Cellphone – Houston, TX – Armed Robbery
• Check Cash – Moraine, OH – Armed Robbery
• Dollar – Memphis, TN – Burglary
• Dollar – Carlisle, PA – Robbery
• Eyewear – Washington DC – Burglary
• Gas Station - Burien, WA – Burglary
• Gas Station – North Haven, CT – Burglary
• Gym – Enterprise, AL - Burglary
• Hardware – Greene, ME – Burglary
• Jewelry – Sunrise, FL – Burglary
• Jewelry – Jacksonville, FL – Robbery
• Jewelry - Auburn, WA – Robbery
• Jewelry - San Antonio, TX - Robbery
• Jewelry – Sacramento, CA – Robbery
• Jewelry – Tampa, FL – Robbery
• Liquor – Fresno, CA – Burglary
• Mall – Smithfield, NC – Robbery
• Pharmacy – Lexington, NC – Armed Robbery / Shots fired
• Restaurant – Washington, DC – Burglary
• Restaurant – Amarillo, TX – Armed Robbery
• Restaurant – Lancaster County, PA – Burglary
• Storage – Gwinnett County, GA – Burglary
• Walmart – Williamsburg, KY – Robbery
• Walmart – Butler, PA – Robbery

Daily Totals:
• 17 robberies
• 11 burglaries
• 2 shootings
• 0 killed

---

None to report.

Submit Your New Hires/Promotions
or New Position
See all the Industry Movement
---




Feature Your Job Here For 30 Days -
70% Aren't On The Boards
Post your job listing
---
Featured Job Spotlights
An Industry Obligation - Staffing
'Best in Class' Teams

Every one has a role to play in building an industry.
Filled your job? Any good candidates left over?
Help your colleagues - your industry - Build 'Best in Class' teams.

Refer the Best & Build the Best
Quality - Diversity - Industry Obligation

---



Director of Retail Solutions - North America
Denver, CO - posted April 5
This role will be focused on selling our SaaS retail crime intelligence platform by developing new prospects, and progressing Enterprise level prospects through our sales process. You will report directly to the VP of Retail Solutions - North America, and work alongside our Marketing, Partnerships and Customer Success team to grow our customer base...



Director, Region Asset Protection & Safety (AL/MS/LA)
Jacksonville, FL - posted May 4
Responsible for the strategic development, implementation, direction and oversight of the company's Asset Protection and Safety programs within a banner or regions placing a strong emphasis and accountability for minimizing inventory shrink, associate and customer accidents and cash and bad check losses while meeting fiscal year plans for the same...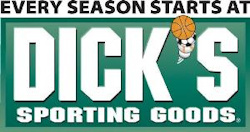 Store Loss Prevention Manager
Gilbert, AZ - posted April 24
Store Loss Prevention Managers are responsible for leading Loss Prevention functions within a specific location and for partnering with Store Operations in an effort to prevent company loss. You will be responsible for driving company objectives in profit and loss control, sales performance, customer satisfaction, and shrink results...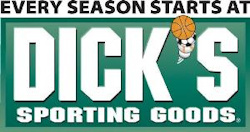 Store Loss Prevention Manager
Tacoma, WA - posted April 24
Store Loss Prevention Managers are responsible for leading Loss Prevention functions within a specific location and for partnering with Store Operations in an effort to prevent company loss. You will be responsible for driving company objectives in profit and loss control, sales performance, customer satisfaction, and shrink results...

Manager, Regional Loss Prevention
Minneapolis, MN - posted April 4
This position is responsible for managing all aspects of loss prevention for a geographic area to reduce and control shortage and other financial losses in 124+ company stores. The coverage areas average $850+ million in sales revenue...



Field Loss Prevention Manager
Atlanta, GA - posted March 21
As a Field Loss Prevention Manager (FLPM) you will coordinate Loss Prevention and Safety Programs intended to protect Staples assets and ensure a safe work environment within Staples Retail locations. FLPM's are depended on to be an expert in auditing, investigating, and training...



Corporate Risk Manager
Charlotte or Raleigh, NC - posted February 14
Summary of Role and Responsibilities: Proactive approach to preventing losses/injuries whether they are to our employees, third parties or customers valuables. They include cash in transit, auto losses or injuries; Report all incidents, claims and losses which may expose the company to financial losses whether they are covered by insurance or not...



Director of Asset Protection & Safety
Mount Horeb, WI - posted January 27
The Director of Asset Protection and Safety is responsible for developing strategies, supporting initiatives, and creating a vibrant culture relating to all aspects of asset protection and safety throughout the organization. As the expert strategist and leader of asset protection and safety, this role applies broad knowledge and seasoned experience to address risks...



Loss Prevention Analyst
Ashburn, VA - posted February 21
This position pays $67,725 - $75,000 per year: The LP Analyst protects the company's assets from internal theft by using investigative resources (i.e., exception-based reporting (EBR), micros reporting, inventory reporting, CCTV, etc.). The primary responsibility of the LP Analyst is to identify potential loss prevention issues such as employee theft in SSP America's operation across North America...



Manager of Asset Protection (Corporate and DC)
North Kingstown, RI - posted February 17
The Manager of Asset Protection - Corporate and Distribution Center ("DC") role at Ocean State Job Lot ("OSJL" and "Company") will have overall responsibility for the ongoing safety and security of all operations throughout the corporate office and supply chain...



Business Continuity Planning Manager
Jacksonville, FL - posted January 26
Responsible for developing, implementing and managing the company's Business Continuity (BCP) and Life Safety Programs to include but not limited to emergency response, disaster recovery and site preparedness plans for critical business functions across the organization. In addition, the position will develop and lead testing requirements to ensure these programs are effective and can be executed in the event of a disaster/crisis...



Region Asset Protection Manager-St Augustine and Daytona Beach Market
Jacksonville, FL - posted January 18
Responsible for managing asset protection programs designed to minimize shrink, associate and customer liability accidents, bad check and cash loss, and safety incidents for stores within assigned region. This position will develop the framework for the groups' response to critical incidents, investigative needs, safety concerns and regulatory agency visits...



Region Asset Protection Manager: Fresco y Mas Banner
Hialeah, FL - posted January 18
Responsible for managing asset protection programs designed to minimize shrink, associate and customer liability accidents, bad check and cash loss, and safety incidents for stores within assigned region. This position will develop the framework for the groups' response to critical incidents, investigative needs, safety concerns and regulatory agency visits...
---

Featured Jobs

To apply to any of today's Featured Jobs, Click Here

---

---

Listening and hearing what your internal customers are saying is critical if you expect to be successful with any program or project. Oftentimes, the speed of delivery negatively impacts the process of success and keeps us from hearing exactly what we need to hear when we so passionately roll out our programs and projects. After testing and reviewing our plans and being so committed to our beliefs, we oftentimes don't hear our retail partners once we've committed ourselves to a specific path. And sometimes it's not what they say that's important as much as what they don't say or as much as what they quietly say beneath their breath or maybe even how they react. Whenever you're rolling out a new program or project, use those interrogative skills, in a positive way, and read the reactions of your internal customers because they will determine the success regardless of how good it is.


Just a Thought,
Gus




(content subject to approval)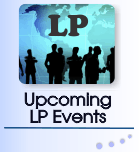 ---

Recruiting?
Get your job e-mailed to everyone... everyday
Post on our Featured Jobs Board!
Not getting the Daily?
Is it ending up in your spam folder?
Please make sure to add d-ddaily@downing-downing.com to your contact list, address book, trusted sender list, and/or company whitelist to ensure you receive our newsletter.
Want to know how? Read Here



36615 Vine Street, Suite 103
Willoughby, OH 44094
440.942.0671
copyright 2009-2019
all rights reserved globally