---

---





It's 'Auror Week' on the D&D Daily!

Follow along in the 'Vendor Spotlight' column all week as Auror showcases what it's up to at this year's RILA AP conference.

---

LIVE WEBINAR: Empower Your Stores With the Future of Video Loss Prevention
Broaden LP's Impact & Address In-Store Issues
Faster and More Efficiently

Thursday, April 27, 2023
11:00 am PT / 2:00 pm ET



Join OpenEye and Gus Downing, publisher of the D&D Daily, for an insightful discussion on how retailers are using OpenEye's latest product, POS Connect, to gain a complete picture of their operations and improve their loss prevention efforts.

Register and discover how to leverage your video surveillance to:
Prevent fraud using proactive business intelligence and advanced tools for loss prevention.

Reduce shrink and fraud by marrying your POS data with video verification.

Improve productivity by evaluating employee performance, training procedures and personnel needs.

Streamline your operations across multiple sites, while reducing the burden on IT.
---

The U.S. Crime Surge
The Retail Impact

Prop 47 Fueling California's Crime Crisis?
California's homeless & drug crisis sparked soft-on-crime law, sheriff claims

The law downgraded charges of theft under $950 to misdemeanors - as overdoses and vagrancy levels continue to rocket

A California sheriff has blamed the relaxation of state drug and theft rules for a dramatic rise in homelessness and addiction.

Riverside County Sheriff Chad Bianco said that as soon as the state 'stopped enforcing' the law it started 'seeing a major, major, major increase' in mental health conditions among the homeless. California has been ravaged by scenes of lawlessness in recent years, while vagrant camps now lie sprawling across its major cities.

Bianco said rising drug addiction had made the homeless population 'uncontrollable' and blamed Proposition 47, a law passed by voters almost ten years ago. Also known as the Safe Neighborhoods and Schools Act, it downgraded crimes like drug possession and theft of goods under $950 from felonies to misdemeanors.

Bianco said it has also sparked a rise in drug deaths and crime.

Downgrading thefts of goods under $950 from felonies to misdemeanors has sparked a free-for-all in some cases. In December, startling footage showed thieves brazenly ransacking an Apple store in Palo Alto, ripping iPhones, iPads, and laptops from their displays.

There are signs Californians are beginning to lose patience with their elected officials. San Franciscans voted to recall District Attorney Chesa Boudin over his perceived refusal to prosecute certain crimes.

He has since been replaced by Brooke Jenkins, 40, who vowed to crack down on soaring crime and increasingly prevalent open-air drug markets in the city.

Meanwhile, an attempt to recall progressive Los Angeles DA George Gascon failed to gather enough signatures to trigger a vote, but reflected growing discontent with the movement that propelled Gascon to office. dailymail.co.uk

In Case You Missed It: New CA Bill to Fix Prop 47 & Battle Retail Theft


Malls Enact Youth Curfews to Curb Crime & Unruliness
Hot Topic Question: Do Malls Need Curfews For Minors?
Garden State Plaza, the second largest mall in New Jersey, has become the latest shopping center to restrict access by minors due to unruly behavior. Beginning April 28, the mall's Parental Guidance Policy will require visitors under the age of 18 on Fridays and Saturdays after 5:00 p.m. to be accompanied by an adult at least 21 years old.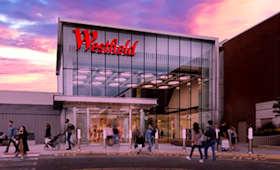 Wesley Rebisz, senior general manager at Garden State Plaza, told NorthJersey.com about the teens, "They're being unruly, violating code of conduct, which can include running through the property in large groups, fighting and putting it on TikTok, basically disrupting business and making it uncomfortable for our everyday customers."

On April 18, The Fashion District in downtown Philadelphia began banning anyone under 18 from entering the mall without an adult chaperone any day after 2 p.m., extending a weekend curfew. The change followed an incident earlier in the month when the Philadelphia police were called in to disperse large crowds of juveniles and an officer was injured.

Baltimore's Mall in Columbia and Connecticut Post Mall in Milford, CT, began instituting weekend youth escort policies earlier this year.

In 2022, minor-curfew policies arrived at Mississippi's Vicksburg Mall, Pittsburgh's The Mall at Robinson, Parks Mall in Arlington, TX, Foothills Mall in Maryville, TX, and Walden Galleria in Cheektowaga, NY.

In 2021, youth-escort policies arrived at Concord Mills in Concord, NC; Virginia Beach's Lynnhaven Mall, Orland Square in Orland Park, IL; Syracuse's Destiny USA; and Town & Country Shopping Center in Kettering, OH.

Some malls have long had teen chaperone policies although it's unknown how pervasive they are.

A New York Times article from 1996 noted that The Mall of America had become one of the nation's first shopping centers to impose curfews on unchaperoned teenagers while noting the policy "touches on many serious social issues: safety, race relations, parental responsibility and civil liberties." retailwire.com


Another Progressive DA Blasted for Being 'Soft' On Violent Crime
Oakland DA faces backlash and possible recall for soft-on-crime approach
Alameda County District Attorney Pamela Price is facing severe backlash and a possible recall from residents who think she is inept in prosecuting violent crime cases. The California judge joins a handful of district attorneys across the United States who have been blasted for their soft-on-crime approach.



Price succeeded former District Attorney Nancy O'Malley. She won the election in 2022 by promising to eliminate systemic racism in the criminal justice system. However, the community is now calling for a recall, believing Price is too lenient on criminals, particularly accused murderers, and will not take the proper steps to address violent crime.

She is the latest progressive prosecutor to be under the microscope for her stance on crime, joining the list of several district attorneys and city leaders across several Democratic-controlled cities facing scrutiny for rising crime rates. Those facing scrutiny include former San Francisco District Attorney Chese Boudin and Manhattan District Attorney Alvin Bragg.

Price ran her 2022 campaign on more progressive policies than her opponents and received large ad donations from the California Justice and Public Safety PAC, largely funded by billionaire George Soros, who is known for providing support to left-leaning candidates.

Additionally, a memo was obtained by ABC 7 News's I-Team detailing Price's plan to eliminate sentence enhancements for violent crimes, which could upgrade the sentence for a felony if a gun was used or on the suspect's person during the time of the incident. washingtonexaminer.com


Another Crime Trend: 'Swatting' Calls
Amid a rise in swatting calls, the fabrication and fear of mass shootings collide
As many communities across the United States struggle with mass shootings, malicious actors are increasingly targeting schools with false reports of shootings, using the fear of gun violence and 911 calls to afflict terror about another potentially deadly incident, experts told ABC News.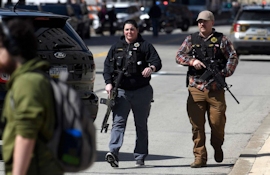 Callers have caused confusion and delays, prompted law enforcement to expend vital resources and exposed the vulnerabilities of schools to potential future shootings. Commonly called "swatting" incidents, these instances employ technology to disguise phone calls that signal a threat, often prompting a local Special Weapons and Tactics (SWAT) team to a specific address, according to the Cybersecurity and Infrastructure Security Agency.

Swatting calls have become common over the last decade, with criminals calling in threats on rival gamers or activists. Schools, however, have become frequent targets this year, multiple experts told ABC News. The number of swatting calls has at least doubled over the last year, according to James Turgal, the former chief information officer of the FBI and the current vice president of information security company Optiv.

Swatting calls attempt to mimic what a "victim" of a fabricated shooting would tell authorities, while bomb threats are commonly made from the perspective of the person who placed the fictional bomb. Canady said a person who planted a real bomb has little incentive to call in a threat to clear people from their target. At the same time, a shooting victim would try to immediately contact the police for assistance – complicating the perceived importance of these calls. abcnews.go.com


Facial Recognition-Enabled Firearms
Smart gun operating on facial recognition goes on sale in US
Colorado-based Biofire Tech is taking orders for a smart gun enabled by facial-recognition technology, the latest development in personalized weapons that can only be fired by verified users.

Biofire's gun can also be enabled by a fingerprint reader, one of several smart gun features designed to avoid accidental shootings by children, reduce suicides, protect police from gun grabs, or render lost and stolen guns useless.

The first consumer-ready versions of the 9mm handgun could be shipped to customers who pre-ordered as soon as the fourth quarter of this year, with the standard $1,499 model possibly available by the second quarter of 2024, Biofire said.

That could make it the first commercially available smart gun in the U.S. since the Armatix briefly went on sale in 2014. At least two other American companies, LodeStar Works and Free State Firearms, are also attempting to get a smart gun to market. reuters.com


NYC is Struggling to Shut Down the 1,500 Illegal Pot Shops
Albany lawmakers hash out ways to deal with NYC's illegal weed shops
State budget talks are now hung up on how to curb an onslaught of illicit weed joints, although lawmakers say they still hope to have a final deal on the governor's proposed $227 billion spending plan by Friday. "The illegal pot shops are hurting the ability for the cannabis industry to begin and grow," Assembly Speaker Carl Heastie (D-Bronx) told reporters at the Capitol on Monday.

"I want to be able to shut them down," Heastie said of the roughly 1,500 black market shops operating in plain view across New York City's five boroughs.

In terms of the illicit weed shops, Gov. Kathy Hochul proposed legislation weeks ago to empower state agencies to increase fines on illegal sites from a paltry $250 to as much as $10,000 per day, while allowing state agencies to shutter them for good. nypost.com


Two Countries, Two Mass Shootings, Two Different Reactions

Letter: Try these simple steps to stop mass shootings

---

'The Cost of Doing Business': Dollar Stores Shrug Off OSHA Safety Fines
Dollar stores have only paid a fraction of OSHA penalties since 2017
The persistence of labor violations at dollar stores indicates that though minimum wage increases across the country have made low-wage jobs better by many measures, some of America's 15 million retail jobs are still dangerous for workers.

Looking at both Dollar Tree and Dollar General over the course of five years, inspectors found boxes stacked dangerously and blocking exits, water leaking through the ceiling and causing wet floors covered in ceiling tiles, and boxes blocking fire extinguishers and electrical panels. There's also evidence that the companies don't end up paying anything close to the proposed penalties. According to a document OSHA provided to TIME, Dollar General received $16 million in initial penalties since 2017 but has only paid $3.9 million so far and owes a balance of $631,666. Dollar Tree has received $13.9 million in penalties and paid $9 million, with a balance due of $120,000.



OSHA did not respond to follow-up questions as to why the companies have paid only a fraction of the proposed fees; Michaels says that companies can contest the violations and do not pay fines until the case is closed. OSHA can also lower fines to get a faster settlement.

The companies "know the penalties for these violations are minor—they figure it's just the cost of doing business," says Kate Bronfenbrenner, a professor at Cornell's School of Industrial and Labor Relations.

But in some ways, the business model of dollar stores makes it difficult to comply with OSHA regulations. Stores are relatively small, compared to a Walmart or Target, and are low on both storage space and workers to save money. When new goods come in, there's nowhere to put them and no one to unpack them, leading to tall stacks that endanger workers. In October 2022, OSHA added Dollar General to a "severe violator" watchlist for companies that willfully or repeatedly violate safety standards. Since 2017, Dollar General has had 130 repeat violations, meaning that inspectors found a problem, flagged it, and then found it again; Dollar Tree has had 131. time.com


No Penalty For Drug Possession? Watch Out Retail Stores
Washington State Legislators Reject Bill to Penalize Drug Possession
Without action, Washington's drug possession law will expire July 1, leaving no penalty in state law and leaving cities free to adopt a hodgepodge of local ordinances.

The Legislature has been contending with how much to penalize drug possession since 2021, when the state Supreme Court, in the State v. Blake decision, threw out the state's felony drug possession statute as unconstitutional. That year, lawmakers passed a stopgap measure classifying possession of drugs like cocaine and methamphetamine as a misdemeanor.

"The fact that we are not going to have a piece of legislation on this means that their failure to provide any votes for this bill is going to result in methamphetamines, fentanyl and heroin … possession of those drugs being legalized across the state of Washington," Jinkins said.

Gov. Inslee has not specifically said whether he will call lawmakers back for a special session, but he said Sunday he was not OK with allowing the current stopgap drug possession law to expire with no replacement.

"It is unacceptable to me. … It is unacceptable to the state of Washington," he said.

A coalition of Snohomish County mayors and business leaders on Sunday urged lawmakers to vote against the plan, issuing an open letter calling the proposal soft on illicit drug use plaguing communities.

From the opposite side of the debate, critics viewed the compromise bill as a cruel return to tossing people in jail in order to push substance use disorders out of public view.

With the failure of the Blake compromise and no clear path to a special session, some local communities are already preparing to adopt their own drug laws. seattletimes.com


Amazon Isn't Giving Up On Physical Grocery Business
Amazon could buy 100s of grocery stores being divested by Kroger and Albertsons, according to a top research firm

This presents an opportunity for Amazon to swiftly build physical scale in the grocery business.

Amazon could buy hundreds of grocery stories being divested by Kroger and Albertsons, giving the internet giant's physical retail efforts a major boost, according to a top research firm.

Earlier this month, Amazon CEO Andy Jassy highlighted the grocery business in his annual shareholder letter. The company has struggled in this part of the retail sector for years. It's 13.7 billion Whole Foods acquisition from 2017 has not gone well, and the grocery chain laid off hundreds of employees recently.

Amazon has also shut some Amazon Go and Amazon Fresh locations. But Jassy is not giving up.

"To have a larger impact on physical grocery, we must find a mass grocery format that we believe is worth expanding broadly," he wrote in his letter, while adding that Amazon needs "a broader physical store footprint given that most of the grocery shopping still happens in physical venues."

This week, analysts at Bernstein laid out a model for the company to grow in grocery by embracing more acquisitions. In a note published this week, the firm suggested Amazon could buy some or all of the divested stores from the planned Kroger and Albertsons merger. The combined companies are expected to divest at least 500 stores. businessinsider.com


New Hire Age Verification Becomes Vital
DOL and HHS Announce Joint Effort to Combat Exploitative Child Labor
The U.S. Department of Labor (DOL) and U.S. Department of Health and Human Services (HHS) recently announced new efforts to "combat exploitative child labor," which is largely the result of "an influx in migrant children from Latin America fleeing violence and poverty, a majority of whom do not have a parent in the United States."

The DOL's focus on undocumented immigrants (whether child or adult), human trafficking, and related issues has been manifest for several weeks in the Occupational Safety and Health Administration's (OSHA) daily Workplace Safety Reminder, which has mentioned one or more of these issues almost every day. Likewise, OSHA has been regularly posting tweets concerning these issues since the announcements were made.

The interagency taskforce will, through collaborative efforts and improved information sharing, "advance the health, education, and well-being of children in the U.S." At least in part, employers should expect that the information shared concerning conditions in workplaces where these children are employed, whether directly or through contractors, will ultimately end up with OSHA. The strategic enforcement initiative will involve the DOL's Wage and Hour Division, which will use "data-driven, worker-focused strategies" to target inspections where violations "are most likely to occur." The DOL's solicitors will be authorized to "use all available enforcement tools, including penalties, injunctions, stopping the movement of goods made with child labor, and criminal referrals where warranted" as part of this strategic initiative. natlawreview.com


Gap Plans to Lay Off Hundreds of Corporate Workers in Latest Cuts
Gap Inc. is eliminating hundreds of corporate jobs from its global workforce as part of a broad restructuring aimed at making the company more nimble and less bureaucratic, according to people familiar with the situation.

Bed Bath & Beyond, Party City, JCPenney, and more: The biggest retail bankruptcies of the past 15 years
Some retailers emerged from bankruptcy with smaller physical footprints, while others ended up liquidating. The pandemic and an explosion in online sales forced many of these companies to restructure.


Consumer confidence sinks, implying downturn to come

Global retailers seek new ways to lure in shoppers as spending slows


Quarterly Results

McDonald's Q1 Global comp sales up 12.6%, systemwide sales up 9%, consolidated revenues up 4%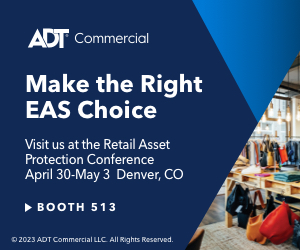 ---



Auror's Next-Gen Experience
Room at RILA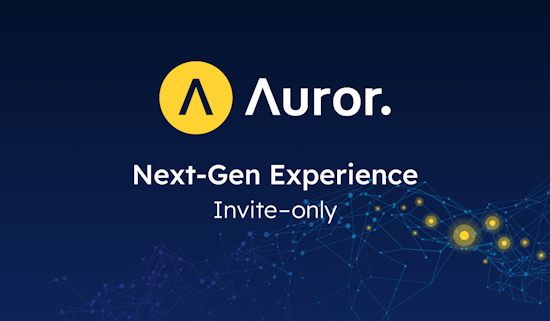 As the title sponsor, Auror is headed to the 2023 Retail Asset Protection Conference in Denver with a full line-up of learning and networking sessions.

Among those will be Auror's Next-Gen Experience Room, an invite-only opportunity to tour and discuss the future of Retail Crime Intelligence.

From recent updates and game-changing innovation to conversations with Auror's global leadership team and customers, this will be a true interactive experience.

Contact Auror to learn more and visit with the team at booth #613.
---
---

Employee Surveillance Tech Making IT Leaders Uneasy
IT managers uneasy with snooping software: report
IT leaders are wary about deploying surveillance tech and would even help coworkers find workarounds, a survey from software company 1E.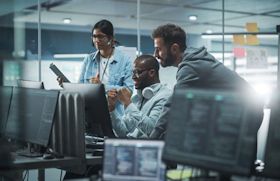 Nearly three-quarters of IT managers said they would not feel comfortable instructing their staff to install surveillance technology, especially if the company is not being fully transparent, the survey found. The study, conducted by Wakefield Research, surveyed 1,000 IT managers and workers in the U.S.

Higher levels of workforce attrition correlated with surveillance tool use, some IT managers found. More than 1 in 4 managers noticed an uptick in employees quitting and difficulty hiring new employees when surveillance tools were in use.

The use of software to track employee productivity can backfire without proper guiderails — introducing workplace culture issues and ultimately hurting talent retention and recruitment.

The technology category earned attention from regulators. The National Labor Relations Board issued a memo last year regarding intrusive and abusive electronic surveillance and automated management practices, warning it could infringe on workers' rights under Section 7 of the National Labor Relations Act.

"In today's environment, employees require a certain level of trust from their employers," said Mark Banfield, CEO of 1E, in a release. "Deploying these surveillance tools negates confidence in leadership and puts IT managers in an unfair position, all for productivity theater."

In-demand technology workers know they can still find work elsewhere if they choose to leave, which puts workplace culture top of mind for employers. cybersecuritydive.com


Justice Department's Civil Rights Division Joins Officials from CFPB, EEOC and FTC Pledging to Confront Bias and Discrimination in Artificial Intelligence
They jointly pledged today to uphold America's commitment to the core principles of fairness, equality and justice as emerging automated systems, including those sometimes marketed as "artificial intelligence" or "AI," become increasingly common in our daily lives – impacting civil rights, fair competition, consumer protection and equal opportunity.

"As social media platforms, banks, landlords, employers and other businesses that choose to rely on artificial intelligence, algorithms and other data tools to automate decision-making and to conduct business, we stand ready to hold accountable those entities that fail to address the discriminatory outcomes that too often result," said Assistant Attorney General Kristen Clarke of the Justice Department's Civil Rights Division. "This is an all hands on deck moment and the Justice Department will continue to work with our government partners to investigate, challenge and combat discrimination based on automated systems." justice.gov


Artificial Intelligence and Compliance
Many companies have turned to artificial intelligence (AI) solutions to aid in their compliance management because of their potential to significantly reduce overhead costs. Staffing a team of several compliance professionals can be costly over time and risks the possibility of suffering due to human error. On the other hand, implementing an AI solution overseen by a smaller staff or (better yet) an outsourced third-party administrator can deliver consistent, quick, and reliable results.


One of the main applications of artificial intelligence in the compliance sector has been using AI-powered technology to help detect potential cybersecurity threats. Because of AI's superior data processing capabilities, it is able to identify threats much more quickly and, as a result, respond much more quickly. If the human team is able to respond in a timely manner, the threat can be addressed before wreaking havoc on the company's systems.

Although AI can process data much more quickly and efficiently than humans, some have questioned its accuracy. Currently, artificial intelligence is still dependent on an input of information, which is gathered from databases created and maintained by human sources. If some of that information received is inaccurate, the result could be a false positive or false negative reading.

AI technology also poses the additional obstacle of requiring further compliance standards of its own. When adopting any new platform or technology, evaluating efficacy and security should be the first consideration of business leaders. Compliance measures must be put in place to ensure that employees are using the technology properly and that the use of the technology will not introduce any further points of vulnerability into the system. securityinfowatch.com


US Secret Service Versus Business Email Compromise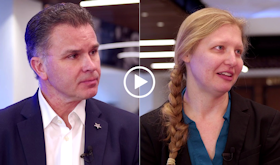 Agents Cooke and Tyrrell on the Power of Partnerships and Speed of Response

Over a five-year span, reported BEC incidents cost global enterprises more than $43 billion in losses. This trend has the attention of the U.S. Secret Service. Agents Kevin Cooke and Abigail Tyrrell discuss why law enforcement partnerships and speed of response are more critical than ever.

"We seem to see a lot of loss associated with BEC that people just don't realize," said Kevin Cooke, special agent with the U.S. Secret Service. "It seems to be getting worse and not better."

In this video interview with Information Security Media Group, Cooke and Tyrrell discuss:

• Current BEC trends;
• Why speed of response is more critical than ever;
• How to form partnerships with law enforcement before a crime is committed.

Cooke and Tyrrell have deep experienced investigating BEC crimes for the U.S. Secret Service. govinfosecurity.com


China Says Chatbots Must Toe the Party Line
The Communist Party outlined draft rules that would set guardrails on the rapidly growing industry of services like ChatGPT.

Nearly Half of U.S. Voters Would Ban TikTok, Particularly Those Who Have Never Used It

---

Retail Council of Canada embarks on new cybercrime awareness venture

The Retail Council of Canada (RCC) recently launched a new cybercrime prevention campaign to provide educational resources for retailers and their employees, from frontline workers to IT security professionals.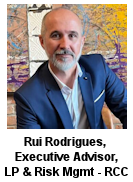 The Retail CyberSecure initiative, which kicked off at the beginning of this year, was made possible through the support of the Ontario Ministry of the Solicitor General and includes partnerships with the RCMP and the Ontario Provincial Police, among other organizations.

The program, which will continue to roll out throughout the year, comprises a series of six webinars along with downloadable guides and e-learning training modules. The resources are offered for free to achieve maximum impact, said Rui Rodrigues, the RCC's executive advisor for loss prevention and risk management.

The issue of cybercrime has become more acute for retailers, he said, as threats continue to ramp up. The pandemic also saw retailers become more reliant on online storefronts when in-store shopping was curtailed or temporarily restricted.

"Over the last few years, we've heard more and more from retail organizations about cyber," said Rodrigues. "You can't escape it."

The CyberSecure initiative is "really focused on ways we could educate, provide awareness and share best practices," added Rodrigues, "and doing it through various mediums."



Three of the six planned webinars are currently available on the RCC Retail CyberSecure resource website, focused on awareness training and current cyberthreats. Webinars on threat action plans, defensive procedures, ransomware training and brute force attacks will follow in the coming months.

Battle on two fronts

In some ways, loss prevention specialists are waging a battle on two fronts: the threat of shoplifting in brick-and-mortar retail locations and the ever-present spectre of cybercrime in the digital realm.

In both cases, education and awareness are key, said Rodrigues, along with collaboration with government and likeminded organizations to get the word out. canadiansecuritymag.com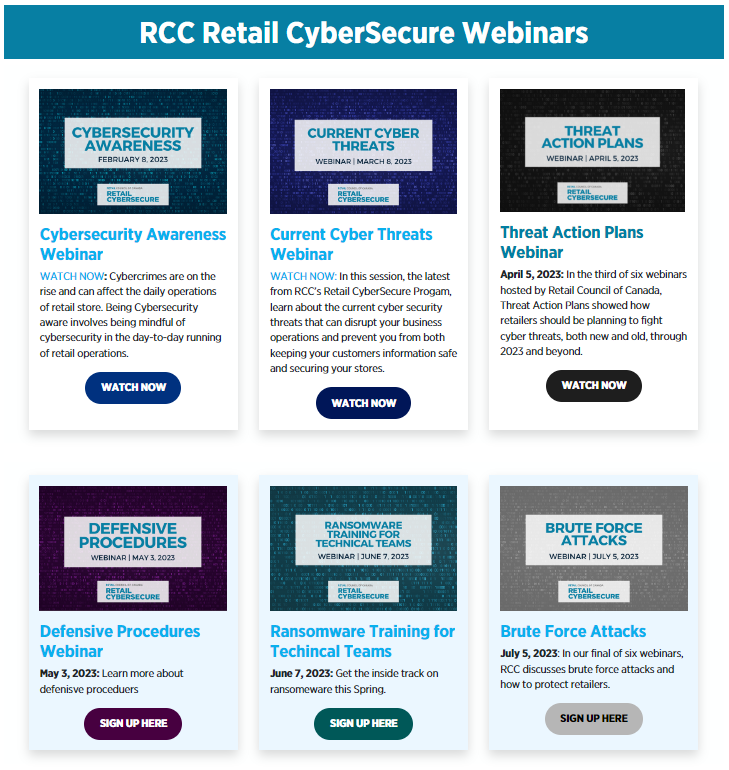 Click here to learn more about the RCC Retail CyberSecure program

---

Retailers Warn that Theft Surge Could Trigger Store Closures in Canada
'We could see closures in Canada': Frustrated retailers fight losing battle with shoplifters
There's evidence the growing problem of shoplifting is actually altering the retail landscape.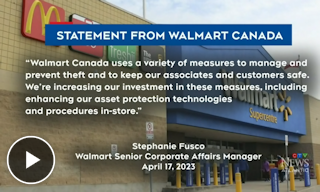 Walmart, the world's largest retailer, abruptly closed four of its eight stores in Chicago, Ill., last week. Media reports cite a lack of profits, theft and security concerns as the company's reasons for the shutdown.

Experts say it might very well happen in the Maritimes.

"I do think we could see some closures in Canada. Maybe Walmart, maybe not, but it wouldn't surprise me," said retail analyst Bruce Winder from Toronto.

"If you look at the hardest areas hit economically, you look around Canada, especially in some of the big cities, you've got the increase in housing [costs], that just went through the roof whether it's rent or mortgage payments for people that have doubled or tripled because of interest rates," said Winder.

"I think we're at the tipping point now, where people are getting a lot more aggressive shoplifting." According to Statistics Canada, Shoplifting is at an all-time high.

Thanks to a change in reporting last year, Halifax numbers are hard to pin down, but police acknowledge the problem.

"Like many regions across the country, we have seen an increase in retail theft and break and enters, particularly since 2020, including in Halifax," said Const. John MacLeod, Halifax Regional Police public information officer, in an email to CTV News. atlantic.ctvnews.ca

RELATED: Halifax-area business owners dealing with some 'scary' issues


Crime & Safety a Top Issue in Canada
Poll suggests Canadians feel less safe than they did before the pandemic hit
A new poll suggests most Canadians feel they're less safe now than they were before the COVID-19 pandemic, and most think the provincial and federal governments are doing a poor job of addressing crime and public safety.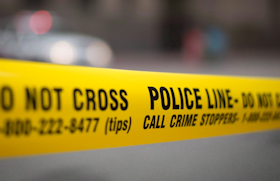 In an online survey, Leger and the Association for Canadian Studies asked how the level of crime and violence in a respondent's home community today compares to how it was before the pandemic began in early 2020.

Nearly two-thirds of those who took the survey said they feel things are worse -- with 32 per cent saying crime and violence has gotten "much worse" and 32 per cent saying it is "a little worse."

Those in B.C. were most likely to say crime and violence are worse since the pandemic hit, at 72 per cent, while people in Quebec were least likely to say so, at 54 per cent. Quebecers were most likely to say things have not changed.

The survey also asked whether stricter gun control would make people feel more safe. It found that 47 per cent of respondents said that would make them feel safer, and 42 per cent said it wouldn't change how they feel.

Asked for their opinion about a list of actions to make communities safer, respondents overwhelmingly called for tougher penalties for people found guilty of committing violent offences and for better mental health supports, with those options getting 81 per cent and 79 per cent support, respectively.

Three-quarters of those polled said more police would help, and 72 per cent said addressing the housing crisis would make communities safer. ctvnews.ca


Pot Shops Targeted by Robbers
Pot shop robberies spur push to end restrictions on window displays
The windows are frosted to comply with regulations requiring pot be shielded from the view of minors, but Keay and others argue the requirements should be dropped because they are leaving workers feeling closed off from their neighbourhoods and their stores more likely to be targeted by robbers.

"You start to feel very isolated, like you're sitting in a box and the world's going by on the street and you realize how disconnected you are," said Keay.

Even more worrisome, she said, is the fact that window coverings can encourage theft because they give cover to anyone inside and prevent pedestrians from noticing a crime underway as they pass a store.

"Nobody can see what's happening inside," said Keay.

"I have a number of colleagues and friends in the industry who have had their stores held up at gunpoint and have had assaults happen inside their stores … That opportunity is very real because of those window coverings."

A "significant rise" in robberies, particularly in Calgary, prompted Alberta's cannabis regulator to allow stores to take down window coverings last summer.

Pehota intends to keep pushing regulators to relax their window covering and visibility rules and is using safety as one of the top motivators. globalnews.ca


Canada's Union Push
Low unemployment could boost trend of union organizing in retail, service: experts

Union organizers say they're getting more interest from workers in sectors such as retail, food service and warehousing

With Canada's unemployment rate holding near record lows, experts say an increased interest in unions among retail and service workers that began during the COVID-19 pandemic will continue – even as workers face an uphill battle against large, powerful employers. canadiangrocer.com


Downtown Vancouver vacancy up as visits remain below pre-pandemic level
Higher retail and office vacancy rates helped keep foot traffic below pre-pandemic levels in much of downtown Vancouver last year

Loblaw to invest $2B this year to open 38 new stores, renovate 600 locations

Starbucks Canada In Expansion Mode After Closing Hundreds Of Locations

Man wanted for murder in death of Mississauga gas station employee, 2 others charged in N.B.
Two people have been charged and police are searching for a third in connection with the fatal shooting of a young woman at a Mississauga gas station last December. In a news release on Monday, Peel police said investigators have issued a Canada-wide warrant for a 30-year-old man wanted for first-degree murder in the death of 21-year-old Pawanpreet Kaur.

They say the man "intentionally went missing in September 2022 but [an] investigation has revealed this was part of a plan in the murder." The two people charged so far are a 25-year-old man and 50-year-old woman, who police say are family members of the man wanted. The pair were arrested in Moncton, N.B. on April 18 and each charged with accessory to murder after the fact.

Kaur was shot at close range at a Petro-Canada gas station, where she was an employee, in the area of of Britannia Road and Creditview Road on Dec. 3. Police found her suffering from gunshot wounds around 10:40 p.m., and she was pronounced dead at the scene. cbc.ca


1 dead, 1 injured in shooting outside Kensington Safeway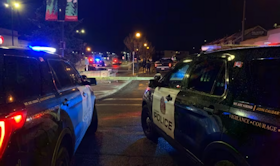 One person is dead after a shooting Wednesday night outside the Kensington Safeway in northwest Calgary. It happened at about 9:15 p.m. at the grocery store on 10th Street and Third Avenue N.W., said Staff Sgt. John Guigon. About 15 minutes later, the driver of a black SUV approached on-duty Calgary Fire Department members in the 1000 block of Sixth Avenue S.W., seeking help for a passenger who had been shot, police said in a release. Fire crews attempted life-saving measures, but the victim was declared dead at the scene. The driver of the vehicle fled the area before police arrived. A second person was injured in the shooting and was taken to hospital from the scene in Kensington. The homicide unit is investigating. cbc.ca


Man dead in Brampton parking lot shooting
One man is dead following a shooting in the south end of Brampton on Thursday night. Peel Regional Police were called to the parking lot of a business at Bramsteele and Rutherford Rds. just after 7 p.m. and found the wounded victim.

Woman who coughed at B.C. grocery store employee found guilty of assault

Multiple charges laid in series of retail thefts in Pembroke

Man seriously injured in shooting inside North York bar

Peterborough convenience store robbery leads to arrest of man: police

2 people arrested, charged following 3 liquor store robberies in Saskatoon
---


Legislation Aimed at Protecting Warehouse Workers
Amazon, other WA companies soon must say how fast workers are working
Washington workers at risk of getting injured on the job may soon receive more protection from state regulators, due to two worker safety bills that recently passed the Legislature.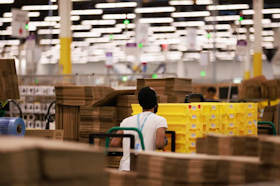 One bill will expand the state's authority to make new rules for industries with high rates of musculoskeletal disorders, which include sprains, strains and back injuries. The other requires employers to shed more light on quotas set for warehouse workers, part of an effort to ensure those expectations aren't increasing a worker's risk of injury.

Both pieces of legislation come as warehouse workers increasingly speak up about working conditions and demand meaningful protections.

Warehouse workers across industries have said they feel pressure from employers to move fast — or face discipline. That pace of work could encourage employees to cut corners, like skipping a meal break or using the wrong technique to lift an item, advocates of the legislation have argued.

Last year, a similar bill related to quotas for warehouse workers stalled in the Legislature. This year, Rep. Beth Doglio, a Democrat representing parts of Olympia, Lacey and Tumwater, introduced House Bill 1762 to tackle concerns about the pace of work in some of Washington's warehouses, including at Amazon.

At Amazon warehouses, Washington's safety regulators determined the fast pace was, in fact, putting workers at risk. In an inspection of Amazon's facility in DuPont, regulators found a "direct connection" between the incidence of injuries at the warehouse and Amazon's expectation that employees "maintain a very high pace of work." Since then, Washington's Department of Labor and Industries has issued four citations against Amazon facilities in the state.

The bill defines a quota as a "work performance standard" that requires an employee to work at a certain speed, or perform a quantified number of tasks or handle a quantified amount of material within a specific time period. seattletimes.com


Amazon Drivers Join Teamsters Union
Amazon delivery drivers in southern California join Teamsters union

Delivery drivers at an Amazon facility in southern California have joined the Teamsters union.

Amazon delivery drivers at one of the company's California facilities joined the International Brotherhood of Teamsters, the union said Monday, in a win for labor organizers that have long sought to gain a foothold at the e-retailer.

A group of 84 workers at Amazon's warehouse in Palmdale, California, won voluntary recognition by Battle-Tested Strategies, a third-party delivery contractor, to be represented by the Teamsters. That allows the workers and the Teamsters to sidestep the union election process, which can be challenging and last for many months.

Last week, the Teamsters and Battle-Tested reached a tentative agreement that will be voted on by members in the coming weeks, a Teamsters spokesperson said. The agreement includes immediate wage increases and substantial hourly raises, along with provisions that address concerns around health and safety standards. cnbc.com


FTC: E-commerce platform knowingly facilitated payments to scammers

'It can be incredibly profitable': the secret world of fake online reviews
---
Nashville, TN: Man accused of stealing $53K of purses arrested after allegedly selling them on Instagram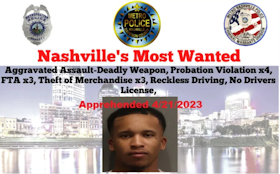 A man wanted on 16 outstanding warrants was taken into custody Friday — nearly three weeks after he was first featured on Nashville's weekly "Top 10 Most Wanted" list. DeJohn Anderson, 22, was wanted on several charges involving alleged thefts dating as far back as December last year, as well as multiple probation violations, driving violations, failure to appear and one count of aggravated assault with a deadly weapon. According to the Metro Nashville Police Department, six of the charges against Anderson were for theft of merchandise or organized retail crime in various amounts. The earliest report dates back to Dec. 19, 2022, when, according to an arrest affidavit, Anderson tried to shoplift multiple items worth more than $1,000 from a sporting goods store on Gallatin Pike. Employees at the store reportedly saw Anderson trying to take the items and confronted him. According to the affidavit, the employees "acted in accordance with store policy and did not make physical contact" with Anderson. After confronted, Anderson dropped the items and ran out of the store, police reported. He then got into a black Toyota sedan and "intentionally swerved" at one of the employees as he sped off, according to the affidavit. Police said the entire incident was captured on surveillance cameras. Anderson is also accused in separate thefts on Jan. 19 and Feb. 6. In the more recent case, police said Anderson, along with seven other suspects, stole over $53,000 worth of purses from a clothing store at The Mall at Green Hills. wkrn.com


Auburn, MA: 3 NY residents charged with using stolen IDs for purchases at Auburn Mall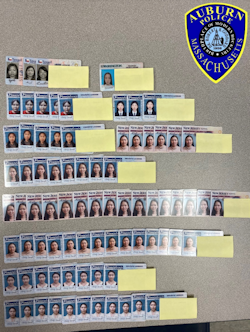 Three New York residents face charges of identity fraud and theft after allegedly using a driver's license with stolen identities to purchase merchandise at the Auburn Mall earlier this month, according to police. A 25-year-old man and two women, 26 and 35 years old, had allegedly tried to use credit cards at Macy's on the afternoon of April 8. The trio had allegedly attempted to leave the mall in a car but police responding to suspicious activity at Macy's had caught up with the car before it left mall property. Thousands of stolen merchandise from several locations throughout New England were found in the car. Police also found 80 driver's licenses with the photographs of the suspects, but with the identities of people from across the country. The licenses were under the guise of being issued by the states of Texas, Washington, Pennsylvania and New Jersey, according to photos shared by police. The three suspects face a charge of larceny of over $1,200 and organized retail theft among others. news.yahoo.com


Pocono Township, PA: Police investigating comic book store burglary
Police are seeking the public's help in locating a suspect in a Tannersville comic shop burglary. On April 20, the Pocono Township Police Department responded to the White Dragon Comics store for a reported break-in and burglary. The White Dragon Comics in Tannersville. Upon arrival at the store, police officers discovered forced entry through the front door of the business. Multiple vintage comic books were reported stolen from inside the store. The preliminary investigation claims the burglary occurred sometime between 7 p.m. on April 19 and 10 a.m. on April 20, 2023. poconorecord.com


Galesburg, IL: Illinois State Police and GPD investigating after five handguns were stolen from Farm King
Galesburg Pole responded to Farm King for a report of a Burglary on Friday. Numerous guns were stolen out of a glass gun case. Police viewed a security video from 9:50pm that showed 2 men enter the store through a loading entry door, The 2 men pried open the door with a crowbar. The total value of the 5 guns in nearly $2800. wgil.com


Roseland, LA: Deputies looking for suspects after failed burglary at ATV store
Deputies are searching for three people who broke into a Roseland store and tried to steal a dirt bike. The Tangipahoa Parish Sheriff's Office shared security video of the three on the showroom floor of ATV Zone in Roseland on Sunday around 3 a.m. Footage shows the trio struggling to move the dirt bike. Deputies said the burglary failed because of security bars on the door which did not allow enough space for the bike to fit through. Deputies said the three got into the store by breaking through the front door, leaving shattered glass around the frame. wbrz.com
---
---

---

Shootings & Deaths

Carson City, NV: Two women have been killed after a crash following Burlington store theft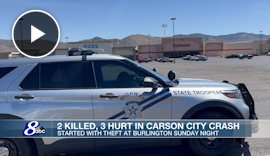 Update: Furlong says he believes the two people killed in the crash were sisters. He also says the Douglas County Sheriff's Office is investigating exactly what happened in the Burlington on Sunday night, and that Nevada State Police are investigating the crash. It happened around 10 p.m. at the corner of U.S. 50 and Saliman Rd. Sheriff Ken Furlong tells us that 3 other people were injured in the crash, which they believe came after merchandise was stolen from a nearby Burlington store. Furlong says the two fatalities were in the suspect vehicle. The other three people who were injured in the crash have been taken to the hospital and their condition is not yet known. NSP will be handling the investigation. kolotv.com


Noblesville, IN: Update: Burglars dressed as DoorDash drivers in home invasion
Court documents reveal that two armed men from out of state pretended to be DoorDash delivery drivers in order to force their way into a Noblesville home in an attempted burglary that turned deadly for the would-be burglars. Grayson Rhue, 18, of Roswell, Georgia, was shot and killed on April 6 in the 21000 block of Raccoon Court in Noblesville near the Morse Reservoir. Rhue, along with 22-year-old Ruai Ngundeng Pal, are accused of an attempted home invasion that backfired when one of the occupants inside the home opened fire on the intruders. Pal was arrested in his hometown of Franklin, Tennessee, and faces multiple felony charges including murder, burglary with a deadly weapon and armed robbery. New details reveal that roughly two weeks before the home invasion on Raccoon Court that a man similar in description to Pal was spotted trying to enter a bedroom window in the very same home where the shooting would later occur. fox59.com


Philadelphia, PA: Tow truck driver shot, left in critical condition after attempted robbery in Southwest Philadelphia
The Philadelphia Police Department is investigating an attempted robbery that left a tow truck driver critically injured on Monday night. According to authorities, police responded to the 2100 block of S 72nd Street in the southwest section of the city just before 11 p.m. Responding officers found a 40-year-old man who was shot in the arms, leg and stomach, officials say. The man, identified by authorities as a tow truck driver, was conscious and walking but was rushed to Penn Presbyterian Hospital, where he was left in critical condition, police say. fox29.com

---

Robberies, Incidents & Thefts
Wilmington, DE: Delivery truck robbed at Wawa in Wilmington; 2 armed suspects sought
Police are looking for two suspects they say carried out an armed robbery right outside a Wawa in Wilmington Friday night. Two men were delivering products to the Wawa on Limestone Road when two men walked into the tractor trailer. One of the suspects removed a handgun from his waistband as both started stealing several items from the delivery truck, according to authorities.
fox29.com
Martinsville, VA: Two sought after fire set in Dollar General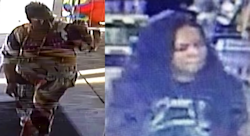 The Henry County Fire Marshal's Office is looking for two people after fire was set to items in a store. Martinsville-Henry County dispatch got a call Thursday, April 20, at 7:20 p.m. The manager at a Dollar General on A L Philpott Highway said a female had walked into the store, picked up a lighter and set fire to items near the front register, then left in a white Honda Accord with a woman.
wdbj7.com
Danville, VA: One suspect arrested, three more wanted in connection to Danville robbery spree
The Danville Police Department provided an update on their investigation into a robbery spree that occurred in Danville on April 14th. According to officials, four suspects from Durham, North Carolina, were allegedly involved in a gunpoint robbery that occurred in Danville on Friday the 14th. The suspects first allegedly stole a man's phone and wallet at gunpoint at the Dollar General parking lot. They then continued into Martinizing Cleaning and allegedly stole money from the cash register.
wfxrtv.com
Man accused of robbing CVS in Nashua with knife before barricading himself in nearby business
A man accused of barricading himself inside a Budget Car Rental in Nashua last week allegedly robbed a CVS at knifepoint before running from police, according to newly released court paperwork.
Memphis, TN: Tennessee Highway Patrol stolen lawnmower investigation leads to Memphis chop shop bust
Akron, OH: Suspect reportedly crawls into drive thru, robs store at gunpoint
Longs stores in Hawaii roll out time-delay safes in bit to prevent pharmacy robberies
• Auto – Philadelphia, PA – Armed Robbery / Victim wounded
• C-Store – Henry County, OH - Armed Robbery
• C-Store – Wichita Falls, TX – Armed Robbery
• C-Store – Wilmington, DE – Armed Robbery
• C-Store – Mobile, AL - Robbery
• C-Store – Houston, TX – Robbery
• C-Store – Bulloch County, GA – Armed Robbery
• CVS – Manchester, NH – Armed Robbery
• Cleaner – Danville, VA – Armed Robbery
• Collectables – Pocono Township, PA – Burglary
• Dollar - Corvallis, OR – Robbery
• Dollar – Danville, VA – Armed Robbery
• Gas Station – Mobile, AL – Armed Robbery
• Gas Station – Mobile, AL – Armed Robbery
• Grocery – Evanston, IL – Robbery
• Grocery – Evanston, IL – Robbery
• Guns – Galesburg, IL – Burglary
• Restaurant – Las Cruces, NM – Robbery
• Restaurant – Akron, OH – Armed Robbery
• Sport – Roseland, LA – Burglary

Daily Totals:
• 17 robberies
• 3 burglaries
• 1 shooting
• 0 killed

---

None to report.

Submit Your New Hires/Promotions
or New Position
See all the Industry Movement
---




Feature Your Job Here For 30 Days -
70% Aren't On The Boards
Post your job listing
---
Featured Job Spotlights
An Industry Obligation - Staffing
'Best in Class' Teams

Every one has a role to play in building an industry.
Filled your job? Any good candidates left over?
Help your colleagues - your industry - Build 'Best in Class' teams.

Refer the Best & Build the Best
Quality - Diversity - Industry Obligation

---



Director of Retail Solutions - North America
Denver, CO - posted April 5
This role will be focused on selling our SaaS retail crime intelligence platform by developing new prospects, and progressing Enterprise level prospects through our sales process. You will report directly to the VP of Retail Solutions - North America, and work alongside our Marketing, Partnerships and Customer Success team to grow our customer base...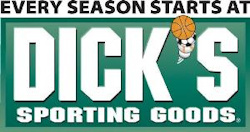 Store Loss Prevention Manager
Gilbert, AZ - posted April 24
Store Loss Prevention Managers are responsible for leading Loss Prevention functions within a specific location and for partnering with Store Operations in an effort to prevent company loss. You will be responsible for driving company objectives in profit and loss control, sales performance, customer satisfaction, and shrink results...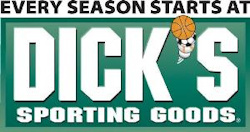 Store Loss Prevention Manager
Tacoma, WA - posted April 24
Store Loss Prevention Managers are responsible for leading Loss Prevention functions within a specific location and for partnering with Store Operations in an effort to prevent company loss. You will be responsible for driving company objectives in profit and loss control, sales performance, customer satisfaction, and shrink results...

Manager, Regional Loss Prevention
Minneapolis, MN - posted April 4
This position is responsible for managing all aspects of loss prevention for a geographic area to reduce and control shortage and other financial losses in 124+ company stores. The coverage areas average $850+ million in sales revenue...



Field Loss Prevention Manager
Atlanta, GA - posted March 21
As a Field Loss Prevention Manager (FLPM) you will coordinate Loss Prevention and Safety Programs intended to protect Staples assets and ensure a safe work environment within Staples Retail locations. FLPM's are depended on to be an expert in auditing, investigating, and training...



Corporate Risk Manager
Charlotte or Raleigh, NC - posted February 14
Summary of Role and Responsibilities: Proactive approach to preventing losses/injuries whether they are to our employees, third parties or customers valuables. They include cash in transit, auto losses or injuries; Report all incidents, claims and losses which may expose the company to financial losses whether they are covered by insurance or not...



Director of Asset Protection & Safety
Mount Horeb, WI - posted January 27
The Director of Asset Protection and Safety is responsible for developing strategies, supporting initiatives, and creating a vibrant culture relating to all aspects of asset protection and safety throughout the organization. As the expert strategist and leader of asset protection and safety, this role applies broad knowledge and seasoned experience to address risks...



Loss Prevention Analyst
Ashburn, VA - posted February 21
This position pays $67,725 - $75,000 per year: The LP Analyst protects the company's assets from internal theft by using investigative resources (i.e., exception-based reporting (EBR), micros reporting, inventory reporting, CCTV, etc.). The primary responsibility of the LP Analyst is to identify potential loss prevention issues such as employee theft in SSP America's operation across North America...



Manager of Asset Protection (Corporate and DC)
North Kingstown, RI - posted February 17
The Manager of Asset Protection - Corporate and Distribution Center ("DC") role at Ocean State Job Lot ("OSJL" and "Company") will have overall responsibility for the ongoing safety and security of all operations throughout the corporate office and supply chain...



Business Continuity Planning Manager
Jacksonville, FL - posted January 26
Responsible for developing, implementing and managing the company's Business Continuity (BCP) and Life Safety Programs to include but not limited to emergency response, disaster recovery and site preparedness plans for critical business functions across the organization. In addition, the position will develop and lead testing requirements to ensure these programs are effective and can be executed in the event of a disaster/crisis...



Region Asset Protection Manager-St Augustine and Daytona Beach Market
Jacksonville, FL - posted January 18
Responsible for managing asset protection programs designed to minimize shrink, associate and customer liability accidents, bad check and cash loss, and safety incidents for stores within assigned region. This position will develop the framework for the groups' response to critical incidents, investigative needs, safety concerns and regulatory agency visits...



Region Asset Protection Manager: Fresco y Mas Banner
Hialeah, FL - posted January 18
Responsible for managing asset protection programs designed to minimize shrink, associate and customer liability accidents, bad check and cash loss, and safety incidents for stores within assigned region. This position will develop the framework for the groups' response to critical incidents, investigative needs, safety concerns and regulatory agency visits...
---

Featured Jobs

To apply to any of today's Featured Jobs, Click Here

---

---

Passion is probably the one trait all employers look for in every search and in every candidate. It's also the one ingredient that's hard to manufacture and almost impossible to fake. Certainly, energy level has a lot to do with it and virtually everyone can pick it up a notch when they need to. But passion is something that's deep and something money can't buy and quite frankly it's worth it's weight in gold because passion motivates people and it's what separates the good from the great. If you've got passion, let it show and, if you don't, try to go find it because every employer wants it.


Just a Thought,
Gus




(content subject to approval)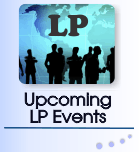 ---

Recruiting?
Get your job e-mailed to everyone... everyday
Post on our Featured Jobs Board!
Not getting the Daily?
Is it ending up in your spam folder?
Please make sure to add d-ddaily@downing-downing.com to your contact list, address book, trusted sender list, and/or company whitelist to ensure you receive our newsletter.
Want to know how? Read Here



36615 Vine Street, Suite 103
Willoughby, OH 44094
440.942.0671
copyright 2009-2019
all rights reserved globally