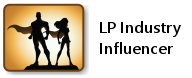 ---

Then and Now: The Surprising Start and Success of Your Favorite Technologies

Part 2: E-Commerce, Smartphones, and Robots



By Tony D'Onofrio, Global Retail Influencer & Prosegur's CEO & Managing Director, Global Retail Business Unit

The COVID-19 pandemic has drastically accelerated the adoption of technology in business, enabling companies to optimize their operations and meet changing consumer expectations. In Part 1 of this article series, we discussed the origin and success of department stores, supermarkets, and the retail bar code.

Let's continue this exploration of the past to discover the success of the future. In Part 2, we review e-commerce, smartphones, and robots. Now ubiquitous in our lives, how did they get their start and what can we expect in the future?

First Item Purchased Online

The first real online transaction that involved data encryption software to send a credit card securely took place in August 11, 1994 on a website called NetMarket. On that now memorable day, Dan Kohn sold a CD of Sting's 'Ten Summoner's Tales' to a friend for $12.48 plus shipping.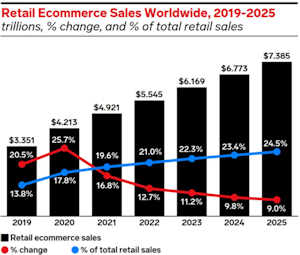 Once the internet could be used as a secure shopping channel, online shopping's success was inevitable. In 1995, Amazon.com and eBay launched their online shopping platforms, soon followed by Rakuten in Japan and Alibaba in China.

A decade ago, e-commerce made up only 8% of total retail sales in the United States. The pandemic, as with most digital technologies, became a major growth accelerator for e-commerce. According to McKinsey, COVID-19 compressed 10 years of e-commerce adoption into three months.

At peak in 2020, worldwide e-commerce grew nearly 26%.

E-commerce will continue to grow double digit crossing $6 trillion worldwide by 2023. China has by far the largest retail ecommerce market, representing 52.1% of total worldwide sales. USA is second but at only at 19%.

As of 2021, over 2 billion people worldwide shopped online — that's over one in four people. 'Field of Gold', which was one of the tracks on that Sting CD that started it all, perfectly summarizes the journey's riches that ecommerce has accumulated since its memorable start.

Read Tony's full article here
---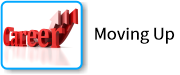 ---
Joan Abreu named AP Operations Manager for Target

Before joining Target as AP Operations Manager, Joan spent nearly two years with Amazon as Area Manager II DJE3 Logistics and Area Manager II DEW8 Logistics. Prior to that, Joan spent four years with Macy's as Senior Manager Operations and Asset Protection and Asset Protection Manager. Joan also served as Asset Protection Manager for Saks Fifth Avenue for more than six years. Congratulations, Joan!

See All the Executives 'Moving Up' Here

Submit Your New Corporate Hires/Promotions or New Position


---

Interface "Ask Our Expert" video series

What is POS Exception Reporting?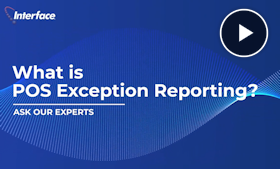 Jim Mack, VP Products and Solutions, Interface Security Systems, explains how Point of Sale (POS) Exception Reporting solutions can help retail chains and restaurants identify internal theft and opportunities to train employees. He also talks about how the ROI from POS exception reporting can be further improved when integrated with security cameras.

To learn more about POS exception reporting, please visit https://interfacesystems.com/business-intelligence/pos-exception-reporting/

---

The U.S. Crime Surge
The Retail Impact

Businesses Demand Federal ORC Action
U.S. Chamber Letter on Organized Retail Crime and Retail Theft

This letter was sent to the Members of the United States Congress as well as to the National Governors Association, National Conference of State Legislatures, and the National District Attorneys Association, on retail theft and organized retail crime.

Communities and businesses large and small across the United States are facing a significant increase in retail theft and organized retail crime that requires the swift response of policymakers.



A recent survey of small business owners founds that a majority (54%) experienced an increase in shoplifting in 2021. According to a survey of larger retailers by the National Retail Federation, organized retail crime cost stores an average of over $700,000 per $1 billion in sales in 2020, up more than 50% in the last five years.

These crimes are not victimless. In addition to the growing number of thefts that turn violent, innocent consumers, employees, local communities, and business owners and shareholders bear the costs of rising retail theft. Twenty-five percent of small businesses report raising prices as a result of shoplifting. Some retailers have been forced to shutter locations in response to rampant theft.

As this problem continues to grow, we urge you to take the following steps:

Congress should pass legislation to stop the sale of stolen goods on online marketplaces: The bipartisan H.R. 5502, "Integrity, Notification, and Fairness in Online Retail Marketplaces for (INFORM) Consumers Act," would increase transparency and identity verification of high-volume third-party sellers in online retail marketplaces while protecting the privacy of small sellers and establishing a uniform federal standard that would provide certainty and consistency for the business community. This legislation would deter retail crime by closing off a prominent avenue by which criminals seek to profit by selling stolen goods, often to unsuspecting customers.

Update the definition of organized retail crime and increase criminal penalties: States should act to define the crime of "organized retail theft" in criminal law to specify those thefts involving two or more participants and an intention of resale and include increased penalties for those specific violations.

The law and prosecutors must hold those who engage in organized and significant retail theft accountable: Since 2000, at least 40 states have raised the thresholds for the value of stolen goods to trigger a felony charge. In some instances, criminals are taking advantage of these increased higher thresholds to engage in repeated thefts and avoid prosecution. States should reconsider these thresholds and prosecutors should avoid adopting broad non-prosecution policies.

With a coordinated and focused effort among lawmakers, law enforcement, and the business community, we can stop the rise of organized retail crime. uschamber.com

Magnificent Mile Businesses Call on Kim Foxx to Prosecute Criminals
'We want to see the Cook County State's Attorney's Office prosecuting'
"We want to see the Cook County State's Attorney's Office prosecuting," Bares told ABC7 News. "Violent crime has been up and that's what has us concerned. "Carjackings, recovery of guns, some shootings -- those kinds of things."


Bares is calling on Cook County State's Attorney Kim Foxx to fight back by prosecuting more of those cases, along with more aggressively going after the organized retail theft rings that are terrorizing the ritzy shopping district.

"We want to see the Cook County State's Attorney's Office prosecuting," she said. "When the police have put together a solid case, we want to see that prosecuted. And we want to see the judiciary sentence appropriately."

With felony crime on the rise, a report by the Chicago Tribune says Foxx and her staff have dismissed upwards of 25,000 felony cases - including many involving charges of murder and other serious crimes – over her first three years in office. By comparison, Foxx, who was swept into office largely on a platform of criminal justice reform, had dropped charges against felony defendants at a clip that's more than 10 percent greater than predecessor Anita Alvarez.

With "smash-and-grab" robberies now on the rise and estimates pegging total retail theft losses felt by merchants last year as high as $4 billion, state Rep. Jim Durkin (R-Western Springs) has filed legislation targeting the organized theft rings behind the crime wave.

House Bill 4275 creates the crime of organized retail theft, a felony punishable by up to 15 years in jail if the value of the stolen goods is more than the state's current felony threshold of $300. Individuals would face such charges whenever they "work with one or more people to steal merchandise with the intent of selling or returning the merchandise for profit" or "act as an agent of another individual or group of individuals to steal merchandise from one or more merchant's premises as part of an organized plan to commit theft." chicagocitywire.com

California Turns Up the Heat on Theft Crews
Authorities aim to stop shoplifters who have been stealing many items from stores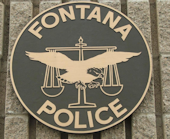 At various cities in California, there have been several recent reports of groups of shoplifters walking into stores, brazenly grabbing items, and leaving without paying.

"California has seen a rise in thefts in recent years where suspects will walk into a store, clear out shelves and walk out without a care in the world. Unfortunately, some counties are not prosecuting people for these types of crimes," Romero said, but he indicated that local law enforcement personnel are taking these incidents very seriously.

"Fontana Police Department will arrest all suspects," he said. "San Bernardino County is prosecuting and holding people accountable for their actions."

On March 25, the state made progress in the fight against these types of crimes as California Attorney General Rob Bonta announced the arrest of and felony charges against members of an organized retail theft ring operating throughout California, including the Inland Empire.

The theft ring was operating in Los Angeles County as well as in San Bernardino, Riverside, Alameda, Fresno, Kern, Orange, Sacramento, San Mateo, Santa Clara, and Ventura counties.

"Organized retail theft hurts businesses, employees, and the public — and this criminal activity will not be tolerated in California," said Bonta in a news release. "Today we take another step toward tackling this issue by announcing the arrests and felony charges against individuals alleged to be participants in an organized criminal scheme targeting retailers throughout our state." fontanaheraldnews.com

New Orleans Calls On National Guard to Help with 'Tornado of Crime'
Residents worried as 2 severe beatings just latest in crime wave

The city will have additional resources from JPSO, State Police and feds for this weekend's Final Four.

Rhonda Findley with New Orleans Safe, started a petition drive to get city leaders to request help from the National Guard. So far, the petition on petition.org, has received 5,000 signatures.

"We're in a crisis," Findley said. "We're in a tornado of crime and it's time to bring in support. We have the guard here at Jackson Barracks."

New Orleans is getting help from the Louisiana State Police, Jefferson Parish Sheriff's Office, and federal law enforcement agencies this weekend for the NCAA Men's Final Four basketball tournament in the Caesar's Superdome.

"You're going to see a large presence of officers throughout this weekend in the downtown area, the entire weekend," NOPD Superintendent Shaun Ferguson said.

Neighbors are asking for stepped up police presence on a daily basis, not just for large events. wwltv.com

In Case You Missed It: Retail theft target of legislation looking to tackle ORC

Op-Ed: How to steer clear of crime in New York City

Which Colorado counties have seen the fastest rises in crime?
---

COVID Update

560.1M Vaccinations Given
US: 81.6M Cases - 1M Dead - 64.8M Recovered
Worldwide: 485.7M Cases - 6.1M Dead - 421.1M Recovered


Former Senior Loss Prevention Executive
Know of any fallen LP exec? Let's remember & recognize.
Private Industry Security Guard Deaths: 354
Law Enforcement Officer Deaths: 740
*Red indicates change in total deaths

COVID Cases Flatten as Another Surge Looms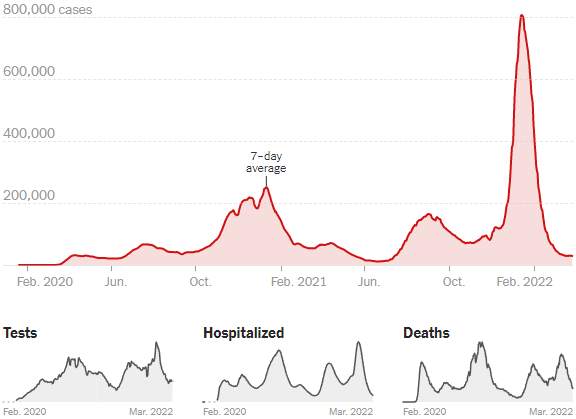 New COVID Spike Is 'Imminent'
These Are the 7 States With the Worst COVID Surges Right Now

The national decline in cases is also showing signs of slowing down

For over three months, COVID cases have seen a sustained decline on a national level since the Omicron surge reached its peak on Jan. 14. However, the decrease in infections appears to be slowing, with the national daily average hovering around 30,000 over the past week, according to data from The Washington Post. Meanwhile, some states are already seeing surges in COVID cases as experts begin to warn that another national spike could be imminent.

Fears of an upcoming increase in infections come as cases abroad have spiked due to the spread of the highly transmissible BA.2 Omicron subvariant, which has just become the dominant strain in the U.S. According to The New York Times, in the last two weeks, cases went up by 45 percent in the U.K., 3 percent in Spain, and 94 percent in France. bestlifeonline.com

The Post-COVID Mall Bounceback
PREIT sales hit a record in February

Mall operator PREIT's February comparable sales at core malls hit an "all-time high" of $618 per square foot, according to a press release.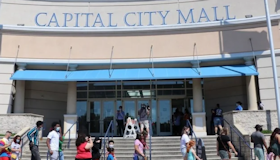 A massive shortfall in rent payments sent PREIT into Chapter 11, along with its peer CBL Properties, as retailers worked through the financial impact of temporary store closures and lingering traffic declines during the early phases of the pandemic. For PREIT and other mall operators, the challenges of the pandemic followed years of decline in revenue as the mall's place in the U.S. continued to diminish through the past decade.

PREIT made progress in 2021 toward digging itself out of the hole created in the mall world by the advent of COVID-19. After filing for bankruptcy in 2020, PREIT recapitalized, grew its sales and cut its losses by nearly half. Its losses, though, still remained substantial at $135.9 million for 2021.

The mall operator's strong sales in February also represent another data point showing that malls and specialty retailers are making headway after January's steep surge in COVID-19 cases caused by the omicron variant. retaildive.com

New COVID Restrictions Coming?
Fauci: Americans should be prepared for new COVID-19 restrictions
White House chief medical adviser Dr. Anthony Fauci on Sunday warned about the potential for the reinstatement of COVID-19 restrictions in the U.S. In an interview on the BBC's "Sunday Morning," Fauci said U.S. residents "need to be prepared for the possibility" of restrictions being put back into place.

"I don't want to use the word 'lockdowns.' That has a charged element to it. But, I believe that we must keep our eye on the pattern of what we're seeing with infections," he said, noting that the U.S. is currently moving toward normalcy.

"Having said that, we need to be prepared for the possibility that we would have another variant that would come along," Fauci noted. "And then, if things change and we do get a variant that does give us an uptick in cases and hospitalization, we should be prepared and flexible enough to pivot toward going back – at least temporarily – to a more rigid type of restrictions, such as requiring masks indoor." foxnews.com

New 'Stealth' Variant Now Eyed in 71% of Local Infections, Dominates US as New York Cases Climb
According to the CDC, the "stealth" omicron variant, BA.2, now accounts for 71% of COVID circulating in the New York area right now, up from 39% two weeks ago. It's also now the dominant U.S. strain

Manhattan becomes hotbed of new cases as BA.2 variant drives infections higher
---

Russia's Retail Collapse
'I am watching my business fall apart' – Can retailers survive inside Putin's Russia?
Western brands have swiftly moved to shut down operations in Russia since the invasion of Ukraine, wiping well-known goods from the shelves. But what does it feel like for those trying to run businesses in the country?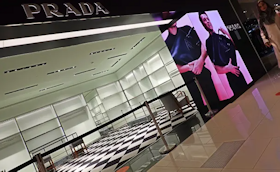 "To say I have concerns about the future is a huge understatement. Waking up every day with the knowledge that you are an unwilling part of this nightmare is devastating.

"I have been building my business for decades, and now I am watching it fall apart. I have people depending on me – not just my family, but my employees, who will lose their source of income, their health insurance, their livelihood. One of my biggest concerns is their welfare. But of course, compared with the tragedy that's happening in Ukraine, all business concerns seem insignificant.

"As of this moment, retail businesses are still functioning – but the biggest question we all have is what will happen in a few weeks or months, when supplies run out.

"The big brands that operate in Russia themselves, like Ikea and Inditex [the owner of fashion chain Zara], have a bit more freedom – they can afford to temporarily suspend operations while continuing to pay their employees.

"The businesses that work under a licence agreement are facing much tougher challenges. I fear we will all have to make a difficult, strategic choice – whether to close our businesses permanently and sell off our remaining stocks, or try to keep the business afloat in the hope that the situation improves and supplies can be resumed." theguardian.com

U.S. Retailers Step Up to Help Ukraine
Maine retail association creates statewide relief program to send aid to Europe
The Retail Association of Maine is calling on businesses and residents in the state to donate essential supplies to its relief program for Ukrainians in the embattled country.

As part of the From Maine to Ukraine relief program, the association is asking retailers around the state to donate new clothing and household items, which will be sent overseas to the Association Retailers of Ukraine to help the victims of war.

Shortly after the invasion of Ukraine in February, Retail Association of Maine CEO Curtis Picard reached out to Oksana Prykhodko, the CEO of the Ukrainian retail association, to ask how his team could help.

The retail association is working with individual businesses to collect and gather the donated goods at a centralized location in Maine. There is also a growing list of businesses that have signed up to collect food donations. foxbusiness.com

Retail Traffic Suffering Amid High Gas Prices
Gas prices seem to be hitting retail foot traffic, Placer.ai data finds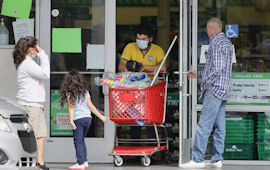 Higher gas prices may be taking a toll on retail foot traffic, according to a new report from data intelligence platform Placer.ai.

Though prices at the pump have begun to decrease, with a current national average of $4.25, the price per gallon is still $1.37 higher than a year ago amid the Ukraine-Russia war and other supply-chain issues. Now, combine that with elevated food prices and it appears that consumers are making fewer visits to retailers, according to Placer.ai's analysis.

During the week of March 7th, visits to U.S. retailers decreased by 4.3% compared to the same week three years ago, marking the steepest decline in weekly foot traffic over the past 12 months that were not correlated with the impact of COVID-19 or the holidays. If gas and food prices remain high, Placer.ai warns that retailers with higher exposure to lower-income consumers for which gas makes up a larger portion of the household budget, may face ongoing impact. finance.yahoo.com

Academy Sports + Outdoors to open 80 to 100 stores during next five years

BJ's teams with DoorDash to offer grocery delivery

French retail giant says its Russian stores will stay open

Modesto-based Save Mart Supermarkets sold to Los Angeles private equity firm
---
From Russia With Love? Not So Much
Using Russian tech? It's time to look at the risks again, says cybersecurity chief
If you are relying on Russian software or services it might be time to consider the level of risk that involves, says the NCSC.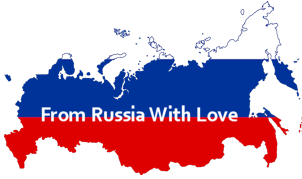 Organisations using Russian-linked software or products have been told to take time to consider the risk involved with using those technologies following Russia's invasion of Ukraine.

New guidance from the National Cyber Security Centre (NCSC) - part of GCHQ – says organisations in several key areas in particular should reconsider the risk of using Russian-controlled products as part of their network or supply chain because of the risk of potential cyber attacks.

The NCSC said that Russian law already contains legal obligations on companies to assist the Russian Federal Security Service (FSB), and the pressure to do so may increase in a time of war. And while it said there was no evidence that the Russian state intends to suborn Russian commercial products and services to cause damage to UK interests, the absence of evidence is not evidence of absence.

"In our view, it would be prudent to plan for the possibility that this could happen," said Ian Levy, technical director at the NCSC in a blog post.

"You may choose to remove Russian products and services proactively, wait until your contract expires (or your next tech refresh), or do it in response to some geopolitical event. Alternatively, you may choose to live with the risk," said Levy. zdnet.com

Cybercriminals Exploiting Security Flaws in Record Time
Hackers are getting faster at exploiting zero day flaws. That's going to be a problem for everyone

Crooks are getting faster at figuring out how to use flaws in software, and more of the exploits affect the many, rather than just the few.


Hackers were much faster to exploit software bugs in 2021, with the average time to exploitation down from 42 days in 2020 to just 12 days.

That marks a 71% decrease in 'time to known exploitation' or TTKE, according to security firm Rapid7's new 2021 Vulnerability Intelligence Report. The main reason for the reduction in TTKE was a surge in widespread zero-day attacks, many of which were used by ransomware gangs, according to the company.

As Rapid7 notes, 2021 was a grim year for defenders, which kicked off with the SolarWinds Orion supply chain attack which was pinned on Russian state-sponsored hackers. The year ended with the very different Apache Log4j flaw, which had no obvious main attacker but was spread across millions of IT systems.

Google's Threat Analysis Group (TAG) and Project Zero researchers also have also observed an uptick in zero-day attacks, where attackers are exploiting a flaw before a vendor has released a patch for it.

Rapid7 tracked 33 vulnerabilities disclosed in 2021 it considered to be "widespread", an additional 10 that were "exploited in the wild", and seven more where a threat was "impending" because an exploit is available. The company recommends patching impending threats today. zdnet.com

Retail's Cyber Risk
Cybersecurity benefits for your industry
Cybersecurity is essential because it protects all types of data, either theft or damage. It includes sensitive data, personally identifiable information (PII), protected health information (PHI), personal information, intellectual property, data, and governmental and industry information systems. Some of these solutions could beneficially get through Avancer Corporation. Cybersecurity benefits the healthcare industry, financial industry, manufacturing & retail, telecommunication, and more.

If it's about without having a cybersecurity program, your organization cannot save itself against data breach campaigns, which makes it an irresistible target for cybercriminals. These have both inherent risk and residual risk increases, managed by global connectivity and usage of cloud services, like Amazon Web Services, to store sensitive data and personal information. Sometimes the poor configuration of cloud services paired with sophisticated cybercriminals may risk your organization suffering from a successful cyber-attack or data breach increased.

Most business leaders can no longer solely rely on out-of-the-box cybersecurity solutions such as antivirus software and firewalls; cybercriminals make smart tactics more resilient to conventional cyber defences. newsanyway.com

Zero-Day Surge Led to More Rapid Exploitation of Bugs in 2021

---

Just a Couple Weeks Away!

RCC's Retail Loss Prevention Forum

RCC's Retail Loss Prevention Forum explores the latest strategies and most effective retail tactics to better help protect people, property, and assets. This year's agenda has been carefully developed by Retail Council of Canada members to address today's most critical retail loss prevention issues.

This is Where Loss Prevention Evolves

Moving from loss prevention to an enterprise risk management model is where LP evolves. The evolution of retail commerce has created new pressure points and risks that retail leaders need to prioritize, including the evolving area of cyber security. Chris Strongman, Vice President, ERM. Aritzia LP, will chat with Rui Rodrigues, Executive Advisor with RCC, about what a risk management model looks like, the strategic transformation at Aritzia, and the ensuing benefits and challenges.

Advancing Collaboration on Organized Retail Crime in Canada

Addressing organized retail crime is a top priority for retailers across Canada. Collaboration between retailers, law enforcement, and justice is key. This panel examines how retailers can work together to drive change in the perceptions and impact of major retail crime. This discussion includes ideas for how retailers can take the lead and how Canadian retail organizations can achieve a deeper level of collaboration for increased results.

See the full agenda here

---

Canada's Crime & Violence Surge

Canadian Stores Enlist Axis Communications Tech to Fight Theft
Retailers Find Benefit in Using Camera Technology for Customer Experience
​​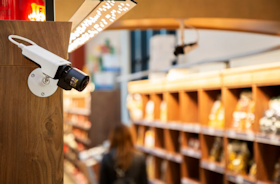 Mitch Mershon, Business Development Manager, End to End Solutions at Axis Communications, said retailers want to be able to protect their premises by recording everything with high quality video managed via a video management software that is very easy to use and that they know is going to work.

"(Within the retail environment), there is obvious theft that occurs. We know that's always going to be there. So, if somehow there's a large theft and they're able to catch and view a person's face very plainly and clearly, it makes prosecution easier. On the other side of that is slip, trip and falls. One slip, trip or fall can cost a retailer tens, hundreds of thousands of dollars. So being able to prove proper compliance as the business owner, that's the difference between some places staying open and some places closing.

"One of the cool things we're starting to really move towards is working with analytics to where we can now start talking about more business intelligence. Being able to get not only recorded video for evidence, we can now start to look at how many people are coming into your store every day, where are they going as we track them around your store."

That business intelligence is crucial. It can help retailers with marketing the areas of a store that are particularly busy. It can help them with making staffing decisions. What area of the store needs more people? Less people? Video surveillance can also help retailers mitigate the risk of internal theft as well.

Axis Communications has "feet on the street" in at least 50 countries. In Canada, it has an office in Mississauga. It is known primarily as video surveillance manufacturer but over the years it has grown and expanded its reach in this field. retail-insider.com

Businesses Dealing with Shattered Windows Amid Crime Wave
"Unbelievable": Glass companies swamped by Vancouver's crime surge
Since the pandemic began, it has been fairly common to see work vans parked in downtown Vancouver belonging to glass repair companies. From the perspective of business owners, they've never seen anything like it. The perspective is largely the same from the companies that have been serving the businesses that are being impacted.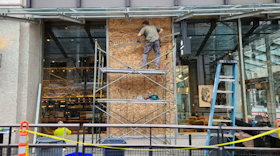 The situation that is currently facing Vancouver is unprecedented. His company is dealing with multiple calls a day. You might recall that two years ago when the pandemic began, when people were told to shelter in place, thieves made the most of it. Many businesses that were forced to close were also forced to board up their windows because of the sudden spike in theft. That uptick in theft and vandalism has persisted two years later.

Extreme Glass has done work with 100 towers in downtown, and Frazao suggested the spike he's seen in breakages is "dramatic." He also said he knows of a pet store in Yaletown that has had four incidents in just two weeks. Frazao said that it's "very expensive stuff."

"We're basically doing a few of those calls each day and that's just during regular hours. We get sent out during the night as well."

When Daily Hive Urbanized spoke with Jackie Haliburton about her retail store being repeatedly robbed and vandalized, she said that another glass company told her they'd never seen anything like this. Frazao agreed, he hasn't seen anything like this since the 90s.

The issue with adding layers of security as Frazao points out, is that it impacts the aesthetic of the store. This is especially the case when it comes to higher end stores. Window film is one potential solution that Frazao says would keep the glass intact, but installing shutters that come down every night might offer the best protection. dailyhive.com

Targeted & Gang Shootings on the Rise
'Brazenness' of shootings escalating, police say, as videos of public gun violence released
Edmonton police swear they are using every means at their disposal to address escalating gun crime and violence. The promise was made Thursday morning, when police agreed to take questions from media on recent shootings and also released security footage of three very public 2020 and 2021 shootings.

"The brazenness of these shootings is definitely, I would say, escalating. And why that trend is happening, we can't tell you. But it's definitely concerning to all of us," Staff Sgt. Eric Stewart, who oversees the Edmonton Police Service's firearms investigations and gang suppression teams, told reporters.

EPS counted 158 shootings in 2020 and 150 in 2021. Of the 2021 shootings, 72 per cent were "targeted" and 47 per cent had "gang involvement." In nearly half of the shootings, there was potential for innocent bystanders to be harmed. edmonton.ctvnews.ca

The U.S. and Canada Reestablish the Cross-Border Crime Forum
Officials Discussed Cybercrime, Violent Extremism, Public Safety, Firearms Violence, and Justice Reform

---

Canada's Fraud Prevention Month

Canadians Lost $375M to Scams in 2021
Thwarting cybercriminals before they get your financial info

Canadians lost $375 million to scams in 2021 alone, a 130 per cent increase over previous years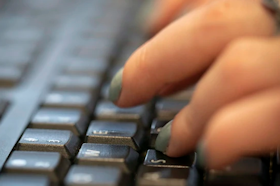 Cybercriminals are doing all they can to stay one step ahead of us by finding new ways to take advantage of our vulnerabilities. Canadians lost $375 million to scams in 2021 alone, a 130 per cent increase over previous years. The way to protect ourselves from their creativity in trying to trick us out of our money is to improve our ability to prevent them from gaining access in the first place.

The first step in preventing fraud is increasing our knowledge of how the fraud happens. One of the most common online scams to gain access to your financial data is when a cybercriminal sends an email (phishing) or text (smishing) regarding a refund or electronic transfer of funds. To receive the money, you must provide your banking access info. Unless you are expecting an e-transfer, do not click on the link and never provide your banking info unless directly logging into your financial institution's secure website.

The rise in online shopping has also provided a wealth of opportunities for cybercriminals. It's important to ensure you are dealing with a reputable company when making online purchases. For example, clicking on a link from another application can result in being redirected to a fake website designed to gain access to your banking or credit-card info. It's wiser to go directly to the company's website to purchase the product and ensure you are buying from a legitimate seller.

Use a low-limit credit card for online purchases to reduce the amount that can be accessed should your card info fall into the wrong hands. And be sure to review your monthly credit card and bank statements to ensure that all the transactions are indeed yours. financialpost.com

Police Urge Public to Report Fraud
RCMP offer tips to combat fraud

Fraud Awareness Month: Tips and reminders from Regina police

---

Canada's Epstein - Legal Update
Arrest warrant issued for Canadian fashion mogul Peter Nygard in Montreal

Montreal police confirmed an arrest warrant was issued for disgraced fashion mogul Peter Nygard on Monday in Montreal.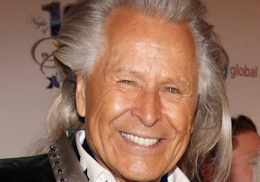 In an email to Global News, Quebec's Crown Prosecutor's Office said it has filed sexual assault and forcible confinement charges against Nygard. The offences are alleged to have taken place between Nov. 1, 1997, and Nov. 15, 1998, in Montreal.

Nygard, 80, was first arrested in Winnipeg in 2020 under the Extradition Act after being charged with nine sex-related counts in New York. Authorities in the U.S. allege he used his position in the fashion industry to lure women and girls.

Federal Justice Minister David Lametti said last week that Nygard will be extradited to the United States, but only after his criminal case in Canada is complete. Nygard is currently in detention in Toronto. He was denied bail earlier this year in connection with sex-related charges including six counts of sexual assault and three counts of forcible confinement. globalnews.ca

Home Depot Canada: Worksheet on privilege gone viral not authorized
Home Depot said Wednesday that a worksheet about privilege that went viral is an unauthorized document from the company's Canada division. The worksheet laid out different types of privilege, from social privilege and white privilege to heterosexual privilege. ksat.com

Canadian Consumers Changing Shopping Patterns Due to Inflation: Report

Statistics Canada is Changing How it Monitors Food Prices

Police in Metro Vancouver investigate spate of targeted shootings, homicides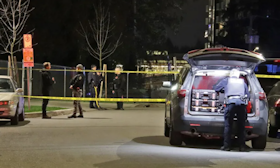 Police in Metro Vancouver responded to a spate of violent incidents on Friday, including two homicides and shootings believed to be linked to the region's gang conflict. RCMP say officers responded to a report of shots fired around 11:30 p.m. PT Friday and found evidence of a shooting at the scene, not far from Surrey Central SkyTrain station.

Shortly afterwards, a man arrived at a local hospital with non-life-threatening injuries. Police say they believe the shooting is linked to the Lower Mainland gang conflict. There was also a shooting Thursday night in the12600 block of 72nd St. that resulted in a male victim sent to hospital with non-life-threatening injuries. It is not confirmed if the shooting is gang-related. cbc.ca

Duo faces multiple charges following car theft and robbery: Halifax police
On Monday around 12:50 a.m., police responded to a report that a man had stolen a backpack from a woman in the 1700 block of Barrington Street. Police say one of the woman's credit cards was later used at a gas station in Dartmouth, N.S. During their investigation, officers determined the suspects had allegedly stolen a car from a business in Dartmouth the day before and used the car in the robbery on Barrington Street. atlantic.ctvnews.ca

Durham sees spike in pharmacy robberies, police canvassing with prevention tips

Georgetown, ON: Police investigate armed robbery at convenience store

Psychiatric assessment ordered for man who held up Victoria Street retail store

Lethbridge police identify suspect in bear spray attack on liquor store worker

Man accused of robbing pizza joint with machete remains in custody

Suspect sought following break-in to Acton leather goods store
---

---

Amazon Worker Safety Fines
Fine with fines? Amazon isn't making enough changes to protect warehouse workers, state says

Amazon and Washington's workplace safety watchdog are trapped in a cycle. Citation. Appeal. Repeat.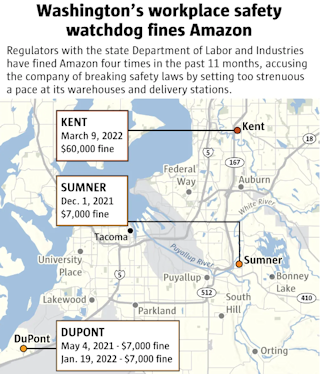 Regulators with the state Department of Labor and Industries have cited and fined Amazon four times in the past 11 months — a total of $81,000 — for alleged violations of workplace safety laws, accusing the company of setting an unsafe pace that puts employees at risk as they quickly move package after package.

The company disputes the violations, saying it sets a safe and comfortable pace of work and is constantly looking for new technologies and processes to keep workers safe in its warehouses and delivery stations. Amazon appealed the first three citations and plans to appeal the fourth.

Those appeals, the start of an often lengthy legal process, don't mean Amazon can continue operating as usual. But, for the most part, Amazon still is.

Under Washington law, employers are required to address workplace safety violations even while an appeal is pending. Since issuing their first in a string of citations against Amazon last May, state officials say the company hasn't done enough to satisfy their concerns and risks more injuries each day.

Workers at Amazon's Kent warehouse are asked to repeatedly lift, carry and twist at a pace that drives up injury rates, Labor and Industries officials said in the most recent citation. Ten of the 12 processes the department inspected "create a serious hazard" for back, shoulder, wrist and knee injuries. Because the department has cited Amazon for similar violations in the past at other facilities, the company is aware of these hazards, officials said, and now is "knowingly putting workers at risk."

Most employers facing injury rates similar to Amazon's would end up facing not just willful violation citations from Labor & Industries, but possible closures, said state Attorney General Bob Ferguson. seattletimes.com

Online Buy Now, Pay Later Fraud Concerns
BNPL critics urge CFPB to protect consumers from payment app

Dueling views are emerging in response to the Consumer Financial Protection Bureau's request for comments. Proponents of buy now-pay later services argue the naysayers are wrong.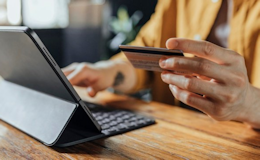 Pressure is building on the Consumer Financial Protection Bureau (CFPB) to better police companies that offer consumers the ability to spread payments over time through buy now-pay later (BNPL) financing.

In last-minute flurry of some 40 submissions, a group of states attorneys general and a coalition of non-profits argued in two separate comments that consumers needed to be protected from BNPL providers' services. Banking industry groups called on the CFPB to create a level playing field and some trade groups defended BNPL practices. Earlier last week, there were only a few comments in response to the December request.

In one submission, the coalition of 77 non-profit organizations recognized the benefit of BNPL providing some consumers "an affordable way to finance purchases," but then launched into a litany of concerns and called on the CFPB to take a tough stance with respect to BNPL providers. paymentsdive.com

Buyer's Remorse Due to Online Shopping Has Affected 74% of Americans
---
NCORCA Holds In-Person 2022 Symposium

Hundreds of attendees & dozens of retailers and law enforcement agencies convened in Roseville, California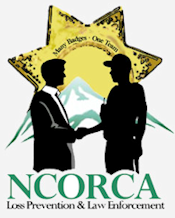 Last week, Northern California Organized Retail Crime Association (NCORCA) had its first in-person symposium in two years, with 200 attendees representing 44 retailers and 16 law enforcement agencies meeting in Roseville, Calif. for a full day of networking and shared learning.

NCORCA is one of the largest and oldest ORCAs in the country. Started in 2006 by Marc Rojas (Formerly with Target) and Lee Frasier (Walmart), NCORCA has more than 1,000 members. Since 2012, NCORCA has been run by Al Moody with the Roseville Police Department. Founding board member Lee Frasier and Founding Supporter Connie Ribble (Rite Aid) remain on the board to date.

Thanks to the generous donations of retailers such as Raley's and Winco, the NCORCA Symposium remains a free annual symposium that includes breakfast and lunch for attendees. This year's speakers included the Placer County District Attorney Morgan Gire and Roseville Police Chief Troy Bergstrom. Presentations included the Manteca Police ORC Unit, CHP ORC Task Force, ALTO and a panel discussion on ORC Tactics.

NCORCA meets bi-monthly to discuss ORC Trends and cases. To join the organization please reach out to Connie at Connie.Ribble@riteaid.com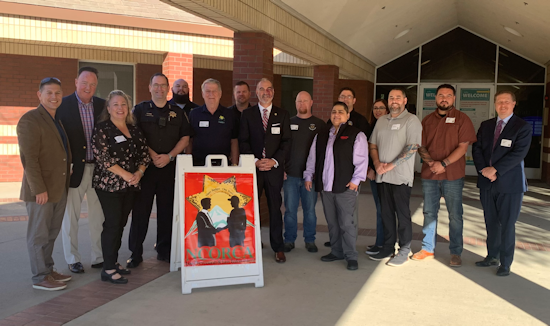 NCORCA Board of Directors, Placer County DA Gire and Roseville Police Chief Bergstrom

---

Columbus, OH: Shoplifting Spree Leaves Ulta Beauty Stores With Over $18,000 In Losses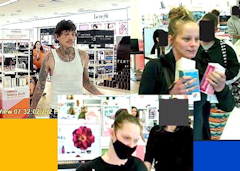 Do you recognize the suspects in the photos? They have shoplifted at multiple Ulta Beauty Stores in Columbus resulting in over $18,000 in losses. Anyone who has information or could identify these suspects is encouraged to contact Detective Beard at 614-645-2091 / bbeard@columbuspolice.org or Central Ohio Stoppers at 614-461-8477. shorenewsnetwork.com

Jackson Township, NJ: Three Female Shoplifters Pack Bags And Walk Out Of Jackson Outlets Store With Stolen Goods
On Friday, three women filled their bags with $3,000 worth of merchandise from the Under Armour store at the Jackson Premium Outlets and walked out the door. At 11:21 am on Friday, Jackson Jackson Police Officer Mitch Kafton responded to the Under Armour store located in the Jackson Premium Outlets. "A store employee reported that on the previous day, 3 unidentified females entered the store and then began putting merchandise in bags they were carrying. They left the store with merchandise valued in excess of $3,000.00 without paying for it," Captain Steve Laskiewicz said in a statement. shorenewsnetwork.com

Beverly Hills, CA: 5 Men arrested for Grab and Run on Rodeo Drive, Security Guard assaulted

San Fernando Valley, CA: 35 luxury cars, $2.3 Million in total, seized in SoCal fraud investigation

Boston, MA: 2 arrested after allegedly shoplifting more than $4,000 worth of sunglasses in Back Bay

Australia: Cigarettes worth $80,000 stolen from Pambula in break and enter
---

---

Shootings & Deaths

Kennesaw, GA: Man wanted for Jewelry store murder in Mississippi arrested
A man wanted on a murder charge in a Mississippi shooting nearly a year ago was arrested Saturday morning in Kennesaw, officials said. Phillip Harris is charged with capital murder in connection with the incident at an Indianola jewelry store in April 2021, Indianola police Sgt. Regina Simpson told The Atlanta Journal-Constitution. He was arrested after Kennesaw police officers said they noticed a vehicle with "multiple equipment violations" on Ellison Lakes Drive. During the traffic stop, ecstasy, THC vapes, marijuana and a firearm were found, according to police. Harris was a passenger in the vehicle, police said. ajc.com

Tacoma, WA: $1,000 reward offered to catch teens wanted in marijuana store murder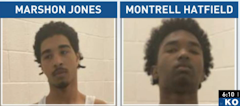 A reward is now being offered for tips leading to the arrest of two teens police say killed a marijuana store employee. Montrell D. Hatfield, 16, and Marshon D. Jones, 15, are the prime suspects in the fatal shooting earlier this month. The two shot and killed World of Weed employee Jordan Brown, 29. The Gig Harbor native was slain during the hold-up before the two suspects took off. komonews.com

Middleton, DE: Norfolk man arrested after robbery shootout with wine store employee in Delaware
A man from Norfolk has been arrested following an attempted robbery shootout at a wine store in Delaware over the weekend. According to the Middletown Police in Delaware, they got the call just after 8 p.m. on Saturday, March 26, regarding an attempted robbery with a weapon at the Village Wine and Spirits. A preliminary investigation revealed that the suspect, later identified as 35-year-old Norfolk resident Michael Cherry, entered the wine store wearing a mask and a hood over his face. Police say Cherry pulled out a black handgun and ordered the two clerks inside to open the register. However, one of the clerks was also carrying and was able to pull their weapon leading to an exchange of gunfire. Cherry fled the store with nothing in his hands and fled in a red Dodge Journey with black rims. Police say there were no injuries following the shootout. wavy.com

Kimberly, WI: Guard fired shots at Fox Valley Coin & Diamonds robbery suspect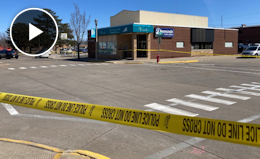 The employee says a person came into the store and stole a high-priced item in a "grab and run" at Voecks'. A worker at the store followed the suspect, who got into a car and tried to run the worker over, and the worker fired shots at the person. Fox Valley Metro Police confirmed the employee's account, adding that the worker was an armed security employee working at the coin and jewelry shop who fired several shots at the moving car. The car continued on. The security worker wasn't hurt. The suspect and his vehicle were found later near the Town of Wolf River by the Winnebago County Sheriff's Office. Authorities determined he wasn't hit by any of the shots. wbay.com

Wallingford, CT: Shots fired during catalytic converter theft

Coachella, CA: Convenience Store Shooting: Jury Reaches Verdict, acquitted of attempted murder and assault charges, but convicted of illegally possessing a firearm

---

Robberies, Incidents & Thefts

Waco, TX: Shoplifter on trial for dragging officer claims he was racially profiled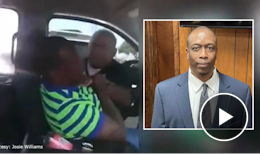 A former Central Texas police officer testified Monday that his leg was crushed between the driver's door and truck frame during his August 2019 struggle with a suspected shoplifter whose vehicle struck five cars in the Richland Mall parking lot during a getaway attempt. Roy Luna, who was working security at Dillard's on the day he was injured, identified Andre Duane Boyd, 48, as the man who attempted to steal almost $800 worth of clothing before resisting Luna's attempts to detain him and injuring the officer. Boyd, who is charged as a habitual criminal because of his lengthy record, is on trial in Waco's 19th State District Court on one count of aggravated robbery and one count of aggravated assault against a public servant. The defendant, who has at least a dozen previous felony convictions, is taking an unusual course by representing himself at trial. Boyd also questioned whether he was the victim of racial profiling because he said he repeatedly told Luna he had a receipt for the clothes. Luna, who was hospitalized with leg abrasions, bruises and swelling, said Boyd never produced a receipt. If convicted as a habitual criminal, Boyd faces a minimum of 25 years on each count and up to maximum life prison terms. kwtx.com

Wichita Falls, TX: Checkout beeping noise annoys accused shoplifter


One of a pair of accused Walmart shoplifters tells police it's not shoplifting when the card reader doesn't accept your card and you walk out with items, especially when all the beeping from the checkout machines becomes annoying. Charges are pending on that suspect but his alleged accomplice, Jessica Echols, is charged. The warrants were not served on the pair during the pandemic, and Echols was finally booked this month. According to the arrest affidavit, the two were in the Lawrence Road Walmart and were seen loading dozens and dozens of items in a cart and never looking at the prices, which made security suspicious. They say they observed the male at the checkout scanning some items, then he went to the exit with the cart full of unscanned items, leaving Echols at the checkout with other items. They say she attempted to use a card that was rejected, then she too left. The male suspect argued they could not charge him with theft because he tried to pay but his card was declined, even though there was $1,700 in his account. He said he left with the cart full of unpaid items because he was tired of being in Walmart and all the beeping of the machines was getting annoying. Police believe the man walked away with most of the unpaid merchandise while Echols stayed behind to make it appear they were going to pay or already had paid, and they left by different exits. Police say Echols also gave a fake name when stopped. texomashomepage.com

Fayetteville, NC: Arson investigated at paintball supplier 1 week after business lost $21K in robbery
● Beauty – Syracuse, NY – Burglary
● C-Store – Syracuse, NY – Burglary
● C-Store - Culver City, CA – Armed Robbery
● C-Store – Joplin, MO – Armed Robbery
● Check Cash – Greenville County, SC – Armed Robbery
● Clothing – Beverly Hills, CA – Robbery
● Dollar – Philadelphia – Robbery
● Eyewear – Boston, MA – Robbery
● Gas Station – Los Angeles, CA – Armed Robbery
● Jewelry – Kimberly, WI – Robbery / Shooting
● Jewelry – Paramount, CA – Robbery
● Jewelry - Longview, TX - Robbery
● Jewelry - Madison, WI – Robbery
● Liquor – Middletown, DE – Armed Robbery / Shooting
● Pawn – Queens, NY – Robbery
● Restaurant – Baton Rouge, LA – Burglary
● Restaurant – New York, NY – Armed Robbery
● Sport – Fayetteville, NC – Burglary
● T-Mobile – Santa Clarita, CA – Robbery
● Walmart – Allegany, NY – Burglary
● 7-Eleven – Fremont, CA – Armed Robbery
● 7-Eleven – Los Angeles County, CA – Armed Robbery
Daily Totals:
• 17 robberies
• 5 burglaries
• 2 shootings
• 0 killed
---


---
| | |
| --- | --- |
| | Brent McNeely promoted to Regional AP Manager for Family Dollar |
Submit Your New Hires/Promotions
or New Position
See all the Industry Movement
---




Feature Your Job Here For 30 Days -
70% Aren't On The Boards
Post your job listing
---
Featured Job Spotlights
Help Your Colleagues By Referring the Best

Refer the Best & Build the Best

---

Wegmans AP & Security Job Openings in NY
Multiple Locations - posted March 29
● Asset Protection Coordinator (West Seneca, NY)
● Asset Protection Coordinator (Liverpool, NY)
● Corporate Security Officer - EMT (Rochester, NY)



Divisional Loss Prevention Manager
Oakville, ON, CAN - posted March 16
This position is responsible for directing loss prevention and security field operational personnel and programs that protect the human and material resources of the Corporation's assets throughout Canada, The Americas Group. This position manages and resolves loss prevention and security related issues...



Loss Prevention Supervisor
Asheville, NC - posted March 10
This position will act as the expert Loss prevention subject matter expert for this building. Loss Prevention Site Lead is to safeguard associates, equipment, and the assets of the organization as well as independently assess the environment, recommend and/or execute appropriate actions in a timely manner to mitigate risks...



Assoc. Manager. Asset Protection
Plano, TX - posted March 10
This role's primary focus will be to serve as the lead for Executive Protection, Major Events Security, and assist with Travel Security programs worldwide. In addition, this position will play a primary role in executing safety, security, and loss prevention programs and policies for all corporate-owned locations...



Area Loss Prevention Manager
Virginia & Maryland - posted March 9
Our Area Loss Prevention Managers ensure safe and secure stores through the objective identification of loss and risk opportunities. Our Area Loss Prevention Managers plan and prioritize to provide an optimal customer experience to their portfolio of stores. They thrive on supporting and building high performance teams that execute with excellence...



Loss Prevention Security Investigator
San Bernardino, CA - posted March 9
Protecting of Company property against theft. Detection, apprehension, detention and/or arrest of shoplifters. Internal investigations and investigations of crimes against the Company. Detect and apprehend shoplifters. Conduct internal theft, ORC and Corporate investigations. Prepare thorough and concise investigative reports...



Regional Fraud Investigator
Dallas, TX - posted March 8
Regional Fraud Investigation Managers are responsible for in total, the receipt of reports of losses of assets, consisting of money and or merchandise causing losses to Signet Jewelers Inc. The position further entails the investigation, determinations of loss causes, individuals responsible for such losses if warranted...



Regional Loss Prevention Manager
Sugar Land, TX - posted March 7
The position will be responsible for: -Internal theft investigations -External theft investigations -Major cash shortage investigations -Fraudulent transaction investigations -Missing inventory investigations -Reviewing stores for physical security improvements -Liaison with local Police Depts. and make court appearances...



Corporate Risk Manager
New Orleans, LA, Memphis, TN, or Jackson, MS - March 9
Summary of Role and Responsibilities: A proactive approach to preventing losses/injuries, whether to our employees, third parties, or customer's valuables. They include but are not limited to cash in transit, auto losses, or injuries...



Loss Prevention Supervisor
West Jefferson, OH - posted March 7
Provides leadership to the LP staff which includes but not limited to performance development, direction on daily duties, and meeting department goals. Supervises Loss Prevention programs and process in the Distribution Center (DC) and partners with DC Management team to ensure physical security, product, equipment and employees meet LP requirements...



Retail Asset Protection Associate
Medford, MA; Brockton, MA; Waterbury, CT;
East Springfield, MA - posted March 7
The Asset Protection Greeter role is responsible for greeting all customers as they enter the store, ensuring that customers see the Company's commitment to provide a safe and secure shopping environment, as well as deterring theft, shoplifting, or other dishonest activities...



Loss Prevention Specialists (Store Detective)
Boston, MA - posted March 7
Detect and respond to external theft and fraud by working undercover within the store(s) you are assigned to. Working as a team with store management and associates in combating loss in the store(s). Developing and analyzing external theft trends, utilizing information in company reports and information gathered from store management and associates...



Asset Protection Lead
Brooklyn, NY - posted February 25
You are charged with identification and mitigation of external theft and fraud trends within a specific market and group of stores. This role will conduct investigations focusing on Habitual Offenders, high impact external theft/fraud incidents through the use of company technology (CCTV, Incident Reporting, Data Analysis)...



Regional Asset Protection & Safety Manager
Chicago, IL - posted February 23
Responsible for ensuring application of EHS, occupational safety, and loss prevention programs and policies at the store, region, and cross-regional levels. Works to ensure education, communication, and understanding of safety and loss prevention policies, including how safety and asset protection contributes to profitability and business success...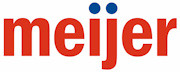 Regional Asset Protection Manager
Indiana - posted February 22
This role is to lead the Asset Protection business partner model for the two regions of retail stores and serves as a strategic partner to regional operations leadership. The role is responsible for leading a team of market and store asset protection personnel responsible for ensuring the safety of people, the security of assets, compliance with internal and regulatory standards and the prevention of shrink...



Loss Prevention & Safety Business Partner
Sparks, NV - posted February 18
The Loss Prevention and Safety Business Partner (LPSBP) is responsible for effectively delivering on operational objectives and KPI performance across Assets Protection, Associate Safety, Physical Security, and Investigations, in an assigned DC of responsibility, in partnership with the facility leadership and home office team...



Loss Prevention Manager
Moonachie, NJ - posted February 16
The Loss Prevention Manager is responsible for supporting the day-to-day operations of our retail locations. This role is responsible for the implementation and coordination of all Loss Prevention best practices. This includes training for store teams to ensure understanding and compliance of physical security, inventory and loss control...
---

Featured Jobs
---
JOB TITLE
COMPANY
CITY/STATE
DATE ADDED

Director
Dir. Global Security
APL Logistics
Scottsdale, AZ
January 10
Dir. LP
Ashley Furniture
Advance, NC
September 7
Sr. Dir. Security Ops
Bed Bath & Beyond
Union, NJ
February 17
Dir. AP
Burlington
New York, NY
December 22
Dir. AP Ops
Burlington
Burlington, NJ
February 28
Dir. Distribution & Supply Chain AP
Burlington
Burlington, NJ
March 21
LP Director
The Company, Retail Gas Stations
Upland, CA
August 9
Dir. LP
EOS Fitness
Murrieta, CA
March 21
Dir. Investigations & Fleet
Goodwill of Greater New York
Newark, NJ
October 25
Dir. Safety/Risk Mgmt.
Goodwill of SE Louisiana
New Orleans, LA
April 2
NA Safety, Security & Business Continuity Planning Dir.
Gordon Food Service
Grand Rapids, MI
March 7
LP Dir.
GPM Investments, LLC
Remote
March 21
Dir. Physical Security
Mastercard
Purchase, NY
March 21
Dir. LP
RaceTrac
Atlanta, GA
February 17
Dir. Intelligence, Investigations & Situational Mgmt
Royal Caribbean Group
United States
March 21
Dir. AP Video Analytics & Safety
Southeastern Grocers
Jacksonville, FL
February 3
Dir. LP & Safety
Total Wine & More
Bethesda, MD
March 21

Corporate/Senior Manager
Mgr. AP
CVS Health
Woonsocket, RI
February 22

---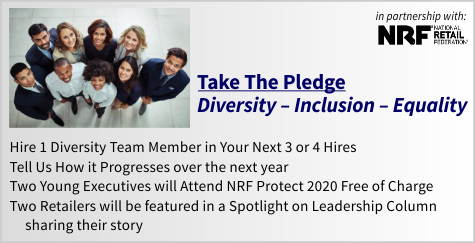 ---

Every journey has bumps in the road and no one is immune for they all present themselves at different times, in different places, and from people you'd never expect. The real test is how you deal with them and how you don't let them define you. Because bumps are growth opportunities merely masked in conflict.


Just a Thought,
Gus



(content subject to approval)
---

Recruiting?
Get your job e-mailed to everyone... everyday
Post on our Featured Jobs Board!
Not getting the Daily?
Is it ending up in your spam folder?
Please make sure to add d-ddaily@downing-downing.com to your contact list, address book, trusted sender list, and/or company whitelist to ensure you receive our newsletter.
Want to know how? Read Here



36615 Vine Street, Suite 103
Willoughby, OH 44094
440.942.0671
copyright 2009-2019
all rights reserved globally