November 22, 2011, 7:25 AM — From the FBI Internet Crime Complaint Center: In advance of the holiday season, the FBI reminds shoppers to beware of cyber criminals and their aggressive and creative ways to steal money and personal information. Scammers use many techniques to fool potential victims including fraudulent auction sales, reshipping merchandise purchased with a stolen credit card, sale of fraudulent or stolen gift cards through auction sites at discounted prices, and phishing e-mails advertising brand name merchandise for bargain prices or e-mails promoting the sale of merchandise that ends up being a counterfeit product. (Source itworld.com)
Chase rolls out credit card with chip technology Chase is rolling out a credit card embedded with a "smart" chip technology that reduces fraud and is widely used outside the United States. The British Airways co-branded card, available Monday, is intended to appeal to frequent travelers who may experience hiccups with U.S. credit cards overseas. The U.S. is the only developed country still primarily using credit and debit cards with magnetic strips that are swiped at the register. The rest of the industrialized world has already switched, or is transitioning, to the chip-based cards. Increasing concerns over fraud could mean chip-based cards soon become more common. Visa this year announced new policies that will give U.S. banks, payment processors and stores incentives to adopt the smart cards, starting in 2015. (Source crainsnewyork.com)
The U.S. can expect more aggressive cyber-espionage efforts from China, Russia and other countries looking to collect information in areas such as pharmaceuticals, defense and manufacturing, according to a new government report from the Office of the National Counterintelligence Executive. Sensitive information on smartphones and laptops is an attractive target for cyberspies. "Chinese actors are the world's most active and persistent perpetrators of economic espionage," the report said. "Russia's intelligence services are conducting a range of activities to collect information and technology from U.S. targets." (Source computerworld.com)
Black Friday Midnight Hours a First for some Retailers Abercrombie & Fitch, Ann Taylor, Best Buy and others follow in the footsteps of bigger chains on the busiest shopping day of the year. These midnight openings are the first for a few in the history of their respective stores nationwide. The craze continues to grow. Next year it'll be an expectation on the part of the consumer and we'll see most malls opening at midnight. (Source patch.com)
Change.org, is delivering a petition signed by 180,000 people to Target asking them to drop its plans to open at midnight on Black Friday. The petition drive on the activist web site Change.org was started by a Target store worker in Nebraska who was dismayed that the early opening would force many employees to spend part of Thanksgiving working instead of celebrating with their families. More than 180,000 people had signed the petition by Friday evening, and it sparked a similar campaign against Best Buy Co. Inc. (Source ksfy.com)
The Global Retail Theft Barometer, sponsored by Checkpoint Systems, found that retailers increased spending on loss prevention and security by 5.6% —or $28.3 billion globally—over last year with the largest share being spent on security personnel and training. And articles about the study are being published in all the trade journals and newspapers across the world. (Source apparelnews.net)
Shoplifting is up 30% from last year in Quincy, IL. Experts say normally an increase in shoplifting is a sign of troubled economic times. Shoplifting is also up 11% nationally, but according to the National Retail Federation most of the losses to retailers came by employee thefts. However it's the opinion of this writer that shoplifting is up well above 11% nationally with reports coming in from a number of cities showing 20%+ increases in apprehensions. (Source connecttristates.com)
TUCSON, Ariz. – The wanted poster has gone digital A few local retailers have recently turned to Facebook to post photos of suspected shoplifters, hoping someone can identify them. One local convenience-store chain has even created a separate Facebook page dedicated to helping solve shoplifting and robbery cases. The Circle K Crime Busters of AZ & NV page was launched a few months ago. Along with photos, it also includes descriptions of people suspected of committing crimes at the chain's locations. Circle K has partnered with anonymous crime-reporting programs like 88-CRIME to offer rewards for tips leading to the arrest of people who have walked off with cigarettes, beer and money. This is happening all over the world with one report here in the Daily where a Mexico site posting actually led to the decapitation of the poster himself with a sign at the crime scene saying - this is what happens when you post. (Source therepublic.com)
Four suspects charged in fatal shooting of Food Town employee in Houston. When clocking out at the end of his shift employees told him someone was tampering with his car. When he ran outside he was shot and killed which may have been drug related. (Source privateofficerbreakingnews.com)
$200,000 credit card fraud and identity thief gets 61 months in prison after shopping sprees at Stop & Shop, Big Y, Staples and Safeway in Massachusetts, Connecticut, Rhode Island, New York, and Virginia. East Windsor police arrested him in November 2010 at a Big Y Supermarket in East Windsor. At the time, Munizaga possessed nine counterfeit credit cards, four gift cards and a Florida driver's license that bore his photo but another person's name, authorities said. (Source dariennewsonline.com)
68% of online retailers expect a 15% or more increase this holiday season with the NRF predicting the brick and mortar retailers will see a 2.8% increase. Some analyst have gone so far as to say that retailers early hours Thanksgiving night is to pre-empt people shopping online and this holiday the average consumer is expected to do more than 33% of their shopping online. (Source economist.com)

Security companies among fastest-growing tech businesses. Several companies that are active in the physical security space were listed on the Deloitte 2011 Technology Fast 500, released in October. Award winners were selected based on percentage of fiscal-year revenue growth from 2006 to 2010 with Avigilon ranked 4th, VidSys at 273, Aruba Networks at 316, Genetec at 374, Kratos Defense and Security Solutions at 398, Identive Group at 468 Blackboard Inc. at 482, and FLIR at 487. (Source securitysystemsnews.com)
UK shoppers will no longer be offered discounts and free gifts to sign up for store cards after March 2012. The British Retail Consortium has worked with the government and the Finance and Leasing Association on a new voluntary code which will result in retailers no longer being able to offer store card customers special discounts or promotions for the first seven days after taking out one of the cards. The measures also include a ban on offering retail staff commission for promoting the cards and retailers will need to provide standardized training for all staff selling the cards to customers. Designed to help shoppers manage their debts, we'll never see this in North America. Talk about self-restraint. (Source theretailbulletin.com)

Genesco 3Q reports same store sales up 12% with net sales up 33%
Hibbet 3Q reports same store sales up 7% with sales up 10.6%
DSW 3Q reports same store sales up 5.2% with net sales up 8.5%
Chico's 3Q reports same store sales up 3.7% with net sales up 11.5%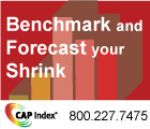 FRIDAY FOCUS
Doug Marker
Vice President
LP, Risk and Audit
Michael Stores, Inc.

Stephen O'Keefe
Vice-President
Loss Prevention and
Risk Management
Wal-Mart Canada

Coming in December
Kelly Gorman
Vice President LP
PETCO

LP Program Spotlight
eBay's PROACT Team



Dec. 1 deadline
is coming!

Write your
Thought Challenge



---
---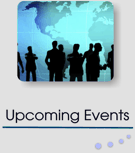 Know about an event we should feature here?
Let us know.
---



Watch for our article the day after each event!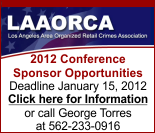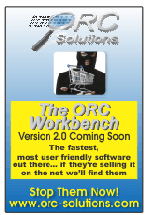 ---


Waco-area ORC Gang of Four arrested in Corsicana, Tx. hitting Harvie's for possibly over two years. A shoplifting attempt by a Waco-area group has resulted in four arrests for organized criminal activity, according to Corsicana Police detectives. The investigation was launched when employees of Harvie's in downtown Corsicana chased down one of the suspects, who was dropping fake gems, adorable shoes, and a decorated purse in a trail behind her after having been discovered stealing. On Friday, Oct. 28, two white females went into Harvie's, 112 E. Fifth Ave., and stole an estimated $1,000 worth of jewelry, purses and shoes. One white man served as "look-out" for the gang, while a second white male drove the getaway vehicle, according to the case being reconstructed by police officers. The plan backfired when one of the women got locked inside the store when it closed.

Employees realized when they let her out of the store that she was concealing merchandise in her purse and wearing a pair of their shoes, as well, according to a press release from the police department. "Employees gave chase, but the suspect escaped. However, the suspect did drop the stolen jewelry, purse and shoes she had stolen totaling over $500." The suspects were identified by evidence left at the scene, according to Det. Jason Grant. Grant said some of the merchandise recovered in the arrests hadn't been sold locally for about two years, indicating the group may have been operating for some time. One of the women, Lacie Dorman, 18, was arrested on Nov. 4 in Corsicana, and more property was recovered at that time. Both the men were supposed to turn themselves in, but when they didn't make their appointment, Texas Ranger Jim Hatfield of McClennan County located the other three suspects on Thursday of last week and arrested them. Taken into custody were Crystal Teakell, 29; Justin Garrett, 26, and Dorman, all who are Waco residents; and Valley Mills resident Daniel Dible, 28. Dorman was arraigned by Navarro County Justice of the Peace Jackie Freeman, who set bond at $1,500. The other three suspects were arraigned in McClennan County by the county magistrate, Judge Raymond Britton, who set their bonds at $25,000 each for engaging in organized criminal activity. (source corsicanadailysun.com)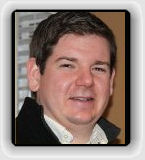 I am a Data Junkie

Submitted by Paul McGinley
Regional Loss Prevention Mgr, Dollar Financial Group

I am a data junkie. That is to say, I have become one. I can't claim that I always loved data. I used it as a tool to further investigations, target specific incidents, and assist in audits, but I didn't appreciate data for what it was. Now I realize that data is the single most important tool we have, yet it seems completely useless at the same time (I promise there is no contradiction here). My transformation from data user to data junkie came at the hands of that realization.

To illustrate how useless data can be, while still being extremely powerful, let us take a look at one of the reports I receive on a daily basis. The absolutely most useful report in my arsenal is 11 columns wide and between 9,500 and 10,500 rows. This means that, on average, this single report has 110,000 data points. With 30 daily reports (both smaller and larger than the aforementioned), on any given day I receive between 2.75 and 3.25 MILLION data points to review. That amount of data is clearly, in and of itself, useless. But there is nothing wrong with that, the gold is in there but you must mine for it. To find that gold, one must accept that, on its own, data is useless. Data is like that shiny new Porsche in your driveway. It sure is beautiful, and you can brag to your friends about it, but doesn't do anything without gas in it. The same is true with data. You can pull in as many data points as you want to brag about how much data you are pulling, but unless you have the proper fuel it is useless. That fuel is analysis.

Analysis drives your data into a usable format. One that individuals beyond your team will react to and interact with. Analysis turns your data into information. A few months back I saw a Tweet that stated "People don't want data. They want information." This couldn't be more accurate. Data, as we saw above, is overwhelming. Furthermore, any of those individual 3 million data points don't mean anything on their own. It is up to us to leverage our analytical skills to provide the information for further audiences (other Loss Prevention entities, Operations, Executive Management). To do this, it is critical that we truly understand our data. I was lucky enough to be able to design our analytics program from scratch. This resulted in full knowledge and transparency of the data flow process. It allowed us to ask highly specific and tailored questions to our Point of Sale system without making assumptions that will result in us missing a new twist, or force us into onerous upgrades as fraudulent activity evolves. This understanding allows one to understand the story the data tells. Ultimately, this is a story about the interaction of data points, what they mean when taken together and what front end processes got them there. This is a story about employee theft and external entity process manipulation. But the story is written in another language.

Data needs an interpreter to become usable. It needs a story teller to communicate the plot. As we build more robust data collections systems its critical to not loose sight of these necessities. Build a solid team of analysts, or become that person yourself. You might not ever be a data junkie, but maybe you will end up as a story teller.