Checkpoint Systems Partners With Books-A-Million to Reduce Shrink, Enhance Customer Experience in its US Retail Stores Checkpoint Systems, Inc. (NYSE:CKP), a leading global supplier of shrink management, merchandise visibility and apparel labeling solutions for the retail industry, today announced that it is partnering with Books-A-Million, Inc. and has already begun improving the retailer's loss prevention program and enhancing its customers' shopping experiences through its electronic article surveillance (EAS) solution. (Source dailyfinance.com)

Occupy Movement Targeting Black Friday the Occupy Wall Street movement has launched a Web site StopBlackFriday.com. The goal is to "occupy large chains and publicly traded retail. Hit the 1% where it hurts -- in the wallet." Just as Occupy Wall Street protesters attempted to bring the New York Stock Exchange to a grinding halt this week, they plan to do the same thing to the economy. A message on StopBlackFriday.com reads: "November 25, 2011 is Occupy Black Friday. On Occupy Black Friday, you are encouraged to boycott large retail and publicly traded stores in a show of solidarity for the Occupy Wall Street protesters and to send an economic message to big business and banks that profits over consumers is not good business. The 1% depend on the 99%, not the other way around." (Source thestreet.com)
Over the past two weeks the NRF has been polling retailers and law enforcement about potential Occupy Movement activity targeted against retailers over the Black Friday weekend. As a precaution we are sending out information, so you can plan accordingly in your store/shopping center. We advise all companies to remain vigilant on their security measures throughout the holiday season.

Following the two-month anniversary of the Occupy Movement, several individuals started to tweet about specific retailers and late last week the media began reporting on planned activity:
Occupy Wall Street Protesters Set Sights on Black Friday
Occupy Threatens Holiday Shopping
Homeland Security officials would not rule out the use of blogs and social media to coordinate a last minute effort, similar to a flash mob type engagement. They recommend following procedures to address similar activity. Below you will find the links to the NRF Crowd Management Guidelines and NRF Multiple Offender Crime/Flash Mob issued earlier this year.

- NRF Crowd Management Guidelines

- NRF Criminal Flash Mob Response

Please feel free to share this information internally and with your law enforcement and mall security partners. Do not post this message on any open websites.

NRF would appreciate any information about Occupy Movement activity targeting stores/malls. The NRF and International Council of Shopping Centers (ICSC), our mall partners, will keep in close contact about planned activity and share any substantive information with you.
Up to 152 million people plan to shop Black Friday Weekend, compared with the 138 million who planned to do so last year, according to a preliminary Black Friday shopping survey, conducted for the National Retail Federation by BIGresearch. (Source retailingtoday.com)
The I-675 corridor Organized Retail Crime Group in Dayton, Ohio, hosted a training and information sharing event Friday at the Dayton Mall to teach local law enforcement officers and retail owners/managers about new trends and technology being used by criminals locally. Locally, police estimate that area retailers could be losing up to $8,000 every day. That estimate is based on the number of arrests local police are making and "the assumption that for every one we catch, there are 10 more out there," said Maj. John DiPietro, Miami Twp. deputy police chief. (Source daytondailynews.com)
Police take down 2,000 .co.uk domains selling counterfeit goods "The sites suspended are registered in bulk by crime groups with the sole intention of duping consumers into parting with their money for, at best, poor quality counterfeit goods, at worst, nothing at all," said detective inspector Paul Hoare of the PCeU. (Source techworld.com)
Police bust 5 stores in New Hampshire's Hillside Plaza Friday for selling counterfeit merchandise, seizing thousands of items and arresting 5 New York residents. (Source unionleader.com)
Up to 30% of Russia's Key Retail Goods Are Counterfeit. According to a recent report by the Department of Economic Security at the Russian Ministry of Internal Affairs, up to 30 percent of the goods sold in Russia's major retail sectors such as apparel, household chemicals, food, cosmetics and perfumes are counterfeit. During a recent operation called "Counterfeit," the Russian authorities discovered 5,000 violations involving counterfeits and managed to close 73 shops and workshops and suspend 70 websites offering counterfeit products. (Source petosevic.com)
McAfee and Securonix LLC today announced the industry's first data loss prevention (DLP) solution for Enterprise Resource Planning (ERP) systems such as SAP. The solution continuously identifies and fingerprints intellectual property and sensitive information held within the SAP environment for discovery, monitoring, and prevention by McAfee®Data Loss Prevention. Any activity and alerts produced are then correlated with access and activity data from within SAP to give a 360° risk view of the intellectual property. This means that sensitive data within SAP and flowing out of it can now be protected in every state (data in motion, data at rest, and data in use) via McAfee Data Loss Prevention. (Source dailyfinance.com)
Android Malware Explodes, Jumps Five-Fold Since July Malware targeting Google's Android mobile operating system exploded in the last several months, its volume quintupling since July, Juniper Networks said today. The rash of infected apps aimed at Android owners shows no sign of abating, said Dan Hoffman, Juniper's chief mobile security analyst. (Source csoonlne.com)
PetSmart 3Q reports same store sales up 6.1% with sales up 8%
Sears Holdings 3Q reports Sears U.S. same store sale's down 0.7% with Kmart same store sales down 0.9%
Gap 3Q reports overall same store sales down 5%, Gap N. America down 6%, Old Navy down 4% & Banana Republic down 1%
Holiday gift card spending to reach $27.8 billion according to the NRF. Not only will more people purchase gift cards this holiday season (80.2% versus 77.3% in 2010), gift givers will also spend more on each card they buy. Shoppers will spend an average of $43.23 per card, up from $41.48 last year. Men will spend significantly more on gift cards than women this year, shelling out an average of $164.24 versus women's $147.06. Which means gift card fraud will increase as well. (Source retailingtoday.com)
Undercover Investigation Exposes Shocking Animal Cruelty at McDonald's Egg Supplier on Friday. Animal rights advocates are crying foul over the way Oak Brook-based McDonald's treats the hens used to produce its Egg McMuffins. Shocking hidden-camera video exposing startling animal abuse at a McDonald's egg supplier was released Friday at news conferences by the animal protection organization Mercy For Animals. The video reveals hens crammed in cages so small they can't fully stretch their wings, dead birds left to rot in cages with hens still laying eggs for human consumption, and workers throwing hens, breaking their necks, and burning off their beaks without painkillers. (Source prnewswire.com)

Target and McDonald's drop their egg supplier because of the report above on Saturday. McDonald's and Target dropped one of the nation's largest egg suppliers after an animal rights group released an undercover video of the egg producer's farms in three states. (Source Associated Press)
What Recession? Luxury Brand Retailers Can Barely Keep Up With Consumer Demand. Worldwide high-end retailers are exploding and opening stores globally. In a recent trip to NYC this writer met with 7 high end retailers all of which are talking about global expansion at a clip never seen before. With China leading the way and even South America on the "go-to" list. Global expansion is happening and getting experience in it is a must for all LP executives. (Source ibtimes.com)

USDA targets stores in food stamp trafficking a $330 million fraud. A criminal swindle of the nation's $64.7 billion food stamp program is playing out at small neighborhood stores around the country, where thousands of retailers are suspected of trading deals with customers, exchanging lesser amounts of cash for their stamps. Authorities say the stamps are then redeemed as usual by the unscrupulous merchants at face value, netting them huge profits and diverting as much as $330 million in taxpayer funds annually a year. But the transactions are electronically recorded and federal investigators, wise to the practice, are closely monitoring thousands of convenience stories and mom-and-pop groceries in a push to halt the fraud. Known as food stamp trafficking, the illegal buying or selling of food stamps is a federal offense that has resulted in 597 convictions nationwide and $197.4 million in fines, restitution and forfeiture orders, over the past three years, according to the U.S. Department of Agriculture's Office of the Inspector General. The USDA last month awarded a 10-year contract worth up to $25 million to Fairfax, Va.-based SRA International, Inc., to step up the technology used to combat fraud. (Source Associated Press)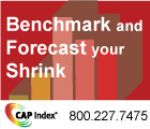 FRIDAY FOCUS
Doug Marker
Vice President
LP, Risk and Audit
Michael Stores, Inc.

Stephen O'Keefe
Vice-President
Loss Prevention and
Risk Management
Wal-Mart Canada

Coming in December
Kelly Gorman
Vice President LP
PETCO

LP Program Spotlight
eBay's PROACT Team



Dec. 1 deadline
is coming!

Write your
Thought Challenge



---
---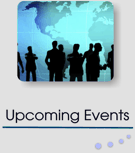 Know about an event we should feature here?
Let us know.
---



Watch for our article the day after each event!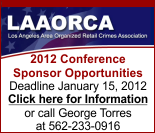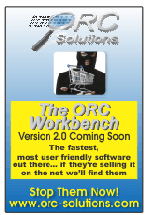 ---

Organized Retail Theft Sting Nabs 59 People in Chicago More than 50 professional shoplifters were arrested in an undercover operation targeting criminal crews before holiday shoppers hit the malls, Cook County State's Attorney Anita Alvarez announced Sunday. The stings, which began in mid-October, were conducted in stand-alone stores in the suburbs, stores along Michigan Avenue and in shops at Orland Park's Orland Square Mall and Schaumburg's Woodfield Mall. The brazen crews of "boosters," or professional shoplifters, targeted by the investigation are sophisticated and organized, working in groups to steal electronics, razors, over-the-counter medicine, baby formula and brand-name clothing, authorities said. They carry tools to open boxes and line their bags with duct tape to prevent security sensors from activating. "This isn't just some teenager going out to shoplift one item," Alvarez said. "We're talking about big groups that are stealing large quantities of goods, fencing them, sending them elsewhere and making a lot of money off of it."

Speaking to reporters, Alvarez narrated as she played surveillance footage of shoplifters placing items into their pockets and dumping items into containers inside their shopping carts. "Right off the shelf and into the bag," she said. In one instance, a couple stealing a suit jacket shoved the item of clothing down the woman's pants.


Among the 59 charged was Phillip Mazurek, 65, of Skokie, who was caught Nov. 18 picking up a $5,000 crystal vase, placing it in a shopping bag and walking out of a Michigan Avenue boutique, Alvarez said. Mazurek, who has at least three former shoplifting convictions, was charged with felony retail theft. He is being held in the Cook County Jail without bond, according to the sheriff's website.

Authorities said they recovered tens of thousands of dollars in stolen merchandise from the operation. "While this crime may not seem as significant as other violent crimes, it is important that we address it because it has a direct impact on consumers," Alvarez said of shoplifting. "It drives up consumer prices when retailers are forced to raise their prices because of significant losses due to theft." And the stolen products end up with fencing operations, where the products are resold "for significant untaxed profits," Alvarez said. Last year, the state of Illinois lost $77 million in tax revenue from goods stolen then resold, she said.

Organized shoplifting costs retailers nationwide an estimated $15 billion to $30 billion annually, according to the National Retail Federation. There are also consumer safety issues. For instance, products with expiration dates, such as over-the-counter medicine or baby formula, may end up in a dollar store or other purveyor of fenced merchandise and the expiration dates may not be heeded, Alvarez said. Authorities said the items or the profits may end up overseas, creating an international money-laundering operation. Gary Hartwig, special agent in charge of U.S. Immigrant and Customs Enforcement's Homeland Security Investigations in Chicago, said his agency is currently investigating several such cases. (source chicagotribune.com)

Participating Law Enforcement
Participating Retailers

• U.S. Immigration and Customs Enforcement (ICE)
• Homeland Security Investigations (HSI) agency
• U.S. Marshal's Service
• Chicago Police Department
• Orland Park Police Department
• Schaumburg Police Department
• South Barrington Police Department




• Target
• JCPenney
• Sears
• Sam's Club
• Walmart
• Limited Brands
• Victoria's Secret
• The Gap
• Banana Republic
• Abercrombie
• Dominick's
• Jewel
• CVS
• Toys 'R' Us
• Meijer
• Macy's

---
Police bust ORC ring hideout On Friday, Santa Fe police and Sheriff's deputies recovered almost $10,000 worth of stolen loot that they said was linked to big box stores including Wal-Mart, Target, Lowes and even Kmart. Detectives said the found some of the goods stashed inside a home in Santa Fe County and even more merchandise was stored in a trailer on the property. Deputy Chief Gillian Alessio said its part of an organized shoplifting network. Detectives believe they are skilled shoplifters who are armed with a shopping list of items to steal when they walk into the stores. "They have a list that is predetermined," Alessio said. "They contact a person or group of individuals whose job it is then to sell this merchandise on a black market." Alessio said the organized group could also be watching shoppers. "Be very cautious on how you do your shopping this year," Alessio said. "Don't keep any packages, presents, any items in the front seats or the back seats of cars where they can be observed. Police said the owner of the house was not there during the bust so no arrests have been made. (Source krqe.com)
---
ORC ring Leads Investigators To Money Laundering Scheme in Chattanooga. Detectives discovered that a group of individuals were working together to steal merchandise from area Wal-Marts, and attempting to return the stolen merchandise at different Wal-Mart stores. If the items were allowed to be returned, the suspects would transfer monies obtained from the store's gift card and onto other Visa cards. What was first reported as a shoplifting theft at a Collegedale Wal-Mart soon led investigators to an ongoing money laundering scheme that stretched between Bradley and Hamilton counties, authorities said. Gene Auldin Cantrell and Danielle Lynn Thorne have been arrested for money laundering, and multiple theft and conspiracy related charges. More charges may be forthcoming from other jurisdictions. (Source chattanoogan.com)

An identity theft ring of over 12 current and former waiters and their associates from NYC's top steakhouses busted for $1 million credit card. Targeting customers with high-limit credit cards restaurant workers used handheld scanners to copy credit card info and sent it to the leaders of the ring who would forge new credit cards and test them on taxis. If they worked they'd go on major shopping sprees and then sell the luxury brands items for cash. (Source ksee24.com)