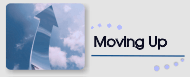 Kevin Darnell was named Senior Loss Prevention Director for RadioShack. Prior to working for RadioShack, Kevin was Director of Loss Prevention for the Brown Shoe Company for three years and served as Interim Sr. Director of LP for Dollar General before that. Kevin also has a background in retail management, as he was Manager of Retail Operations for Bass Pro Shops for five years. Congratulations, Kevin!
Target Associate Anthony Hardwick launches a campaign against Thanksgiving opening. Working with Change.org the "Tell Target to Save Thanksgiving" campaign has collected nearly 80,000 signatures. According to a Target spokeswoman, Hardwick is not scheduled to work Thanksgiving or Black Friday. (source finance.yahoo.com)

Felony charges filed for stealing less than $100. Because of the laws in Idaho, the 18-year-old cashier is now facing felony charges and the possibility of up to 14 years in prison. Admitting to stealing from the cash register more then 3 times made it a "criminal episode" which equals grand theft. (source: idahostatesman.com)

Chinese Police seized $315 million in counterfeit drugs, second raid in recent weeks. Packaged for online sale, nearly 100 types of counterfeited injections and tablets were hitting the market. The suspects were found to have used banned chemicals as ingredients for the counterfeit drugs, re-packaged expired pharmaceuticals and forged qualification documents, it is unknown if anyone had died as a result of these products. (source thenewage.co.za)

Buffalo man pleads guilty in counterfeit goods case. Belal Alsaidi has pleaded guilty to trafficking counterfeit goods and now faces 10 years in prison and a $2 million fine. Alsaidi admitted that he knew the goods he was selling at his 2 Virginia based stores were fake. The merchandise bore fake trademarks for companies such as Nike, NFL, Lacoste, True Religion and Coogi. (source newsodrome.com)
Office Max to close 20 stores this year. Office Max is also looking at cutting store count by 15-20 stores per year over the next few years and to divest its wholesale business in New Zealand. (source reuters.com)

Office Max announced a new partnership with Radio Shack to sell mobile devices and services. Radio Shack employees will begin testing the pilot program in 20 San Francisco Office Max stores in January. (source cbsnews.com)

Giant Eagle names new CEO and COO. Laura Shapira Karet has been named the new CEO effective January 2012; Karet is the daughter of David Karet, current CEO and will soon assume the role of Executive Chairman of Giant Eagle's board of directors. John Lucot named COO started his career at Giant Eagle in 1974 as a supermarket clerk, over the years has held executive positions in distribution, retail development, real estate and operations. (source pisttsburghlive.com)

American Eagle appoints new CEO. Former Levi's executive Robert Hanson will take over as CEO of American Eagle on January 30th. James O'Donnell will be retiring after leading the company since 2002. (source wwd.com)

Bottom Dollar to open 14 new stores in Ohio and Pittsburgh creating 800 new jobs. The discount grocery chain based in North Carolina, now operates 52 stores. Bottom Dollar is a division of Delhaize America. (source retailingtoday.com)



FRIDAY FOCUS
Doug Marker
Vice President
LP, Risk and Audit
Michael Stores, Inc.

Stephen O'Keefe
Vice-President
Loss Prevention and
Risk Management
Wal-Mart Canada

Coming in December
Kelly Gorman
Vice President LP
PETCO

LP Program Spotlight
eBay's PROACT Team
---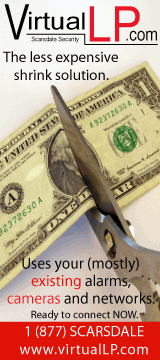 ---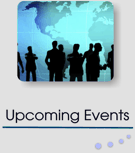 Know about an event we should feature here?
Let us know.
---



Watch for our article the day after each event!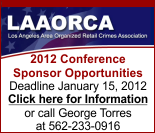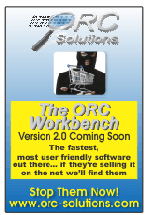 ---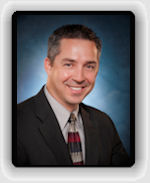 Return Fraud May not Cause Shrink

Submitted by Mark McClain, CFI
Director, Investigations AP - Walmart

Store returns where the merchandise was obtained fraudulently is an issue and even a crime in most states that we should all be concerned about. However, there is some clarity that should be made before we jump off the deep end regarding the issue. Don't confuse the two.

Let's start by stating that fraud is generally defined as some form of deceptive practice. A return occurs when a customer brings in an item to a retailer that for some reason or the other they are not satisfied with. Put the two together and we are essentially saying that the merchandise that is being returned is happening with some form of deception occurring. The challenge is really determining if a loss is occurring as a result of the return of another prior act.

Consider the following scenarios:
| | |
| --- | --- |
| 1. | Subject steals a $1000 TV from store A and returns it to store B and receives $1000 in cash or on a gift card. |
| 2. | Subject purchases a $1000 TV from store A with a stolen or fraudulently obtained credit card and returns the TV to store B and receives $1000 in cash or on a gift card. |
| 3. | Subject purchases a $1000 TV from store A with a stolen or fraudulently obtained check and returns the TV to store B and receives $1000 in cash or on a gift card. |
| 4. | Subject creates a counterfeit receipt listing a $1000 TV, selects the TV and then exits store A showing the receipt upon exit and then brings the receipt to store B with the TV and returns it and receives $1000 in cash or on a gift card. |
| 5. | Cashier/Employee at store A conducts a refund transaction on a $1000 TV that was never purchased while no other employees are around. Employee then takes either cash or gift card. |
| 6. | Subject returns merchandise to store A that was never stolen, but may contain a different product or object like a brick or other misc. objects other than the real product. |

Now there may be more examples, but as you read through the above, consider the following questions:
| | |
| --- | --- |
|  | Is there a loss at store A? |
|  | Is there a loss at store B? |
|  | What is the total loss? |
|  | Is the loss a shrink issue or a profit issue? Or Both? |

Scenario explanations and answers:
| | |
| --- | --- |
| 1. | Theft and thus the loss took place at store A. When the merchandise was returned to store B an exchange took place of the merchandise for cash at retail, thus, no loss. Yes, there is a potential loss of sales tax and margin that could be realized since store B just paid retail plus tax for the new inventory. Additionally, if the merchandise cannot be returned to the shelf then you may have a second loss of $1000, but not for many cases. |
| 2. | & 3. These two scenarios really depend on if store A receives a chargeback or return of the checks. If so, then the loss occurs at store A. If no, then no loss at store A. or at store B, except as previously stated for scenario 1 with regard to sales tax, margin, or potential markdowns. |
| 4. | Same as scenario 1. |
| 5. | Since only store A is involved in this scenario, clearly the loss occurs there, but only for the amount of the return. Inventory will show one more TV than the store actually has on-hand and thus shrinkage at inventory time of $1000. |
| 6. | Same as scenario 5. |

Many retailers that I have spoken with do not always see my interpretations in the same light. They fear conducting the return indicating they do not wish to lose twice the amount of money. With the above explanations, hopefully one would agree that this is not always the case. Additionally, when surveys or discussions are held about the causes of shrink, many may report inaccurately what these causes are. Return Fraud is not a cause of shrink. Not a major cause, anyway. Again, in scenario 5 & 6, these could be classified as return fraud that would cause shrink. However, the others may be better classified as;
| | |
| --- | --- |
| 1. | Theft |
| 2. | Credit Card Fraud |
| 3. | Check Fraud |
| 4. | Theft |

Return fraud can cause shrink, but does it contribute significantly and are we all classifying it correctly to begin with? A number of reports or case management systems seem to try and capture the refund as the reason or cause of the loss. In a lot of cases, wouldn't it be better to say that the refund is the actual "fencing" of the product that was already stolen or fraudulently obtained? In essence, we are the fence that converted the merchandise to cash. As for conducting the return or refusing it, consider that at times, providing a gift card can be instrumental in obtaining additional evidence as the investigation unfolds.

The intention of this article is really to cause us all to consider just how we report what we report and if we really understand the numbers and what makes them. Are we looking at crimes or causes of loss?

Have a happy holiday!
Mark