FRIDAY FOCUS
Doug Marker
Vice President
LP, Risk and Audit
Michael Stores, Inc.

Stephen O'Keefe
Vice-President
Loss Prevention and
Risk Management
Wal-Mart Canada

Coming in November
Kelly Gorman
Vice President LP
PETCO

LP Program Spotlight
eBay's PROACT Team
Dec. 1 deadline
is coming!

Write your
Thought Challenge



---

Know about an event we should feature here?
Let us know.


National Retail Federation
2011 ORC Survey
Executive Summary
Full Report

National Retail Federation
Effective Crowd Management Guidelines

Women in LP Caucus
Mentor Program
Register Here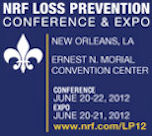 XX

XX
BY:
Richard C. Hollinger, PhD
Director

And
Amanda Adams, MA
Graduate Research Associate
---

---

Watch for our article the day after each event!

November 9, 2011
NRF-Investigator's Network Regional Meeting
Miami, FL

1st Annual
Training Conference

Wed, November 2, 2011

Training Site:
WA State Criminal Justice Training Commission Auditorium
19010 1st Avenue South
Burien, WA

---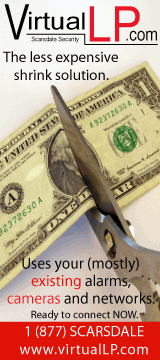 Apple stores will allow customers to buy and pay for an item through an app and simply "take the product off of the shelf, and go along on your merry way. Employees, of course, will be on-hand to confirm the purchase, by looking at your confirmation email. Will you still need to flag down an employee, or will they be keeping watch at the door? That part isn't clear, but they will obviously need some kind of oversight to avoid shoplifting. Here comes the Best Buy door guard. (Source geek.com)

On a single day in July, 18,000 fakes and clones resembling the iPad and Android devices were available for sale on 23 e-commerce sites. With 5,000 sellers, many from China, these copycats and suspected counterfeits are flooding the market faster than any other product ever. Counterfeiters are increasingly focusing on mobile technology after years of copying pharmaceuticals, handbags, software and other products. Averaging 69% cheaper than the real thing. This holiday buying cheaper may mean you get one that doesn't have the real software inside it and your warranty may be as good as the site you bought it from. (Source bloomberg.com)

Police in central China's Henan province say they have arrested 114 people and raided 177 fake drug production and sales sites in a crackdown on a counterfeit drug ring and seized $30 million in fake medications. (Source washingtontimes.com)

Overall, e-retail sales up 13.6% during the Q3 compared with the same quarter a year ago. How is this growth impacting brick and mortar comp store sales? There aren't more consumers just appearing out of nowhere. But yet the pressure remains to increase comp store sales in every retailer. (Source internetretailer.com)

During the 2011 holiday season, around 20% of e-mail messages will be read on a mobile device. And 88% of the 100 top U.S. online retailers include links to their communities on Facebook, Twitter and other social networks in every promotional e-mail they send, and the volume of emails sent by online retailers will grow beyond the 47% increase last year and the consumer is opening them looking for deals. (Source internetretailer.com)

3VR, the video intelligence company, today announced that the CrimeDex is expanding to cover six-continents, CrimeDex the online collaborative network of more than 3,000 fraud, loss prevention and law enforcement professionals has partnered with the International Association of Financial Crimes Investigators (IAFCI), a network of financial crime fighting professionals with approximately 4,500 members on six continents, to allow financial crime investigators across the globe to combat crime internationally. CrimeDex is a criminal investigation collaboration network that allows law enforcement and business communities to share business-related crime information. Alerts are created and sent to the CrimeDex network to identify criminals wanted for a variety of crimes from check fraud to shoplifting to more serious violent offenses. All data within CrimeDex is user-shared and authorized and owned by the person or company that inputs the data. (Source prnewswire.com)

Wal-Mart at select locations in some markets is ditching its around-the-clock, 24-hour schedule, closing some stores from midnight to 6 a.m. (Source indystar.com)

Three leaders of the United Food and Commercial Workers Local 348 arrested last week for racketeering, extortion, money laundering, and witness tampering. The largest UFCW chapter in New York based in Brooklyn with 12,000 members, the three leaders stole more than $2.4 million from the union and its employers between 1995 and 2011. This is the union that gave both A&P and C&S Wholesalers a rough go of it over the last two years. (Source supermarketnews.com)

Dollar General hits Las Vegas and opens 5 stores. Here comes their western push. (Source supermarketnews.com)

Two men were arrested who stole three skids – $1.1M – 2,700 smartphones (Blackberry 9810's) from a warehouse in Mississauga, Ontario, Canada. (Source oyetimes.com)

Big name targets are easy prey for hackers who took part in a social engineering, capture-the-flag event at Defcon 19 security conference. The names include such retailers as Target, Apple, McDonalds, Verizon, and Wal-Mart with even companies like Oracle and Symantec getting hacked. Hackers only saw a small amount of resistance and virtually no company shut the participants down in their efforts to collect sensitive information that could potentially be used against them in a future attack. Hackers conducted online research on targets and contacted them using "pretext" scenarios; pretending to be customers, employees or sales representatives from other organizations. The companies that callers had the most difficulty extracting data from were retail-based companies, he said. Companies like AT&T Stores, Walmart, and those which dealt with customers in retail settings were more cautious and reluctant to answer questions and inquires. (Source csoonline.com)

Macy's flagship Herald Square store, the biggest in the world, will undergo a four year, $400 million expansion and remodeling. (Source msn.com)

Safeway's two chicken sandwich bust of a pregnant mom and husband that lands the mom's 2-year-old in state custody draws scrutiny and nationwide outrage. Claiming she forgot to pay for her snack they ate while shopping, they were led upstairs, where the couple expected to get a lecture, pay for the sandwiches, and be allowed on their way. But store managers wouldn't allow them to pay for the sandwiches, she said. "I asked to talk to a manager and he said it was against their policy to pay for items that left the store," she said. "The security guard said we were being charged with shoplifting." Four hours later, a police officer arrived and read them their rights. A woman from the state Child Welfare Services arrived to take Zofia away. The pregnant mother said she tried to keep her composure until Zofia, who turns 3 in December, left the store. "I didn't want Zofia to be scared because she's never spent a night away from us. She didn't have her stuffed animal. She didn't have her toothbrush." But as soon as her daughter left, "I got completely hysterical. I went to the bathroom and I threw up," she recalled. A police spokeswoman said it was procedure to call Child Welfare Services if a child is present when both parents are arrested. The store's management did not know the girl would be taken away, Houghton said. The national supermarket chain said it was looking into the incident. It was never our intent to separate a mother from her child. That was a very unfortunate consequence to this situation," said Susan Houghton, a spokeswoman for the California-based supermarket chain. "We understand the outrage. We are concerned about how this was handled." (Source Associated Press)