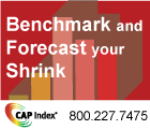 FRIDAY FOCUS
Doug Marker
Vice President
LP, Risk and Audit
Michael Stores, Inc.

Stephen O'Keefe
Vice-President
Loss Prevention and
Risk Management
Wal-Mart Canada

Coming in August
Kelly Gorman
Vice President LP
PETCO

LP Program Spotlight
eBay's PROACT Team
---
Dec. 1 deadline
is coming!

Write your
Thought Challenge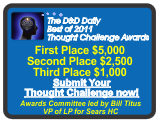 ---
Know about an event we should feature here? Let us know.


National Retail Federation
2011 ORC Survey
Executive Summary
Full Report

Women in LP Caucus
Mentor Program
Register Here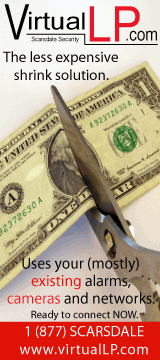 ---
Wal-Mart is launching programs worldwide that will help women in the next five years. It'll spend $20B over 5 years on goods and services from U.S. businesses owned by women and plans to double the amount it pays women-run suppliers overseas. They'll offer training to 60,000 women working in factories that supply products to Wal-Mart and other merchants. And it plans to teach life skills to 200,000 women overseas and to 200,000 low-income women in the U.S. Wal-Mart also said it plans to work with its suppliers that have more than $1 billion in sales to increase the representation of women and members of minority groups by the end of 2016. "This is a game changer," said Helen Gayle, President and CEO of Care USA. "This is a large initiative. If Wal-Mart begins to change the way it does its practices, it can have a huge impact on other corporations and other retailers." (Source Associated Press)

Chicago to post all crimes for the last 10 years, 4.6 million incidents, in a searchable public database, an unprecedented action. Updated daily and listing every crime for the past decade, the database also lists each address, if there was an arrest, the police beat, city ward and case number. While no one tracks the some 15,000 police departments nationwide, a check of other major police departments that post crime statistics online shows nothing as comprehensive as Chicago. Chicago's data won't include some cases that are under federal investigation. Many cities, including Los Angeles, use a third-party company that maps data over a limited time period, generally a month or two. Houston has a 30-day log and New York publishes weekly data. But Seattle appears to come closest to what Chicago is doing. It offers 911 logs and has a searchable database. This action is being applauded by academics as it increases the potential for more long-term studies by experts and, some hope, take steps toward crime prevention. (Source Associated Press)

A new bill in Congress entitled the Personal Data Protection and Breach Accountability Act of 2011 would force companies that hold online information for more than 10,000 people to follow strict guidelines to ensure the data is stored correctly, the New York Times reported. The bill would impose fines on companies who don't follow the guidelines and leave customer data open to compromise, and open the door for customers to sue companies that don't adequately protect their data. The bill would put the U.S. government in line with states such as Massachusetts, which have legislation that fines companies that improperly protect residents' digital data. "The Sony data breach has become a poster child of why we need this law." (Source msn.com)

Forty-thousand credit cards and debit cards had information stolen in a data breach at Vacationland Vendors arcade games in Wisconsin Dells and Sevierville, Tenn. This means retailers may see them popping up in stores this week. The hacker gained access to its card processing systems at Wilderness Waterpark Resort in the Dells and Wilderness at the Smokies in Sevierville. Be on the look out because they will pop up. (Source fdlreporter.com)

Associated Wholesale Grocers property and lease admin. manager pleads guilty to federal fraud charges for embezzling over $100,000 by submitting false invoices, forging endorsements, and depositing checks into accounts run by her and her husband. (Source supermarketnews.com)

Signs that the 4Q may be soft showed up today as the Commerce Department reported August retail sales were flat and that July sales were slightly weaker than first thought, with employers adding no new net jobs in August and the unemployment rate remaining at 9.1%. "The government report showed sales at department stores fell 0.3 percent and a broader category of general merchandise stores, which included big retailers such as Wal-Mart and Target, showed a slight 0.1 percent gain. The 0.7 percent fall in sales at specialty clothing stores followed a 0.3 percent decline in July. Consumers are feeling less confident after a rocky summer." (Source Associated Press)

The National Transportation Safety Board yesterday issued a proposal to ban cell phone use and texting for the 2.8 million commercial truck drivers. They don't have the power to mandate it, but their proposal is sent to the Federal Motor Carrier Safety Administration and all 50 states for action. (Source Associated Press)
A 27-year-old New York City police officer was sentenced to 7 yrs in federal prison for armed robbery of In Style USA warehouse on Feb. 9. 2010, along with a "band of rogue cops" that tied up 11 people and held them hostage while laborers loaded hundreds of boxes of perfume into rental trucks. The same officers had staged a similar holdup six months earlier, stealing counterfeit sneakers, handbags, and other goods from a Brooklyn warehouse. (Source northjersey.com)

Best Buy 2Q reports same store sales down 2.8%

Target's "Missoni mayhem" yesterday crashed their website several times and hundreds of shoppers lined up early in the morning at many of their stores, making it look like a "Black Friday," and all for the sale of limited offerings of its Massoni Target collection of bikes, luggage, clothes, and housewares. This doesn't happen often in retail to make the news like this. (Source Associated Press)

National Preparedness Month Coalition
September 2011
Join forces with the NRF and FEMA on this important mission
REGISTER NOW!

eBay Automated Portal Supports Stolen Goods Investigation

eBay Global Asset Protection investigators supported an electronic request through their fully automated law enforcement portal (LEP) to assist police with identifying and subsequently arresting a suspect related to a large scale stolen good scam. Prosecutor Tim Moores told the court the goods were being stolen from stores by 'professional shoplifters.' The suspect is accused of selling stolen cameras, sat navs, MP3 players and laptops through online auctions. Over 3 years police believe the suspect made £179K (approx $240K) from the scam. The Court also heard that the suspect was a modern day "Fagin," part of a wide network of criminals selling high value stolen electrical goods online. eBay global asset protection investigators provided written statements supporting the police investigation and criminal proceedings against this suspect. Click here for full article.


For further information on PROACT email inquiries to; PROACT@eBay.com


From Joe LaRocca, Senior Asset Protection Advisor for the NRF

There is some exciting news in Albuquerque this week. Yesterday, the Albuquerque Police Department announced the creation of a new economic crimes section that will be focused on catching thieves who target the same businesses over and over again and then turn a profit by selling the goods online and at flea markets.

This new team was put in place by Chief Raymond Schultz, who also established the Albuquerque Retail Assets Protection Association (ARAPA). Chief Schultz has demonstrated himself as a national leader in the fight against retail crimes in Albuquerque and city government officials throughout the country have been watching. Several major metropolitan areas have taken elements of Schultz's strategy, including the ARAPA program, and implemented similar initiatives in their cities.

The Albuquerque Police Department has built a successful track record of working with the private sector and area law enforcement agencies to prevent and investigate retail crimes. The Department has established a team of highly skilled law enforcement professionals dedicated to fighting this problem and has served as an important deterrent to perpetrators.

This year's NRF Organized Retail Crime survey found that organized retail crime affects almost every single retailer, with 95 percent reporting they have been a victim of organized retail crime in the past 12 months, up six percent from last year. Although retailers continue to build their defenses against this growing problem, criminals are finding myriad ways to work around the system. Retailers are also reporting that the criminals they apprehend are increasingly resorting to violence, putting the safety of both associates and customers at risk.

On October 13th, the Albuquerque Police Department along with regional law enforcement, retailers, banks and hotels will be meeting to discuss economic crimes.

Report Your ORC News & Educate The Industry
Your News May Help Create New Jobs!

Transitioning to a new position, a new job, a new market is a great opportunity to reinvent yourself and your brand so to speak. It gives you the perfect chance to look at yourself and say how can I improve and be truly what I want to be. It erases your blackboard and allows you the chance to write something new, something you've always wanted to be. A move, often times referred to as a geographical cure, can be just the medicine to help start a new you.
Good Luck
Gus Downing