FRIDAY FOCUS
Doug Marker
Vice President
LP, Risk and Audit
Michael Stores, Inc.

Stephen O'Keefe
Vice-President
Loss Prevention and
Risk Management
Wal-Mart Canada

Coming in August
Kelly Gorman
Vice President LP
PETCO

LP Program Spotlight
eBay's PROACT Team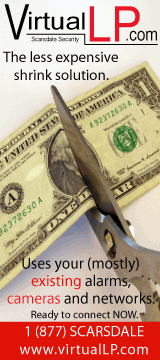 ---
Know about an event we should feature here? Let us know.


National Retail Federation
2011 ORC Survey
Executive Summary
Full Report
---
---
Retail Council of Canada's
2011 Loss Prevention Conference
Going Beyond LP - Partnering for Success

September 14, 2011
7:30am - 5:00pm
International Centre
6900 Airport Road
Mississauga, Ontario
FOR MORE INFORMATION
Contact the RCC Events Team at 1(888) 373-8245 or visit www.rcclpconference.ca

The Dallas Police Department's Fusion Center just released their Situational Assessment of the "Flash Mob Criminal Activities." and came up with three elements in their conclusion; 1) Flash Mobs which turn to violence, or are planned as a flash rob appear to be a growing problem throughout the U.S. Whether this trend continues may depend on the amount of media coverage which could actually fuel some teenagers and young adults in this time of economic problems. 2) A majority of the reporting is in the Chicago area and the excess media coverage appears to be politically motivated in some articles. 3) As media coverage spreads, there is a possibility these could begin in the Metroplex (DFW area). Shoplifts committed by teenagers as a form of takeovers are a possibility.
PHILADELPHIA , Aug. 16 – Bishop to host hearing on flash mobs – State Rep. Louise Williams Bishop, D-Phila., Democratic chairwoman of the House Children and Youth Committee, is holding a public hearing in her district 10 a.m. to Noon Tues., Aug. 23 at St. Joseph's University, Mandeville Hall, Toletorium, at the corner of 54th Street and City Avenue. Everett Gillison, Philadelphia Deputy Mayor for Public Safety, and representatives from the Pennsylvania NAACP are among the officials scheduled to testify. Bishop said the hearing will focus on the recent incidents of flash mob violence in Philadelphia. Members of the Pennsylvania Legislative Black Caucus and the Philadelphia delegation also will be in attendance. Media coverage is invited. If you have stores in Philadelphia you may wish to have representation and input here. CONTACT: Roseann Cadau
Phone: 717-783-2192 Email: racadau@pahouse.net
Thanks to Dave Merrick, Vice President, Marketing, Vector Security, Inc. for his input.


Identity theft ring of 5 arrested in Memphis, TN. with driver's licenses, bank cards, social security number cards, debit cards, checks and transaction slips belonging to people who had reported their identities stolen in other cities. (Source abc24.com)

One credit card company, USAA, is using text messages as the newest tool in fighting identity theft. Text alerts are sent when unusual activity is detected on customers' accounts and the member is asked if it is a valid transaction or potentially fraudulent, and they can actually reply. (Source 9news.com)

Be on the lookout at your Coinstar machines – Fraudsters using photocopied Coinstar receipts are obtaining cash from the machines in a number of grocery stores in the northeast.

Second Quarter Results
Limited Brands same store sales up 9%
The Buckle same store sales up 8.5%
PetSmart total revenue up 7% with profit up 26%
Dollar Tree same store sales up 4.7%
Target same store sales up 3.7%
Hot Topic same store sales up 2.6%
Sears same store sales down 1.2% with Kmart same store sales flat

Striking Verizon workers will be taking their strike to the CEO's New Jersey home today and stage a candlelight vigil outside on Lowell McAdam's residence in Mendham tonight. Loss Prevention teams along with police will be busy. (Source Associated Press)

Hackers "Anonymous" attacked the BART (San Francisco's Rapid Transit) again yesterday, after last week's cell phone shut down, and posted the personal information of the Bay Area Rapid Transit police officers themselves, online – the names, home addresses, email addresses, and passwords of 102 police officers. (Source Associated Press) (Source csoonline.com)

Not doing a good job of revoking passwords from former IT employees allowed one former employee sitting in a McDonalds restaurant to access the company's computer network and delete 88 company servers. one by one, and wipe out the entire company's email system, order tracking, financial services, leaving employees unable to ship product, to cut checks, or even communicate – costing the company $800,000 and losing days of work. The former employee now faces 10 years in prison. (Source csoonline.com)

According to Network World, a sizeable spike in malicious email attachments is just subsiding, but if history is any indicator, several smaller spikes are about to follow that use even more deceptive means than their predecessors. (Source csoonline.com)

Cloud storage provider "Dropbox" was a haven for data thieves according to a number of researchers who presented their work at USEINX Security Symposium this week. If you're using Dropbox as your cloud storage provider, be on the look out! (Source csoonline.com)

A new book claims Coco Chanel, fashion icon and Chanel founder, was a Nazi spy and had a wartime affair with a German aristocrat and spy. (Source Associated Press)
An assistant store manager of Rite Aid in Kent Washington chased a shoplifter and died later in the hospital after falling over a retaining wall and being knocked unconscious. (Source nwsource.com)

Write a Thought Challenge!
Maybe you'll Win!
Make a Difference - Get Your Thoughts & Ideas Published
Great Exposure - Great Visibility - Great Opportunity

Join us for a Complimentary One-day Advanced Training and Certification Seminar on our ...
x
Employee Attitude Inventory (EAI) Tool – that points investigators in the right direction!
Led by Dr. John "Jack" Jones
x
at our Chicago Vangent downtown offices August 22, 2011
To register: mike.tancredi@vangent.com, (312) 242-4231
Interviewing executives for a position is a delicate and serious interaction. How one conducts the interview and treats the executive is extremely important and sends messages to the industry about how they were treated, how they were managed, and how they were dealt with during and after the interview. It sets a tone for future recruiting efforts and for how the executives perceive not just the organization but the interviewer, themselves. For most, an interview is their opportunity to put their best foot forward and send the message I want to join your team. This is an interaction that most don't ever forget and carry with them the rest of their careers. So it's important to recognize it and treat it as such for each individual.

Just a thought
Gus Downing