These events are organized through the use of social media sites and text messages. Oftentimes, the participants are unaware of exactly where, when, or what "routine" will be performed – until just minutes prior. Originally designed as "social experiments," flash mobs quickly morphed into occurrences seemingly designed for no other reason than to bring joy to unsuspecting masses. However, as groups have begun to record and upload their performances to the internet, many of the "events" have become somewhat of a competition. No longer assembled solely for entertainment purposes, many groups are now more interested in viral views and record breaking.

For some cities though, the term "Flash-mob" has much darker connotations. Over the last 18 months, citizens and retailers in several metropolitan areas are seeing an increase in theft, vandalism, and violent acts carried out by groups of youths as large as 900 strong. The media is referring to these incidents as "flash-mobs;" while retailers and police departments have labeled them as MOC's (Multiple Offender Crimes).

Flash-mob type MOC's have been occurring throughout the US for years, and have been called many different things including: "wilding" in the 70's and "rampaging" in the 80′s. Regardless of the name, it is undeniable that over the last 18 months these incidents have been increasing in frequency, organization, and media appearances. Our technology driven, "instant communication" culture makes the process easy. Like the entertainment flash mobs, these MOC groups can be organized and executed very quickly through the use of social media sites like Twitter and Facebook, or with mobile phones and texting. Offenders can then further benefit from technology, as their exploits are made famous through security and self-recorded videos appearing on the evening news and in internet postings.

Several examples of recent flash-mob type MOC activity are shown below: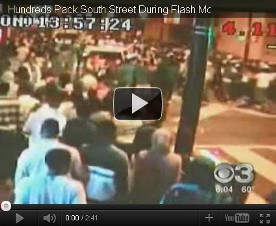 March 2010 – South St. in Philadelphia PA, hundreds of young adults flock to South Street and begin to execute random acts of violence toward each other, people on the streets, and the occasional passer-by yanked out of their car.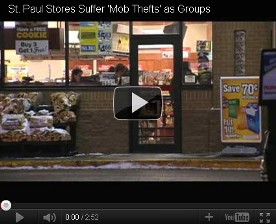 February 2011 – Golden Valley MN, a mob of over 50 teens and young adults converged on a gas/convenience store and ravaged through merchandise like a school of piranha feeding on prey.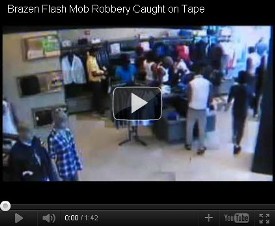 April 2011 – Washington DC, during an event at the National Zoo, a young adult is injured with a "life threatening" stab wound. Suspects were identified as being part of a large group of young adult/teenaged males. About an hour later, 19+ young males entered a designer clothing store down the street from the zoo. These suspects entered the store at the same time and quickly managed to snatch over $20,000.00 in merchandise.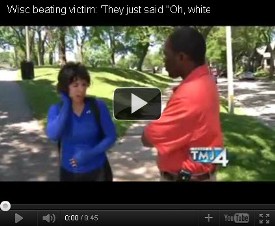 July 2011 – Milwaukee (Riverwest) WI, mob of 30+ teens and young adults enter a convenience store, assault several employees and customers, and proceed to steal everything in sight. Some individuals are observed carrying entire racks and shelves out of the store. (RAW NEWS FOOTAGE)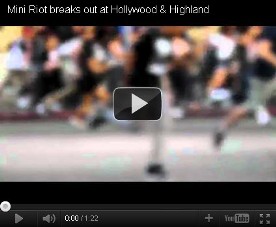 July 2011 – Los Angeles CA, mob of 2000 + young adults attend an impromptu "block party" at the premiere of the "Electric Daisy Carnival" film. The mob commits various acts of vandalism and disorderly conduct until broken up by police in riot gear.










According to a report just released by the National Retail Federation (NRF): "In July 2011, NRF polled retailers around the country to gauge the impact of multiple offender crimes. Over three-quarters (79%) of retailers report being a victim of a multiple offender crime in the past 12 months, some of these incidents (10%) involving flash mob tactics."

There have been hundreds of arrests nationwide following these flash mob incidents. But with most suspects only being charged with misdemeanor vandalism and petty theft, punishment is minimal. In fact, the charges may even be perceived as almost a rite of passage in some circles. Between a well aired viral video, and an almost meaningless criminal charge, the suspect in question has just been given substantial "street cred" with his/her peers.

So what is being done?

From a civic standpoint, most cities that have experienced these mobs have reacted quickly and aggressively. After a near riot in July, several new laws were created in Cleveland. One new law forbids ANY flash-mob activity; and another makes it possible to charge anyone that uses social media to organize a "flash mob" with a misdemeanor. In Philadelphia, police are regularly monitoring social media sites looking for potential organizers or advertisements for mob activity. Cities like Washington DC and Chicago are imposing earlier curfews in hopes of quelling some of the mob activity, with varying degrees of success. Fox News is reporting that popular Hip-Hop artists are being recruited to speak out against MOC/Flash mob activity as well.

From a retail standpoint, there seems to be much confusion on how to handle these incidents. Because of the unpredictable nature of the mobs, and the overwhelming number of suspects; ideas for preparation and reaction are sparse at best. Internet research shows a wide range of opinions on how best to handle an event as it occurs (during) and there is very little information on how what to do before or after. As is often the case when seeking advice on the internet, much of what is out there is flawed, erroneous, or even downright dangerous. Some of these "WORST" practices (NOT recommended by MAS) include: Any suggestions promoting physical or verbal confrontations with perpetrators, the use of weapons, or the use of security doors to lock or trap suspects in the store or area.

MAS has developed some BEST practice guidelines regarding Flash Mob MOC activity. They have been broken down into three categories: items for preparedness, actions to take during (an incident), and proper reaction to:
PREPAREDNESS:
Ensure an "observe, report, document" culture within the store

Ensure that entire team understands the prioritization of company assets
1. Employee/customer safety
2. Safety/integrity of structure (four walls), operating equipment, and fixturing
3. Security of cash/merchandise

If CCTV systems are available, ensure that they are consistently tested, utilized, and serviced in a timely fashion (when necessary)

Ensure strict diligence in the monitoring on-hand counts/perpetual inventory systems, (in ALL stores, but) especially in area where MOC activity has occurred. In the event that a full inventory cannot be taken, this can help to quickly identify exact losses, create valuable descriptions of stolen merchandise for police followup, and ease the process of on-hand adjustment later

Develop and maintain relationships with management and LP/AP teams at neighboring retailers

Develop relationships with local police departments, and inquire any special unit or division currently monitoring MOC activity

Discuss and assess the potential benefits and risks of silent alarm usage during an incident; then clearly instruct team members
ACTIONS DURING:
Make an effort to maintain a 5' (minimum) radius from any perpetrators or area being affected – STAY OUT OF THE WAY

Assess the safety and distance of fellow employees and any innocent bystanders; paying particular attention to high risk individuals: children, the elderly, pregnant women, etc.; attempt to bring them into your 5' "safety zone"

Call 911 as soon as it is safe to do so

Make NO ATTEMPT to confront or apprehend ANY of the suspects

Try to remember identifiable features of one or more of the suspects

IF SAFE TO DO SO, attempt to identify vehicles and/or license plate numbers
REACTIONS FOLLOWING:
Assess the safety/condition of all employees and customers

Call 911 (if you haven't already)

Call immediate supervisor and any pertinent field managers (District Manager, Loss Prevention Manger, etc.) Note: field management should respond (in person if possible) immediately upon notification

Order and Take a full physical inventory of the store to get a detailed assessment of precise inventory loss. Damage fixtures, building features, product protection devices, cash registers, etc. should all be evaluated and documented at this time

Ensure diligent data-centric tracking of these incidents utilizing a proper case management system. The system should have capability to attach employee statements, incident photos and/or video, and any other pertinent documentation System should be preloaded with dropdowns (or other selection options) that include a specific "Flash Mob – MOC" classification, with subsets that could specify:
1. Number of suspects
2. Age range/descriptions
3. Transportation used (arrived by foot, multiple cars, public transportation, etc.)
4. Any assault or otherwise harmed employees, customers, or suspects
5. Types of merchandise taken
6. Descriptions of any damage to store, fixtures, product protection devices – including dollar values
7. Detailed descriptions of merchandise loss; including product descriptions, value, UPC codes, quantities, and information on defeated product protection devices
8. Ability to list departments, aisles, and/or categories in the order that they were "hit" (including special notation section if any areas were hit that only employees would have knowledge of/access to, i.e., hidden safe, high value hidden merchandise back-stock)