---


FRIDAY FOCUS
June 24, 2011:
Gary Johnson
Vice President LP
The Vitamin Shoppe &
Chair of NRF LP Advisory Council

July 1, 2011:
Doug Marker
Vice President
LP, Risk and Audit
Michael Stores, Inc.

LP Program Spotlight
eBay's PROACT Team
---
---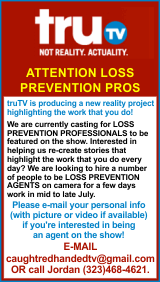 ---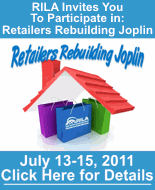 ---


Know about an event we should feature here? Let us know.



Complimentary Webcast:
Enhancing Your Operational Audit Process

June 29, 2011
2:00 p.m. EST
---


Women in LP Caucus
Mentor Program
Register Here
---
August 7-10, 2011
National Food Service Security Council
32nd Annual Meeting
Hyatt Grand Champion
Indian Wells, CA
---



October 4-6, 2011
CLEAR/Coalition of Law Enforcement and Retail
2nd Annual Training Conference
Peppermill Resort/Casino
Reno, NV
---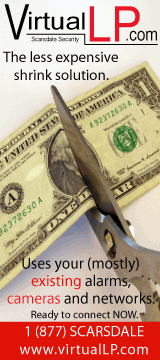 ---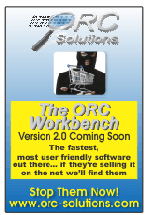 ---
In an article in the Dallas Morning News, Joe Larocca, Senior Advisor of LP for the NRF, recently said that with clerks now using hand-held checkout tools in the aisles and in fitting rooms and with customers being able to use their cell phones to make payments, "new ways to shop will change a lot of what we do in loss prevention." He predicts that retailers will follow Apple's lead by sending receipts to customer's email accounts and make it easier for customers to walk out the door with more than what they paid for. Bill Titus, VP of LP for Sears HC, in this same article said that with How-to-shoplift videos online, store maps accessible on smartphones, and flash mobs organized on Twitter - social media presents some scary threats to stores. Bill went on to say, "If you think the last 10 years were turbulent and required our stores to adapt, stand back for the next 10 years." (Source fayobserver.com)

There are 11 senior LP positions available in the U.S. currently with two of them very close to being filled.

Unauthorized withdrawals from ATMs in California and Nevada have begun popping up in the hundreds from customers who had used their debit cards at Michaels stores in Oregon between Feb. 8th and May 6th. With over 270 reports in towns across Oregon with amounts from $300 to $1,100, one credit union deactivated 1,700 cards Friday and said "there are significant losses," "all of our members are victims." The major banks, including Bank of America and Wells Fargo, have also reported being defrauded as part of the Michaels' scheme. "According to Beaverton Police, the people responsible for the fraud case are part of an organization that is apparently large enough to employ multiple crews that work in numerous areas and move around quickly." (Source registerguard.com)

Cyber attacks are becoming more frequent and severe and the vast majority of businesses have suffered at least one data breach in the past year, a Ponemon Institute survey says, with 77% of respondents saying attacks have been more severe or more difficult to prevent over the past 12 to 18 months, while 78% say attacks are more frequent. Only 10% of those who answered the survey say they had no data breaches and 53% say they had one to three. (Source networkworld.com)

The women who sought to sue Wal-Mart on behalf of the 1.5 million co-workers for gender bias said they will continue the fight in smaller lawsuits in lower courts and claims with the U.S. Equal Employment Opportunity Commission. (Source retailingtoday.com)

Swedish retailer H&M is one of the first retailers to actually "blame higher procurement cost," the increased cost of cotton and labor, for impacting their 18% drop in net income. They're planning on opening 178 stores in the second half of this year. (Source retailingtoday.com)

Bentonville, VA, Police raided Foodway Supermarket and seized 1,900 counterfeit items valued at $579,000 and are continuing the investigation. (Source nvdaily.com)

The continued and escalating retail theft at Philadelphia's Premium Outlets in Limerick, PA, has actually caused State Representative Tom Quigley to introduce a bill that eliminates a loophole in the current law after the Pennsylvania Superior Court ruled that, because the definition of second offense in the retail theft statute did not include participation in the Accelerated Rehabilitation Program (ARD) after their first offense, then a subsequent offense must be considered a first offense. House bill 1603 would correct this multiple offense loophole allowing prosecutors to charge defendants who participated in ARD, but continue to break Pennsylvania's retail theft law with a second-degree misdemeanor. Limerick Township Police Chief William J. Albany says "This is an important bill that closes a loophole in the law which allows second-time retail theft offenders to receive a more lenient sentence reserved for first-time offenders." All impacted retailers should write a letter of support to the Rep. Quigley as the bill now goes before the full House for debate and consideration. (Source pottstownmercury.com)

China has a worldwide reputation for making counterfeit products ranging from eggs to iPhones, but villagers from Beijing's outlying Fengtai district were surprised to discover that hundreds of security guards hired by the authorities to suppress their protests were fakes, too ... who were actually actors hired by authorities to quell protests over metro line land payouts. (Source scmp.com)

Federal agents seized 4,000 counterfeit items valued at $283,000 at Rice's Market from a few vendors in Solebury, PA. (Source phillyburbs.com)

Wal-Mart is shifting funds from their remodel program to new supercenter growth saying moderated supercenter growth since 2007 has negatively affected comp sales. Here comes more supercenters and express stores. (Source supermarketnews.com)

Dave Dillon, Chairman and CEO of Kroger, said the economic recovery may have stagnated and inflation could rise 3% to 4% and "we are looking for people to trade down or buy fewer discretionary items if things get a little tight." (Source supermarketnews.com)

The E coli breakout in Germany that killed 39 people and infected 3,601 people with over 800 developing kidney problems has been described as "unprecedented" in its lethality and, according to a new study, was a mixture of two dangerous E coli strains, one that makes a toxin and the other that sticks to the gut and speeds up the body's absorption of the toxin. The research is continuing, but this was the deadliest E coli outbreak in history. Scientist are concerned because many strains come from animals and "if it turns out to be very common in cattle, that would ring alarm bells that this kind of (outbreak) might happen again in the future." (Source Associated Press)

Twenty years ago, someone riding in a cab in New York City one snowy night after leaving Radio City Music Hall left a file in a black bag in the back seat of the cab that was sold yesterday for nearly $11K. The 3-inch thick three-ring binder file marked "Mafia" and "United States Treasury Department Bureau of Narcotics" complied between 1957 and 1962 and marked #31 of only 50 copies was the U.S. Gov.'s complete investigative report on the Mafia in the U.S. with over 842 gangsters profiled-documented-pictured-and-defined. Used by Robert F. Kennedy while he was the Attorney General in 1963 during the televised McClellan Hearings into organized crime, it was the first time the phrase La Cosa Nostra was ever heard in public. This file and its 49 others helped lead to the Mafia's partial demise. The other 49 copies were probably destroyed. Wonder what agent left that behind. (Source Associated Press)

A husband and wife were arrested yesterday for the Fathers Day massacre at Haven Drugs pharmacy in Medford, New York, where four people were shot to death during a robbery for painkillers, with the wife saying, "he did it because I was sick and he had lost his job." (Source Associated Press)

Rite Aid Q1 reports same store sales up 0.8% with a loss of $65.5 million.


Communication drives success ...
At last week's NRF LP Conference session "How to recruit, hire, retain, and mentor women," the panel, comprised of Jill Roadman, Rebecca Trevino and Donna Ferraro, all loss prevention executives at Sears HC, posed 8 questions for the attendees -- well here's the answers, the purpose of the exercise and some ground rules to help foster better communcations.

1. Who talks more? Women -- women actually speak 7000 more words a day than men do.

2. Who gets sick more? Men -- get sick twice as much.

3. Who communicates more by stating more facts? Men -- men converse for competition and dominance.

4. Who works harder at keeping conversations going? Women -- women tend to converse more for support and to make connections to the individual they are speaking with.

5. Who chooses to be a problem solver? Men -- men tend to solve problems instead of asking a lot of questions.

6. Who wants to reach consensus and consult with others before deciding? Women -- express themselves to understand.

7. Who takes verbal rejection more personally? Women -- because of their focus on support and partnerships.

8. Who is more likely to interrupt while the opposite gender is speaking? Men -- it's all about competition.

Men and Women share many similarities -- intelligence, drive, ambition, talent etc. However, when it comes to communication styles, men and women are on a different wave length. The questions/answers may help men and women move towards a clear understanding of differences in order to create a stronger working relationship with the understanding that different doesn't mean that either communication style is better - just a matter of opinion.

Ground Rules for Women
Here are a few points to remember when communicating with men:
Don't misread certainty as an unwillingness to discuss. Challenge the authoritative statement.
Minimize hedging. Realize that it can undermine your authority.
Be brief. Not many men think women don't talk enough.
Hold your ground. If your male colleague interrupts you, politely remind him that you weren't finished.

Ground Rules for Men
Remember these communication tactics:
Don't misread hedges or frequent questions as uncertainty.
Take time to build relationships.
Never patronize or talk down to your female colleague.
At times, ask rather than tell.
Remember that "please" and "thank you" go a long way in establishing rapport.
Thanks to the panel for providing this information




Annual Technology Showcase and Golf Outing
June 29-30, 2011
Hilton Hotel
Beachwood, OH

Please see our
Invitation and Agenda

In an interview yesterday for an upcoming Friday Focus with Gary Johnson, the Vice President, Loss Prevention for Vitamin Shoppe and the Chairperson for the NRF LP Advisory Council, we talked about the evolution of an executive's career and how we all basically start out focused on doing the best job we can, learning as much as we can, and trying to impact the companies we're working for. Mid way thru, most realize that we're all part of a greater effort and industry and we begin to understand that it's about giving something back and getting involved to help grow the industry and the executives we interact with. And that towards the later stages of our careers, all of us realize that indeed it is all about giving something back and helping the executives, the industry, and the community by getting involved and contributing your time, your energy, and your efforts. We are one industry - one community. Whether we're a vendor or an LP executive, we all have the responsibility - to contribute, get involved, and help others.
Just a Thought
Gus Downing