---


FRIDAY FOCUS

Coming June 10:
Bill Titus
Vice President
Loss Prevention
Sears HC

Doug Marker
Vice President
LP, Risk and Audit
Michael Stores, Inc.

LP Program Spotlight
eBay's PROACT Team
---
---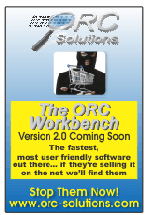 ---


Know about an event we should feature here? Let us know.



Complimentary Webcast:
Enhancing Your Operational Audit Process

June 29, 2011
2:00 p.m. EST
---


Women in LP Caucus
Mentor Program
Register Here


---
August 7-10, 2011
National Food Service Security Council
32nd Annual Meeting
Hyatt Grand Champion
Indian Wells, CA
---



October 4-6, 2011
CLEAR/Coalition of Law Enforcement and Retail
2nd Annual Training Conference
Peppermill Resort/Casino
Reno, NV

---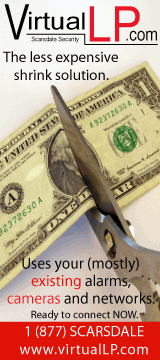 ---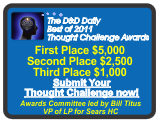 ---
Yesterday's NRF release of the ORC survey was also placed in the Department of Homeland Security's digital library. (Source hsdl.org)

Talbots' number of planned closures is bumped to 110 units, or 20% of their stores, after a disappointing first-quarter. (Source retailingtoday.com)

Frank Yiannas, Wal-Mart's Vice President of Food Safety and Health was named Vice Chair Elect of the Global Food Safety Initiative. As Chairperson of the Global Food Safety Conference committee over the last year and through his tenure as Vice Chair, they will continue to develop GFSI as the world's leading business-driven food safety forum, advancing food safety worldwide. Prior to joining Wal-Mart in 2008, Yiannas had spent 19 years at Walt Disney World. (Source retailingtoday.com)

Yesterday, hundreds of members of the Retail, Wholesale and Department Store Union demonstrated outside Macy's NYC Herald Square store as they are currently in negotiations to renew a five-year contract that expires next week. Stuart Appelbaum, President of the RWDSU, said the retailer is attempting to take pension benefits from new workers, reduce hours of full-time employees and increase the cost of health care benefits from workers at a time when it's posting significantly improved sales and profits. (Source rwdsu.info)

U.S. Customs and Border Protection specialists have seized more than 47,000 counterfeit pieces of designer clothing at the Los Angeles/Long Beach Seaport. (Source cbslocal.com)

Rental prices at prime retail locations is starting to rise to levels the industry hasn't seen in three or four years. There's a sense of optimism among real estate brokers that prime space is coming back to pre-recession levels while retailers are tiptoeing back into expansion mode. (Source departmentstoreretailing.blogspot.com)

Two private firms, Leonard Green & Partners and CVC Capital, are teaming up to make an offer to buy BJ's Wholesale next week. (Source supermarketnews.com)

The U.S. Senate yesterday approved the amendment that will allow the bill to move forward in Congress that limits debit card fees at no more then 12 cents per transaction. (Source supermarketnews.com)

Dish Network has Blockbuster Express rolling out more than 800 kiosks on Food Lion Stores in 11 states. As earlier reported, Dish Network doesn't really see the need for Loss Prevention according to one source familiar with their philosophy. (Source supermarketnews.com)

National Stores is continuing their search for a Vice President of Loss Prevention and Nike is also continuing their search for a Global LP Director as well.

Facebook rolls out facial recognition software that allows friends to get all your pictures without your even knowing it if they're tagged with you. Facial recognition is coming everywhere. (Source csoonline.com)

The cyber security bill that failed last year in the Senate has been revived with cybercrime only getting worst with each passing month. (Source govinfosecurity.com)

J Crew Q1 reports same store sales down 3% with revenue down 3%

The largest bust in recent times in South Africa netted police two Nigerians with five steel containers filled with counterfeit U.S. $100 bills amounting to $80 million. (Source forbes.com)

A skimming hole was found in the Europay, Master Card, and Visa (EMV) standard that criminals can use to steal PIN codes and Master Card says it'll be open for years because the system is too diverse and complex to fix overnight. Last March, security researchers presented a proof of concept to exploit the hole at the CanSecWest security conference. (Source csoonline.com)

Police in Morehead City, NC confiscated over $62,000 in counterfeit merchandise from 98-Cent Store and the owners disappeared. With more stores in the area, police are continuing the investigation. (Source wcti12.com)



Annual Technology Showcase and Golf Outing
June 29-30, 2011
Hilton Hotel
Beachwood, OH

Please see our
Invitation and Agenda


Whistle-blower: Bob Delaney

goes from undercover cop to NBA referee
AND he'll be in the Scarsdale Security Booth # 924

at the NRF LP Conference signing books

Monday, June 13

Known as Bobby Covert, Bob Delaney, a former undercover NJ state trooper successfully infiltrated the DiNorsico crime family for 2-1/2 years in 1975-1977 and helped convict 29 "made" mobsters. At 23 years old, he jumped at the chance to go undercover in "Project Alpha" in one of the country's first long-term operations in history.

Teamed up with a consigliere for the DiNorsico family who had turned police-informant to avoid jail, Bob opened a trucking business and was soon in the middle of the mob and completely cut off from all his family and friends. Usually wearing wires, unarmed, living another life and trying to control his emotions, his guts were turning inside-out every day. With stories about guys in freezers and legs smashed with baseball bats, he never reacted until his drive home when he would stop the car, roll down the window and vomit all over the road, a delayed reaction to living with a fear few people can comprehend.

In the process, he became Bobby Covert, completely almost forgetting who Bobby Delaney even was. Befriending some of the mobsters, he lost himself completely to the point that finally the big raid was planned and 29 "made" mobsters were arrested and he watched as they were brought back in handcuffs. As they filed in that night, some mob members still didn't believe Delaney was really an undercover cop. How could he be? He was a friend of theirs. Wasn't he? "Hey Bobby," a handcuffed mob friend yelled to Delaney that night, "what did they pinch you for?"

For nearly a month after the raid, Delaney was under 24-hour surveillance. At least two state troopers were with him at all times. Death threats came and his bosses told the crime bosses, "If he catches a cold, if he gets a problem, we're going to be all over you guys." At first, all it took was a loud sound, any loud sound anywhere, and he would jump, his nerves frazzled. It took a year and a half for him to get a normal night sleep and two years before he fully returned as Bobby Delaney.
Thanks to groundbreaking cops like Delaney, the mob of today seems less powerful and organized.
After 14 years in law enforcement, Delaney is now one of the top referees in the National Basketball Association and, after 17 years of refereeing, he was presented with the prestigious Gold Whistle Award in Portland, becoming just the second NBA official to win the award since its inception in 1987.

Refereeing playoffs, All-Star games, and for the last three years in the NBA Finals and receiving rings each time, Bob Delaney still remembers his undercover stint and to this day he still instinctively scans each room he enters. "I don't sit here every day and think about it," Delaney said, "but there's an awareness that I have. There are precautions I take. I'm not scared. If I'm afraid to go out of my house or if I'm afraid to live my life, then who has won? It's no different than what we're experiencing with 9/11. If we all alter our lives and change our lives, then the bad guys win again."

Read the entire article from Associated Press.
Come meet Bob, a true American Hero, and get an autographed copy of his book!

Brought to you by Scarsdale Security
Booth # 924



from Scarsdale Security

Retail Security Experts
the future of Loss Prevention is here today

with remote video services

Every industry, every company has its core objectives of adding value and impacting the whole. In theory, all of us are are on a mission to make a difference and create change that ultimately benefits the industry, the company we're with, and ourselves. At the end of the day, it's all about the people that are feeding this evolution and while that's our strength, it's also our weakness. Regardless of how strong our product, service or LP model is, it always comes down to the people and the relationships. And with those two variables constantly changing, sometimes for the better and at times for the worst, it's how you deal with the worst that determines how far you'll go and who you are. Facing it is the key and denial is the lock.

Just a thought
Gus Downing