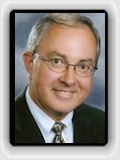 David Gorman of Destin, Florida has passed away. David is most known for his position as VP of Loss Prevention for Wal-Mart, which he held from 1983-2002. David served in the United States Marine Corps from 1966 to 1969. He was a Vietnam veteran and was awarded two Purple Hearts for wounds received in action. He attended Southern Illinois University in Edwardsville, IL, and graduated in 1972 with a BBA.

David began his retail career in 1973, when he was hired by Venture Stores, Inc., a division of the May Company. He spent seven years with the company, serving as the Director of Shortage Control and Inventory Administration.

After Venture Stores, David spent the next 21 and a half years at Wal-Mart Stores, Inc. His first position there was as Director of Internal Audit. In 1983 he was promoted to Vice President of Loss Prevention.

Upon his retirement from Wal-Mart, David became a Retail Consultant for Honeywell, Inc., where he worked with the VP of Strategic Accounts to develop sales opportunities for the security portfolio. In 2002 he founded David Gorman & Associates, where he was President and CEO. The organization was founded "to help retailers and suppliers enhance earnings and sales through improved performance." For the past two years, David held the position of EVP and COO of VuIT Communications.

David was a member of the LP Committee for the Retail Industry Leaders Association (RILA), a position he held for 19 years. He was also a member of the Retail LP Council for ASIS International for 10 years and a Board Member for Radlo Foods for eight years.

We at the Daily would like to take the time to express how saddened we are by this loss to the LP community. David had a large impact on the Loss Prevention field and was a great inspiration to all of us.

Abercrombie & Fitch Q1 Profit Tumbles amid weak European sales. Early morning trading showed ANF dropping nearly 10 %. Abercrombie reported net income for the quarter of $3.0 million compared to net income of $25.1 million or 28 cents per share for the same time last year. The worst results came at Abercrombie kids, which reported comparable store sales decreased 11 percent. The company's namesake Abercrombie & Fitch chain reported comparable store sales decreased 4 percent, and Hollister Co. reported a decrease of 5 percent. (source dispatch.com)

JC Penney stands behind the new strategy, comps and earnings fall in first Quarter. For the first quarter, the company reported an adjusted net loss of $55 million and same store sales for the first quarter declined 18.9%, Total sales decreased 20.1%. Additionally, the company announced today that it will discontinue the 20 cents per share quarterly dividend. On an annual basis, this will result in cash savings of approximately $175 million, which will be used to help fund the broad-based transformation plan that JC Penney announced in January. (source nwsource.com)

T-Mobile cuts 900 jobs. CEO called for some changes a few months ago and layoffs were part of the plan. T-Mobile said reducing costs through layoffs and outsourcing could better position T-Mobile for another merger attempt or improve its balance sheet for presentation to potential investors. (source nwsource.com)

New video game title releases may be Christmas in springtime for some retailers. GameStop, Best Buy, Walmart all count on the quick boost in sales of new releases, three long awaited titles hit the shelves and are expected to sell over 8 million copies this year. Max Payne, Rockstar and Diablo III, have all arrived to help a struggling video game industry where sales had dropped 32% in April. (source forbes.com)



Walmart going solar in Massachusetts. Walmart plans to install solar panels on about half of its stores in Massachusetts, making it the largest user of solar power in the state. Walmart is partnering with Greenskies Renewable Energy LLC, Middletown, Conn., on the project, which involves 27 stores. (source courant.com)



Newark Airport Security Supervisor lived under a false identity for the last 20 years. Bimbo Olumuyiwa Oyewole is charged with using the identity of Jerry Thomas, a petty criminal who was shot outside a suburban New York YMCA in July 1992. Thomas' murder remains unsolved, but an investigation of records indicates that Oyewole began using Thomas' birth certificate and Social Security number three weeks before Thomas' murder. Oyewole worked under several contractors at the airport, most recently FJC Security Services, and supervised about 30 guards. FJC Security is a private company responsible for overseeing screening areas and cargo checkpoints. The agency said its investigation found no indication that he used the fake identity for any reason other than to live in the United States. (source foxnewsinsider.com)

Yakima, Washington Police bring back a retired officer to assist with shoplifting focus. Preston Brown, 72, retired last year from the Yakima Police department. Now he is back, at no cost to the department, assuming the position of liaison between local retailers and Police. (source kimatv.com)

Utah technology director resigns in wake of data theft at state health department. Utah's chief technology officer has resigned following the theft of hundreds of thousands of online medical records from state computers by unknown hackers. Last month, hackers stole personal information of about 780,000 Medicaid recipients and participants in the Children's Health Insurance Program, including the Social Security numbers of about 280,000 of them. (source washingtonpost.com)


Kohl's Sale pricing policy under fire by a consumer reporter. When is a sale price really a sale price? Several examples of items being marked up then placed on sale. Vicki Shamion, Kohl's Senior Vice President of Public and Community Relations told the Problem Solvers, "Price increases at Kohl's are not common; however, the unprecedented increases in the cost of certain commodities such as cotton over the past 24 months have caused us to take these actions." (source kimatv.com)

California woman gets 5-Year prison term in phishing conviction. A woman arrested by federal investigators in a takedown of a phishing scheme has been sentenced to five years in federal prison. The conviction stemmed from Operation Phish Phry, a massive operation that has led to nearly 50 convictions in Los Angeles. "Operation Phish Phry," was a multi-national probe that led to charges against 100 people. Victims were customers of Wells Fargo and Bank of America. (source 10news.com)


$20,000 Diamond still inside man who swallowed it. An X-ray shows a man who swallowed a $20,000 diamond still has the stone in his body, police say. A man walked into Precision Jewellers in Windsor, Ontario, on May 10 and allegedly swallowed the diamond. Richard Mackenzie Matthews, 52, has been held in a cell without a toilet since allegedly swallowing a 1.7 carat diamond. "The X-rays turned up a couple of stones that are more than likely the (diamond) that is still there," Sgt. Brett Corey said in a press conference. Though Matthews has had a bowl movement since being taken into custody, the gem has not followed suit, police said. Matthews has been charged with theft and breach of court conditions. If police obtain the diamond, he will likely also be charged with possession of stolen property. "We're still waiting him out, but at this point, we don't have anything to show for it," Corey said. (source inquisitr.com)



Shoplifter steals a guitar by hiding it in his pants. Sometimes you just have to stop and wonder. Police are seeking the identity of a suspect who is believed to have stolen a guitar by placing it into his pants and walking out of a music store. The thief was assisted by an accomplice who distracted the clerk. (source fox4kc.com)





Another 'Mom of the Year' being sought for shoplifting with her small child at Target in Milton, Georgia. Police are seeking the identity of the female suspect, and believe she is a repeat offender at this location. (source wsbtv.com)