3-20-21 NY Times Report: Widespread Failure in Policing Nationwide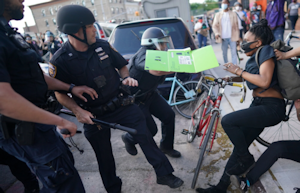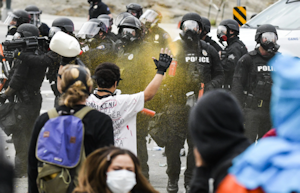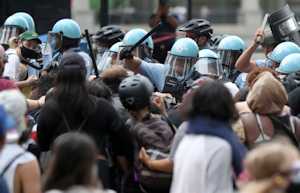 In City After City, Police Mishandled Black Lives Matter Protests

By Kim Barker, Mike Baker and Ali Watkins

Inquiries into law enforcement's handling of the George Floyd protests last summer found insufficient training and militarized responses — a widespread failure in policing nationwide.

For many long weeks last summer, protesters in American cities faced off against their own police forces in what proved to be, for major law enforcement agencies across the country, a startling display of violence and disarray.

In Philadelphia, police sprayed tear gas on a crowd of mainly peaceful protesters trapped on an interstate who had nowhere to go and no way to breathe. In Chicago, officers were given arrest kits so old that the plastic handcuffs were decayed or broken. Los Angeles officers were issued highly technical foam-projectile launchers for crowd control, but many of them had only two hours of training; one of the projectiles bloodied the eye of a homeless man in a wheelchair. Nationally, at least eight people were blinded after being hit with police projectiles.

Now, months after the demonstrations that followed the killing of George Floyd by the Minneapolis police in May, the full scope of the country's policing response is becoming clearer. More than a dozen after-action evaluations have been completed, looking at how police departments responded to the demonstrations — some of them chaotic and violent, most peaceful — that broke out in hundreds of cities between late May and the end of August.


In city after city, the reports are a damning indictment of police forces that were poorly trained, heavily militarized and stunningly unprepared for the possibility that large numbers of people would surge into the streets, moved by the graphic images of Mr. Floyd's death under a police officer's knee.

The mistakes transcended geography, staffing levels and financial resources. From midsize departments like the one in Indianapolis to big-city forces like New York City's, from top commanders to officers on the beat, police officers nationwide were unprepared to calm the summer's unrest, and their approaches consistently did the opposite. In many ways, the problems highlighted in the reports are fundamental to modern American policing, a demonstration of the aggressive tactics that had infuriated many of the protesters to begin with.

The New York Times reviewed reports by outside investigators, watchdogs and consultants analyzing the police response to protests in nine major cities, including four of the nation's largest. The Times also reviewed after-action examinations by police departments in five other major cities. Reports in some cities, such as Oakland and Seattle, are not yet completed. In Minneapolis, the city that sparked a national reckoning over policing, the City Council only agreed last month to hire a risk-management company to analyze the city's response to the protests, despite months of pressure.

Almost uniformly, the reports said departments need more training in how to handle large protests. They also offered a range of recommendations to improve outcomes in the future: Departments need to better work with community organizers, including enlisting activists to participate in trainings or consulting with civil rights attorneys on protest-management policies. Leaders need to develop more restrictive guidelines and better supervision of crowd control munitions, such as tear gas. Officers need more training to manage their emotions and aggressions as part of de-escalation strategies.

Those first days of protest after Mr. Floyd's killing presented an extraordinary law enforcement challenge, experts say, one that few departments were prepared to tackle. Demonstrations were large, constant and unpredictable, often springing up organically in several neighborhoods at once. While the vast majority of protests were peaceful, in cities like New York, Philadelphia, Minneapolis and Portland, buildings were looted and fires were set, and demonstrators hurled firecrackers and Molotov cocktails at law enforcement officers. At least six people were killed; hundreds were injured; thousands were arrested.

Reviewers more often found that officers behaved aggressively, wearing riot gear and spraying tear gas or "less-lethal" projectiles in indiscriminate ways, appearing to target peaceful demonstrators and displaying little effort to de-escalate tensions. In places like Indianapolis and Philadelphia, reviewers found, the actions of the officers seemed to make things worse.

Several reports faulted departments for failing to train officers to de-escalate conflict, control crowds and arrest large numbers of people. In Raleigh, N.C., officers said they were supposed to be trained to manage crowds annually, but those trainings were often canceled. Most Portland police officers had not received "any recent skills training in crowd management, de-escalation, procedural justice, crisis prevention, or other critical skills for preventing or minimizing the use of force," the city's report found. nytimes.com --- Subscription required for full article