LA Times: Retail Chains Discriminating With Security Measures
Noticing lots of security locks at drugstores? These L.A. stores lock up the most
While shopping for decongestant at Walmart in Burbank, Michelle Krider ran into a frustrating sign of the times: The nasal spray was on a shelf, locked beyond plexiglass.

It's a common problem as store managers add more and more security measures.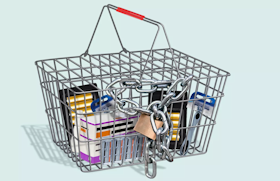 Where once only expensive booze and electronics were locked up, now basic household items such as allergy medicine, shaving razors, infant formula and batteries are ending up in plexiglass cases or behind security devices. More merchandise also has been moved to displays behind cashier counters.

Getting those products requires the help of increasingly scarce retail workers.

Industry experts and retail companies say the security measures are a response to rising retail crime.

"More people are stealing and stealing more," said Read Hayes, a criminologist at the University of Florida and director of the Loss Prevention Research Council, an industry research group studying retail theft.

But a Times survey — albeit unscientific — of Los Angeles area drugstores suggests it's not a straightforward equation, with stores in higher-income areas locking up fewer of the types of items that are most often stolen, even where the property crime rate is higher.

In so doing, critics say, chains discriminate against lower-income neighborhoods where most of the residents are people of color, creating an additional burden for shoppers there.


The problem has been particularly acute in Los Angeles, which for the last four years has been identified by the National Retail Federation as the city with the worst organized retail crime problem, ahead of San Francisco/Oakland, New York and Houston.

To get a sense of which stores are adopting the greatest number of security measures, The Times surveyed Southern California locations for the nation's four largest pharmacies and drugstores: CVS Pharmacy, Rite Aid, Walgreens and Walmart. The four companies combined account for about 70% of the nation's pharmacy and drug sales, according to the market research company IBIS World.

The Times visited 15 stores throughout Santa Monica, South Gate, Burbank, Glendale, Pasadena and Monrovia to compare the security measures in upper-income and middle- and working-class neighborhoods. We checked to see whether security measures were put on 15 individual items that were included in a list by the National Retail Federation of the top targets of organized retail crime. We added to the list a few that are often locked up in Southern California stores, such as Tide detergent pods and teeth whitening strips.

Walgreens put security devices on more of the products we surveyed than the other three retail chains, an average of ten out of 15 items. Rite Aid had the least number of security measures, an average of seven out of 15 store items.

Although the number of items with added security measures varied very little among the Walmart stores we surveyed, we noted that all the outlets had partitioned off a portion of their pharmacy departments where high-priced health and beauty products are sold. If shoppers want to buy expensive cosmetics or shampoos they must enter the partitioned area and pay a cashier before leaving through a narrow exit back to the rest of the store.

But community activists say the extra security measures adopted by retailers in some low-income neighborhoods are frustrating and often not justified by crime rates.

"Latino and African American neighborhoods have been racially profiled to have extra security measures in the stores that I believe aren't even warranted," said Najee Ali, a social and political activist in South Los Angeles.

The problem has become so severe that Rite Aid executives recently groused that the "shrink" at Rite Aid stores was $5 million higher than in the previous three months and had forced the company to consider extreme measures. The company is in the midst of closing 145 stores in 17 states as part of a larger cost-cutting move.

"We're looking at literally putting everything behind showcases to ensure the products [are] there for customers who want to buy it," Andre Persaud, the company's chief retail officer, said during a conference call with investors and analysts to discuss earnings. "And then lastly, we've even had to go to the extent of using off-duty police officers in some of our stores."

In a statement, Rite Aid said, "we are seeing a higher level of brazen shoplifting and organized retail crime, and we are taking an active role in helping the police in their pursuit of shoplifters." latimes.com