---
Canada's Mask Debate Continues

Some Stores Require Coverings, Others Worry it Could Help Criminals

Stores Fear Face Coverings Could Drive Robberies
Some retailers push for face masks, others are concerned about crime impact

'Lower your mask before entering,' some stores ask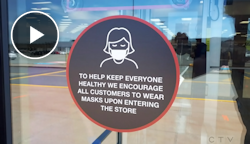 Face masks aren't mandatory in Canada, but some retailers are pushing for customers to wear them to prevent the spread of COVID-19. Costco, Marshalls, Winners and Old Navy are among some of the retailers asking Canadian shoppers to put on a face mask before shopping in their stores.

Jim Cormier with the Retail Council of Canada says what might work for one location could be more difficult for another. "We appreciate the fact that it has been guidance, but not mandates in this case," said Cormier.

One particular issued being raised about face masks is the safety of employees -- but not from COVID-19. Some convenience stores in the Halifax area are asking customers to temporarily lower their masks before entering the store so they can be easily identified.

On Monday, Halifax Regional Police released photos of a man suspected of robbing an Irving gas station on Fairfax Drive on April 6. Police say the man, who was wearing a medical mask, demanded money and threatened the staff with a knife, though no knife was seen. ctvnews.ca

Alberta recommends masks, but not enforcing their use as economy relaunches

Making them mandatory would create 'an enforcement problem'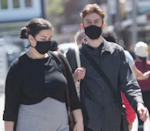 Edmonton's farmers' markets, and businesses like Winners, Canadian Tire and HomeSense all saw long lineups outside their doors; at Ikea on Sunday afternoon, more than 100 people waited to get inside. With these busier public spaces, more encouragement has come from public health officials to use face masks.

In Alberta, the provincial government doesn't have any plans to make face masks mandatory. On Friday, Premier Jason Kenney said his government strongly encourages their use, but that making them mandatory creates too large of an enforcement problem. As part of the province's recommendation, Kenney said the government has ordered 40 million masks and that they'll soon announce a distribution plan for them. cbc.ca

No mask, no service? Experts say businesses have the right to require masks on customers

---

Canada's Retail Reopening
Mass Testing? - New Safety Measures - Cuts & Closures

'Mass Screening' for Coronavirus Coming to a Store Near You?
Toronto-Based AI Company 'Predictmedix' Launches COVID-19 Screening Technology for Retailers
Toronto-based artificial intelligence (AI) firm Predictmedix has launched screening technologies that will assist businesses by detecting potential COVID-19 infection and other illnesses. The versatile technology will also be used to scan physical spaces to ensure that people are following protocol such as physical distancing and the mandated wearing of face masks.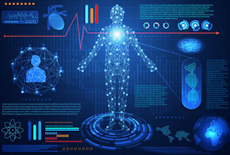 Earlier this month, Predictmedix filed for a US patent for COVID-19 testing and the technology is being offered to businesses as the world shifts into a new normal. The ground-breaking technology has a wide range of uses and the publicly traded company is expected to see a rapid increase in its share price in the coming weeks amid increased awareness and retailer adoption.

One of the most encouraging new developments for Predictmedix is mass screening for COVID-19. Retailers, restaurants, landlords, and any business with a physical presence will be able to utilize the AI technology to screen for symptoms of the coronavirus as well as for other illnesses. retail-insider.com

As Lululemon Reopens Hundreds of Stores, Here's How It's Keeping Shoppers Safe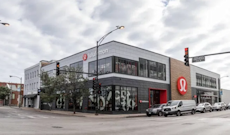 As of today, more than 150 Lululemon stores have opened back up in North America, Europe, Asia, New Zealand and Australia, with roughly 200 additional locations set to reopen over the next two weeks.

To help ensure the health and wellbeing of both employees and customers, the Canada-based company said it has put into place new safety precautions in stores, which will operate with modified hours. Associates are required to wear face masks, while cleaning and sanitization practices have been "enhanced." The number of shoppers allowed in stores at once will be limited, and store layouts have been updated to adhere to social distancing guidelines.

What's more, Lululemon is closing every second fitting room, adopting a cashless payment system and offering buy online, pick-up in store services. Its return policy has been extended to 30 days after a store's reopening, and all returns will be held back for 24 hours before they're placed back on the floor. In-store classes and events are also on pause for the foreseeable future. footwearnews.com

Substantial Number of Canadians Believe Their Province is Opening Too Quickly
The research found that, while 56% of Canadians believe the pace and timing of their province's re-opening is 'just right,' a substantial number of Canadians, in certain provinces, say their province is opening too quickly. "Our data shows that 3 in 10 Canadians believe that their province is re-opening either a little too quickly or much too quickly." newswire.ca

Shoppers line up in downtown Montreal as retailers reopen to public
Eager shoppers lined up outside some stores in downtown Montreal on Monday as retailers in the city were allowed to reopen for the first time since a partial lockdown was imposed in March.

Masks, Plexiglas barriers, frequent disinfecting and no-touch browsing were some of the measures put in place by retailers who chose to open their doors, while customers were being asked to remain spaced apart and follow hygiene protocols. ottawamatters.com

Vancouver Retailers Busy as Stores Begin to Reopen After COVID-19 Shutdowns
Some retailers in British Columbia began reopening doors on Friday May 15, and pent up demand is said to be resulting in strong sales at some stores as consumers return after nearly two months of store shutdowns due to the COVID-19 pandemic. retail-insider.com

Toronto grocery store asks customers to sanitize their carts

Some Calgary shops choose to not fully open their doors despite COVID-19 restrictions being lifted

Canada Goose lays off 125 workers to cope with the impact of COVID-19

Stokes to Permanently Close 40 Store Locations in Canada


---

Coronavirus highlights the need for a surveillance debate beyond 'privacy'

The pandemic has stirred up a surveillance storm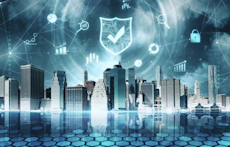 The coronavirus pandemic has stirred up a surveillance storm. Researchers rush to develop new forms of public health monitoring and tracking, but releasing personal data to private companies and governments carries risks to our individual and collective rights. COVID-19 opens the lid on a much-needed debate.

Surveillance and profit
Zuboff insists that a new mode of economic accumulation has been rapidly emerging ever since internet-based platforms — led by Google — discovered how to monetize the so-called "data exhaust" exuded by everyday online communications: searches, posts, tweets, texts. Beyond the loss of privacy, she sees the destruction of democracy and behavioural modification, citing a former Facebook product manager who says the "fundamental purpose" of data workers is to influence and alter people's moods and behaviour.

It's not just CCTV cameras, it's also smart devices
Yes, it's our laptops, phones and tablets. Surveillance is now digital and data-driven. For too long, the stereotypical icon of surveillance has been the video camera. But today, what deserves to be the stereotypical icon is the smartphone. This, above all, connects the individual with corporations that not only collect but analyze, sort, categorize, trade and use the data we each produce. Without our permission, our data are examined and used by others to influence, manage or govern us.

It's not just the state, it's the market
While the state and its agencies often overreach through intelligence and policing strategies, it is the market and not the state that holds the cards in the surveillance game.

Surveillance is for sorting - Surveillance challenges: canadiansecuritymag.com

People who steal shopping carts could be fined under proposed Moncton bylaw
A proposed bylaw in Moncton would allow the city to fine people for taking shopping carts from downtown businesses, something two councillors worried would see the city fining homeless people.

The draft bylaw would allow the city to issue fines between $140 and $2,100 to people who remove a shopping cart from the premises of the business that owns the cart.

The bylaw, drafted because of a potential "blight" of abandon carts, could also fine the businesses whose carts were taken. cbc.ca

RCMP officer shortage has led to health and wellness concerns

Demand for contract officers outstrips the RCMP's capacity to recruit and train them

The RCMP's costly contract policing obligations across Canada are draining resources from the force's federal duties in areas such as organized crime and national security, an internal memo warns.

The demand for contract officers in the provinces and territories where they provide regular local policing services outstrips the RCMP's capacity to recruit and train them, causing shortages that have led to officer health and wellness concerns, says the Public Safety Canada document.

In turn, there is "growing dissatisfaction" in contract jurisdictions about costs and officer vacancies, and the resulting effect on community safety, the starkly worded memo says. canadiansecuritymag.com


York Regional Police take down gun and drug trafficking ring in Project Stanley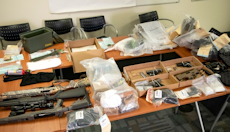 York Regional Police have charged 17 people after dismantling a gun and drug trafficking ring that was discovered following a break-in and robbery in Vaughan. "An Investigation started which was dubbed Project Stanley. This was as a result of us identifying suspects who ultimately purchased a Stanley pry bar at a local Home Depot. Video surveillance was obtained through that Home Depot and we were able to identify persons associated to that purchase of the tools that were used in the home invasion." cp24.com

$1.7M in Counterfeit Goods Seized At Canada-U.S. Border
U.S. Customs and Border officials have seized $1.7-million worth of counterfeit goods heading into Minnesota. On Thursday, they inspected a rail container at the International Falls border crossing, and discovered batteries, hats and flags headed for Ranier. They seized almost 71,000 packages that they say violate intellectual property laws. ckdr.net

Winnipeg, MB: Police arrest man after gunshots in CF Polo Park mall parking lot;
Suspect charged with attempted murder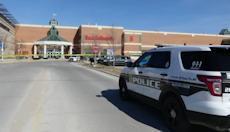 A man was arrested in Winnipeg Wednesday for attempted murder in connection to reports of shots fired in the Polo Park area earlier this month. On May 10, patrol units from the Winnipeg Police Service responded to gunshots in a parking lot on St. James Street, near the CF Polo Park mall, shortly before 3 p.m. Though no injuries were reported, police say, evidence from the scene showed someone had shot a parked car in the lot. On Wednesday, the WPS arrested a 21-year-old man in connection to the incident. The man is facing a charge of attempted murder, and remains in police custody. cbc.ca

100 Mile House, BC: RCMP look for tips in $1,000+ credit card fraud

(Update from 2014) RCMP officer 'falsely arrested, falsely imprisoned, assaulted and battered' elder with walker; suspected her of shoplifting

Winnipeg, MB: 15-year-old handed maximum youth punishment for violent Liquor Mart robbery
Man arrested at Pearson Airport in connection to 2019 game store robbery


---

Robberies & Burglaries

● Gas Station - Halifax, NS - Robbery
● Unnamed Store - Windsor, ON - Armed Robbery