U.S. International Home Delivery Expert Advice

Restaurant Delivery Safety and Security Risks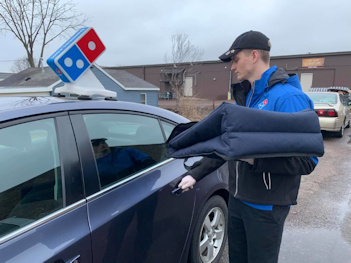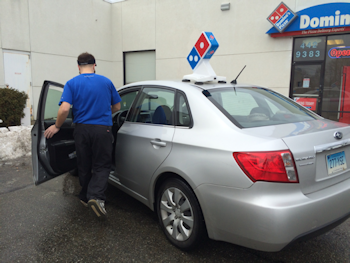 By Van Carney, Director, Loss Prevention, Safety & Security at Domino's

The Restaurant Marketing and Delivery Association (RMDA) reports the food delivery and takeout industry is growing with annual sales into the billions of dollars. With the recent COVID 19 crisis, delivery and carryout have become even more prominent. More than ever, restaurant businesses and restaurant franchisees need to understand and prepare for risks such as delivery safety, employee injury and auto accidents.

In a recent Restaurant Loss Cost Benchmarking Report, it was revealed an average workers' compensation claim cost $5,000 annually over a five-year period and an auto liability claim averaged $7,900. The most common risk faced by delivery drivers were auto accidents, followed by slips and falls, then robbery. Most auto accidents were caused by distracted driving mainly because drivers were on their cells phones. Slip and falls were associated to uneven walkways, damaged steps, sprinkler heads in the grass, loose pets and poor or no lighting. Robbery issues were reported as a concern because drivers were easy targets because they were not in a secured environment and most likely to be carrying cash.


There are many processes that can be put in place to mitigate delivery risk. It starts at the hiring process where it is recommended to conduct criminal background checks and run motor vehicle checks. A company or franchisee should emphasize safety over speed of delivery. As previously mentioned, distracted driving is the number one cause of auto accidents. It can be traced back to cell phone use at the time of the accident. However, there can be other contributing factors such as the driver taking their hands off the wheel to reach for an item that may have an address listed on it or taking their eye off the road to look at a map for the delivery address.

If a delivery area is large, the driver may feel the need to speed so a customer can receive an order quickly. If a driver uses cellular mapping, this may help expedite the delivery and help keep the driver from getting lost and reduce the need to make up time. In many companies, policy require employees to wear slip resistant shoes. This can potential help drivers from slip and falls. The best way to prevent a slip and fall is simply to have the delivery driver watch where they are walking.

Robbery prevention practices can assist with minimizing security incidents from occurring. When drivers are first hired, they should be trained on how to make a safe delivery. Delivery procedures should include parking in safe areas or under streetlights when possible. When pulling up to a customer's address, they should shine headlights toward the customer's front door. Carrying a flashlight can light the side walk or walk way for them on the way to the customer's door. Requesting that customers' turn on a porch light or other outdoor lighting can reduce the opportunity for a robber to be hiding in the cover of darkness. Once at the address, making a call back to a live person can aid in verifying the address and dollar amount of the order. Sometimes a robber will order many items and not remember what they ordered. During the call back, the driver may detect they are being set up to be robbed of their cash. Lastly, carrying a small amount of cash can be a deterrent to a robber or prevent future robberies if a small amount of money is taken because the robber may feel it's not worth their time or the prison time they might receive if apprehended.

There are several risk transfer solutions a company or franchisee can establish by consulting with their insurance company agent. They can use this advice to decide if a particular coverage is needed to protect against some of their risks. Understanding Workers' Compensation coverage for on the job injuries is important because it can vary from state to state. This insurance provides general coverage for the necessary medical treatment and lost wages if an injured employee is unable to return to work. When providing delivery services, the correct amount of coverage recommended by a franchisees' insurance advisor for auto liability is critical. Generally, drivers will carry their own insurance and could be required by their policy to advise their insurance carrier they are making deliveries. If this doesn't occur, and an auto accident occurs, the franchisee could be on the hook. Sufficient insurance could fill the gap. A commercial general liability (CGL) policy can greater protect a franchisee against claims for injury and property damage that occur on the insured's property. It also can provide coverage for auto collisions if a claim exceeds what a driver's auto liability policy can pay.

In conclusion, delivery services will continue to grow to meet consumer demands. As they do, risk will continue to grow along with more opportunity for an incident to occur. Developing and implementing safety programs and understanding the importance of risk transfer solutions, can improve employee safety which leads to higher moral and can help protect a company or franchisees' bottom line.

Open Invitation: Looking for Expert Advice for Essential Workers
From warehouse workers to the grocery stores to DLPM's and RLPM's traveling stores, we at the D&D Daily want to hear your advice when it comes to safety and security during this unique and challenging time in retail history. Email us here, whether you want to share a full article or just a couple short thoughts. Share your knowledge, advice and experience with your LP/AP peers, and we'll all get through this together!