Chicago's Felony Shoplifting Charges Drop 74% in 3 Years
Under the Country's First "Progressive Prosecutors"

Chicago's Controversial Top Prosecutor Up for Re-Election
'Kim Foxx Aims To Rewrite An 'Inequitable' Legal Justice System As Challengers Fight To Topple Her'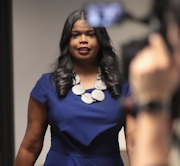 Four years after Foxx, the county's first Black female prosecutor, decisively defeated incumbent Anita Alvarez to be one of the country's first "progressive prosecutors," it may still be hard to believe, sometimes, that historically punitive Cook County has an elected state's attorney willing to call out the failures of the system.

With one term under her belt, Foxx says her work isn't finished: she has more to do to reshape the system and address longstanding inequities. But she faces three opponents who have vociferously criticized her record. They argue that although reform still needs to happen, she's not fit to do it, and that some of her attempts to transform the system have gone too far

The dynamics of the race exemplify how pursuing criminal justice reform from the prosecutor's office can produce intense backlash. Foxx is one of the first progressive prosecutors to face re-election, and the outcome is likely to offer lessons for the movement as a whole.


Jamila Hodge, director of the Reshaping Prosecution program at the Vera Institute of Justice. "We have more than 2,300 prosecutor's offices across this country. We're approaching 50 who've been elected on a reform platform. So this is just the beginning. And we need people like her to be able to stay in this role so that this movement can have momentum."

On a macro level, Foxx's new approach to the office has had a significant effect on the scope of prosecutions in Cook County. An October 2019 analysis by the Marshall Project estimated that under Foxx, the state's attorney's office had declined to prosecute roughly 5,000 cases that would have been pursued by her predecessor. A little over half of those—2,800—come from her office declining to pursue charges during the "felony review" process, when prosecutors review information from the police and decide whether to file a charge.

Foxx's office sentenced 34 percent fewer people to incarceration per month in 2019 than Alvarez's office in 2012.

But some of the policies responsible for driving down incarceration rates—such as bail reform and her decision to lower the threshold for felony retail theft—have been among her most controversial.

The candidates have some major points of disagreement on policy. One of those is Foxx's approach to retail theft. Illinois state law holds that in shoplifting cases, thefts of under $300 worth of merchandise are a misdemeanor, but anything over $300 can be charged as a felony. That's much lower than the threshold for felony charges in many other states: in Texas, for example, it's $2,500, and in Indiana, it's $750. When she assumed office in late 2016, Foxx found that the most common type of case referred for charges through felony review were retail theft cases. (In 2016, Alvarez's office approved 2,866 retail theft cases for felony charges; in
2015 it was 3,174.) As her first policy, Foxx announced that her office would raise the threshold for felony charges to $1,000 worth of stolen material. Anything less would be prosecuted as a misdemeanor. She framed this move as an intentional effort to divert resources from prosecuting nonviolent shoplifters to addressing gun violence, and as a way to prevent relatively low-level shoplifters from being saddled with felony convictions that can lead to incarceration and affect future job and housing prospects. It's a significant contributor to the decline in charges under her administration: In 2017, felony review approved charges in just 824 retail theft cases. When she described this policy at the youth summit, Foxx was met with a chorus of snaps and whoops from around the room.

Other audiences, though, have been less supportive. The Illinois Retail Merchants Association has been opposed to the change from the beginning. And the Chicago Loop Alliance, which represents retailers downtown, blames the policy for recent brazen shoplifting incidents. Conway indicated in an interview with the Chicago Sun-Times's Fran Spielman that he would return to prosecuting organized retail theft as a felony even if the stolen merchandise is below $1,000, though he would not use felony charges for lower-level individual shoplifting. More says that she would return to analyzing whether to prosecute retail charges as felonies on a case-by-case basis. She's not worried that this would waste resources that could be devoted to prosecuting violent crime. "A retail theft just doesn't take that long to work up," she said, and cleaning up corruption elsewhere in the office would free up resources.

Chicago's political powers and Labor have mostly lined up behind Foxx's bid for re-election. Foxx's strong relationship with the local Democratic Party has obvious advantages for her campaign: An incumbent with the party's backing hasn't lost a state's attorney primary in decades (Alvarez, notably, didn't get the endorsement in 2015), and party support helps bring in money. theappeal.org