---

Coronavirus Impacts Canadian Retailers

Coronavirus fears: Empty shelves as Canadians heed health minister's advice to stock up

Photos showed long lines of shoppers and rows upon rows of empty shelves. And at Toronto Costco locations, employees were wiping carts with disinfectant as customers entered the store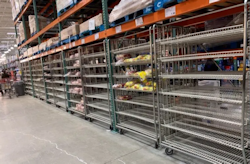 In the days since Canada's health minister encouraged people to stockpile supplies in case of a coronavirus outbreak, photos have emerged of empty shelves at stores across the country.

Customers took to social media over the weekend to report shortages of hand sanitizer, toilet paper, meat, canned goods and food staples such as bread and eggs. Photos showed long lines and rows upon rows of empty shelves. And at Toronto Costco locations, employees were wiping carts with disinfectant wipes as customers entered the store.

The employee said that people are buying up, meat, canned goods, paper towels and toilet paper and the store had sold out of hand sanitizer the day before in just 30 minutes. "It's nuts."

Canadian retailers have experienced both supply issues due to the rail blockades and a ramping up of demand following the outbreak of COVID-19, said Karl Littler, senior vice-president of public affairs for the Retail Council of Canada. But so far, those issues have not resulted in significant shortages as Canadian food retailers reroute cargo and shift from rail to trucking where necessary. nationalpost.com

Mixed Messages?
No need to stockpile food despite earlier warning, Manitoba health minister says

"Stockpiling anything at this point is unnecessary"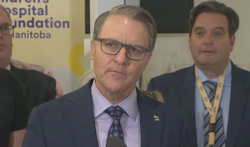 Manitoba's health minister walked back statements made by his federal counterpart Tuesday and said there needs to be a coordinated message when it comes to COVID-19.

Canadian Health Minister Patty Hajdu warned last week that people should consider stockpiling food and medicine in case of an outbreak, prompting some stores in various parts of the country to see products like toilet paper and bottled water fly off the shelves.

"I spoke specifically to the federal health minister about some specific statements she made recently about stockpiling food," Manitoba Health Minister Cameron Friesen said.

"And I just questioned the extent to which, at this point in time, such an instruction would be helpful. I believe she agreed we need to co-ordinate our statements."

Friesen says it's never a bad idea to ensure you have medication at home — especially if it's been prescribed — but stockpiling anything at this point is unnecessary. globalnews.ca

COVID-19, protests rattle Metro Vancouver retailers
Clothing retailers spared - for now

Cases in neighboring Washington state have Canadians worried about future trend



Effects from blockades that prevent goods from freely flowing have yet to hit most Metro Vancouver stores. Nagarajan said goods will undoubtedly be stuck in transit on freighters, resulting in some empty shelves, but he doubts that retailers will suddenly raise prices. Perishable goods shortages are likely to happen first because, by definition, retailers cannot stockpile those products.

Inventory shortages caused by the COVID-19 virus, in contrast, stem from two separate phenomena, explained Nagarajan, whose research area is supply-chain logistics. First comes panic buying and hoarding. Local retailers have struggled to keep hand sanitizer and face masks in stock since early January, when reports started circulating about the disease.

Even antiseptics such as rubbing alcohol have been out of stock at many London Drugs stores in recent weeks.

Vancouver-based clothing retailers appear to be spared from supply-chain glitches so far.

Lululemon Athletica Inc. (NYSE:LULU), Aritzia Inc. (TSX:ATZ) and the Amer Sports division Arc'Teryx all likely shipped spring inventory out of Chinese factories before the January 25 Lunar New Year, when lockdowns and quarantines started to ramp up, Lululemon founder and Amer Sports investor Chip Wilson told Business in Vancouver.

Most companies, including Lululemon, have shifted production out of China and into other countries, such as Vietnam, Cambodia and Bangladesh, Wilson added. Wilson's son, JJ Wilson, who is a principal at Ride Cycle Club, told BIV that he does not expect any product shortages because his clothing is not seasonal and can be stockpiled.

Aritzia similarly has factories in China, according to Panjiva S&P Global Market Intelligence, but Aritzia told BIV in an email that its executives "aren't able to speak to our internal operations at this time.

If the number of cases in B.C. (currently eight) continues to rise, or concern about the virus ramps up given that in neighbouring Washington State there were six deaths and 18 reported cases as of March 2, the retail trend in the province could mirror what happened in Hong Kong in January, when the virus first started to be detected in that region. biv.com

Retail Council of Canada's Coronavirus Checklist for retailers


Retail Council of Canada (RCC) is in regular contact with the Public Health Agency of Canada, Health Canada and provincial health authorities to monitor the situation and will update members as the situation evolves. RCC will also be instituting a standing weekly call, to which members may dial-in, on which we will provide the latest information about the disease, the number of regional instances and any suggested best practices emanating from public health authorities.

Click here to download a checklist for RCC members to help them plan strategies for managing the 2019 Novel Coronavirus. retailcouncil.org

Canadian event organizers cancel conferences, grapple with coronavirus outbreak
Organizations across the country are cancelling conferences, fretting about whether to forge ahead with events and considering more health-conscious policies as concerns grow over the recent outbreak of a novel form of coronavirus.

Ottawa-based e-commerce giant Shopify Inc. announced Friday that it had made the "hard but necessary" decision to cancel its annual Unite conference that was set to be held in Toronto on May 7.

Meanwhile, coronavirus fears weren't enough to cause Magna International Inc. to cancel its investor day on Thursday at the Shangri-La Hotel in Toronto. However, the Aurora, Ont.-based auto parts maker did post a sign advising attendees to avoid shaking hands.

The Prospectors and Developers Association of Canada also said it is forging ahead with its annual conference at the Metro Toronto Convention Centre, which opens on Sunday and typically attracts more than 25,000 attendees from 130 countries.

The organizers of Collision, an annual tech conference that boasts a lineup of business heavyweights and celebrities, said they were also watching out for coronavirus fears, despite their event being months away. canadiansecuritymag.com

Canada now at 33 confirmed cases of COVID-19 coronavirus after three more found in B.C.
Health Minister Adrian Dix said the first five cases in B.C. were linked to China, where COVID-19 originated, but the last seven are related to travel from Iran. Canada now has 33 cases of the new coronavirus, most of them in Ontario. Officials in B.C. are asking travellers from China and Iran to isolate themselves for 14 days when they return home to Canada as the province expanded its advice on Tuesday to help prevent transmission of the novel coronavirus. nationalpost.com

'Herd effect': Social media images of empty shelves fuelling panic buying over coronavirus, says prof

---

2019's Canadian Retail Crime Epidemic
Crimestoppers for Hire: Can a public challenge with a cash prize dramatically reduce liquor store thefts in Alberta?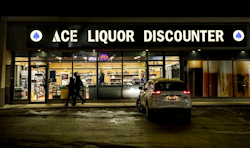 Calgary reported about 2,500 liquor store thefts and robberies in 2019, or about six a day. Calgary police spokesperson Leah Brownridge said that number is an increase over previous years, but it is not as dramatic as Edmonton's.

In a new attempt to deal with the problem, Alcanna, the Edmonton Police Service and the non-profit Edmonton Police Foundation have launched the "Liquor Store Robberies/Thefts Challenge," which invites entrepreneurs, business schools and universities in Alberta and around the world to come up with solutions.

Under the terms of the challenge, a plan that cuts liquor store thefts in half for 90 consecutive days can win $150,000, and one that reduces thefts by 80 per cent may be eligible for a $250,000 windfall. Another $250,000 is available to test and institute potential plans. The money is provided by Alcanna.

"This is a new way of thinking," Chief McFee said of the experimental outsourcing. "We are confident that there are students and vendors, innovators, entrepreneurs and companies with the ingenuity to share different perspectives and explore creative solutions for the benefit of community safety."

Those who want to take part will be given access to non-confidential police data, processes and other relevant information to help them craft possible solutions, which must be submitted by March 31.

The ideas will then be shortlisted and selected by a committee for in-store trials beginning in May.

The terms of the challenge list the top priorities as increasing safety for staff and patrons, and dramatically reducing robberies and thefts without a significant loss of sales or increase in labour costs. theglobeandmail.com

Edmonton cannabis retailer removes window coverings amid safety concerns
An Edmonton-based cannabis retailer has removed the window coverings from a number of its stores amid safety concerns. On Monday, Fire and Flower removed the window coverings from three of its Edmonton locations: Rice Howard Way, Merchants Row and Westmount. The company said the decision to take down the coverings came after an armed robbery at one of its Edmonton stores three weeks ago. The company's vice president of government and stakeholder relations said the robbery took place at the end of the night, and because of the window coverings, staff couldn't see it coming. globalnews.ca
Oceanside RCMP to host crime prevention & awareness seminar for businesses

March 26, from 1-4 p.m. at the Qualicum Beach Civic Centre

The Oceanside RCMP, in partnership with the Parksville and Qualicum Beach Chambers of Commerce, will host a crime prevention and awareness seminar for all local businesses. Guest speakers will include representatives from the Bank of Canada, B.C. Prosecution Service, the Royal Bank, and the RCMP. Topics will include counterfeit detection, credit, debit and point of sale fraud, surveillance footage and recognizing elements to a criminal offence. This session is being offered at no cost to all Parksville Qualicum Beach business owners and their employees. pqbnews.com

---

---

Six in 10 Canadians are more worried about fraud today than ever before
The fraud landscape is transforming and Canadians across the country are facing scam attempts at every turn. While many Canadians recognize the various ways fraudsters can strike, 62 per cent say they are concerned about it more than ever before, according to a new study from Interac Corp.

"Our study shows that Canadians are being targeted non-stop through a wide range of channels – phone, email, text and social media," said Rachel Jolicoeur , Director, Fraud Prevention & Partnerships at Interac Corp. "Nearly half of Canadians or their families (48 per cent) report falling victim to fraud, emphasizing the importance of Canadians to stop, scrutinize and speak up to avoid scams."

According to the Index, the most commonly-reported scams nationally include fraudulent emails (45 per cent) and phone scams (44 per cent). Text message fraud is most prevalent in Quebec (44 per cent) and least prevalent in Atlantic Canada (19 per cent). In major cities, Montrealers were most likely to have experienced identity theft (16 per cent) as compared with Torontonians (8 per cent) or Vancouverites (9 per cent).

Further demonstrating the need for increased fraud literacy, seven in 10 Canadians (71 per cent) agree they want to know more about protecting themselves from fraud. With the right prevention strategies, it is possible for individuals to arm themselves against the threat of fraud. yahoo.com

Challenges and Opportunities for Cannabis Retail in Canada Post-Legalization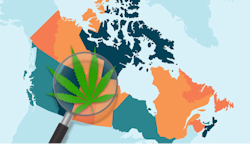 Legal cannabis was obtained in the past year by over half (53%) of cannabis users, through sources including retailers (55%), online (46%), medical providers (17%), and homegrown cannabis (6%), signalling new opportunities in retail for a whole new category. However, legal cannabis in Canada came under criticism for being close to 60% more expensive than illegal cannabis for the most part, and not being able to match supply with demand in most provinces.

The disparity was more acute in Ontario, where the legal retail rollout was slowed by a lottery system, and other provinces reporting more profits. Critics suggested that only those with the connections and high net-worth were able to get their foot in the Ontario retail allotment. This year, Ontario's retail allotment system got replaced with a system of "merit" which critics still suggest has loopholes in terms of not being able to achieve the province's target capacity of 1000 stores by 2020.

Provincial Cannabis Retail Models Vary - Customer-Centric Retail Experiences - Twinning Opportunities in Real Estate with Cannabis retail-insider.com

Report: Canadians getting more complacent about fraud

Lowe's Canada selling Ace Canada business - 104 stores

Victoria's Secret is closing up to 10 stores in Canada by end of year as it spins off from L Brands

Planet Organic Market ceasing operations, closing all locations

Toronto judge slams Canadian Tire after employee tells court he won't be paid on jury duty



'Tow Truck Turf War' Breaks Out in Grocery Store Parking Lot
Gunshots spray tow truck in Richmond Hill grocery store parking lot
Shots were fired at a tow truck in the parking lot of a grocery store located in the High Tech Road and Bayview Avenue area March 2 at around 7 p.m. Police investigators believe multiple tow trucks were in the parking lot when an occupant in one of them fired several shots at a black tow truck. Police say people involved in the shooting fled the area. Police said shortly after officers arrived on scene, one of the tow trucks involved returned to the scene with several bullet holes. Police located several shell casings in the parking lot. The driver was not injured. The encounter appears to be the latest in an escalating series of violent incidents in what has been described as a tow truck turf war. thestar.com

Calgary, AB: Police investigate shooting in c-store parking lot
Second incident in two months
Calgary police are investigating a shooting in that happened in the parking lot of a Beltline convenience store on Saturday. Police said a call came in about a shooting in the 100 block of 11th Avenue S.W. at 3:15 p.m. Two vehicles left the scene, police said, and officers are searching for a silver Dodge Dart with a window that had been smashed out. It's not yet known if anyone was injured in the shooting. The shooting happened roughly two months after a man was found in medical distress outside the same convenience store. cbc.ca

Edmonton, AB: man runs like 'Usain Bolt,' nabbing alleged robber in Edmonton mall

Belleville, ON: Shoplifter arrested by Canadian Tire story security


---

Robberies & Burglaries
● C-Store - Iqaluit, NU - Armed Robbery
● C-Store - Edmonton, AB - Robbery
● C-Store - Saskatoon, SK - Armed Robbery
● C-Store - Stittsville, ON - Armed Robbery
● Gas Station - Cambridge, ON - Robbery
● Tommy Hilfiger - Calgary, AB - Armed Robbery